Cherry Bomb Part 2: I'll give you something to fight for

Previously, on Cherry Bomb…
That's right, dear readers. Welcome to Part 2 of this retrospective, digging into the plotline of Cersei Lannister (Cheryl), Jaime Lannister (Larry), and their unborn child (Cherry Bomb). In part 1, Julie—the mythical joint persona of Julia and Kylie—recapped the events that took place between these sibling lovers in Season 7 of Game of Thrones, by showrunners David Benioff and Dan Weiss (D&D). It was 100% satirical and meant to amuse.
This section, however, is very serious. Serious enough where we'll even use the proper show character names, as much as it pains us. Fiction matters, and however much fun we have with this show, there's a value in analyzing its messaging. In this case, we need to talk about all the implications and logic of it.
There's no logic
Here's the thing. We'd love to ignore certain plotholes, and frankly we can forgive a teleportation or two. We'll make fun of it and roll our eyes, but ultimately these things don't usually break the story. The problem is, trying to analyze this specific plot is really, really difficult because its foundation is one contrivance after another.
The reason for that is simple: at the end of last year, Daenerys set sail for Westeros with an army of the Unsullied, Dothraki, Yara's Iron Fleet, all the forces of two out of the seven kingdoms, and three fully-grown dragons. The Lannisters, meanwhile, had…a blown up sept, The Freys (vaguely), and whatever was left of their own army. And it needs mentioning that of the two kingdoms Dany had in her alliance, one was the Tyrells who we were told, repeatedly, had the second largest army in the land.
We hope we don't need to explain why this is a ridiculously obvious military advantage for Dany, and why the Lannisters would be utterly screwed in this position. Hell, they didn't even have troops to spare to claim the completely unoccupied Dragonstone, apparently!
Clearly, this extreme disparity was something of a problem for D&D (of their own making, no less), who wanted a more even playing field to foster more tension. That's not a stupid aim necessarily, but to do that, it required 1) Daenerys not attacking King's Landing for…reasons? Optics? Stray arrows? 2) Tyrion proposing the most illogical plan centered around the unnecessary division of their troops and 3) Completely random allegiances to the Lannisters from people like Euron, Randyll Tarly, the Iron Bank, and even the smallfolk who should have been at least fucking terrified of her.
We're going to explore many of these problems in more detail within our Dragonstone/#boatsex retrospective, since it was the "decisions" of "Dany" and "Tyrion," but like…we're not idiots. We know it's the writers who make things happen here, and we've said on more than one occasion that Watsonian analysis on this show is usually an exercise in futility.
For example, let's try and see if we can understand the decisions of Tycho Nestoris and Randyll Tarly.
Randyll outright tells Jaime that he's mad Cersei blew up the sept, he doesn't trust someone this reckless and violent (no shit), and he's still a Tyrell man through and through. Having said that, he still answered Cersei's summons. He dutifully arrived at King's Landing to hear out this woman who, by all standards, should have alienated every single Lord. She literally blew up Mace Tyrell and her own uncle to avoid a trial, and then crowned herself in a move that also destroyed one of the most important societal institutions.
In this situation, it's not just reasonable that Randyll wouldn't answer the summons—it's logical and safer for him. Robert's Rebellion began because the liege lords didn't feel safe with Aerys simply because of his bad treatment of a few Lords. Especially that one Lord who answered the King's summons and got roasted alive. Only Jaime knew about the wildfire thing and the threat everyone in the city…that was kind of the point. So to act as though Cersei is someone to be trusted to uphold her feudal obligations?
We also don't get why this idiot would have been convinced to join Team Lannister because he was offered the Wardenship of the South. Even adding his troops, he'd still be going up against the most insanely horrible odds. Is he that confident in his sword swinging that he'll survive this? He doesn't even have Heartsbane anymore!
The show tries to convince us it's because of his racism. Unfortunately for D&D, they forgot that Targaryens aren't foreign. Like, at all. Daenerys was born on Dragonstone, and non-Targaryen rulers are still kinda considered "usurpers" in a lot of Westeros. In fairness, she has the Unsullied and Dothraki in her army, but would a Reach Lord really be that much more miffed by them than by the goddamn Iron Fleet pledged to Cersei? Or, you know, by the woman who blew up the sept?
In fact, can we go off about the sept for a little bit? Okay. Every single member of the clergy was eviscerated, and apparently this immediately blew up every single person's loyalty to the religion as well. We have to pretend there's no monks walking around yelling about it, or even very pious blacksmiths who were disgruntled that their place of worship no longer exists and that the septon he went to for advice about dealing with his mother-in-law was murdered. We'd say "everyone is too scared," but…they're not. They're really not, because we see them gaily cheering at the Sand Snake parade. Cersei faces absolutely NO CONSEQUENCES for this act, other than Hot Pie gossiping about it.
Wait, that's not true: Cersei actually profits from this. Because apparently blowing up a grounding societal institution makes her a really good investment in the eyes of the Iron Bank. Because she cast off the yoke of superstition, and isn't a "revolutionary" like that asshole Daenerys. We're sorry, but wasn't there a religious oligarchy courtesy of Margaery and Tommen last season? Or even vaguely Cersei arming them in Season 5? Haven't we been shown this whole time that the "rule of law," which the Faith was apparently usurping, is heavily based on the concept of judgement from the gods.
"In the sight of gods and men, we gather to ascertain the guilt or innocence of this man Tyrion Lannister." —Pycelle, 4×08 The Mountain and the Viper
How is BLOWING IT UP not a revolutionary act? Guys. GUYS. Daenerys wants to restore a dynasty that ruled for 300 years. Cersei destroyed the entire religious establishment and possibly the patriarchy. We understand that in-verse, we're continually told Dany is going to "break the wheel" and Cersei somehow keeps it spinning, but we actually have no evidence of how Dany is going to do that or what it even means, since she 100% plans on ruling from the Iron Throne, and has already divied up the kingdom between her followers to a certain extent. She even has a Lannister Hand. So…what?
Also, can someone explain to us what it means to "cast of the yoke of superstition," as Tycho credited Cersei with doing for her destruction of the sept. Granted, neither of us are particularly pious, but we imagine that even if a church blew up, that wouldn't snap people out of their beliefs? Isn't faith kind of deeply felt?
There's no point in going down this rabbit role, really. We understand fully that the Iron Bank supporting Cersei makes about as much sense as the Iron Bank backing a Sansa coup in the North. It happened because D&D needed it to happen so that Cersei and Jaime would survive the season and the Lannisters could still pose a vague threat next season. We're sure they enjoyed having someone continually tell Cersei how great and Tywin-like she was, because it goes to show what amazing villains they write.
The reason we spent the time breaking down the lack of motivation on the part of Tycho and Randyll is because things like that make it really difficult for us to talk about Cersei and Jaime's actions this season. They're so driven by the demands of the conflict D&D are trying to build that what they actually do doesn't particularly matter. In fact, they're both super passive this season. Jaime has an arc, which we'll talk about, but it's just…he breaks up with his girlfriend. However, politically, they kind of both do what they're told and react to random meetings dropped into their laps.
The best example of this is the Fortnight of Extreme Action, where Jaime raced across Westeros twice and successfully captured a defensive stronghold in between. As a consequence, after an extremely clumsy attempt to generate false tension, he was able to get all the gold needed to King's Landing, and earn the Lannisters enough clout with the Iron Bank to get an even better loan. We have to hand it to D&D: it was finally a cause and effect. But it's baldly ridiculous.
We're not going harp on the teleporting armies. Like…they didn't need to say the word "fortnight," and we're unsure why they not only continue to be so lazy in their writing, but to lampshade that laziness. However, what can we even say about the Lannisters taking Highgarden because fighting isn't the Tyrells' "forte"? We watched last season, when we were told they were the second biggest army, and we know they weren't all in the exploding sept because we saw interior shots. Also, a few seasons before that, they were clearly the decisive force in the Battle of the Blackwater, so how was their fighting subpar then?
To D&D, it was such a foregone conclusion they would lose that they didn't even put thought into explaining it. There was no attempt at a clever tactic, there was no special battering ram…nothing. They just won it offscreen. They stormed a castle that seemed to have a nice defensive wall and good geographical position, and took it immediately, because the Tyrell army sucked so much. What can be said, really? Jaime tried to give it meaning by saying he learned from Whispering Wood, but…how? Actually, how? Other than it being slightly surprising troop movement, there is no similarity. There wasn't even a split of the Lannister forces.
Are we supposed to think Jaime's grown as a military commander? He "outsmarted" Tyrion, and that's…meaningful? Even though he had never been thwarted by him before, and Tyrion has no beef with him?
It's just dumb and lazy, and it's so obviously that, that we don't even feel lazy for leaving it there.
The Truce Excuse
That brings us to the contrivance of the season to end all contrivances: the stupid fucking truce. We think we called it "Wight Moot" during the season, and why not.
It's been about half a year since we watched this, and we still have no idea why this truce needed to exist. This is "marry your enemies for revenge" levels of bad.
Daenerys suffered a severe setback with the (totally logical) loss of her fleet, loss of all the Tyrell army 'cause they're shitty fighters, and death of her one dragons. With the exception of Viserion (which had nothing to do with the Lannisters), those losses all seemed to have been immediately turned around in "Spoils of War" during 'Loot Train attack'. It's very heavily implied that close to all of the Lannister/Tarly army was destroyed, or now loyal to Daenerys, with Randyll and Dickon themselves being the only holdouts. It's also heavily implied that it basically negated all of the Lannisters' territorial gains in the region. Sure, they might still have a garrison at Highgarden, but what good does that do them without a supporting army? They don't have control in the Crownlands anymore, the Unsullied were able to slowly march from Casterly Rock to King's Landing unmolested, and Cersei outright says their only hope is to buy and ship an army from halfway across the world.
So given that the truce's premise is that Cersei must "pull back" her troops, we ask: from where? If it really is Highgarden, what does Daenerys need it for? It's already been looted. Ditto for Casterly Rock.
Plus, even if Cersei accepts this truce and agrees not to attack, but instead of fighting wights she spends all her time consolidating her power…what outcome are they somehow safeguarding against? How is this any different from them not having a truce? It's a ceasefire during a monster hunt. No matter what, they'll have to contend with her in some capacity afterwards. What does the truce enable them to do that they couldn't otherwise accomplish?
The fact is, there's nothing to prevent them offering this truce, Cersei accepting, and still shipping the damn army to Westeros. In fact, for her to survive, she probably would do that, and they should expect it. That's not operating in bad faith; that's buying soldiers. It would be completely naive of them to expect Cersei not to prepare for the inevitable confrontation at the end of the truce and just lie down and prepare to be killed. And again, they didn't go into the meeting trying to get her troops to fight with them, only to get her troops to not fight against them. So offering the truce…not offering the truce…we fail to see how there's a single difference for Daenerys and Jon. Unless they're so incompetent they didn't even notice how she has no army left. And controls no territory.
If they want words of assurance for whatever reason, okay, but everyone in-verse is acting like it is the END OF HUMANITY if Cersei doesn't agree to these terms. If we're supposed to think that Cersei is in anywhere of a comparable military position to Daenerys, they didn't establish that. And even at the stupid meeting when she storms out, to their knowledge, Euron left Cersei's forces. So, they weren't especially "fucked" in any regard. In fact, they probably should have just gotten up when Euron did and went, "You know what? Nevermind. We got this."
Honestly, at that point, the only measly scrap the Lannisters have to hold onto is the fact that Tycho Nestoris thinks Cersei is hot or something. They should have sent Tyrion to just go charm him and all their problems would be solved. Or get Davos to show him his missing fingers again. Or get Brienne to sing about austerity. This guy is canonically an easy sell.
Also, just to be those people: winter is coming. It's kinda hard to raise a whole new army from the peasant population, train them, get them to fight, and keep them fed. Hell, how does she plan on keeping the Golden Company fed, anyway? From the Iron Islands' abundant rice paddies that sit next to their lush forests?   
(We could go off for an entire essay on why the Golden Company specifically, or any sellsword group in general, would never take this contract, but we suppose Euron was just that captivating to them.)
We're hiding it well, but we just don't find it especially convincing that Dany and Tyrion would be this concerned about Cersei attacking them from behind. (That's what they're afraid of, right?) Not to the extent where they move hell and highwater to offer a truce that shouldn't be on the table.
So, it's really very hard to analyze character actions within Wight Moot, since there's no particular reason for it at all. It also makes aspects even dumber in reflection. Like…why did Cersei not simply agree to the truce with Tyrion and make him feel as though he won? Why did she go above and beyond and commit troops to this? Because it seems to us like her clever plan with the Golden Company hinges on Team Daenerys believing in her good faith with them for as long as possible. So surely, they would notice that she's broken her promises a whole lot faster if they were expecting the Lannisters to show up.
Is it just because there's really no army but Jaime left? He was orchestrating things with a few soldiers, so that's something. But we don't understand why she'd paint a target on her back, other than it was a convenient way to create false conflict between her and Jaime. Or to maybe prove to the audience that this is still such a twisty and deep show, because they totally faked us out! Nothing good can happen ever, silly viewers—don't you know?!
We can seriously continue talking about how dumb this is for another 5,000 words, but unlike D&D, we think you're smart enough to understand by this point. This conflict was fake and forced, and the truce resolution was even more absurd. Jaime and Cersei just kind of…were thrown into it, and okay! Here's the result. But boy, is it an uphill battle to extract meaning.
Jaime the Protagonist
In past retrospectives, we've played the game "who is the protagonist?" many times, because it's often not very obvious. Like…there was one time Olly was the closest choice that we had. However, in King's Landing, it's been clear as day since Season 5: it's Cersei. She wasn't even really a villain protagonist, even though that's what we suspect they were trying to do.
However this year, that changed. Cersei had a lot of screentime, but she didn't have an arc at all. She wasn't particularly proactive in decision-making, and when she was, it was to be an obstacle for Jaime to deal with. In other words: she's our antagonist. For real, this time.
Previously our problem with calling Cersei the antagonist, even in Season 6, was that we had trouble seeing her actions as unreasonable, or not coming from a place of defense. And we didn't understand how the people she was apparently antagonizing were any less antagonistic than she was. Yes, even blowing up the sept had shades of this. Maybe this somewhat stopped with her costume-change and subsequent wine-boarding of a nun, but that was at the very, very tail end of her once again, being a victim in a situation beyond her control, and doing what she could do get out of that.
This year, it's really hard to see her murder Tyene for 5 minutes, get sexually aroused by it, and think, "well, it's really the same as Arya killing Walder." Don't get us wrong: that was disturbing. But there's a difference here, and someone that chillingly cruel is an antagonist. Also Arya kind of was this year anyway! Parallels!
But no, seriously, Cersei is just downright an asshole to Jaime in that last break-up scene, for no particular reason we can think, other than that she's an asshole. We can make jokes about pregnancy hormones, but at the end of the day, how she treats him is unacceptable for a partner. Like, even outside of the incest thing, which is still…not great. Just to be clear. Even if the narrative ignores it completely now. And Mini-Maid.
Plus, Cersei seems very not-well this season. It could be grief, but her remarks about betrayal when Jaime had a meeting sprung on him and then immediately told her about it suggests a fair bit of paranoia. Did she expect him to kill Tyrion on the spot? Even though she said the meeting helps them and she allowed it to happen?
During the season we talked about how Cersei made compelling points…and she did. Her arguments for survival were logically sound in most cases. She's actually the most competent ruler of the main three we've seen this year, and we say that without a drop of irony. Unlike Dany and Jon, she doesn't take a ton of military risks, and yes, though many people are loyal to her for NO REASON, she still weighs her options as she should and we're privy to that. She is also apparently charismatic enough to convince bankers, as dumb and contrived as it was.
It's hard to parse out, because we know characters are allying with her for Doylist reasons, but it makes in-character analysis favor her a lot. It's a big deal she's securing this stuff. It's more than dumbass Jon ever managed.
Also, the Ironborn alliance…that's huge. Seriously huge. She somehow convinced Euron that he needed her. We know it was D&D—we know that. But again, compared to how the narrative treats Jon and Dany's leadership, we find very little to criticize in Cersei's governance decisions. It's just we can't side with her the we've been able to before, because she's chillingly violent in a way we didn't really see before…not fully, anyway.
The thing is, for the past few years D&D have been telling us Cersei is this monstrous and bad, but we're only now seeing it. So props; you finally have a somewhat nuanced, sympathetic villain.
At the same time, she came out of nowhere. We said that at the end of last season, which is why we made Carol/Cheryl jokes, but this year it's even moreso. She's never been particularly mean to Jaime. She's been frustrated with him not catching on quickly to obvious stuff, like the snake-in-a-box, and she's processed her grief over her father and children differently, but she was never cruel and snappish with him. At the least, she never repeatedly called him "stupid" while praising herself.
In fact even this year, her hostility towards him in their last scene together alone came out of nowhere. They were hugging, sucking face, and celebrating their child in the previous one-on-one scene. So unless she actually is suffering from bad pregnancy hormones, we don't get it. We realize D&D needed the breakup to happen because it was the end of the season, but it wasn't particularly seeded.
Also why is she pregnant?
The thing that bothers us is that there was plenty of possibly tension to explore in Jaime and Cersei's relationship. Remember when she blew up the sept? Remember how he has very specific hangups about using wildfire against innocent city-dwellers? Remember how she went on and on in the opener about how their teenage son betrayed her by loving his abusive wife and listening to the spiritual leader of the city? We could see any of these things upsetting Jaime, but instead we're just told it's Cersei processing grief. Oh well.
"Jaime really wants her to engage with what's happened to them both, and these are things she can't afford to even entertain, really, cause if you start going there, it's going to be a long, long fall." —Dan Weiss
Then his only comment on the sept blowing up was to Olenna, where he sort of half-heartedly defended the ends justifying the means. Maybe she made him question it, but the scene also ended with her admitting to murdering his son, and he never brought up the sept again. So we guess he made his peace with it. And to be honest: that makes sense. For three years now, Jaime's arcs have been about how much he loves Cersei, and how he'll do anything to be with her, including murdering babies. So…sure. She blew up a sept. Meh.
So what's his arc then this year then, because we promised you he had one. Well, honestly it's just him figuring out that he's putting a little more into the relationship than she is. And we mean that very literally: a little bit more.
See, we considered that maybe it was jealousy about her marriage with Euron, which is why her talking about plotting with him behind Jaime's back was the final straw. But the jealousy angle doesn't work so great when you factor in their touching bedtime cuddles followed by "I don't care who sees us," and then her plan to tell the world that he's her baby's daddy. It's also not remotely ambiguous why Cersei is marrying Euron (politics only), and that she's pretty clearly stringing him along and moving the goalposts when she can. Sure Jaime can be upset at Euron's stupid, crass comments, but in terms of questioning his relationship on these grounds…there's not much there.
And yet, it was the plotting that was the final straw.
This is furthered by his voiced suspicions about Qyburn in "Eastwatch."
Jaime: Why was Qyburn here?

Cersei: He's the Hand of the Queen. Why are you here?
We're assuming he doesn't think Qyburn is a sexual rival, so it has to be about trust.
Now, we are both in committed relationships, and yeah, it would really suck to learn our partners were withholding information from us. At the same time, our partners are not monarchs in a feudal society where decisions need to be made quickly, and where bluffs are sometimes useful. And we are not particularly prone to Larry-faces.
But okay. Trust. Political trust. He wants it, and we guess that's not unreasonable. He is the general of her army, after all. Plus learning that he confides in her more than she confides in him is going to hurt. Breakups have happened over much less. So we guess we're willing to accept that the breakup itself wasn't unreasonable, even if the way it was written wasn't exactly masterful.
The thing is, we can't help but notice a really bizarre parallel to Tyrion and Dany, which is not aided by Peter Dinklage randomly telling us that Tyrion is in love with Dany.
Jaime gives a speech to Olenna, about how Cersei will help Westeros, that sounds very similar to what we've heard Tyrion express about Dany numerous times.
Olenna: She's a monster, you do know that?

Jaime: To you, I'm sure. To others as well. But after we've won and there's no one left to oppose us, when people are living peacefully in the world she built, do you really think they'll wring their hands over the way she built it?
We love the idea of Cersei overseeing this orderly, peaceful utopia. Though again, we've kind of heard it elsewhere:
Cersei: But eventually, you want everyone to bend the knee to [Daenerys]… [Why?]

Tyrion: Because I think she will make the world a better place.
We suppose Cersei doesn't have the same slave-trade busting cred that Dany has, but she did cast off the yoke of superstition and destroy people who were cartoonishly evil. The Faith really, really sucked and had a stranglehold on the city, don't forget.
However, Tyrion goes a little bit further in explaining why he's such a Daenerys advocate.
Cersei: You said she'd destroy King's Landing.

Tyrion: She knows herself. She chose an advisor who would check her worst impulses instead of feeding them. That's the difference between you.
This parallel is explicit. We are meant to juxtapose Cersei's refusal to consult with Jaime (though she does consult with Qyburn…just sayin') with Dany respecting Tyrion's opinions. Add to this the fact that they're both canonically into burning buildings and executing people in increasingly dramatic ways, the obvious implication is that Cersei is a villain for not listening to her man.
It's just difficult to critique this, because of course it's reasonable Jaime would want out in this scenario. It's clearly not healthy, and it's also reasonable that being with someone in such a political position is inherently hard anyway. It's just that this implication is a big, stinking turd, and we don't know how to get around it. It's inescapable and rather poisons any good will we're willing to give to this. Add to that Jaime ditching his pregnant girlfriend without even trying to talk this out.
Again, we said Jaime's the protagonist because he has an arc. Well, that's it. He got frustrated his girlfriend wouldn't listen to him and confide in him above all else. And this came after three years in a row of him doubling down on his love for her. Wasn't that worth the wait?
Cherry Bust
What bothers us the most is that even ignoring the Aerys parallels…even ignoring the contrivances of the Wight Moot…there legitimately was enough there to fuel a breakup between Cersei and Jaime just in their disagreement in how to approach the threat to the North alone. If his main objection was being politically irrelevant to her, then at least make their dumb breakup be about politics.
Cersei believes their best way to survive the Army of the Dead and Jon/Dany's alliance is to build up an army, stay out of the fight in the North, and pick off the survivors of whichever side. If the zombies win, it will be a lot harder, but at the same time, if the zombies win…would their presence have really changed that much? They don't have dragons, and they don't have numbers. (Well…we think they don't. We're so confused.) We can't say we'd make the same choice as Cersei, but we at least understand it, and don't think she's entirely wrong.
"If dragons can't stop them, if Dothraki and Unsullied and Northmen can't stop them, how will [the Lannister] armies make a difference?"
On the other hand, there's the morality of fighting for humanity's survival. Not to mention, something Cersei outright said to Dany during her bluff:
"And when the Great War is over, perhaps you'll remember I chose to help with no promises or assurances from any of you."
This is also a reasonable path towards survival, and it seems to be the one Jaime is most convinced by. Since Cersei clearly knows she's militarily outmatched by Dany, it's absolutely reasonable for her to try to earn some sort of good will with the woman who will conquer Westeros and divvy it up amongst her followers, so that at the end of all of this, Cersei will not only get to keep her head, but perhaps will even be given back Casterly Rock, or something. She could ride North, strategically braid Dany's indestructible hair, and profit potentially more than she would shipping elephants across the Narrow Sea and hoping her the odds are better down the road.
Plus…humanity. It's a higher mode of existence to fight for the collective good than the individual. Jaime wants to do the former, and Cersei wants to do the latter.
Only issue: this argument was never on the screen. They could have split up over it, but they didn't voice it. Jaime was just kind of mad she plotted without him, and she thought he was an idiot for considering earning good will as a legitimate strategy, even though she more or less suggested it to Dany. So once again the story that's reasonably there is one we can't give D&D credit for, and one we suspect exists entirely by accident.
Instead, we have Cersei bait-and-switching Jaime of all people, because it created ~drama~. This is how they chose to break them up. This.
Just to close out the idiocy that was 'Cherry's' relationship, can we talk about the bomb? We can't figure out why they chose to make Cersei pregnant, other than to fool the audience into thinking that she's a mother again, and therefore has redeeming qualities.
"What is Cersei without her children? What prevents her from being a monster? And the answer is nothing." —David Benioff
The thing is, why was she compelled to be more compassionate for Joffrey and Tommen than she is for this new baby that's coming? Once you get a taste for child-free evilness, forever will it dominate your destiny? It's not like we're bemoaning the loss of Idealized Motherhood, but if we've been told for this long that her kids are the reason she's somewhat fine, why is that not the case now? Did D&D read Kylie's essay and work to consciously correct it?
While this season was airing, we were convinced they would put an endcap on the Cherry breakup with a Cherry Bomb miscarriage. But [thankfully], that didn't happen. So there wasn't even a gross, exploitative reason for her to be pregnant. There just wasn't any reason. At most, it gave them a cheap way to write a fake-out in her conversation with Tyrion, but was there any reason she couldn't just bluff? Or argue that losing three kids in three years maybe shifted her perspective?
We can't answer any of these questions. The pregnancy was drama, and not especially coherent drama. But at least it filled a couple minutes of screentime. Is she going to carry it to term next season? Somehow we doubt it, but we're eager going to find out!
King's Landing Odds and Ends
We can't say anything more about Cersei and Jaime, but there are two characters we feel contractually obligated to mention, since they had at least four scenes where they were the focal point. We're talking about Euron and Bronn.
Let's start with Euron. We make fun of the hooligan quote a lot, but really…can you blame us?
"Ramsay was the new Joffrey. I think Ramsay was a great character and played by a great actor [Iwan Rheon]. But for me, Ramsay is 100 percent evil. I think Euron is not, which makes things a bit more conflicted within him. I'm more like a hooligan." —Pilou Asbæk
Fuck you! Ramsay at least had daddy issues and a girlfriend! What is one thing that redeems Euron from being 100% evil, exactly?
During the season, we joked about how Euron had a different demeanor every episode, but don't worry…Asbæk has a quote for that too:
"All of the psychopaths I've met in my lifetime have multiple personalities. Not like they're schizophrenic, but they can adapt to the people they are surrounded with. He's a chameleon."
Ableism and horrible understanding of the DSM aside, we guess this means we shouldn't bother analyzing his character then. He's a chameleon. He adapts to the needs of the scene, and shockingly, his location and success adapts to the needs of the plot. Remember last year when his plan was to marry Dany? Why does he want to marry Cersei this year? Why doesn't he just sack King's Landing? It's because he's a hooligan! Why is he obsessed with Theon, exactly? Is he worried about his claim, cause that Salt Moot was decisive…
Really, we just have no avenue through which we can analyze Euron, or even take him seriously as a character. He's presented to us as this whining, petulant, silly, leather-wearing, fighting dude with guyliner and a modern haircut. What are we supposed to do with this? What is the audience supposed to do? Does anyone even care about him dying? At best, he's slightly annoying. We assume Theon will get the ~big kill~, but his presence in Cersei and Jaime's story is almost incidental. He just exists to muddy the troop-sizes, and hand them random naval victories.
Then there's Bronn. Oh, Bronn.
This character has been one-note for so long that we're almost exhausted bringing him up again. He's also a comic relief character, we get it. This is a heavy show (well…to some), and levity is nice. Do we think dick jokes are the best form? Not exactly, and of course it reeks of horrible toxic masculinity and cissexism. Which yes, is always uncomfortable since we're supposed to like Bronn as the audience. He saves Jaime! He shoots a dragon heroically instead of grabbing his bag of gold!
At the end of the day, we cope with Bronn's offensive jokes and our annoyance at his continued existence with the ongoing honeypot about how he's in love with Jaime and scared to talk about that attraction. But there's absolutely assholes who would make the same jokes without any deeply repressed motivation, and we know D&D aren't trying to write a love story here. Hell, Bronn's as unnecessarily loyal to Tyrion as he is to Jaime, so the honeypot isn't even super in-evidence. It's just better than having to take him seriously as a character.
Because if we have to do that…we have nothing to say. He pops up to make stupid jokes, saves Jaime's ass in improbable ways, and sometimes talks about liking gold and lordships. This is the most staganent character possible, and that's saying a lot on this show. Even his stupid one-scene arc was negated when the next scene he told Jaime he was out, because dragons. Though…nothing came of that, so…
In Conclusion
We're trying. We're trying to find something useful. The best we can say is that at least this season, Cersei was a compelling villain, if you can accept that her obsession with staying in power for the sake of power comes from the context and her characterization—not just D&D's shallow need to keep a non-wight antagonist around. We find that personally difficult, since everything she and Jaime did stunk of contrivance. So in our opinion, it's not so much about the great writing of Cersei, as it is Lena Headey's nuanced acting finally paying off in way that matches the marketing.
Question: what would have happened if Cersei and Jaime broke up in the first episode because he was horrified at the sept explosion, and then Daenerys flew her dragon over the Red Keep and ate her, which was a perfectly reasonable move for her to be able to do at that point? We'll tell you what would have happened: we'd be in the first episode of the next season (if not, further), only Daenerys wouldn't have pissed away half her troops, and the character actions would have made more sense. So why did Season 7 exist at all?
We know this sounds odd, since we are 100% the "it's the journey and not the destination" kind of people. But when that journey is nothing but illogical plot points, random character motivations, and false tensions, we're going to say that maybe it could have been skipped.
The cheap drama isn't even surprising anymore! Sure, Cersei asserting one thing and then doing the exact opposite was unexpected, but we weren't exactly gasping. You know what might have been surprising? Had she actually pledged her troops for real and was committed to trying to win Dany over next season. There could have been tension because how can you trust that, and would Cersei begin to suspect that she'd be better off turning, and how can all these random coalitions actually come together with so much history and bad blood between them?
But there's 80 minutes to fill, and if nothing else has come from this retrospective series, it's that D&D struggle in the imagination department. They want yet another ~amazing antagonist~ and think they have it Cersei. We can't wait to see all the shocking deaths that occur on the path to bring her down.
We're going to leave this one here; yes, the plotline was badly motivated and comes apart under the most minimal amount of scrutiny. That's Game of Thrones these days.
However, before we duck out completely…remember when that wasn't the case with this show? Remember when it was somewhat evocative and logical and dare we even say deep?
Well, we at least think that's what the first few seasons were like, not that we're saying they're free of problems. At this point in our GoT-critiquing careers, we feel it's high past time that we go back and rewatch seasons 1-4, and we very much would love you to follow along. So stay tuned for more news on that project, and be sure to subscribe to our Unabashed Book Snobbery podcast to hear our mostly unedited thoughts on this plotline when it drops. We'll see you soon!
---
Images courtesy of HBO
Game of Thrones 2×04 Rewatch: Garden of Groans
Good fortune and tidings as we return to The Wars to Come! We can't wait to dive into yet another chapter of our Game of Thrones rewatch series, seeking to explore the path that took the show from engaging and competent to…wormholing ravens and confusing trials. This week we're in for a special treat: the only woman to ever grace this show's writers' room, Vanessa Taylor, is credited as penning "Garden of Bones."
While Kylie, Julia, Danzie, and Griffin can't wait to discuss what's clearly going to be a jump in quality, we first need to go over the events for anyone who missed.
Episode Recap
Things are grim and grotesque in the riverlands! Robb earns himself a victory on the field against the Lannister forces, yet after the battle we see many injured. He helps a field-nurse from Volantis name Talisa amputate a man's foot, and she points out to him that the smallfolk are the ones paying the price for his war.
Meanwhile, Arya, Gendry, Hot Pie, and their fellow travelers arrive at Harrenhal as prisoners, only to discover that the guards have been selecting one a day to die. They witness the torture of an unlucky man, who has a barrel containing a hungry rat strapped to his chest. He is asked questions about "the brotherhood," but cannot answer any. The Lannister guards hold a torch to one end of the barrel, giving the rat only one place to go… Gendry is selected the next day for this grisly fate, but is saved just in the nick of time by Tywin Lannister's arrival. He immediately chastises his guards for wasting good men, and once recognizing Arya as a girl, selects her to be his next cupbearer.
Down in King's Landing, Joffrey is not behaving a whole lot better. First, he reacts to Robb's military victory by ordering Sansa to be beaten by his kingsguard. Tyrion intervenes and put a stop to it, even giving Sansa a chance to ask out of her situation. However, she tells him she is loyal to her "love." Bronn and Tyrion discuss Joffrey's disgusting behavior, and Bronn suggests getting him some sex workers to work frustration out on. Tyrion does that, but Joffrey instead commands one of the sex workers—Ros—to brutalize the other as a message to Tyrion.
Tyrion receives another message from Lancel, who asks him to release Pycelle on Cersei's behalf. However, Tyrion quickly turns the tables when he corners Lancel about being in a sexual relationship with Cersei. He promises not to tell anyone so long as Lancel reports to him on the queen's comings and goings.
Other royalty is busy over in the Reach. Littlefinger arrives in Renly's camp, but the self-fashioned king holds no love for him. Yet if the time should come when Renly reaches King's Landing, Littlefinger makes it clear he's willing to flip sides. He then meets Margaery Tyrell, who he attempts to grill on the details of her marriage to Renly. This queen doesn't reveal much. Littlefinger finally gets to speak with Cat, who is furious with him. He does manage to present her with Ned's bones, and slips in a lie about the Lannisters holding both Sansa and Arya.
Renly and Stannis treat with each other, and despite Cat trying to encourage them to get along as brothers, neither will step aside to acknowledge the other as king. Stannis tells Renly that he has one night to reconsider. Later, Stannis asks Davos to smuggle Melisandre for him. Turns out it's so she can give birth to a shadow in the caves below Renly's camp.
Finally in Essos, one of Dany's bloodriders returns with a gift from the Elders of Qarth, called "The Thirteen." Her party turns to head there, understanding that outside the walls are referred to as the "garden of bones" thanks to all the skeletons from those who had been turned away. She meets the Thirteen, and when she refuses to show them her dragons, nearly gets refused from the city herself. However one of the Thirteen, Xaro Xhoan Daxos, invokes "soumai," vouching for her and taking legal responsibility for her party. The uncertain group head into the city.
What will greet them in Qarth? What is the shadow that Melisandre gave birth to? And is there gold hidden in the village? We'll find out next week, but first…a discussion of what we saw.
Initial, quick reaction
Kylie: I had to triple check that this was written by Vanessa Taylor and not D&D. And yes, I know that it's a writers' room, and individual credit only goes so far, though I'd argue that with GoT, we can usually tell notable differences and the process comes across as more siloed than it does for other shows.
Still. The first half hour of this was easily as bad as Season 5, with a small exception that the words spoken in between the gay/fart jokes, the torture, the abuse of sex workers, and the gore were mostly shaped by George R.R. Martin's prose. The best I can say is that the second half of the episode became moderately passable, albeit still lacking in the tension as discussed last week.
Julia: Yeah, this episode felt like it had all the worst aspects of GoT all shoved together, especially in the first half hour, and I came away with the feeling that I was just watching trash. A few 'fros and bell bottoms and it could have been a 70s exploitation movie.
Even this rewatch write-up is so painful because I feel like I had nothing to say beyond, "god that sucked." And explaining in detail why things are bad is kinda my thing!
Danzie: Lordy, what a pile of crap that was. I had blocked everything but the Stormland's scenes from my memory. You really get the full GoT dumpster fire potpourri here, though. Juvenile humour, sexual violence, torture porn, disappearing and reappearing medieval patriarchy, hammy acting… the list goes on. It's a handy little episode to use as evidence to back up the claim "Yes, this show really is that bad. No, I'm not overreacting, Shannon!"
I am going to use this gem to win so many arguments.
Griffin: All of this. It was gratuitous. Gratuitous and bad. I kept waiting for it all to end. I don't even know what I'm supposed to say, or what was supposed to be appealing about this show after this.
Highlights/lowlights
Julia: Oh boy, oh boy. A highlight. The first thing that springs to mind is a little weird because it's not usually me, but… I think I really liked Renly this episode? I'm a sucker for any time someone tells Littlefinger what a slimeball he is, and that ham line was genuinely clever and even a little funny. It's painfully obvious how much more the writers like him compared to Stannis, but hey, maybe he's not so bad?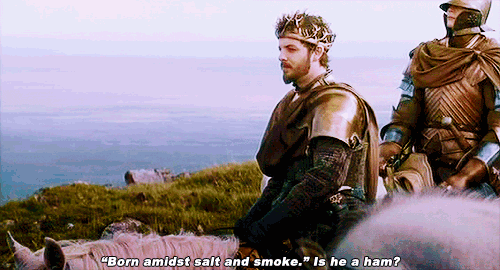 As for a lowlight, um, everything else?
Griffin: I'd honestly have to go with the one singular moment that had me cracking up: cutting straight to the throne room with Joffrey aiming a crossbow down at Sansa. The framing of it was just so ridiculous and weird that it honestly looked like self-parody. The more they took it seriously in the scene, the funnier it got. What the hell was he going to do? Just start shooting people with a very slow to reload weapon and not expect to get gutted by, like, the third Kingsguard he cuts down?
As for lowlights, again, the crossbow. Really should have cut away from that "let's mutilate some sex workers aren't we trendy???" scene when he started screaming "harder"…and before he got the garden weasel looking thing out.
Kylie: My highlight was the burrito dress. I screamed and clapped. I wish I had a non-ironic highlight, but this is truly what warmed the cockles of my heart the most.
It's so hard not to pick the Joffrey & sex workers scene as a lowlight, especially knowing what that "sets up" in Season 3. But there's plenty to go around. The general levels of gore were really distressing for me, since I'm already not great with that. The Talisa cutting off a leg scene was one that I didn't look at, but thank the gods her feminist candor was spoken clearly.
I don't know—the protracted torture scene at Harrenhal? So glad we had a full five minutes of the guy we never met before getting eaten by a weasel. Do we think these Lannister folks are bad news, or something?
Julia: It was a rat, Kylie. God. Clearly all your criticisms are invalid now.
Danzie: One of my favorite chapters in the entire book series was (lucky for me) the only truly decent scene of the episode. Renly is at his best in the entire run of the show here. I've always said that I could watch Renly troll Stannis for hours and not get bored. It's his social intelligence that I love about him. He understands exactly what it is that the masses love about him and hate about Stannis. I'd like to have seen the inclusion of the peach, and for him to have been unarmed, but other than that, yeah, this is peak Book!Renly.
However, my other Baratheon darling didn't shine here like he does in the books, and that's a shame. Loads of good personality things they lost out on here, like Stannis showing up to the parlay exactly on time and having to wait around for his self-centered little brother to finally feel like showing up. Also missing is Stannis promising Catelyn to try and reunite her with her daughters as soon as he is able. But most importantly what's missing is Stannis' guilt over killing his brother, an act that near mentally destroys him in the books. It's minor stuff now, sure, but it's things like this that go on to utterly destroy any chance at Stannis' likability.
Lowlight: The shadow baby. Okay, I know there was loads of stuff that was worse in this episode, but I really feel like I need to point this out.

Davos rowing Mel ashore makes no goddamn sense under these circumstances.
The reason he does it in the books is because she is trying to kill Cortnay Penrose. However, because he's inside Storm's End (which has magical wards within its walls), Davos has to bring her in underneath the castle via his old smuggling run. It's then that he puts two and two together about Renly's death and she admits that Renly was much easier to kill because he was totally unprotected (from magic anyway) at his camp.
So why does she have to do this from shore? Why do we need to be in this tunnel? Where is this random tunnel? In fact, where even are we right now? The Reach? The Stormlands? Renly certainly isn't in Storm's End.
Julia: My random quibble: who were those 4 women following Sansa around and why do we never see them again?
Quality of writing
Kylie: I'm sorry, Vanessa, but the extended gay joke with a fart punchline is about as bad as it gets. Maybe I shouldn't hyperfocus on it, but there was something about this episode that was so unrefined, that it comes across as utterly amateur.
Julia: Like I said in my initial reaction: it was just trashy this week. The "humor" was on par with the worst of seasons 5-7 and it revels in all the abuse and torture that's going on.
Griffin: It kind of felt like an entirely different show to me. I mean, with the exception of that one episode Martin wrote, and to a lesser extent 2×01 (which was helped considerably by the fact that very little needed to be established, and they could just go) this show has never been written that well from my point of view. But still, this was a new level.
Danzie: There's just not much that is salvagable here, and (all jokes aside) I'm someone that really tries to liberally give snaps to the stuff I like. In so many ways I think this was the first major warning sign of what was to come. I still prefer this to seasons 5-7, because at least at this point they still sort of care about telling a story, but damn. This is the first episode of this rewatch where I actually felt ashamed for liking this show once. It's made me question my entire relationship with this show.
(This picture belongs in a museum, though.)
Our 8th grade book report (on themes)
Julia: Pass. Unless you count "everything sucks and aren't we edgy."
Griffin: How about, "Everything sucks and aren't we edgy and also surprise feudal feminism!!!!"
Kylie: I love how those concepts seem like they shouldn't go together at all, but they sort of represent the building blocks of this show.
Okay, I'm going to make an earnest attempt: everything comes with a cost. Talisa kind of delivers it to Robb in a neatly packaged thesis statement. Granted, this theme doesn't really mean anything. The cost of Robb's war was Sansa being brutalized, the cost of Tyrion sending sex workers to Joffrey were the sex workers being brutalized, the cost of the war in the riverlands were the brutalization of the prisoners…
Um. Typing that out, the theme was maybe just brutalization. And also the titular "garden of bones" didn't really tie into this, because Dany didn't get any sort of negative repercussions for violently threatening The Thirteen of "Kwarth." I guess the more central point of this episode is that…violence is a necessary part of this world? Which is more a feature, but damnit, Vanessa Taylor isn't giving me much to work with.
Then we have the inserted ~feminism~ of Talisa, and I'm starting to suspect Ms. Taylor is not the world's best sensitivity reader.
Julia: I think maybe the theme is "Damnit, Vanessa Taylor!"
Danzie: I want to somehow tie Renly's line of "a man without friends is a man without power" to something. Robb makes a new friend in Talisa. Dany has trouble getting in to Qwarth (sic) because she doesn't have a friend to vouch for her. Stannis' power comes from his gal pal, Mel. Tyrion thinks Joffrey having some "adult friends" will help him chill out. LF wants to be friends with the cool kids, but they all tell him to fuck off.
The Garden of Bones is also a metaphor for friendship.
…okay, not really, but this episode broke me in a way I wasn't expecting and quite honestly I'm just tired of trying.
Kylie: We are all bones in the garden now. The title fits!
Cracks in the plaster (the bullshit to come)
Julia: The cracks are just the plaster coming off the wall in sheets in this episode. The scene with Joff and the two sex workers is as bad as anything in season 5, and that rat torture scene is as bad as Theon in season 3 so… congrats, you've reached peak GoT.
Kylie: Then there's also the worldbuilding. We discussed the magically disappearing patriarchy (in so many terms) with the sexually liberated Margaery last week as a crack. Well, Talisa is the fucking Kool-Aid man busting through. Julia and I have joked so many times about the "unchaperoned field nurse sass-talking a king" that the phrase almost means nothing to me, but…yeah, it's a fucking high-born (I think?) woman walking around alone on a battlefield, sass-talking a king. The patriarchy is truly destroyed here.
Of course, it will magically reappear when there needs to be a justification for violence against women, or random bullshit like making Lyanna Mormont's stand against socks seem very Progressive™. In my mind, this hole in the wall is everything that becomes wrong with Game of Thrones, because it certainly connects to the brutalization Julia just mentioned too.
Julia: Just, like… let's think about this character for half a second.
She's from Volantis. (Show-only peeps have no idea what that is, but it's a giant city in Essos that has slavery and thinks highly of itself.) For reasons of being so sassy and feminist and ahead of her time, she decides that slavery is bad and that healing people is good. Okay. So then she thinks her best plan is to go to this fairly barbaric and benighted part of the world and be a field nurse. Like, was she already a traveling healer type around the riverlands and just thought this war was an excellent opportunity for more service? Did she hear about the war and come running from Essos? Her mastery of the Common Tongue suggests she's been chilling there a while. Where did she get her supplies of opium and silk bandages? Is that family money she's using to buy them, or does she have a local benefactor? Where did she gain this medical expertise?
Why do I suspect this is more thought put into this character than the writers had?

Danzie: I like to think that it was all a mailing error. Talisa was supposed to be the sassy new resident doctor on a medical drama but the character pitches got mixed up and now Grey's Anatomy has a mild-mannered girl from the westerlands.
Kylie: Another crack in the plaster is the torture porn, which only gets more and more drawn out as the series goes on. Edginess is a distant horizon they're constantly chasing, I guess.
Remember adaptation?
Griffin: I remember Davos being a much, much more sympathetic and likeable character. Now he's…just sort of there? I dunno, but he seems pretty one-note and flat to me so far. I'm pretty sure that Melisandre was supposed to be that in the books, so it works here (I guess?) but…that birthing scene. With the shadow.
I've seen some stupid things in my time, but I'll admit that there was just no good way to shoot that. Seriously, I feel like that's something that just was never going to translate well to the screen no matter what they did, since you can't cut away from it or it doesn't work. Maybe if they'd done the sequence more like a monster movie? That might work.
Kylie: The best I've ever seen a shadow of death translated was in the Charlton Heston movie The Ten Commandments. I think it was watching the literal squeezing out of the shadow that made it so odd. And it kinda gets a face next week…
Alright, I have to bring up Tough but Fair Grandpappy Tywin. Because he's apparently so awesomely awesome and Fair that he will reward a random peasant girl for disguising herself as a boy. Yes, Tywin of the books wouldn't have wasted working bodies on senseless torture. But the idea that he'd give a shit about any one of them, let alone enough to call Arya "smart" and select her as a personal cupbearer, is ridiculous.
Julia: I mean, it was really dumb of them to kill blacksmiths. Tough but Fair Grandpappy needs to be frugal; I would say why, but that would spoil the cleverest twist D&D ever pulled off.
It's almost weird saying this, but so far they've done alright with Renly. And Stannis is still perfectly salvageable. Obviously the gay punchline stuff was horrible and out of place, but PLOT wise, it's all pretty here? Like, Stannis has the best claim, legally speaking, but no one likes him. Renly's claim is bull, but he's popular. That's minimally sufficient at least, which is more than we get in later seasons.
What do we think of the direction they're going with Qwarth so far? It's a change from the parade they threw her in the books.
Danzie: I dunno, but I thoroughly enjoyed the performance of whoever played the Spice King. He seemed to be the only actor who knew the ridiculousness of the show he was in. He was just having so much fun!
Julia: It's a sense of awareness we won't see on the screen until Ian McShane's Ray in season 6.
Kylie: If I can seriously try to answer Julia's question (though agreed about the Spice King), I think it's part of D&D's general misunderstanding that struggle is necessary in every facet of a journey to make any end triumph meaningful. Maybe this is thinking it through too much, but I'm just remembering the way the summarized Jon's arc in Season 6 as, "well he began the season dead and now he's king, so he's doing well!" Keeping in mind they bend over backwards to aid Ramsay at every turn. It turns into "no one is nice to anyone anywhere," and I honestly do think these are the beginning signs of it.
Or maybe they just didn't want to spend money on a parade.
Carol Watch: who is Cersei this week?
Kylie: Poor Cersei/Carol, she was only mentioned this week. Sending Lancel to Tyrion could have been a move by either of them. So, I say we skip this section for this week.
Julia: Joffery's actions do suggest Cersei's parenting, though.
Kylie: Sure, even if the more Carol comes out, the less that much tracks.
Danzie: Another question is was it Carol or Cersei who commanded the Lancel sexytime? I wanna say Cersei, because Carol, as we know, wouldn't dare sleep around on Larry.
Julia: Yeah, but Larry's in jail and she's SAD.
Exposition Imposition: good or clunky?
Kylie: Jorah got to explain Qwarth and the Garden of Bones! He must have been so happy!
Griffin: Yeah, that was like, literally all he did in the episode. I remember saying something along the lines that his description of the Garden of Bones isn't really different from any other city with walls and gates. If they only had graveyards surrounding a massive city, with no suburbs, okay, that would be pretty freaky and one hell of an image, but…nope. Just a desert. Why not make it a point to mention sandstorms? Maybe they kick out prisoners or beggars or something into the sandstorm when it goes so they can die in the desert.
I think the rest of it was mostly fine; nothing really stands out to me as particularly egregious, though everything with Littlefinger was kinda "HEY LOOK AT ME I'M DOING THINGS!!!!". I don't know if that's just who he is in the show, or silly. Is it both?
Kylie: He overstates the case a ton on the show, and is also the official expositor, so it's kind of hard to tell where the character ends and contrived writing begins. I think it read fairly organically considering some of his other scenes, and it helped that both Renly and Cat were not about to give him the time of day.
Julia: Speaking of overstating the case, Dany. God she likes to yell about all the people she's going to kill. I wouldn't blame anyone who wrote off this character as an annoying, entitled asshole.
Danzie: Yeah, she really does just yell and stomp her feet… which I guess Xaro found charming? Because it's only after this that he decides to let her in.
Julia: Ah, arbitrary laws and oaths based on cutting your hand with a sword. I was wondering when the blatant Orientalism would show up.
How was the pacing?
Julia: I think it's pretty safe to say there were a few scenes that dragged on too long.
Griffin: Yuuuuuuuuuuuuuuuuuuup.
Kylie: Griffin is understating his reaction to this, I might want to point out. He was next to me yelling, "Why is this still going on?" in at least three different spots.
To say something vaguely nice (?) the second half of the episode moved a lot better. Or at least, I wasn't viscerally uncomfortable and mentally begging the scenes to end in my mind.
Danzie: The actual script on paper was way shorter than other episodes. A big chunk of what made up the screen time was just people being beaten or tortured.
Let's talk about sex, baby
Kylie: The sexworker scene was so horrible that I feel as if we're not even willing to talk about it. Yes, Bronn suggesting Joffrey needs sex workers was in the books. Actually making us watch a scene of him ordering Ros to beat up her coworker while he sits and grins for as long as we did was just plain gross. We get it. We would have gotten it had the scene ended three minutes beforehand, too. We don't need this insight for Joffrey, and it pushed into gratuitous somewhere around the belt smacking.
Danzie: The scene just flat out wasn't needed. Joffrey is a monster, and as you said, we get it. We have tons of examples of it already. We don't need a scene of Cruella de Vil drowning a cat to know she's evil when literally all she does is try to kill puppies all movie long.
The only thing I can think of is that now we are supposed to feel even more terrified for Sansa? "Be worried that Joffrey will brutally rape Sansa, audience!" Good thing she eventually gets out of King's Landing so she is safe from that sort of thing.
Oh wait.
Kylie: Thank you, I'm mad all over again. Great analogy though.
The other sex was the off-screen Lancel and Cersei sex that Tyrion calls out. Lancel is like, clearly being coerced, right?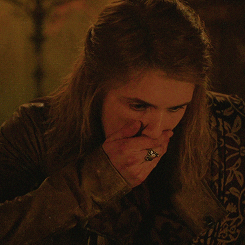 Griffin: Yeah, that sexworker scene, as I mentioned above—what even was that garden weasel thing? Half of a candle stick? Very disturbing and way, way, way too long
I'm pretty sure Lancel is supposed to be…are we supposed to sympathize with him for being coerced? I'm not totally sure that we are since Tyrion makes a point to explicate that Lancel clearly didn't hate shtupping his sister. Doesn't make it better, but it's kind of hard to see the merit of that sequence aside from Tyrion being by far the most entertaining character on the show. Maybe it was just a showcase…?
Julia: I'm mean, it's not rape if you enjoy it. Especially if you're a teenager and she's a hot 30-something.
What is there to say? I think the last time we saw sex between two people who liked each other and both wanted to be there was Ned and Cat cuddling in episode 1. Renly and Loras too, I suppose.
Kylie: Hey now, the ship captain's daughter seemed to be fine fucking Theon. And his view on it was clearly free of issues…
In memoriam: 2 homophobic Lannister guards, 5 Lannister Men for Every 1 of Ours, random prisoner, and Stafford Lannister
Julia: Does Stafford Lannister count? He died off screen and we never even met him. I'm still not done mourning for those 2 homophobic guards, though. What a loss to the art of comedy.
Kylie: The site that has this list put him down, so he counts! But in terms of who we saw die, I guess the tortured prisoner eaten by a weasel was the most…effective? Which again, we did not need to see all of. We knew they were dying from the first scene with that old lady.
Talisa has sassy words to say about 5 Lannister Men for Every 1 of Ours. Death is bad! The smallfolk are the ones paying! I mean, she's not wrong, but I'm kind of remembering when Weiss tried to get all deep after Shireen's death, saying audiences were hypocritical for caring so much about that moment, but being okay with Stannis killing people in "Blackwater." There's a dang narrative, Talisa!
Honestly though, most of my annoyance there is that they'll float the plight of the smallfolk as an edgy, messed up feature of the world, but then not bother to give their point of view any consideration.
Danzie: Silly Kylie. Sex workers and smallfolk are only there to get tortured and killed. Getting their perspective wouldn't be dramatically satisfying.
Julia: That random old lady earned her SAG scale, though.
Wow, this is shorter than usual. We really hated this episode.
Kylie: No argument from me. But what about everyone in the comments? Was it really, truly this horrible? And what the hell, Vanessa Taylor? Let us know your thoughts, and next week we'll get the good ol' boys back as the writers, continuing The Wars to Come.
---
Images courtesy of HBO
The dedication to Lady Knight reads "To the people of New York City, I always knew the great sacrifice and kindness my neighbors are capable of, but now the rest of the country knows, too." It's a somber beginning to a book about the tragedy of war. Obviously, it talks about the events of 9/11, and the book was published in 2002, barely a year afterwards. It's the grimmest of Pierce's books so far, but like the dedication, it also shows the most kindness.
Spoilers for Pierces previous work. Warnings for mentions of abuse and the murder of children.
Friendship in a Time of Blood and Ice Cream
Edgar Wright's Blood and Ice Cream trilogy, also known as the Cornetto trilogy, is a trio of movies that stand in a league of their own. Each movie is its own story and any of the three could stand on its own without the others. Yet they're all linked by their craftsmanship, themes and, of course, Cornetto. They're all top class comedies, while also being well-executed character-driven action movies. Shaun of the Dead, Hot Fuzz and The World's End each focus on the friendship between their protagonist and deuteragonist (each time portrayed by Simon Pegg and Nick Frost respectively). They delve into the deeps of friendship and the aspects, both negative and positive, that can exists in relationships.
It's not you, it's the Zombies
Before the zombie apocalypse, Shaun was living aimlessly, while Ed, his best friend, loafed around on his couch playing video games all day. Shaun had a serviceable job, a stable relationship with a girl he loves, good friends, and pub to go at the end of the day. He was hardly living a full life, but he was living. Sure, he had plans for the future—get a better job, commit more to his relationship, and get Ed off his couch—but he never acted on them. He made promises to his girlfriend that he'd do better, but had no follow through. When anyone pointed out that Ed was a hindrance to him, Shaun would always defend his friend.
Ed's antipathy to development is even worse than Shaun's. He doesn't have many expectations for himself. Instead, he's content to let Shaun defend him while he plays games and does a whole lot of nothing. Ed only helped keep Shaun stagnate.
Everything changed when they found zombies in their backyard. It takes the z-word to get Shaun to act on his plans. With the undead knocking at the doors, he firmly decides what's important to him and sets out to protect it. He finds not only is he good with the follow through, he naturally assumes the leadership role, adjusting quickly on the fly to keep his friends and family safe when their lives are on the line. When disaster strikes, he makes decisions no one should ever have to make, zombie apocalypse or not.
And Ed, well, actually, Ed doesn't change all that much. He's more interested in getting to drive the cool car than he is about the zombies in the street. In the few minutes, Shaun takes to get his mom and stepdad he manages to crash the car. When they're surrounded by a horde he nonchalantly takes a call (from a guy he occasionally sells drugs too).
Shaun's willing to forgive and ignore Ed's apathy until this moment. It takes the world ending and their lives at stake to Shaun to finally confront his friend. The apocalypse becomes the catalyst that pushes Shaun to making decisions. One of those decisions is letting go of a friendship that had been holding him back.
But it's not all sad; Shaun gets the girl and still finds time to play games with Ed occasionally.
They're not Bad Boys
Nicolas Angel is kind of cop who's good at his job. Every part of his job, including the paperwork, but everything else in his life suffers. He breaks up with his girlfriend. The other officers are all too happy to get rid of him because he makes them look bad by comparison. The only constant in his life before moving to Sandford is his Japanese Peace Lily.
Danny, on the other hand, is the kind of cop who never had to be good at his job. He lived his whole life in a small village where the most work the cops had to do was deal with 'accidents.' His father is the inspector. Everything he learnt about his job was from action cop movies.
Friendship in Hot Fuzz goes in a different direction. Nicolas and Danny aren't the lifelong friends Shaun and Ed were. In fact, a drunk Danny almost runs overs Nicolas when they first meet. Danny actually learns what it means to be a cop from Nicolas. Nicolas learns there's more to life than the service and there's more to service than enforcing every law. For Nicolas, Danny becomes the person he cares about more than the job.
By learning more about Sandford from Danny, Nicolas becomes more willing to let smaller infractions go when working to keep the greater peace. By the climax, he even enlists the help of some vandals he'd been suspicious of on his first night in the village. Danny, on the other hand, learns that being a cop isn't about the big action shootouts, and even when the big action shootout happens, he and Nicolas fight their way out while only using non-lethal takedowns. In this view of friendship, each one makes each other a better cop and a better person.
The Crowning Glory of the End of the World
Gary King is the king in his mind and every king needs a court. For Gary, his court is made up of his friends or, to be more accurate, his enablers. Like so many, Gary found his adulthood paling in comparison to the glory of his youth and has been trying to regain that feeling. The height of his youth had been trying to conquer the Golden Mile, a twelve pub crawl with four of his best friends. They never finished the Mile, but that night still left a mark on Gary. For him, it never got better and that's where the problems start.
He keeps searching for that same high in the substance he linked with the first: alcohol. Never finding it, he makes one last ditch attempt to regain his crown by reclaiming the Golden Mile and finishing what they'd started all those years ago. He rounds up his old friends, who have all grown up and progressed in their own ways. Among them is Andy Knightley, who used to be Gary's right hand but has been sober since the very night Gary is trying to reclaim.
Amidst the discovery that their hometown has become a hub of alien activity, Andy learns just how deep Gary's addiction goes. Of the Blood and Ice Cream trilogy, Gary King is the most tragic protagonist. His addiction sends him on a dark spiral. Even as he tries to regain his youth with his friends, he keeps them at distance emotionally. He thinks he needs drinking buddies more than he needs true friends who will help him.
Gary's inability to say no to a drink inevitably leads to the World's End, both the name of a bar and the actual end of the world. But when he hits rock bottom and realizes Andy was willing to follow him there for his sake, that's when he finds the strength to stop living in the past.
Be it the heartbreak of losing good friends, the surprise of finding friendship in the unlikeliest of persons or wanting to help a friend who's not ready to help themselves, the Blood and Ice Cream trilogy portrays the complexities of platonic relationships. Best of all, it shows how they evolve as we grow and change.
---
Images courtesy of Universal Pictures.