We made it. After going back through all of Game of Thrones's most reason season, Julie (the combined brain of Julia and Kylie) has reached the end point. Her 9th and final Season 6 retrospective, where she analyzes just one plotline of the Emmy-winning "outstanding drama" to truly appreciate the genius of showrunners David Benioff and Dan Weiss, along with their creative team (D&D). It's been quite the journey.
What's left? Why, that would be the action that takes place the land somewhere in between Winterhell and Horn Faire known as "the riverblands". This retrospective is a little unique in that we will be following the journey of two characters whose arcs are disconnected, though geographically tied. You see, in the books, the riverlands themselves had quite a bit of significance, and especially in A Feast For Crows, they served to thematically link the seemingly disparate journeys of Brienne and Jaime. We have every bit of confidence that D&D's penning of the riverblands, with a focus on Larry Lannister and The Canine, will have the same effect.
But wait, who is this "Larry" and why are we being such jerks about naming conventions? Well, in our long-standing fight against the conflation of Game of Thrones and A Song of Ice and Fire, we've adopted nicknames for the TV characters and locations. All explanations can be found in our Book Snob Glossary, but as a quick reference for these plotlines, here's who you need to know:
Only Carol
Larry Lannister is…a bit of an idiot. A befuddled knight, if you will. Sure, we vaguely remember a time where he might have been on a journey that forced him to reflect on his internal vs. external honor, and we're quite certain that losing his prized sword-hand was a significant part of that. But since Season 4 on, the only thing we can say with any certainty about Larry is that he loves Carol. He probably loves her because she explains confusing things to him, like that snake-in-a-box death threats are bad, and storming the sept in an attempt to kill everybody probably isn't the world's best idea.
Oh right, in case you missed it, before Larry set off on the heroic journey we're about to describe, he spent the beginning half of Season 6 Larroling all over the place, trying to plot a coup to dispose of the head religious figure, because he was threatening Carol. Nobody puts Carol in a corner—or on trial.
But he failed at that. He failed so spectacularly that immediately following him storming the sept without bothering to secure his king first (or even check where his fellow kingsguard were), said king, a twelveish-year-old-boy whose defining characteristic is being easily manipulated, fired him from being the Lord Commander.
Aaaand, that's where Julie is going to pick things up: the dramatic throne room strip tease.
It's possible, however, that Tommen was just being manipulated by Steve the Intern, since he randomly tells Larry to go hook up with Jaime's A Feast for Crows plotline in the riverlands. Because guess what? Pop-up Blackfish has retaken Riverroundabout off-screen. At some point. After his pee break at the Red Wedding.
Tommen's justification is that Larry was super rude to the gods, but Larry, being a great ally, immediately points out how it's funny that he's not being paraded naked through the streets of Carol's Landing. Good point, Larry! That's some sexist bullshit. You still have to go away, though.
We quickly cut to those riverblands, The Twins to be exact, where we see Walder Filch, the leader of the Floppy Hat Brigade. He's yelling at his two soon-to-be-pie sons for letting Pop-up Blackfish retake Riverroundabout off-screen. We would too. How the fuck did this guy mount such an impressive military maneuver with nothing but the provisions he brought with him to a wedding? During a bathroom break.
Oh, did you think we were going to let that point go?
Also, we have no clue what the time-frame was of this magical victory, or why Filch seems to find out about it after Tommen, but whatever the logistics, the guy suddenly remembers that he has a Tully hostage! It's Edmure! He looks like shit! Which makes sense, since he's been in a dungeon for years. Years. In the background to add color, Filch's terrified child-bride is just…on his lap looking terrified and child-like. We're really happy this detail exists! And in the same episode as sassy Horn Faire dames asserting themselves! Normally, we'd point out this inconsistency in the world building, but it's clearly an established Rule™ that Arya can only kill child rapists, so this makes a ton of sense. Well done, D&D.
Back in Carol's Landing, Larry is in a room screaming at the top of his voice about the thing that Carol is going to go on trial for soon. Here's a snippet:
Larry:

I'm going to give Bronn the largest bag of gold anyone's ever seen and have him gather the best killers he knows. I'll take them to the sept and I'll remove the High Sparrow's head and every other sparrow head I can find.

Carol (reasonably):

You can't.

Larry (screaming):

He has our son! He stole our son! He's torn our family apart.
We weren't kidding when we told you that Larry needs Carol. She talks him off this high-treason-shouting cliff a bit by saying, "jeeze dude, don't worry—we can still punish our enemies." But she also makes good points about how Larry can't do much more to help her there, and how leading a Lannister army might come in handy at some point. She concludes by saying that they're going to fuck up everyone else, and Larry is super turned on by this. They make out, and their slurps bleed into the next scene.
One episode and some indeterminate amount of time later, Larry and Bronn (it's a Rule™ that the Bro-nns are a matched set) have arrived at Riverroundabout at the front of a long column of Lannister forces. This shouldn't have taken a month and a half or anything. Wasn't Carol's trial in "days" when he left?
The siege looks like a mess, because the Floppy Hat Brigade is made of pure fail, although there is at least an attempt to do the whole three camps thing. Bronn, who is of course an expert on siege tactics, immediately points out the flaws and lack of trenches (is that the theme of this season?), and Larry says, "don't worry, you'll be in charge." Why? Not that we're against the social mobility of sellswords or anything, but why?
It's also a Rule™ that Bronn must curse every other word. So that we know he's plucky.
Larry:

You have better instincts than any officer in the Lannister army.

Bronn:

That's like saying I have a bigger cock than anyone in the Unsullied army.
Oh wait, remember Lollys Stokeworth? Well she's retconned or something, because Larry has to promise Bronn a whole new wife and castle to get him to do his job.
Don't dwell on it too long, though, because we're suddenly dropped into a fan-film of Jaime VI from A Feast for Crows.
No really, this is weird, guys. We mean, the context of Larry's arrival is completely stupid, and it even has to be lampshaded as "you Floppy Hat kids are so shit that you let the Lannister army sneak up on you." We are just two women foolish in the ways of war, but you're telling us that no one turned their head at any point to see 8,000 soldiers approaching? Also, why didn't the Lannisters tell the Floppy Hat Brigade they were coming? Was this a surprise party?
But ignoring that minor detail, the Floppy Hat Sonions are doing their best to bring Martin's vision to life. They threaten to hang Edmure or slit his throat (there's in-fighting so they can't decide which one) in what is obviously an empty threat, and Pop-up Blackfish pops up on the battlements of Riverroundabout to roll his eyes and tell them to fuck off. Then Larry patiently explains why what they're doing is idiotic (Carol's rubbing off on him!) and takes charge of the army.
You don't understand: if you just showed us this scene, free of any context, we'd be very pleased with its content as a truncated representation of one of our favorite chapters. No bullshit. But at the same time, we can't imagine how this is landing for any TV-only viewer. We suppose Larry is enough of a blank-slate that they could just think, "oh huh, in this particular scene he happens to be funny and smart," but are they finding it odd that an entire siege was retconned into existence, and an army warped there to bring us this moment?
Par for the course though, really.
Larry gets excited about this adaption, so he asks Bronn to set up a parlay with Pop-up Blackfish, with all his sellsword authority. Book snob Blackfish agrees, so he and Larry chat on a bridge about how stupid Larry is.
And again, we don't know how to feel about this scene, because it's quite good. Blackfish tosses Larry's shit honor in his face, is pissed that he didn't fulfill his oath to Cat to bring Arya and Sansa to safety, and also is quite open about the fact that he's willing to die on this futile hill. Larry doesn't really have any answers, since how do you convince a dude that just wants to fight, especially when none of the River Lords seem to exist, so the poor guy has no leverage. But we do get this rather lovely shot that is the most Oh! Larry moment we ever saw:
Hey, remember Brienne the Brute? She and Larry once had fun times with a bear together? Well, when we last saw her, Boss Ass Individual Brittany ordered her to go treat on her behalf with the Tully army, because and we quote, "you'll know how to talk to him." Not that it mattered with Jonny's arbitrary battle timeline anyway.
The point is, Brienne, who feels duty-bound to protect Cat's daughter(s), has arrived at Riverroundabout on this incredibly important diplomatic mission. And she gets scooped up by Lannister soldiers almost instantly, because Bronn has surely whipped the siege-line into shape. She asks to speak with Larry and everyone's like, "aight."
It's the reunion we've all been wait for, guys…Pod and Bronn! Remember the fun times they had together, drinking or something? We're pretty sure this happened, though not 100%. Don't make us check. Bronn certainly remembers Pod's sex life, so that's something. Apparently his "magic cock" needs a mention, lest we let that continuity drop.
Bronn sort of launches into this…incredibly weird tirade about Pod's sex life and Larry's life, and does Pod think Brienne and Larry are fucking? And everyone wants to fuck Larry—it's really upsetting how women look at him, and does he ship Brienne and Larry?
We're NOT exaggerating. Pod, meanwhile, tries to casually laugh this off, though if you look closely, you can see Daniel Portman's soul shattering.
Inside the tent, Larry and Brienne are not fucking. We'd be more upset about that if either of these two had a characterization beyond befuddlement and smashing things, respectively.
Instead, they're talking about "politics," apparently, which means just now discovering that they're on opposite sides of the war. See, Larry is supes impressed that she fulfilled half their oath to Lady Cat, but then is like, "I just remembered Carol wants Sansa dead, so…" Brienne then tells Larry that she is there to treat with Pop-up Blackfish so that he can take the Tully forces to fight for Sansa in the North. She asks that Larry just…let them go, if she can convince him.
Let them go. To fight for the Starks. Who the Lannisters want dead. This checks out!
The best honeypot we can come up with is that Larry knows Carol is pissed at the Boltons, and wouldn't mind if these two forces wiped each other out, or something to that effect. Though this level of strategy normally eludes Larry.
Whatever his reason (it's never explained), he agrees to this terrible plan, because he might love Brienne or something. She also tries to return Oathkeeper to Larry, because one out of two Stark girls is enough, but he insists it's hers. It matches her eyes.
Despite Brittany's vote of confidence in Brienne, when we cut to her trying to convince Blackfish, not only does Brienne have no clue what to say to Blackfish, but she's not even convincing enough to get him to stop pacing around and have a proper conversation with her. We guess there's plenty of futzing for him to do since this is an action-packed siege.
"Sieges are dull." —Blackfish, 6×07
She finally cajoles him into standing still long enough to read a letter that Brittany wrote, and it's so moving that he says she's "exactly like her mother." For being literate? Or did she talk about how it's her lot in life to wait for her men? Wait, that's the books. Did she write about how she cursed her whole family to death by being awful?
Whatever she said, unfortunately being just like Cat doesn't mean as much as it used to since Blackfish still wants to die on his dumb hill. That and he doesn't trust the Lannisters and Floppy Hat Brigade to close their eyes, turn their backs, and pretend an entire Tully army isn't marching North. Plus this is his home and junk.
Meanwhile, the fan-film of Jaime VI takes a turn for the fanfic. See, like the second half of the chapter, Edmure and Larry still chat in a tent, and it concludes with Larry threatening to hurl Edmure's sonion at Riverroundabout via trebuchet catapult. But the logic for how Larry gets there is…unique.
As it turns out, the only thing that motivates him is his love for Carol. He loves her so much that he will do anything to be with her again, and everything he does is to achieve that aim. If he were to have a vision-board, it'd look something like this:
By the way, why is the Floppy Hat Brigade keeping Edmure alive if he has a fully-born sonion who can be Lord of Riverroundabout? Because in the books—forget it.
Edmure might be a book snob, or Tobias Menzies is really livid about having to act this shit out, because he's like, thrashing against his restraints and banging his head against the tent pole. It's not made better by the fact that Larry keeps likening Carol to Cat with the most superficial parallels we've ever heard. They both were mothers! They both didn't want their kids dead!
Also, this might be the culminating moment of Larry's arc this season: screaming how much he loves Carol. Which, in case you didn't remember, was his culminating moment last year too. After all, we can't choose whom we love. Even if we can choose whom we fuck and commit high treason with. Just sayin'.
Convinced that Larry really will do anything to get back to Carol, Edmure decides that it is best just to surrender Riverroundabout than to have his sonion murdered, along with all of the Tully men inside. Blackfish, seeing this obviously-compromised prisoner asking to be let in, tells the guards not to let him in, because, you know, he's obviously compromised. However, a very conscientious Tully soldier, let's call him Andrew, says that he has to let Edmure in since, "He's my lord, my lord." He's very committed to the feudal order.
Edmure walks in and he and Blackfish exchange pissy looks for some reason. God forbid family members love each other and understand the difficult positions they're both in. Edmure then marches up to an eager Andrew and tells him to surrender the castle to the Floppy Hat Brigade. We're not sure what Andrew expected, but the dude is crushed. Talk about a breakdown of idealization.
Blackfish decides that he needs to save Brienne and Pod by showing them the way out of the castle, even though they were given permission by Larry to be there and don't seem to be in any real danger. Brienne tries one more time to convince Blackfish to come with them and not die stupidly for, at this point, literally no reason. It wouldn't even be like a hundred Lannisters fall for each Tully. The castle is breached because The Lord surrendered.
"Your family is in the North. Come with us. Don't die for pride when you can fight for your blood."
She really knows just what to say to him…to get him to suicide charge off-screen. Oh well, she tried.
We suppose it's possible Pop-up Blackfish took out a hundred Lannisters, actually, since we didn't see the damn fight. We're just informed about it after the fact by a random guard who catches Larry standing on the battlements, staring into the middle-distance. Thinkin' about Carol, of course. Somehow, despite it being pitch fucking black, he spots Brienne and Pod's little rowboat. Even more miraculously, Brienne spots him and recognizes this shadowy lump as Larry. So she waves.
This is objectively ridiculous.
We know the sheer momentousness of this plotline is overwhelming, but don't worry: we're nearing the end. In "The Winds of Winter (fuck you)", we cut to The Twins, where Walder Filch is throwing a 'mission accomplished' party. He happily chats up the alliance between the Lannisters and the Floppy Hat Brigade, though didn't see fit to give Larry a seat on the dias. Awkward. His child-bride is missing too, but we're less upset about that one.
Apparently the battle-cheer of this alliance is, "we send our regards!" This strikes us as…odd. It's almost like it's a phrase that has more meaning to the fandom than to in-verse characters and appropriating it sticks out.
Down in the cheap-seats, Arya Todd makes flirty eyes at Larry so that Bronn can go off on another tirade about how hot Larry is, and how he's so jelly. Jelly of whom, Bronn? Larry or the ladies? Well, we get our answer when Larry, a good wingman, somehow negotiates a threesome for Bronn, and the guy goes (and we QUOTE), "Maybe I'm not in the mood."
Are we fucked up for wanting Bronn to be in love with Larry because at least it would be something here?
Either way, he grudgingly fucks off (literally), so Walder Filch comes down from his high seat to bond with Larry. It's actually not terrible, because he brings up the mutual kingslaying thing and it visibly upsets Larry. Like yeah, having Filch empathizing with you over something like that would call into question your life choices. It kind of reminds us that Larry used to be this character:
Walder Filch also goes on to talk about how he might lack in fighting prowess, since he's old as balls, but he still manages to find a way to win his battles. And he's right. What show is this?
Oh wait, it's Game of Thrones, so rather than actually relating to anything in his arc, Larry just gets pissy with Filch and says that it was really the *Lannisters* who saved the day. "Why do we need you?" So once again:
Fast forward…some amount of time, and Larry and Bronn make it back to a still-smoking Carol's Cheryl's Landing! Larry rushes inside to find Carol Cheryl being coronated. By the Master of Whispers. Logically. He then gets this look on his face, and that's the last we see of them for the season:
Concerning Canines
Elsewhere in the riverblands…
Or are we in the riverblands? Because from what we can tell, we're in land of Always Summer, with blooming fields and happy hobbits. We're quite certain Tuckborough is only a short walk away.
See, these Shire Folk are not only happy and industrious, but they're pious, working hard to raise a sept under the watchful eye of Septon 'Ray'. This is his actual canon name, and we will repeat that fact many times. Ray bares a shocking resemblance to the rugged Ian McShane, who may or may not be pissed at his agent for this role. He shouts encouragements at his little hobbits, but with a bit of a grimace on his face.
Oh, by the way, this scene was a cold open for the episode "The Broken Man." So, we hope you're on the edge of your seats for what's about to happen.
There is one merry worker who is not whistling! Instead, he's carrying giant fucking logs all by himself. The camera does a swoopy thing, and it's time for the Reveal of Extreme Significance: this dude is The Canine!!!!!
Guys, did that send shockwaves, or what? We mean, it's The Canine. The person who ate chicken wings once. We're just lucky that we had the credits to collect ourselves, because afterwards we pick back up in the same spot, only now Ray and The Canine have a chat.
The Canine chops wood, while Ray teases him for losing a fight to a woman. Drop in the bucket at this point.
Then we cut to the hobbits eating lunch. The Canine isn't sitting with them, because he's brooding or something. Ray decides to cheer him up by expositing about the details of how he didn't die, which we're quite certain The Canine knows anyway.
Oh and good news, he went to the Bronn School of Vocabulary:
Ray:

No, there's a reason you're still here.

The Canine:

Aye, there's a reason. I'm a big fucker and I'm tough to kill.
Wow, D&D just earn those Emmys time after time.
Ray further exposits about how he's the world's worst septon, since he doesn't know anything about the religion he's supposed to be preaching. Like, he doesn't even know the names of the gods, though there's a chance he's just stoned out of his mind on Shire leaf. It would also explain the pseudo-philosophical bullshit he spins about how he doesn't need to know the names, man, because they're all just part of one big story.
"Maybe it is the Seven. Or maybe it's the old gods. Or maybe it's the Lord of Light. Or maybe they're all the same fucking thing. I don't know."
What he does know are the stories about how badass The Canine is. The Canine thinks the gods aren't real because he should have been punished already, but Ray says that he was. That was inspiring!
Later that day, or maybe a month later because this is the episode where Larry warped to Riverroundabout and Brittany and Jonny took a bullet train through The North, Ray is preaching at the hobbits. He might have once read A Feast for Crows and got inspired by Septon Maribald's famous "broken man" speech (hey, that's the name of the episode!), but he's gonna do the short, short version. Ian McShane sells it, because he's Ian McShane. The gist? War sucks and can make you do things that don't feel good, but there's always a chance at redemption. Now that we think about it, it's a lot more hopey-changey than Maribald's speech, though Kara Danvers approves.
The Canine sits on the outskirts listening, looking…moved? Irritated? Hungry?
Well no time for eating, three random dudes on horseback materialize and demand horses/steel/food in exchange for their "protection." Ray says "Seven save you, friends" as they depart, so at least he knows the number of gods. It's something. He also invites them for dinner, but says that they don't really have anything to give, and they've got hungry mouths too. The randos exchanged peeved looks, but turn to go with a pissy, "the night is dark and full of terrors." This means that they are either part of the long-forgotten Brotherhood without Continuity, or maybe they're the people that ditched Stannis who we never heard from again.
Actually, we don't want to keep you in suspense: it's the first option.
Once they leave, The Canine flies into a wood chopping rage, and begins cutting into a log TWICE as fast. Ray comes over and is like, "dude, it's just tits and dragons, don't worry about it." Wait, sorry, that was Ian McShane, and it seems pretty obvious he's not taking this seriously.
Ray is kind of chill about this too. He's like, "what are we supposed to do? We're just a bunch of hobbits." The Canine wants Ray to fight, but he's done fighting. Just like Jonny. Or Forest Whitaker in Rogue One. He also thinks that if you take minimal provisions to defend yourself, that spreads the disease of violence. It's almost like he was written by people who have heard of passivism, but never actually talked to a pacifist. The Canine thinks this philosophy is stupid. We wonder who will be proven right…
Later, The Canine has progressed to chopping wood on the outskirts of the Shire, and he hears exactly one scream. He goes racing back to find Every. Single. Hobbit. Butchered. Wow, those guys are super efficient. For some reason, the thugs gave Ray a special treatment and hung him on the half-built sept. WHAT A SENSELESS AND CRUEL WORLD! The Canine looks really pissed, and the episodes ends with him picking up his axe and marching forward, a determined look on his face.
The next episode contains a scene that makes us feel actively dumber and more insecure about ourselves to discuss. Because we are two respectable, educated women. Why are we watching this shit? What is this? Who said this was okay?
Alright. Here we go.
There are four men sitting around, chatting. One of them looks like one of the thugs who asked for steel and horses from the hobbits. It could be two of them, but frankly we don't know or care to check. The one dude we do recognize sticks his fingers up the ass of one of his traveling companions and says it "smells like pussy." Then The Canine comes charging in out of nowhere and murders them all, disemboweling the dude that just committed the sexual assault (for laughs), though not before asking him where the "others" were.
Isn't your life richer, having had that described?
Later, The Canine stumbles across an unexpected party in the middle of the riverbands. It's Beric Dondarrion and Thoros of Myr! They think it's Season 3 or something. They've caught three other dudes, who comprise the Bad Dudes from earlier, and are about to hang them. What a merry crew!
However, The Canine really bonded with Ray, we suppose, because he wants to revenge him. Beric and Thoros are like, "dude, we're about to hang them," but that's not Manly™  enough for The Canine. He wants to chop them up with his axe. Is it possible…his arc is about his love of his axe? Because he's always with it, and there were all those wood chopping scenes.
Thoros and Beric think he's fucking weird, but agree to let him kick away the blocks of two of them. This takes at least a solid minute of negotiation. The Canine does as he's told (good boy!), and while the hanging men are still twitching, rips the boots off one of them. Good boots are hard to come by.
Then he asks for something to eat. We cut to him enjoying a nice rabbit with the Brotherhood without Continuity. They ask if he likes it, setting up a punchline that references two seasons ago.
"I prefer chicken." —The Canine, 6×08
Then he randomly gets up to piss (we guess it's not random if he's been drinking, but for a TV-show pissing is always a little random), so that D&D can pretend there's nudity equality. Yes, giving us what we've always wanted: a blink-and-you-miss-it glimpse of a flaccid, urinating penis. This is almost as good as the warty dick shot.
The Brotherhood without Continuity tries to recruit The Canine by saying that they're all here for a reason. He's a good nihilist now though, and laughs at them. So instead, they convince him by saying that there's a lot of fightin' they're going to be doing up north, and if he joins, he'll help more than he's harmed. The Canine agrees (we think), and we have literally no way of knowing if this is because he wants redemption or more fighting. Take your pick, because…
The Things We Do For Love
Alright, time to break down…all that. We're going to start with Larry Lannister, as is fitting of his rank.
We really wanted there to be meaning in Larry's arc, even if it was sarcastic or absolutely unintended meaning. Like how Grey Worm and Missandei were doing everything they could to run the city, but this annoying drunken asshole kept interrupting them. These things at least have some entertainment value.
But for Larry, there just wasn't meaning to be found. As far as we can tell, even in-universe, the entire thing was just an inconvenient plot cul de sac that he had to round so he could get back to Carol as fast as possible.
There was a minute where we thought this actually could be about getting Larry to challenge his own identity and place in the world. Blackfish talked about how unimpressive he was/how shit his honor was, and Larry seemed hurt. Or maybe Nikolaj Coster-Waldau was hurting himself trying to figure out what character to play. After that, Brienne comes along, and tries to point out to Larry how the side of the war he's on isn't right.
Brienne:

The Tullys are rebels because they're fighting for their home?

Larry:

Riverrun was granted to the Freys by royal decree.

Brienne:

As a reward for betraying Robb Stark and slaughtering his family.

Larry:

Exactly. (Pause) We shouldn't argue about politics.
Now, your mileage can definitely vary on how poorly you view the Lannister's response to Robb declaring himself king, but the point is, Brienne was still challenging Larry's place in the world at the head of the Lannister army. Especially since he aligned himself with the Floppy Hat Brigade, who are just impossible to like, between their incompetence and child-brides.
It all seemed like it was coming to a head during Larry's scene with Edmure (who we're still a little floored was given lines rather than being billed as an extra: that good ol' Rickon treatment), since Edmure says:
"How do you live with yourself? All of us have to believe that we're decent, don't we? You have to sleep at night. How do you tell yourself that you're decent after everything that you've done?"
This is a question worth addressing, because it's supposedly getting at the internal conflict of this character. But the thing is, Larry responds to this, and thereby responds to everyone else, by being like, "Look. I love Carol. We don't choose whom we love. And everything I do is to ensure that she's safe and I can be with her. Period."
Also, call us crazy, but the way it's framed in the narrative is both perfectly reasonable, and as if we're supposed to be on Larry's side. D&D ship Larrol, from what we can tell, and really, no one has a counterpoint to this.
What does this mean for Larry's arc? Nothing! He spent all of last season learning that he should double-down on his love.  Which by the way, marks the fifth or sixth character (we might low-balling, honestly) whose arc in Season 6 was identical to Season 5.
There are only two scenes that don't fit in with this. One comes at the very very end, where Larry sees Cheryl being crowned, and he looks disappointed. We think. Frankly, this could be one of those situations where the next season they have a completely different relationship. Remember at the end of Season 3 when he and Carol were basically in tears at his return, but then in the first episode of Season 4, she wanted nothing to do with him and was potentially hiding taking an abortifacient from him? Or the end of Season 4, where she choose Larry-chu and they had wild White Tower sex, but then at the start of Season 5 she was incredibly mad at him for…something? Letting Tywin die maybe, or releasing Tyrion? But then the episode after that she seemed all hurt that he wasn't more of a father to her kids?
Our point is, as much as we adore Larrol, their relationship has a habit of adjusting to plot needs. So forgive us for not reading too much into one look that could have just as easily been hunger. The overarching story for Larry was that he loved Carol and wasn't afraid to assert it as a strategic tactic. If Cheryl truly upsets him, then that had nothing to do with any self-discovery, especially contextualized by the first half of the season, where he seemed like he wanted very violent revenge. Maybe he was just miffed that she was crowned when the previous conventions had been male-preference-primogeniture, because that was kind of rude. They're a regular Fernando and Isabel, we guess.
There's one other moment that we have to consider, which is Larry's conversation with Walder Filch. It seemed like when Filch first brought up "hey, we're both kingslayers," Larry was really upset about being compared to this fucking asshole. Rightfully so; Larry's kingslaying, remember, was one of the most honorable deeds he could have done. It's just not viewed that way by the world, because no one understands what was at stake. Except Brienne. And apparently Carol and Saint Tyrion, too. But it's something he closely guards, while also taking shit from everybody else about it. Of course it bothers him.
But, Larry counters what Filch says by just yelling about how much better the Lannister army is, and how this is actually his victory, cause he did all the hard work. By yelling about his love for Carol to Edmure, we guess. Then he storms off in a hissy fit.
If we're being very, very generous, we could say that this was about him learning to accept his place at the head of the Lannister army now that he's dismissed from the Kingsguard, and maybe putting Bronn in charge of trench-digging was showing this development of leadership too? But…is there even a 'but'? Do we really have to pretend that this is a thing?
What boggles our mind is that they spent all this time and all these resources just to put this cul de sac in, and it didn't even make sense. Larry being dismissed from the kingsguard was incredibly flippant, and that's not even touching how illogical his entire rebellion against the Faith was which resulted in that decision. Just logistically, the fucking idiot didn't pay attention to where the king was. No, we're not over this. We won't be over this any time soon, because this is not a reasonable level of stupidity. Even for Larry, this is simply not believable.
Add to this the fact that Blackfish had to have left the Red Wedding during a pee break, somehow made his way through the camp where everyone was being slaughtered, and then mustered the forces to take back a defensive stronghold off-screen, because that's how important this was. And then, for some reason, the Freys didn't know the Lannisters were coming to help them out, because how do alliances work anyway?
It's one thing to retcon something small, but this was literally cramming a plot down our throats that we had no need for, and that accomplished nothing. Politically, Walder Filch is the Lord Paramount of the riverblands. This has been the case since the Red Wedding. As for the status of Riverroundabout, from what we can tell, Pop-up Blackfish took it back very recently, so it's not like that amounted to anything either. Also, there were no other River Lords. They name dropped the Mallisters and the Blackwoods (they've risen against the Floppy Hat Brigade!), but we didn't see them, nor these supposed rebellions. The only thing we saw were rogue members of the Brotherhood without Continuity slaughtering random hobbits in The Shire. But…how is this connected to anything?
Call us cynical, but we're beginning to suspect that this whole thing was just a contrivance so that Larry could be out of Carol's Landing for Cheryl's Big Boom, and they actually put little to no thought into it at all.
Brienne, the Maid of FAIL
Speaking of being connected, Brienne was propped up as being very meaningful to Larry. We think. They exchanged that wave, after all.
Yes, you'd have to be a total dingus to read A Song of Ice and Fire and not find some significance in the Brienne/Jaime relationship. This is especially the case in A Feast for Crows, even though they don't meet during the entirety of that novel. This is because they immaculately parallel each other, both on quests of identity through the riverlands, while also continually thinking about one another. The reader is able to see their influence on the other, particularly the way Brienne is shedding more and more of her idealism, while Jaime is almost taking on an increasingly romantic world-view. Ish. It's complicated, and deep, and thematic. They both struggle with internal vs. external honor, gender expression, and how they see themselves fitting into a world that rejects them off-hand (Jaime with his disability, and Brienne eschewing traditional femininity).
For two-ish seasons, Brienne the Brute and Larry were pretty significant to each other, even if their characterizations were markedly different from their book counterparts from the start. We simply can't imagine our Brienne shaming someone for sounding "like a bloody woman," (or even saying the word 'bloody' in a non-literal context), because she rather admires other women and why the hell would that be an insult?
Still, there was the tub scene, and the time Larry gave her a sword to fulfil an oath (though they kind of screwed the pooch with Sansa trotting around in front of them for a couple of episodes), and it was clear that something was building between them. We don't just mean romantic feels, either. We mean, we saw Larry confide in her about his most infamous act and his reasons behind it, and we saw Brienne becoming increasingly trusting of, and devoted to, him. We won't pretend it was perfect, but it was, you know, nice.
Cue the rest of Season 4, and all of Season 5 and 6, where Larry's entire character is devoted to his relationship to Carol, or at least, that's framed as the most important piece of it. After all, the past two seasons were nothing but him learning to embrace how much he loves Carol, first to win the affection of an estranged daughter, and then to win a battle because Carol's love solves all geopolitical issues.
Just as a quick aside, Larry should probably stop telling every single person he runs into how much he loves Carol. Cause like…high treason and shit. Not that there's a legal system anyway.
Meanwhile, Brienne spent her past few seasons failing at everything.
No really, she is just made up of fail. We suppose she's better at lighting a fire than Pod, so props there. Otherwise, she failed to convince Arya to even hear her out, only to then lose track of Arya completely (and failed to kill The Canine). She failed to convince Darth Sansa to let her into her service; she failed to pay attention to the stupid dinky candle when Sansa actually needed help. Then, mother-of-all-shocks…she failed at the one mission Sansa assigned to her this year. On occasion she'll slaughter people at a convenient time, but otherwise, she is just utterly useless.
Larry seemed to think Brienne did an awesome job with Cat's oath because she found Sansa, and at least could vaguely say, "Arya might not be dead." And yeah, randomly stumbling upon these girls in a field and a bar was sure neato (and very proactive) of her. But at this point, what is she even doing? Does she still mean something to the audience, or has she gone the way of Davos, who just picks a side and makes remarks sometimes?
Come to think of it, what does she mean to Larry anymore? If it's just like, "hey there's that woman I hung out with for awhile and who gives me confused boners," then sure, but contextualized by his EXTREME LOVE for Carol, her presence just doesn't change anything. On her end, she might think he's fuckable, or at least worthy of a goodbye wave, but…is this a romance? Is this any kind of relationship? Because from what we can tell, it was two characters who were on trajectories that they were both abruptly jettisoned from, only to faff about for two seasons and then get randomly slopped into a tent together. It was like D&D thought just sticking them in the same breathing space and having Bronn ship it would make this meaningful.
Are we supposed to think Brienne is what keeps Larry honest in the way he proceeded to negotiate the (mostly) bloodless surrender of Riverroundabout? Ya know, she's a face on that side of the war and he doesn't want to be as brutal or ruthless. Because by his own assertions, he just wants to do whatever's the quickest route back to Carol. And even if that was supposed to be the case, isn't this entire thing an exceedingly odd way for the writers to show us Brienne's influence?
It's not as though we don't enjoy Nikolaj Coster-Waldau and Gwendoline Christie making heart-eyes at one another (if that's what they were doing), because at least it's not parkour or fingers up the ass. But we just can't find anything worthwhile to attach to these moments. Larry loves Carol. Brienne fails. What a story.
An Ode to Side-kicks
We are the kinds of people who when you ask us about the Tyrells in the books, we'll get all smug and be like, "they exist for the benefit of the point-of-view characters, of course." Which is not wrong. But it also means that we don't usually take a ton of time to consider side-kick-esque characters outside of their relationships to the main character.
The thing is, Bronn doesn't inform Larry's character, because Larry doesn't have a character. So instead, Bronn seems to be D&D's attempt at comic relief. We mean, he grabs Pod's dick and slaps him and says "fuck" a lot, and this is probably amusing to someone somewhere. He also rolls his eyes and cuts Larry off with a few more "fucks."
At the same time, he's a little bit infallible. We think he's supposed to be like the everyman who is constantly ribbing these aristocrats for how out-of-touch they are (while also demanding two high born wives and castles). But D&D just kind of carry this folksy wisdom way too far.
Remember back in Season 5 when he was like, giving Larry relationship advice? And then this year, he apparently has "better instincts than any officer in the Lannister army." First of all, there are officers? Second of all, why would this fucking sellsword have more military knowledge, particularly about siege warfare, than "officers" who probably studied this stuff, or at least read one book on it once. Hell, one of the maester chains is siegecraft, so you'd think the people benefiting from such an education system would have better instincts than the illiterate sellsword who got a job with the Lannisters by being plucky. And opportunistic. Single combat, fine, but he was tasked with overseeing the trenches.
It's not like Bronn's character especially matters, of course. He lightens the mood and then can sometimes act as a sounding board if Larry needs to state something obvious. We amuse ourselves with a reverse honeypot that Bronn is completely in love with Larry, because the number of times he brings up how hot he is, how jealous of all the women looking at him he is, and how he just might not be in the mood for a threesome raises a bit of suspicion. But, again, we know it's only in our minds. That we're talking to ourselves, and not to D&D['s vision]. And although, we know that they are blind. Still we say…there's a way this works.
There's even less to say about Pod, because we can't reverse honeypot a story for him. We can't even tie his magical cock into anything, since all that happens is Bronn grabs it. At best, "humorous" sexual assault against men is a theme of the riverblands. Pod is just kinda…there. We're happy he's learning how to be a better fighter from Brienne off-screen. Go Pod!
Is it worth talking about Blackfish? We called him "Pop-up" Blackfish for a reason. From what we remember, in Season 3 he was kinda a gruff jerk. He was the dude who shamed Edmure for missing a kind of difficult shot at his father's funeral when he was grieving. There wasn't anything overly bad about him, but he really just…existed. You could tell he had a military competence about him, it's just that they didn't really bother fleshing him out any.
In the books, we're at least privy to Brynden Tully's complicated relationship with his brother, his love for his nieces and nephew, and how his relationship with Lysa suggested that he wasn't completely on-board with Hoster's treatment of her. The fact that he refused to marry for twenty years gives the potential for interesting headcanons. Also, he didn't have to take a castle off-page; he stayed behind at the Red Wedding, because Robb actually considered securing his rear.
We're not sure why Blackfish came to the Red Wedding in the show, because we don't really remember him doing anything of interest. Granted, we didn't go back to watch, so if we're missing something momentous, please tell us. Was he just along for the ride so he could keep sniping at Edmure?
But then to bring him back, just to have him die off-screen… This is Clive Russell, and he really did sell the role, we're not going to lie. It would have, on some level, been quite satisfying to see him leave with Brienne, or maybe agree to bring his army to the Bastard Bowl. You know, it would have made us feel like families sort of care for each other, and are willing to make sacrifices if that means banding together in the long run.
However, that's not what we got. We didn't even get a nice moment between Edmure and Blackfish, though frankly it's hard to blame Edmure given how much of an ass his uncle's been to him in the past. Like, yeah, it's a shitty situation, but it's not as though Blackfish can't wrap his mind around why Edmure might not want to die in this situation, or have his son and wife come to harm. And forgive us, but IN THE BOOKS, Edmure helps Blackfish escape and is super smug about it.
Look, there's just nothing to say about Blackfish that hasn't been said about this plotline as whole. We have no clue why it was brought back into existence, other than that they couldn't think of what else to do with Larry and Brienne for a season. Or this is the Checklist Effect™ .
That's not to say it's completely a waste. You see there's one character who has an arc. It's in the course for two scenes, but it is development, damnit, and more meaningful than anything else in the riverblands.
We speak, of course, of Andrew, the committed Tully man-at-arms, who was so willing to stand by his Lord no matter what. He trusted in Edmure, damnit, so imagine his chagrin when the guy marches in and orders them to stand down.
We're not sure how Andrew envisioned that going exactly. Did he just think the Floppy Hat Brigade was turning over a hostage for fun? Still, his commitment to the feudal order is honorable, and we're so sorry that he had to see his idol's fall from grace.
But his epic arc notwithstanding, there's a reason we call this "Riverroundabout."
What Kind of Nihilistic Bullshit is This?
This was the easiest subheading we've ever crafted, because it's what Julia screamed as soon as she finished watching, and continued to do so to Kylie for a few good minutes afterwards. Expect great things from our podcast next week (including Julia breaking and running, like a broken man does).
We know we just recapped the events for you, but seriously, all The Canine did was chill in The Shire with Ian McShane telling him that the world was alright, only to watch some random dudes chop everyone up because the world is shit and you should feel bad. Then he went on a [humorous?] revenge rampage, got a new pair of boots, and received a job offer.
If we're very, very generous, we can say that Beric's remark about how it's "not too late" for The Canine means that this ended on an optimistic note, with The Canine suddenly motivated by redemption. Except…this is exactly what Ray said, and then he died and was proven wrong. Also, there's no suggestion that The Canine was compelled by the redemption angle so much as the fighting angle. Unless we count that two second look during Ray's speech that might have been conveying interest. Or maybe hunger.
If he was trying to turn over a new leaf though, isn't this a weird way to go about showing it? Like, we have The Canine wanting to chop up three men already sentenced to die by hanging, then bargaining for a solid minute so he can kick out the stump from as many of them as possible, and then he steals the boots out from under one of them while the guy is still twitching. We know it's a small thing, but it's deeply fucked up and so macabre, and from what we can tell, it's to show how ruthless and hardened of a person he is. So…this is the guy who wants to do more good than harm? Are we sure about that?
Add to that the stupid inclusion of the chicken joke. There's a reason we have this shirt in our store:
Your mileage will vary with how humorous you found the chicken joke in Season 4. But it's symptomatic of a different issue. This whole thing feels as though D&D brought him back because he's a goddamn meme, in the same way you can tell they write lines like "I drink and I know things" for Tyrion because they know people will make t-shirts of that. Or why they felt we needed an intricate explanation for the origins of "Hodor" to the point where it was framed as an all-important mystery for Bran to solve.
The truth is, as a character, The Canine is absolutely indistinguishable from the host of other hardened, humorous Badasses™ that D&D have written. Because seriously, Bronn and Fabio and Tormund and even the famous Lord Umber (Randyll's bff) will curse at inappropriate moments, or say hard truths, or yeah, steal boots from men who are about to die (at least, we can see it happening). There's nothing remotely interesting about The Canine that we can parse at this point in the series. He doesn't seem to have a relationship with any character except potentially Arya, and a little bit with Beric. (They don't like each other!)  But forgive us for not finding him cold-open worthy, especially when his plot can be summed up like, "now he's walking in this direction."
And for fuck sake, did we really need to see yet another instance of the writers setting up a scene where we're expected to feel sympathy for someone, only to have the rug pulled out from under us so we can learn what a horrible place the world is. We already got that message with Rickon and Lady Crane and Osha and Fat Walda and Loras and Shireen and Hizdahr zo Sansa and Talisa and…we're getting tired.
This one was so utterly transparent that it's almost insulting. Or maybe humorous. We really can only laugh at the hobbits that were given no personality or motivation or anything, because they were just happy lambs being set up for the slaughter.
What even was this place? We know it's The Shire, but what is this community if people in a perfectly temperate field who do nothing but build a church and skip around the maypole. Where do they sleep? Where do they hunt/grow this food that they're eating? Did Ray find them, or was he a community organizer? Are they super isolated and that's why he doesn't know the names of the gods?
Also, and this is such a stupid point, it doesn't even make sense that The Canine missed the entire slaughter. The dude was chopping wood barely on the outskirts and he hears one measly scream. Then, after rushing back, everyone is hacked to pieces, Ray is strung up, and things are like…overturned with food scattered everywhere, yet the ruffians have already fucked off. It doesn't even look like it was ransacked properly, which was the point of the attack, wasn't it? They wanted steel or horses or food, didn't they? Or did they just want to chop up a bunch of heretics?
Look. In the books (we know), the Brotherhood without Banners doesn't do anything to people who follow the Faith. They sulk at meals when someone says grace, but Julia just did that at her mom's Easter table, so…
Yes, we guess randomly bringing in the Brave Companions or the Mountain men could have confused the Unsullied, but we have no clue what anyone's motivation in this entire plotline is. People are horrible and you should feel bad. Robin Hood's merry men can sometimes splinter off and go on murder benders. Neato.
We'd immaculately detail Sandor Clegane's fate in the books and how that relates to Jaime and Brienne's respective journeys, but this bullshit with The Canine has nothing to do with it. It has nothing to do with anything. It's not better or worse than anything, because it's nothing.
It took up screen time. Same with Riverroundabout. Same with Horn Faire, and Arya having her Season 5 plotline again, and Saint Tyrion rehashing the conflicts Deadpan faced, and the four High Grandpa speeches that were all the same, and Carol being put upon episode after episode until some random homicide, and Ramsay being super evhul, and so and so.
That's the theme of season: wasting screen time. If D&D only wanted 8 episodes, they could have just told us. Jeeze. Clearly, this means the shortened Season 7 is going to be a rollicking success. We can't wait.
---
Editor's note 4/18/17: a correction was made in which Larry had originally been referred to as the "first-born."
If you enjoyed Julie's thoughts on this plotline, then be sure to check out the Game of Thrones/A Song of Ice and Fire podcast starring Julia and Kylie, Unabashed Book Snobbery! You can subscribe/listen on iTunes, subscribe to our RSS feed, search for "Unabashed Book Snobbery" in any podcast app, or find a complete list of UBS episodes on Kylie's personal blog. The riverblands episode is available here.
Images courtesy of HBO
Sam Drops Out of School & Other Fairly Stupid Tales, Part 2
Happy New Year! What better way is there to ring in 2019 than to ring out the final Game of Thrones Season 7 retrospective piece by Julia and Kylie? That's right, their fusion is back and ready to dive into the plotlines of the many miscellaneous characters whose arcs could not fit into the previous analyses. While last time we were treated Sam's semester in college, Jorah's love-fueled journey, and some random yet highly-detailed fire reading, this time "Julie" will break down and extract the meaning of the show's Dornish theater, the Greyjoys, and Olenna's final days. We're sure showrunners Benioff and Weiss (D&D) have something essential and weighty packed into them.
That's what you get for loving your family!
It is far past time that we concluded the Dornish chapter of this show. And this time we really mean it, since last year we had that fake-out in 6×01 where it seemed like they were never coming back too. We could be wrong; maybe next season we'll see Elia Sand (Uller?) plotting her reign.
For those who don't remember, at the very end of Season 6, Princess Faullaria Uller (Sand?) decided to team up with Deadpan and bring Olenna along with her. This was apparently such a great alliance for Deadpan that Varys, her emissary, was even willing to hide behind a curtain and get summoned with a bell. And for those who really don't remember, or blocked things out, Faullaria and her "brood of bitches" murdered their own family members in the name of revenge for the deceased Oberyn Martell.
This year, we catch up with Princess Faullaria at that particular war-planning meeting where many mismatched plotlines converge. She agrees with Yara (and anyone possessing half a brain) that their best move is to use their overwhelming military presence to win the war. Right now. Go. Tyrion doesn't want to win the war though, because it's bad optics to have people die. Faullaria points out that it's just kinda of the way of war, and Tyrion responds that of course she'd say such a thing…she murdered his niece!
Faullaria doubles down, saying Lannisters are guilty, until Deadpan tells them both to stuff it. Apparently Faullaria is to treat Tyrion with respect, and Tyrion is to lay out his master plan: a humanitarian siege of Cheryl's Landing, carried out by the non-foreign troops of Dorne and Highgarden, with Yara and her fleet providing the transportation.
Faullaria is pleased enough with this, since it's something action-y to do, we suppose. Also revenge!
Later, somewhere in the Narrow Sea on the way to Dorne, the Sand Fakes lie in hammocks together, discussing the upcoming siege and how dumb Tyene is for liking her mom. They're trying to take dibs on who gets to kill whom, but shockingly they don't come to an agreement, since they all hate each other. One of them also threatens to kill another, but it literally doesn't matter who.
In a different room on the boat, Faullaria complains about the booze, since she only likes her Dornish Red. She then fishes for Yara's sexuality, which turns out to be both-sexual. Kylie's heart warms at this representation. Faullaria then tries to order Theon to refill her drink, and Yara tells her not to be an asshole. For some reason Faullaria takes this as a cue to start flirting more intensely with Yara, to the obvious discomfort of Theon. Part of this flirting includes her describing her moves up Yara's leg as "a foreign invasion." But wait! We thought the Dornish weren't foreign, which is why they're participating in this humanitarian siege! We're so confused…
Mercifully for everyone, the foreign invasion is cut short by an invasion of Euron's fleet, who no one saw coming. There's a big, stylized battle on the boats, and Obara and Nym are both killed with their own weapons by Euron. Tyene and Faullaria are taken captive, despite them asking to be killed.
The next we see them, they are being led through the streets on leashes, to the cheering of the denizens of King's Landing, who now very much like Euron Greyjoy. Or maybe just parades. Faullaria and Tyene are brought before Cheryl as a gift (not the gift, mind you), and Cheryl almost seems turned on by this. Neato.
Then, she decides to have Tyene and Faullaria chained up in the same dungeon across the room from one another. She comes in wearing the brightest lipstick known to man, and proceeds to monologue at them about various topics, which we have covered in depth in our Cherry Bomb retrospective. Relevant here is the fact that Oberyn looked super hot, Faullaria murdered Madison, and Cheryl thinks Tyene is a "perfect Dornish Beauty." Then she kisses Tyene on the lips with whatever that poison is and leaves the room so that Faullaria will have to watch Tyene die in 5-35 minutes. Or if she gets sexually aroused, we suppose, like Bronn.
And that's it! No more Dornish for Season 7.
So, we're kind of known around these parts for liking Dorne. Therefore, the fact that we not only don't want to talk about this, but have basically nothing to say, should be rather indicative of how this landed for us.
Taking this into consideration, the overarching arc of the Dornish (read: Princess Faullaria) is that she was consumed by revenge to her doom. She killed Doran and had Trystane killed in the name of exacting revenge on the Lannisters, she murdered a young girl just for being a Lannister, and she threw what we guess is her whole kingdom's support behind Deadpan just to have a shot at bringing down the Lannisters. Because if there's one thing the Martells (and quasi-Martells) do, it's create speedy alliances and get rid of family members for their own selfish interest.
And yeah, futility of revenge: they failed, and failed so badly, they all died to their own weapons, other than Faullaria who was forced to watch.
We kind of like stories that examine the futility of revenge. The issue, is that…this was in service of Cheryl's revenge. We guess she's at least the bad guy this season, but it's framed as her "winning," just like Olenna coming clean about Joffrey's death was her "winning" the scene with Larry. Revenge, no matter how monstrous, is still the one valid motivation that is often successful on this show, and we honestly don't see anyone particularly consumed by it in a negative way. Revenge is Arya's whole thing, right? And the scripts say we were supposed to be at least somewhat on her side this year.
In some ways, this Dornish plot is a counterpoint that makes the case we've been trying to make: revenge = no good. Yet we have a really hard time with the treatment of the Dornish on this show, because them "getting theirs" seemed less about any action they took, and more about audience wish-fulfillment for offing hated characters. People found Nym's whip annoying? Well let's have her strangled by it. Obara gets impaled. Tyene gets poisoned.
Warning: a mildly gory picture to show what we mean
We know this is weird, but it feels like we were given audience revenge at the same time our antagonist was getting revenge. So…who exactly was shedding a tear for anyone in this case, or at least enough to learn a lesson about the caustic cycle of revenge?
We also need to talk about the "foreign" thing. And yes, this is something we've talked about ad nauseum. Our biggest issue this year was that the show could not decide who was foreign and who wasn't. Deadpan is a "foreign whore," despite being from the family with the longest-standing monarchical tradition in the country who were deposed well within living memory. Faullaria and the Dornish are not foreign when they need to participate in a siege over the Unsullied and Dothraki, but are foreign when they need to make racialized sex jokes. We could try and discuss that perhaps Faullaria feels more othered by the systems than someone like Tyrion would consider her to be? But that's really, really stretching it given that A) this was never explored at all, B) the Dornish are about as othered as you can get on this show, and C) we doubt D&D gave that exchange two seconds of thought.
Our point is, this didn't land, and the discomfort we have with the racialized aspect of this plotline is always present. Hell, Cheryl even called Tyene a "perfect Dornish beauty." Do they not hear how this sounds?
There's really nothing more we can say about the Dornish, unless we just want to cry into our copies of A Feast for Crows. It's a really, really good theater in the books if you allow yourself to focus on the fraught family dynamics. Read it, and let's ignore this pig slop.
Theon Gets His Arc Back
Nicknames of note:
Theon has been a bit of a head-scratcher for us. For those who may not remember, last year, Theon scrapped about five years worth of development to go support his sister's claim to the Iron Islands and also to get screamed at by her. This was obviously much more meaningful than helping the person he had grown up with as a sister (Sansa) and with whom he shared a trauma.
The other meaning to be found there was that Yara told him (in an episode titled "The Broken Man") to either stop having PTSD or to off himself because he's not useful anymore. According to D&D at the time, it was the "tough love" Theon needed, and we even got to see a glimpse of the "old Theon." Let's check in on how that "cured" Theon is making out now.
The first we see of Theon and Yara is at the wonderful plotline convergence meeting where Yara forcefully (very good part) tells the room that they should attack King's Landing with their overwhelming military advantage. As we've detailed before, this gets dismissed, and Yara seems chill with the new plan involving her ferrying Dornish troops to a humanitarian siege. Theon is also there and says nothing.
Next, Yara does indeed ferry said Dornish, and we really, really wish that no one said anything at all on this trip. But no, it's the f-cking foreign invasion scene again (please don't make us re-describe it). The one thing to note in terms of the Greyjoys here is that Yara is very defensive of Theon, and you can legitimately tell there's affection between the siblings. This is especially apparent since it's juxtaposed to the Sand Fakes threatening to murder each other and making fun of Tyene for liking her mom. But even without that charming context, it very much tracks that Yara and Theon look out for one another. Does that mean we're chill with Theon dropping Sansa like a hot potato to warp to Yara's side when their interaction was ostensibly the whole reason Sansa took the place of Jeyne Poole? No. But this is…nice? Better than the Fakes?
Too bad it only lasts about five seconds, because you'll never guess who attacks: Euron! In the middle of the—you guessed it—overly stylized fighting, we see both Yara and Theon holding their own fairly well. However, they lose, and things take a major turn for Theon when Euron captures Yara and holds a blade to her throat. Euron purposely taunts "Little Theon" to try and save Yara, and Theon, clearly triggered by the surroundings, jumps overboard as Euron laughs.
Now, to be honest, we're slightly confused by this. We're not confused why Yara yelling at Theon didn't actually work as a magic cure to PTSD, and frankly relieved that it didn't. However, we aren't tracking this portrayal of trauma. We 100% get that PTSD doesn't make narrative sense in real life, and we don't want to argue that it should. It's just…this is PTSD D&D very purposely re-included this season for Theon to re-get-over-it (spoiler). And it's also clear that Alfie Allen was directed to act in a triggered manner during the confrontation with Euron, but not beforehand in the midst of the fighting.
As a result, given the way it's framed and the moment he breaks, it's almost like we're supposed to view Euron as Theon's primary abuser. Or maybe it's that any asshole reminds him of Ramsay—that mildly works, right? But more and more by rewatching this, we just see it as setting up Euron to be some kind of weird big-bad for Theon to take down as a proxy for Ramsay. That's certainly how his arc gets set up for next year, as we'll discuss shortly. To that…Ramsay never needed to be "his kill" in the first place, or anyone's in particular. Because it's possible to heal without violent revenge, amazingly. We don't see why setting Euron up as this bad for Theon to topple is necessary, especially when it involves so many forced moments and teleporting fleets.
In fairness, Yara being threatened by Euron could have reminded Theon of Sansa in duress and served as a trigger. That's fine, we guess. Again, the framing was more about Theon's relationship to Euron, but fine. What's really bothering us is that the portrayal still conflates PTSD with cowardice, and certainly continues the whole "oh this is inconvenient and unhelpful" aspect of it. That's the very explicit framing. Yara even has a reaction shot of her looking put-out and disappointed by the whole thing.
Continuing on—and since this is technically our recap of both Theon and Yara—we should note that Yara gets captured, put on a leash, and paraded through Cheryl's Landing, where she mildly rolls her eyes at Euron shit-talking her brother. Then she disappears for the rest of the season.
Theon, meanwhile, gets fished out of the sea by a boat of grumpy Greyjoy men who were loyal to Yara apparently? They get very mad at Theon for being alive and deduce that he must have run away or not really tried to save Yara, rather than any of the other thousand possibilities for why someone could end up in the ocean after a battle on ships. Also, these assholes are alive, so are they admitting to being cowards? Were they some kind of weird rear flank? Do they have names? Apparently, yes. The one who speaks with forceful dialogue (good part) is "Harrag."
So Hagrid takes Theon and the grumpy Greyjoy men back to Dragonstone, where Theon is greeted by…Jonny Cardboard? The kinda-prisoner and also king of a different land?
Jonny is not happy to see Theon, but Theon kind of head-nods at him and asks if Sansa is okay. Jonny tells him that Sansa is the only reason he's not going to kill him. We suppose this is reasonable on some level, even if we think the anger is a click above Kit Harington's acting range. Theon tells him that he wants to talk to Deadpan so that she'll help him rescue Yara.
Several episodes later, Theon has made no progress on this front and didn't even try to interrupt Deadpan and Tyrion's conversation about how she doesn't like to date short dudes and should make a will. Instead, he patiently waits for the day of the wight moot, where he doesn't participate in the pre-moot walk and talks. So much for him catching up with Brienne.
We don't want to recap the pit scene ever again, and luckily Theon mostly just stands in the background, so we don't have to. However, at one point towards the beginning, Euron just stands up and interrupts the meeting to yell at him that he has Yara and will kill her if he doesn't submit to him on the spot. Everyone exchanges annoyed glances, and we suppose Theon didn't really take that threat seriously, because he just looks confused and vaguely uncomfortable.
In fact, Tyrion even tries to move on by saying, "I think we ought to begin with larger concerns." Ouch, Yara.
Later, everyone's back at Dragonstone and getting ready to board the S.S. Boatsex. Theon decides this is a great time to talk to Jon about his character arc, since Jon has been so intimately involved with it. Like that one time Theon and Jon were both in the room to get a shave and a haircut. Or that other time when Theon pointed out that the smallest puppy was Jon's.
Theon begins by talking about the internal conflict that was always raging inside him, and not at all resolved in any way when he risked his life to save Sansa, or when he warped back to support Yara's election. Frankly, if we had been given his arc as scripted, we'd probably need to hash it out too. He also notes how impressive Jonny is because he never has any moral dilemmas, and never tells lies.
Jonny is more humble than anyone and kind of dismisses that praise, but tells Theon how he should have been more appreciative of the people who were holding him hostage, because they were good people. Ned would even slow clap for his daughters sometimes. Then Jonny, working hard on his 8th grade book report, decides to resolve the whole thing for Theon: he tells him he's not a Stark or a Greyjoy, but a Strayboy who doesn't need to choose! Theon is touched.
This also somehow leads to the revelation that he has to go save his sister, who he already wanted to save, because she was nice to him, just like the people who had been holding him hostage. And this is only possible with his new mixed Stark/Greyjoy identity? Yara didn't have that, and she still decided to try and save Theon in Season 4, but whatever. Only Starks love their family, don't ya know?
Theon decides that to save Yara, he has to convince Hagrid Harrag and all of his buddies to join him. They're on the beach, getting rowboats ready to board their own ship so they can take up the traditional Ironborn values of raping and reaving. Theon finds this out and reminds them that Yara gave it up after Deadpan asked her to (but not before). Hagrid doesn't seem to care since she's out of sight, out of mind. Theon tries to pull rank and say he's in charge and they're going to go rescue Yara—you know, their queen. Hagrid still doesn't care, man. Then they fight.
Theon seems to be getting his butt kicked, until… Ugh. Until Hagrid tries to kick Theon in the balls, but Theon was castrated and therefore doesn't have them. So that naturally means he feels no pain at all when slammed in the groin area, and in fact seems to enjoy it. The pleasant sensation of Hagrid's foot in his crotch empowers Theon to deliver the single greatest headbutt in the history of filmed headbutts. Then he proceeds to win the fight! Yay!!
He also symbolically washes himself in salt water afterwards, like any good Stark/Greyjoy hybrid would do. He then tells the rest of the men that they're off to save Yara, and they all seem thrilled. We guess fights are the Ironborn equivalent of parades?
And there we go: that's his arc. It seems oddly familiar to us, mostly because he decided that his actual loyalty should have been to the Starks in early Season 3, and explicitly said that to Ramsay at the time. Then we were also told that his rescuing Sansa in Season 5 was necessary to amend the "great original sin" of his life. And then, he had also very comfortably gone off to support Yara's claim, and spoke for her eloquently (more so than she managed) at the Salt Moot, because you know…he figured he could be a Stark and a Greyjoy.
Oh also, he was magically cured of PTSD at the very end of Season 6, too.
Call us cynics, but we're finding this to be a sloppy reboot just one season after everyone else's sloppy reboot. Maybe Theon isn't "cured," and D&D know that too. We're less skeptical that they realized it at the time, since there's no denying that both Yara screaming at him in Volantis and Theon getting kicked in the crotch were both framed as these moments where Theon looks up and is suddenly empowered/back to form. And of course, getting kicked in the crotch is explicitly in the script as an "advantage from his castration," which to us reads as some kind of reclamation of trauma.
Ew.
In fact, looking up D&D's thoughts on the matter, (even though we do feel the show should be considered in isolation since that's what audiences take in,) we were right! D&D totally thought they 'fixed' Theon in Season 6, but then writing for this season were like, "Oh huh, this seems to be an intense situation for someone given his very experiences."
"We maybe fooled ourselves into thinking that Theon was out of the woods on his whole Reek experience, and as we were writing it, we realized that you don't just get over what happened to him. That's something that's going to be part of him for the rest of his life. And this is a place that triggers the worst of that experience." —Dan Weiss
And of course, let's relish in how messed up it is that he couldn't save one sister, and now can't save the other. Boy, do they gush about the looks Alfie Allen is able to give the camera.
We really, really found this in bad taste—the whole arc, frankly. And insultingly boring, since it's both a rehash, as well as just Jon vomiting his view of a character arc onto us. Why is Jon in any position to judge any of this? Because he can never tell a lie? And why was that framed as being more significant than Sansa already having forgiven him two season prior?
Also what the hell are they talking about that he's a Stark and a Greyjoy? This didn't influence anything! Theon wanted to save Yara as soon as he arrived back at Dragonstone following the battle at sea, and then still wanted to save Yara following his conversation with Jon. Was being told of his Strayboy roots the confidence boost he needed to talk to Hagrid again? And if so, why? It just seemed like this random conversation shoved in there, because Jon is a Stark proxy, and D&D wanted to show Theon being forgiven. Naturally Sansa's forgiveness wasn't good enough; she's a girl.
What bothers us is that this moment really should have been impactful, since it's not like we think Theon's story in Season 1 and 2 was poorly done. In fact, we kinda liked it up until the torture porn. The issue is that this conclusion was already reached in Season 3, and everything else appears to be setting up some kind of crowning badass moment for him against Euron, which is simply not earned or necessary. Which is, coincidentally, the sum total of what we have to say about Theon's arc this year.
Hooligan Without A Cause
What do you do when you have a villain who is *super evil*, but also wacky? Well, if you were D&D, you killed him off in faux-poetic justice via dogs who wait for dramatically satisfying moments. But now you have to one-up that with your next antagonist. So the only logical conclusion is to write a hooligan with a multiple personalities [sic] because that's how "psychopaths" are.
All of this is very evident from the moment that Euron Greyjoy appears on screen this season, clad in a rockin' leather jacket (completely with eyeliner), and doing what is very obviously a Jack Sparrow impersonation.
You see, Cheryl has invited Euron and his giant, enormous fleet (that he made overnight from all the trees on the Iron Islands) to make an alliance, because she is totally boned without more troops. Euron, instead of taking this opportunity to attack the completely defenseless Cheryl's Landing and claim the Iron Throne as his own, decides to take a different opportunity and bitch about how his niece and nephew were so mean to steal some of his ships during his drowning coronation. He also feels apparently very secure that Cheryl won't turn on him, because, while the throne room is full of her guards, Euron hasn't even brought Priesty McBeardface as moral support.
Hooligan time! His new, unpredictable wish this season is to marry Cheryl, so that together they can kill Theon and Yara, and potentially Deadpan, who he now wants dead since she…sided with Yara? All this will make him feel "a lot better," and he's also decided that Cheryl is the most beautiful woman in the world—we guess he originally wanted to go after Deadpan before seeing Cheryl's cute pixie cut.
Cheryl and Larry are not totally convinced, though. Larry points out how Euron is a shitty, kinslaying ally, and that they totally lost the Greyjoy rebellion too. Euron shrugs though; he had too many relatives anyway. When Cheryl notes that he's a super annoying braggart, he fires back how she's not humble either, since awesome people aren't humble. For some reason unbeknownst to us, Cheryl then tells him that he's too untrustworthy to ally with, which is why she invited his entire army? We guess she's a hooligan too.
Euron, rather than now taking this opportunity after a slight to sack the—again—undefended city, says he must go off and impress Cheryl by bringing her a gift. Is it Tyrion again?
Evidently not, since the next we see of Euron, he's attacking the Pornish/Yara conglomerate, and enjoying himself a lot. He purposely singles out Obara and Nym to kill with their own weapons (at least, we don't think he did this to anyone else), before holding Yara hostage and taunting Theon, as we described. Honestly, we've never seen a man this happy in all our lives. Oh, and he ordered his men to take Faullaria and Tyene alive.
His ebullience continues at what seems like the next day, when he marches in a parade down Cheryl's Landing, with Yara, Faullaria, and Tyene all on leashes. #WomenOnTop. He personally holds Yara's leash, and as she looks done with it, he jokes around about how stupid Theon looked running away, and how he's a "twat." The people clap excitedly.
Once in the throne room, Euron presents Faullaria and Tyene as if he's a magician at an 8-year-old's birthday party who pulled a rabbit out of his hat. Cheryl seems genuinely happy/turned on by this, but is oh-so devious that she tells him they'll certainly be married…after the war is won. Euron is 100% content with this. He even asks Larry for some sex advice! Because hooligans don't care about incest.
Some amount of time later that's less than two weeks, Euron takes his armada and attacks Casterly Rock, on the other side of the continent. Our biggest confusion is how his armada hadn't crossed paths with the Unsullied fleet already, but whatever. He was laser-focused on Yara's people, we guess.
At Casterly Rock, he manages to prevent the Unsullied from escaping in their ships, so that they have to walk back across the continent. We suppose this means Cheryl is still in control of Casterly Rock? But we're absolutely guessing.
Finally, it's time for the wight moot, and for Euron to circumnavigate the continent once again. Now mild spoilers, but he has a ~secret meeting~ with Cheryl just before this moot, where they decide that he will fake-get scared of the army of the dead, fake-leave Cheryl's alliance, and then really sneak off to Essos to ferry a recently secured sellsword group of Cheryl's. That's the most reasonable thing we've ever heard.
(Also what did this add to Cheryl's benefit? Why does it matter if they think Euron left, other than potentially giving Deadpan and Jonny a reason to walk away from the table completely? Dead horse, we get it.)
At the wight moot, Euron decides to hooligan it up by interrupting at the start to taunt Theon about how he has Yara. He says that he will kill her unless Theon surrenders to him on the spot. Everyone exchanges annoyed looks and Cheryl tells him to sit down and be quiet. Then comes the time for his amazing feint! He does it convincingly, and hits on Deadpan in the process. Time to go to Essos!
And thus are the adventures of Euron Greyjoy in Season 7.
If we had to analyze this, which we suppose we do, it's pretty obvious that Euron's biggest motivator is getting revenge on Yara and Theon for…not standing around and letting him kill them after he was elected King. After all, the first we see of Euron this year is him complaining about how rude they were, so obviously this is something affecting him on a deep level. In fact, he even tells Cheryl how killing them will "make him feel better."
We guess in terms of dynastic concerns and potential challenges, it's not that dumb. And to that end, he's on his way. He has Yara, he wants to taunt Theon (and make empty threats about it)…fine.
Then there's the other aspect, which is that Euron wants a queen, and his sights are now set on Cheryl rather than Deadpan. We have to assume this is because Deadpan allied with Theon and Yara and that hurt his feelings, or made him think he wouldn't be successful in pursuing her. In fact, he's so committed to finding a queen that he's willing to go to lengths to impress Cheryl, when she is the one who needs him far more. He controls the Iron Islands; it's fine!
It's very hard for us to reconcile these two competing drives, especially since he spends the lion's share of the season warping around and catching troops as demanded by the plot. Perhaps it takes our extremely excessive and encyclopedic knowledge of Westerosi geography to truly appreciate how improbable all his movements are, but needless to say, it sticks out. And it's stupid. The idea that Deadpan is just on Dragonstone and can't see fleets coming and going from Cheryl's Landing is stupid. That's why Dragonstone is an important military position and no one would leave it abandoned.
Then we have to consider what Pilou Asbæk has said about the character he's playing. For one, he says that Euron is "more of a hooligan" and that Ramsay was "100% evil," whereas Euron is not. He's fun-loving and thus "more conflicted." Asbæk also has spoken on multiple occasions that Euron is a "different guy every scene." He clarified this year with the following:
"Dan, David, all the scenes you guys have written, I love every single line of it. But can we recreate him? I want to make him rock and roll. I want to be a superstar…. All of the psychopaths I've met in my lifetime have multiple personalities. Not like they're schizophrenic, but they can adapt to the people they are surrounded with. He's a chameleon."
Now, we normally have to take anything an actor says with a heavy salt-lick on this show, like how Nat Dormer was convinced Tommen was 17, and how Isaac Hempstead Wright compared Bran to an CCTV department. Actors do what they have to do with the role to give the portray that makes sense to them.
However, Asbæk credits himself with turning Euron into a "rockstar," and he actually has been talking about how he's a different character and a fun-loving hooligan for two years. So it's not to blame him, but we're blaming him. Also, it means his approach to this role is to be a rockstar with a different personality in each scene. That is his goal with these scripts.
We don't know what to do with this information. Because it seems to be a feature, not a bug, in the eyes of D&D that his actions make absolutely no sense and there's no overarching character to even analyze. Like…okay, he likes Cheryl this year. He sure doesn't like his niece and nephew and still wants to murder them. And he's really good at repeatedly moving his armada around the southern coast of Dorne.
We can't take this guy seriously. If we're supposed to view him as somehow more nuanced than Ramsay, then that did not land at all. At least Ramsay had daddy issues and a semblance of an arc surrounding that, no matter how bad we found that execution. Euron is just some idiot who likes to complain that he had an opponent in an election one time. Maybe they think this is really cutting and clever Trump criticism, but all we see is some weird Jack Sparrow impersonator, and it's not very effective at getting any point across at all, let alone a contemporary political one. Not to mention, D&D gush about how Euron is a character who can actually walk the walk, so…
Frankly, we don't think D&D put any thought into this character other than what would seem "badass," and what could build stakes for Theon, or maybe even top Ramsay. On both counts, they failed. However, they did succeed in making us want the Euron of the books, and that in and of itself is a smashing success.
Lean In, Deadpan
We wanted to close by talking about Olenna, because this is the close of the Tyrell saga on the show as well, which has been at least one of the more interesting components. Unless, of course we get some kind of Margaery Stoneheart in Season 8. (What would her driving motivation be? To make more catty remarks to Cheryl from beyond the grave?)
The thing is, we've never really liked Olenna as a character on this show. We mean, Julia loves Olenna Redwyne from the books, and has written fanfic about her teenage psyche, but on the show, she's just been this anachronistic, pithy comment machine whose pluckiness has gotten really, really old. She also acts like a kindergartner sometimes, but we're supposed to think she is this great political player because she wouldn't let Carol sit with her that one time.
So imagine our shock when upon rewatching this stupid plotline for the 14th time, we rather enjoyed Olenna's contributions. She's in officially two scenes, and they are just fantastic.
The first is that infamous meeting of the Powerful-Women-of-Weisseroff-Gathered-to-Listen-to-Tyrion. Olenna seems aware of this confused messaging, and her first contribution to the conversation is to point out how Tyrion's plan is basically to allow their armies (meaning the Tyrells, Martells, and Greyjoys) do all of Deadpan's fighting for her, while she seemingly sits back. This is true. Even when Tyrion says the Unsullied are going to Casterly Rock, there's no plan for the Dothraki, and certainly no plan for Deadpan to use her weapons of mass destruction. Because it's uncivilized to win a war outright, or whatever.
Olenna then points out the limits of the strategy of Deadpan seeking out the approval of the people to grant her legitimacy (through a humanitarian siege, no less). After all, Marg was super popular, and the smallfolk still didn't appear to give a shit when she got blown up. They even came and cheered for what they thought would be a slut-shame walk over her perjury.
After the meeting, Deadpan asks to speak to Olenna alone, since she knows that's her one ally who doesn't really care about Deadpan at all but just wants revenge. Frankly, the Dornish are operating the same exact way, but Olenna seemed clearly put off by Tyrion's awful plan, whereas Faullaria came around. Deadpan offers Olenna some stupid platitudes about how she will grant peace in their time. Olenna, however, is an old lady whose entire family was just brutally murdered. She didn't care about peace at the end of last year, and she certainly doesn't this year.
But she does give Deadpan some advice about what she's been observing during this meeting: basically, that Deadpan is letting Tyrion make all of her decisions, and he seems taken with his own cleverness. She tells her that she, Olenna, got as far in life as she did by not listening to "clever men." Probably like how she overrode her son's decision to marry Margaery to someone violent by plotting and executing his murder in a very surreptitious way. Olenna concludes by telling Deadpan to "be a dragon," which in context means that she should trust her own instincts and be a true decision-maker. Lean in, Deadpan.
If we can sidebar for just a second, we're actually kicking ourselves for not seeing this sooner. Up until this point, we wrote the conversation off as some stupid false empowerment (which…can you blame us?). "Okay, go be grapes, Olenna Redwyne." This was especially not helped when later in this plotline, Olenna talks about the sigil of House Tyrell as if it's the actual reason for the sack of Highgarden being so simple. But taking this scene into consideration on its own, she really is telling her to not be controlled by Tyrion, which is…exactly what happens. In fact, this point serves to muddy everything that happens on Dragonstone, since Tyrion's "mission" this year is to curb Deadpan's impulses, and it's framed as something good and moral for him to do.
So, are we supposed to think Olenna is full of shit? That she's the devil on Deadpan's shoulder? Or does this just mean that Deadpan can "be a dragon" and trust in her instincts when those instincts allow her to bail out a different man?
We don't get exactly what D&D were going for in the context of the whole season, but given how everything unfolds, we are 100% on-board with what Olenna is saying here. Tyrion is too taken with himself, Deadpan can do better than parroting his words (like when she says she's not there to be "queen of the ashes), and frankly a ruler should recognize the fact that the buck stops with her. Also yes, the smallfolk are mercurial and unreliable, Deadpan should look to Marg as a cautionary tale, and peace is a sisyphean effort.
Good points, Olenna.
Later, Larry shows up to her cottage castle containing her giant army and easily sacks it while Olenna sits in her room. He then marches in so he can kill her in a humane/dignified manner. Most of this scene is actually about Larry. He talks about how he learned from the Whispering Wood (not really applicable here, bud), and how this genius military move was so important to his character growth. Olenna shrugs and says Tywin should have taken Highgarden years ago. We're sure Robert would have been cool with that. (Okay, maybe he would have been.)
Olenna, probably for the aforementioned reason that she's an old lady and her whole family is dead, is quite stoic about this about-to-be-killed thing. She reminisces on how she's done some shitty things, but at least she's not as vile as the monstrous Cheryl. We still say this is a bit of a pot and kettle situation, but we suddenly like Olenna this year, and Cheryl did blow up a societal institution and waterboard a nun for kicks. Larry offers Olenna some poisoned wine that he promises won't hurt at all, and she gulps it down like it's her favorite soda.
Knowing she's dead any second, she decides to then exposit on how speaking of poisoned wine, she did that to Joffrey, lol. She says she wants Cheryl to know, and…fine. Take your revenge on your way out, Olenna—whatever.
The thing is, had she been adapted faithfully from the start and these were her final two scenes, we probably would have been fairly pleased. We think it's gross that D&D framed this particular scene as being about how cool it is that Larry finally got to kill someone, but how Olenna "won" the scene all the same thanks to this Joffrey knowledge. Still, her motivations and attitude are actually making sense and tracking from previous seasons, and they make us feel for her.
This character in general has been a very reliable source of rage for us on this show since she appeared in Season 3. When we think of Olenna, we think of the scene where she threatens to beat the septa following Marg around, or when she stops her carriage so that she can comment on the poo smell from the city. Or when she calls Loras a "sword swallower" while officially negotiating with Tywin. Sometimes, in the right mood, we also think about the scene where she talks about stealing her sister's betrothed by banging him the night before he had been slated to "propose".
It's stupid, and it's clear they've never known what they were doing with her. They certainly never understood what Martin was trying to do with this character either, but frankly, join the club Olenna. This is the show with revenge-at-all-costs Ellaria Sand.
Still, Olenna's scenes this year were fine, much to our shock. We might even miss her next year, because what she was saying is what we proceeded to yell at our screens the rest of Season 7. Anyway, lean in, Deadpan…lean in!
How 'bout that Season 7
We're sure this will come as a shock to everyone, but after going through 4 retrospectives in 8 parts that covered 11 different plot lines (12 if you're willing to separate out Jon and Tyrion a bit), we're not all that impressed with the season as a whole. Sure, ending with a focus on Olenna was kind of like having an after-dinner-mint following a very nauseating meal, and we truly were happy that we were able to feel something in the ballpark of positive for a change. It's just, considering the rest of the season…what a mess. The ~main tension~ was quite clearly a nonsensical military conflict featuring teleporting armies and confused holdings, just to get to a point where there could be a truce meeting because the fake-out of Cheryl helping was oh-so clever? Or because shoving the characters we've been following together is supposed to be meaningful?
Then on the wings, there's Arya threatening to cut off her sister's face and wear it (which we're supposed to at least somewhat sympathize with), Sam coming across every plot-necessary bombshell in randomly-grabbed books, and Theon rehashing an already muddled and problematic arc. Suffice it to say, the other tales we just recapped did not exactly save it for us.
Season 6's theme seemed to be wheelspinning. The characters almost all repeated everything they did in Season 5, and then three characters magically ascended to positions of power that were either unearned or made no sense for them to inhabit on a societal level. Season 7 is…we honestly don't know. Knocking chess pieces off the board like a drunk cat because it's hard to write so many characters? It's driving towards some kind of ~big finale~ whose meaning is derived entirely from "we've known these characters for a while and they know each other!", which is likely why Season 7 had so many Season 1 callbacks, as well as walk-and-talks where the scripts tried frantically to recall what shared history any of them had. But it just didn't do anything in the long run, and that's because the contrivances required to get anyone anywhere this season were so obvious:
Deadpan's army needed to be reduced in size for a more even conflict with Cheryl, so it was
Cheryl and Larry needed to break up, but not before Larry could make those stunning military victories, so they just randomly did
Larry needed stunning military victories, so they happened
Sandor needed to begin fire reading, so he did
Sam needed to come back to Winterfell and team back up with Jon, so he did
Euron needed to capture Yara and raise stakes for Theon, so he did
The most earned moment was Bran getting back to Winterfell, because at least we tracked that journey and it didn't involve Arya's continent-crossing teleportation of last season.
We're not surprised. This season was the best example of "creatively it made sense because we wanted it to happen" to date. We're just glad we only have one more season of those creative sparks left to go.
---
Images courtesy of HBO
Sam Drops Out of School & Other Fairly Stupid Tales, Part 1
Hi. Julie here. Your friendly neighborhood amalgamation of Kylie and Julia, who have slowly lost their sense of self during 7 seasons of the worst TV show to ever receive universal acclaim. That's right, we're talking about the masterpiece of David Benioff and Dan Weiss (D&D), Game of Thrones! The good news is, this is going to be our last retrospective for Season 7. The bad news is that it's about 50 different characters, few of whom have a real "arc" of which we can speak.
Backing up, for anyone who is new to us, or The Fandomentals, or this corner of the internet, Julie's favorite pastime is water acrobatics. But her second favorite activity is rewatching Game of Thrones one finger plotline at a time, to truly immerse herself in its tale to see what this highly lauded show is saying. So far, the results have been…not much. Also possibly sexism.
This time, however, she's closing out Season 7 by taking care of all those geographically inconvenient plot threads that didn't fit into the previous categories. Or rather, did (at least tangentially), but Julie was already writing 15,000 word pieces to the chagrin of her editor.
Who's involved this time? Well, basically everyone. Sam, Theon, Yara, Euron, "Ellaria Sand", Tyene, Nym, "Barbaro", Olenna, the merry band of brothers traveling north, their snappy canine, Jorah the Andal, some red shirts… It's a long list.
While we'd normally use the space right here to provide Bachelor contestant-style picture frames alongside their assigned monikers, we also didn't want 7 pages of images to kick things off. Instead, we're going to provide a guide to newly mentioned nicknames in each section, and if there's any names you spot that you don't recognize, please refer to the one and only Book Snob Glossary.
We also recognize that we can't possibly recap these completely unrelated events and talk about each character in one document. Well…intentionally unrelated for D&D, anyway. While our format has generally been to give you a:
…and then talk through the implications in a serious analysis (normally a second article), this time, we're going to give you an:
…for each of the plot threads alone. It will be humorous in tone, yet take a genuine crack at deeper analysis along the way. Because mood dissonance is the way to get taken seriously on the internet!
In this first piece, we'll look at Sam, Jorah, and the Brotherhood with Vague Continuity (with their pet Hound). You can also check out Part 2 to read whatever we can find to say about Dorne, the Greyjoys we are supposed to root for (we think), the Greyjoy we are not supposed to root for, and whatever we can say about the Dowager Sasstress Olenna.
So without further ado, let's chat Sam.
Showboating Sam Drops out of School
Nicknames of note:
Slop. Scrape. Gag.
For anyone who doesn't recall, when we last left Sam, he had just ditched his girlfriend and his adopted son in a hallway so he could look at the library of Oldtown State. You see, it has the best maester program in the land (and not just the only one), so no wonder he'd be in awe.
"What's the most effective way to train maesters?" you ask. Why with a training montage, of course. And what else would fill such a training montage other than serving soup to people, stacking books, and cleaning chamber pots. In increasingly rapid succession. There's a rhythm to it, and the fluids being poured into the bowls and out of the bowls all resemble each other.
Was this how Maester Luwin trained too?
In the middle of this coursework, Sam also notices a gated area of the library: the Restricted Section. He stares at it wistfully a lot. He also has one actual course, which we assume is "Human Dissection 201." In it, Sam assists Maester Slughorn, who appears to be Sam's personal professor at this school. Also the Archmaester? It must be a private university…
Slughorn seems like he's actually somewhat qualified to teach people, though he doesn't exactly encourage his student's curiosity. Or any curiosity at all. While Slughorn is preoccupied with the weight of an alcoholic's liver, Sam asks about gaining access to the Restricted Section so that he might go about his research project on the White Walkers. You know…the whole reason he's there. Maester Slughorn says that while he believes Sam about the menace in the north, The Wall has been there a long time—even during the last Long Night apparently—so the research is probably unnecessary. It'll be fine.
Sam, frustrated by this first and minor setback, decides to take matters into his own hands. He puts on his invisibility cloak and sneaks into the Restricted Section to look for books on Nicholas Flamel. We mean…he steals a key from a sleepy maester and lets himself in. Once there, he haphazardly pulls random books from the shelf nearest to him and puts them in his bag.
Pause. Okay, supposing the Restricted Section is truly where all the Long Night books are since Sam apparently hasn't been able to find them anywhere else (does this mean that The World of Ice and Fire is restricted?), our question is: why would these be restricted? As far as skeptical maesters are concerned, these are just fairy tales anyway. What is the harm in having their students read about this? In fact, what function does Sam having to steal the books even have on the plot? He gets to be more active this way? But not really, since he was already looking for books. Maybe it's some kind of excuse to portray the maesters as out of touch, since this plotline is full of lots of cheap (and kinda earned) shots at academia. Or maybe, just maybe, it's because D&D yet again did not have enough material for a full season of episodes (or 70% season), and were padding their 52 minute run-times with everything they had. But of course we couldn't be shown the Stark siblings plotting together because reasons.
Anywho, after stealing the books immediately within reach, Sam goes to his mysteriously nice loveshack where Gilly and Baby Sam live. Baby Sam cannot be over 18 months. We refuse to believe it, and have a pretty good metric against which to measure right now. He's adorable, sure, but still shrinking. Need we remind you, he was born at the beginning of Season 3!
We have no clue how their apartment exists. Our best honeypot is that they live over a pub in which Gilly works, and she's been having amazing, wacky off-screen adventures that would rival Arya's meat pies, or the Unsullied this year. Though it'd make the demeaning way Sam talks to her that much more grating if she were the one working to pay for his soup-slopping courses. Frankly, that makes the most sense, right? We find it hard to believe that a college that explicitly forbids students to date put them up with this.
Gilly is super excited about all these stolen books, because goddamn is she bored in this relationship. As they engage in a joint-reading session, Sam stumbles across a fact so amazing, so outrageous, and so surprising, that we have to ask you to sit down if you're not already. You see, there is dragon glass on Dragonstone. Dragon. Glass.
The Watch needs some, so finding this information out makes Sam go, "Oh yeah, Stannis already told me lol."
By the rate of baby-growth, maybe that was just two months ago, but it was also in Season 5, so… The long and short is that he needs to send Jon this ~brand new information~ that is militarily crucial, and thus forgotten until right now. It's not like they've known about obsidian killing White Walkers since Season 3.
The next day, Sam goes back to class, and someone sticks their hand out of a room and jump scares him, asking about the whereabouts of Deadpan. Rude!
wikiHow Plague Cures
We guess Sam was super intrigued by that jump-scare, because next thing we know, he and Maester Slughorn are standing in Jorah's room with him. Slughorn pokes the plague patient with a metal pointer. "The infection has spread too far." Yeah, no shit, Sherlock. Also Jorah is going to go crazy like the people he and Tyrion met in Valyria. Remember when?!
Sam looks mildly grossed out by the whole thing. He also asks rather pertinent questions about if there's any way to cure or help Jorah out. Slughorn seems to get rather annoyed and low-key insults Sam's intelligence.
Sam: I met Stannis Baratheon's daughter at Castle Black. She had the greyscale as a baby and was cured.

Slughorn: No.

Sam: …Isn't there some way—

Slughorn: Does this look like a baby to you?.
Stupid students and their follow-up questions!
There's no hope for Jorah: Slughorn tells him it's either Valyria or suicide. And apparently this is because he's highborn; the lowborns would just get sent to Valyria. Where all ship captains want to go.
Sam seems to be moved by Jorah's plight and asks about sending word to his family. That's when he finds out that this guy is a MORMONT! Sam knew a Mormont!
Owing to this deep connection, Sam can't seem to move on, and is super distracted when Slughorn babbles at him about how he's going to go write the best research paper on the War of V Kings, with some highly precise and dry title. This is honestly the best representation of grad school that we've seen to date.
Sam brings up how he just happened to come across a cure for greyscale in a book earlier that day. It's even worked on a couple of people! Shouldn't they try to save their patient? Also why was this not considered for highborns instead of Valyria? You'd think for enough money, someone would have tried. Slughorn is dismissive, though, and points out that the guy who wrote that book died of greyscale himself. So, don't do it.
Sam ignores that. We next see him coming into Jorah's cell, pushing a little Hogwarts Express trolley full of medical instruments. He tells Jorah that he knew his daddy, and therefore he can't let him die. We guess Jeor's Tough But Fair love was effective for Sam.
It's here that we find out about the super secret unknowable cure: exfoliation. No, literally. Jorah is covered in greyscale. The cure is to peel it off, and then put on some Polysporin. There's also these really amazing pictures in the book that show the step-by-step process.
Sam takes a giant swig of rum, as any surgeon should, and then gets to work. It's gross.
The next day (we think, cause Jorah wasn't shoved off to Valyria), Slughorn is examining Jorah again, and wouldn't you know it? He's entirely cured. Like…the disease is gone. His skin is barely red, and he says he's only in "a bit" of pain. We've had scabs that fell off with longer recovery times! Jorah decides to cover for Sam and tells Slughorn that he just magically started feeling better. Overnight. Good one! Slughorn doesn't buy it at all, but leaves the room with a shrug. "Bye Jorah, have a good life." Sam shakes Jorah's hand and he looks moved to finally be touched on the hand again.
Later, in Slughorn's office, Sam gets berated for curing an incurable disease. Slughorn definitely has a point that it was dangerous, but this whole thing is just so, so silly. Sam is then given busy-work as a punishment for his medical prowess. He has to copy a bunch of secret diaries that contain gigantic and unknown political bombshells.
You may not remember, but Bran decided on one random day to peep on the army of the dead and see how it was doing. Bigger! And Nearer! Then he wrote to Jon, the Citadel, and probably other people too. You also may not remember, but Sam's dad and brother were brutally executed by dragon. That's a thing.
Sam doesn't know yet though, because he's completely unphased as he delivers his freshly copied secret diaries to all the maesters sitting in their faculty lounge. They all agree that the maester at Winterhell is probably a dumb dumb, like those other Northerners. Then when they try to joke about other conspiracy theories, Sam interrupts them and vouches for Bran as once having been north of The Wall. He then also reiterates that he—meaning Sam—has personally witness the army of the dead, and it's a real thing, so maybe these old fart bags with a lot of power and influence could do something about it. Slughorn dismisses it with his own conspiracy theory that it's Deadpan-based propaganda to leave the south undefended. SAM SAW THE DEAD PEOPLE!
To throw him a bone, however, Slughorn agrees to write back to the dumb-dumb maester for "clarification". What would that have looked like? "Hey, Maester friend: when you say 'army of the dead', how dead do you mean?"
When Sam leaves the room, they gossip about his recently burned family members. Slughorn reveals that he hasn't had the heart to tell him yet. We agree: it's much more important for us, the audience, to see the reaction of a bunch of old guys to this news than it is to see Sam's.
Sam is getting increasingly disgruntled, though, and decides to take out his frustration back in his love shack. Gilly is having the time of her life with Secret Diary, written by [s]Tom Riddle[/s] High Septon Maynard, who was so powerful that he had a name. He also liked to count things, like windows on a building, or poops taken each day. No, we're not kidding: we were told this.
Gilly tries to share with Sam some of these fun facts, which also includes the documentation of the time when Septon Maynard annulled the marriage of the Crown Prince, disinheriting his two children, before remarrying him in a secret Pornish love ceremony to some lady from the North. Sam, apparently uninterested in this world-changing political implication, instead retorts that he doesn't care about the many shits that Maynard counted. Gilly seems sad he wasn't listening.
We don't know why, but this is Sam's breaking point with the entire university system. He storms out of his love nest, steals even more Restricted Section books, and then decides he is done with the Fightin' White Crows of Oldtown State. He leaves in a wagon with Gilly and baby Sam. Gilly points out how Sam had been excited to go to school and become a maester, like he always wanted. He even ditched her in a hallway because he was so into the campus tour. But no. Sam is "tired of reading about the achievements of better men," in a direct quote of his now-late abusive father.
WHAT? EXCUSE US?
The best spin we can put on this is that Sam learned about his father's death off-screen at some point, and this is his not very healthy way of processing his grief. Abusive dads can still be mourned in a complicated way, or spur action. See: Guardians of the Galaxy 2. However, there's no reason for us to think Sam was told about his dad, since we learned Slughorn purposely kept it from him. And also, this isn't really the kind of thing that can live on implication if it was supposed to be the motivator behind Sam leaving, especially when we were given scene after scene of him becoming disillusioned with the maesters.
Don't get us wrong: we understand quitting Oldtown State. It is a terrible, terrible academic program where cleaning chamber pots is a course, books are locked away, and questions are met with disdain. It's clearly not what Sam had in mind, not to mention, he tried to get them to move on the whole army of the dead thing, and they could not have been more dismissive. He legitimately will be doing more good out of that atmosphere, especially with all of his newly acquired stolen books.
But why the hell was he quoting Randyll? Last year, thin and confused as his arc was, we at least had him stealing Heartsbane in defiance of his father, and rejecting his father's views. Sam clearly valued knowledge over brute force, no matter how emasculating Randyll told him it was, and when he ends the season grinning in a library, it's kinda nice. Kinda dumb, since Gilly was literally left behind awkwardly, but nice. He took a stand against Randyll the only way he could (since he was viscerally triggered in Randyll's presence), and we're glad that he got out of there.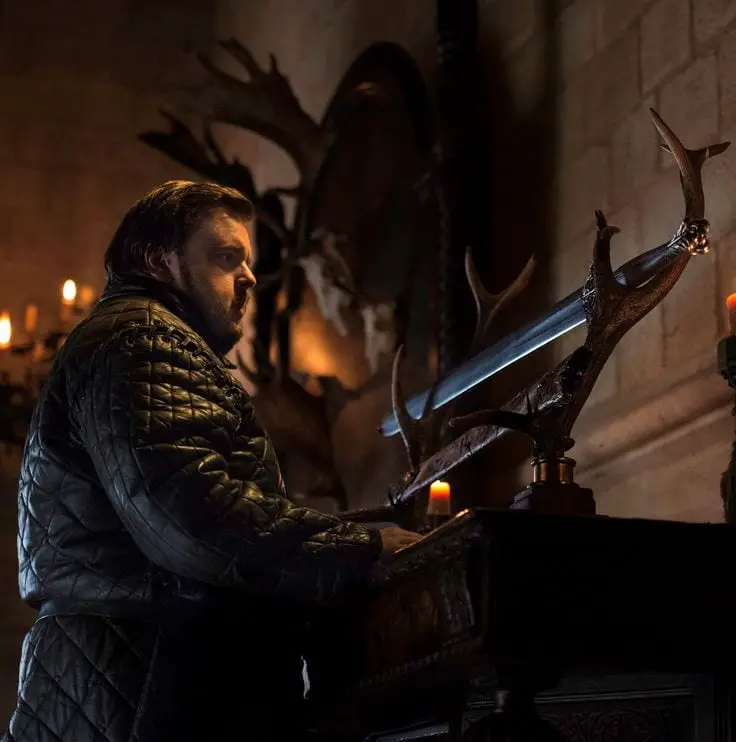 Last year is also when Randyll tried to shame Sam about how as a maester, he'd only read about the achievements of better men. It's not just that it's an anti-intellectual implication, which is rude, but also that this is an abuser's words to his son not filling a toxically masculine mold. We thought Sam rejected it, just like everyone else at Horn Faire seemed to. But no! This year, we learn Randyll was right! Learning is stupid, and maesters really are just "lesser men" who joke with each other rather than facing the truth.
Clearly, we don't find Randyll's words compelling, and we don't think every viewer will. But now, canonically, Sam does. He quotes that in a way of saying that he will finally go and be as ~active~ as Randyll wanted him to be. Which means his two year character arc was learning to listen to his abuser. Hooray.
Oh yeah, and Sam appears in a scene with Bran at the end of the season. He takes credit for reading about the secret marriage. What a great boyfriend.
You know what? We don't really like Sam on the show. He's been demeaning to Gilly from the start, he isn't attentive to her needs, he's super sex obsessed in a way that borders on concerning, and his only addition to this story this year was to remember something we were told two years ago, or to prompt Bran to look at a memory he should have already wanted to examine. A few years ago we nicknamed Sam "Showboating Sam", because unlike his book counterpart, he likes to brag about his killing of White Walkers and Thenns. He may be bragging less these days, but he doesn't seem to have grown much at all. And the fact that his culminating line of the season was basically to the point of, "yeah, learning about things is dumb and useless" doesn't really make our hearts beat any faster.
We're still bitter we didn't get a plotline about Gilly making it work in the bar below her apartment.
Why did Sam even leave The Wall in Season 5? Seriously? There's plenty of books there, and he probably could have found a circled map of dragon glass in one of them, had D&D really wanted. Last year, he had one moment of standing up to his abuser (behind Randyll's back, albeit, but it was still significant), only for that to get completely dialed back this year. So the whole point of Sam's journey away from The Wall was to get a sword, randomly heal Jorah, and then learn that Randyll sometimes had a point? We're usually the last people to talk about plot function, but Sam just hasn't had any, really, or at least not any function that wasn't so completely contrived it couldn't have been given to anyone else.
It almost feels like—and forgive us for suggesting this—D&D don't plan more than one season at a time. In the books, Sam is sent off to be a maester, so they did that, but then they never had anything to say about it, or any reason to explore it. Because learning is dumb.
We suppose we should just count our blessings that they didn't stick a cross-dressing Sand Fake at the Citadel for Sam to brag to.
Jorah the Andal Finds a Cure
Nicknames of note:
Since we already talked through Jorah's miraculous recovery, we figured we'd now take you through the rest of his Season 7 journey. The only thing worthy of note in the Sam episodes previously discussed is that Jeor Mormont is mentioned a lot. Like aaaa loooootttt. At every conceivable opportunity, we hear about Old Bear.
It's not that we think it's a bad thing to bring up previous ties, but Jorah (as far as we can tell) hasn't been bothered to even think about his father since Tyrion told him he died in Season 5. Even that was a 4 second reaction at most. It was always just about gettin' back to Khaleesi for him.
And that's exactly what he does this season, too! After being fully healed and good as new, Jorah makes his way to Dragonstone, where he is greeted by Dothraki who don't recognize him. We suppose that's possible since maybe they weren't focused on his face when Deadpan had burned down their temple, but this is also the dude who speaks their language and always seemed to make an effort to build a rapport with those around him, so it's a bit odd.
Either way, he's trotted on down to where Deadpan and Jonny are engaged in some sexy talk about whether Jonny had been dead and resurrected, and boy is she happy to see him. Like, actually very happy. Her face moves and everything! Also, we've never thought much of Emilia Clarke's acting, but she came so alive here for a change that we read this moment as interest, or even mild flirting.
Jonny is initially happy to see him too, but when Jorah and Deadpan kind of ignore his "I worked with your dad" comment to keep eye f-cking, Jonny gets sad and puts on a poo face. We think this is a love triangle, because who doesn't need more of those in media.
Later on in the episode, Team Deadpan comes up with the brilliant wight-hunt plan and Jorah immediately volunteers to run into danger for his Khaleesi once more. But then Jonny also volunteers as tribute in a way that frames both their actions as competing for Deadpan's romantic attention. How nice. It's like when cavemen brought back mammoth carcasses.
Next, it's time to leave for this stupid mission. Hey, remember when Jorah and Tyrion had a buddy duo dynamic for a season? And remember how that involved them being sold into slavery by a cock merchant played by Mr. Eko? Well, at the time, Jorah and Tyrion had been given a "wage" of one coin, which was meant to last them their lives. Because lol slavery! (Thank god Missandei smacked Tyrion down later for this.)
Tyrion was so affected by this experience that he's been carrying that coin in his pocket ever since. We're sure that's gonna be great luck for Jorah on this trip. Tyrion gives it to him, and Jorah's laughs, remembering the good times.
Also coming to say 'goodbye' is 'Khaleesi'. They reminisce about all the other times they said goodbye, but conveniently leave out the fact that it was normally her kicking him out of her service because he was a creepy stalker or helped to almost get her killed. Hugs!
Jorah travels on up to Eastwatch to meet all of Team Gumbo. Then when everyone is playing a "who's who," Thoros and Jorah recognize each other from that one battle they were in that one time, and then Tormund recognizes Jorah's last name and once again mentions his daddy.
It's finally time to capture a wight! If you want to read about the tortured walk and talks, then we will direct you to our Dragonstalled retrospective for the umpteenth time this article. As far as Jorah is concerned, he really only has a conversation with Jon. It's about…wait for it…his father!
Basically, Jorah tells Jonny he was a shitty son. Jonny feels bad (?) and offers him Longclaw, the sword that Jeor gave him. It's the ancestral Mormont sword, so naturally he never offered to Lyanna (his best advocate), and instead figured the disgraced slaver was the good choice. Jorah, either a changed man or an uninterested one, rejects the sword because he "forfeited" his right to it. It has a wolf on it now anyway. Then, he tells Jonny to pass it on to his children. You know, the implication being children with Deadpan. The ones he's now allowed to make, because Jorah gave him permission. Hooray!
Then he helps fight some zombies. The end.
So…what can we possibly say about this wonderful arc?
Let's ignore some of the issues with his disease and such. Zooming out, Jorah's story this year is that he really wanted to get back to his Khaleesi, so he did, and when he did he found that she was into someone else. However this time, unlike the other 500 times that happened, he was cool with it, because he's a changed man, or his father liked Jon, or something.
To be fair, he did have that growth moment last year when he decided not to stay around Deadpan because he had the plague. That was less selfish than his character would have been prior to that.  We suppose the easiest reading is that given he thought he was a dead man, being cured again gave him a new lease on life and a new perspective, wherein he could prioritize Deadpan's happiness. This makes enough sense where we don't really think we have to search for any other meaning.
There is, however, that thread about Jeor that resurfaced. We honestly don't think that tied to him being chill about Deadpan and Jonny, even if we joke it about. We are confused why this was suddenly brought up again, though. Jeor seemed to have already made his peace that his son is an asshole, at least on the show (where his dying words were just a grunt, or something), and Jorah for his part seems to have made his peace with the fact that Jeor thinks he's an asshole. He definitely looked sad when Tyrion told him Jeor had died, but it wasn't in any way where it appeared to weigh on him, or make him reconsider his actions, or really change at all. And how does it relate to the plague, exactly?
It's not subtle to us that this was a season where D&D rewatched Season 1 immediately before writing, and then just shoved in a bunch of callbacks and characters talking about previous relations to one another. Don't get us wrong: it's good to remember characters' shared histories and connections. It's just that the way to explore them is not to have people just walk up and talk about "hey remember this?" For all the Jeor mentions, it's really hard for us to view it any differently than Tyrion pulling out that slave coin, or Deadpan reminiscing about that time Varys tried to kill her. We're glad Jorah didn't snap up Longclaw, but it just didn't really matter at all, did it?
Also something that didn't matter at all: Deadpan's opinion about this love triangle, apparently. The Wight Hunt episode is one of the worst examples of action men doing actiony things while the women either fight with each other on the sidelines, or just aren't considered first in any way. It mildly helped that Deadpan rescued everyone on Drogon, but even that was framed as her bailing out the men she loved, so…
The Jon/Jorah conversation is a great microcosm of this. Maybe Deadpan should have been the one to say who she wanted babies with! As far as we can tell, she was down to bang either one of them. Not to mention book!Jorah was the one to suggest she should have two husbands at one point.
But no, Jorah's function is to always be there for his khaleesi, even if he has to randomly stumble across a guy with a wikiHow that will fix his situation. Deep.
The Lord's Mysterious Plan
Nicknames of note:
Fire Reading and Pointy Mountains
Let's not bury the lede: this is the section where we talk about the Brotherhood with Vague Continuity (who we'll just abbreviate as BWB for simplicity) and their new bestie Sandor Clegane. They exist this season, just like last season! They're still moving in the same geographic direction! And they feel as random this season as they did last season, though thank god there wasn't another Shire for us to feel bad about.
For those who don't remember, last season, they met up and decided to go "north." And by the way, this was after not seeing the BWB since Season 3 (and no Sandor in Season 5). Sandor had been convinced to come along, because of the promise of fighting, and that he'd help in some cosmic way.
When we catch up with them, they're still traveling in the riverlands, and it's all snowy now. They come across an empty farmstead and plan to stay there, but Sandor recognizes it from that one time in Season 4 where he robbed a guy who wanted to employ him to drive off bandits. At the time, Sandor told Arya that the guy was weak and he and his daughter would be dead by winter.
Lo and behold, inside the farmstead, they are super dead and mummy-looking. Beric decides to play "guilt trip CSI" and tells Sandor that they clearly were starving to death and the dad had to kill the daughter, and if only they'd had some silver to buy food. Sandor and Beric then have a conversation about how mysterious the Lord of Light is for raising Beric from the dead, even though he's just some dude.
Then, Thoros tells Sandor to look into the fire. He does, and he sees, in stunning detail, the entire army of the dead marching towards the Wall, currently at a mountain shaped like an arrowhead (unlike all the others!). Beric comments on how significant it is that Sandor, traumatized by fire, is a fire reader. Thanks D&D! We never would have gotten that on our own.
Later, Sandor buries the father and daughter's bodies, and tries to say something nice. It somewhat works.
We guess getting North is even easier than we thought, since the next time we see this merry crew, they're imprisoned by Tormund at Eastwatch. Why did Tormund lock them up? We still don't know, but we're contractually obligated to always point it out.
When Jonny's crew arrives, the BWB and Sandor participate in the fun game of "I know you!". Jon knows Sandor, Gendry knows the BWB, Jorah knows Thoros and Beric, and Beric's just thrilled they can all be there together.
So now it's time for the BWB's walk-and-talks! The most significant is Gendry, who yells at the BWB for selling him, getting him raped, and almost getting him killed. The BWB smirk, while Sandor tells Gendry to quit complaining because his rapist was hot. Gendry looks annoyed but literally no one is on his side, so that's the final word on the matter.
Sandor also walks and talks with Tormund, because they both knew Brienne. They trade gay jokes and discuss synonyms for "cock." One of them is "dick." Jorah walks and talks with Thoros. He wants to know how drunk he had been during the attack on Pyke. The answer is blackout. Finally, Beric walks and talks with Jonny, because they were both dead once. They don't know what it means, but Beric seems satisfied to think the Lord of Light has a purpose for him.
At last, they reach Mount Arrowhead, which Sandor points out. Then they walk more and fight a wight polar bear. Thoros gets badly wounded. Then they have to run to the Plot Convenience Pond and spend, at least in terms of emotional experiences, one long night there. Thoros dies (reasonably, actually), and Sandor tries to steal his alcohol when they realize this the next morning. The group discusses how they have to burn the body, and Beric lights up his sword by cutting his hand. At this point, we're super confused by his sword, because other times it's been a lightsaber, like five minutes before with the wight bear.
Later, the army of the dead attacks, and they participate in the fight and escape on Drogon. Beric says he wants to stay with Tormund at Eastwatch rather than sail back to Dragonstone with everyone else. Sandor opts for the latter for no articulated reason.
Some amount of time later, Sandor joins the wight hunt team for the wight moot dragonpit meeting. He's incredibly rude to everyone, and also tasked with carrying around the wight in a backpack. The one exception is during another walk and talk with Brienne, where they talk about how they both know Arya. She is physically safe, which pleases them, even if we're personally quite concerned about her emotional well-being.
At the wight moot, Sandor recognizes his zombie brother, and runs up to yell at him and tell him that he will eventually be the one to kill him, as is his destiny.
After the wight moot, the Wall falls, and Beric falls with it. He might or might not be alive; it's very unclear.
Okay…?
We are a bit confused how to approach this, but we think the one thing we can focus in on is Sandor's arc. This season, he came face to face with a bad deed from his past, learned to read flames, and got to yell at his brother. If these things seem wildly disconnected, we don't disagree one bit.
In terms of his character…arc…he's been completely stagnant since one of his jokes landed a few seasons ago and turned him into a meme. We talked last year how, in what should have been an arc about him learning the futility of violence, he was actually validated for his pessimistic, aggressive worldview. This year, he's quite clearly still as violent and revenge-driven, since he ends the season saying he's going to kill his brother. That, dear readers, is zero character growth for this dude. And just hilariously far from what happens in the books.
There's a chance that Sandor's not as nihilistic, we suppose. It's hard to tell, but he seems shaken by what he viewed in the fire and he gladly goes on the wight hunt mission. That could also have related to him now wanting to be a force for good in the world, since he was clearly bothered by the fate of the daughter and father he stole from. That would mean he's reforming and growing from his past, right?
The issue, however, is that what we're given on the screen with Sandor is so random ("here, look in these flames!") and so paper thin, it's a bit hard to track what's actually driving him or how he's feeling about anything. Especially since the priority for the writers with this character seems to be making him…witty? To us, it comes across as distressingly unpleasant. And it is possible to speak a sentence without using the c-word.
Sure, sometimes his unpleasantness makes sense. Thoros asked Sandor if he recognized the farmstead, or if he was afraid, and Sandor began calling him a c-nt, a f-cker, a c-cksucker and even made fun of his hair. It's a defense mechanism, and that was pretty clear. Yet at the same time, he treats the Lannister soldier who was just being mildly helpful the exact same way. We realize that sometimes being a Lannister soldier is just no fun at all, but it's more confusing to us why this is Sandor's MO. Why are we supposed to be on this jerk's side? He's not funny, he's dismissive of trauma, he's horribly homophobic, and he doesn't really bring anything unique to the table, unless you count him being the 'main fire reader' with Thoros dead and Mel shoved off.
Speaking of, what in seven hells are we supposed to do with that? Yeah, it's vaguely poetic that a guy with trauma relating to fire could find something meaningful in it, not that he has any sympathy for anyone else who's traumatized. But what led to this moment? What was actually set up here, other than, "Oh hey let's use the guy with the burn for this"?
Honestly, while there is the fire reading and the brother threatening, the only real takeaway we have is that D&D think this a very funny character who is worthy of being shoved into many scenes. There's certainly no coherent arc here, and the fire reading is not character growth—it's character punctuated equilibrium. Nothing was earned for that moment, nothing led up to it, and yet it happened.
Then there's the Brotherhood, now Without Purpose. When we called them the "Brotherhood with Vague Continuity," it was because they were heading north for 2 seasons. That's the continuity. Here though, we find out that they don't really know why they're going north; they just have a feeling it's where stuff is going down. So basically, they're Harry Potter on Felix Felicis.
Beric is this character they've built up since Season 3, who the Lord of Lights needs so much for his plan that he's been risen from the dead 6 times. Beric always monologues about how the Lord isn't done with him yet because he has some great purpose. Even this year, Sandor points out that he's just a mundane dude, and Beric doubles down on the fact that yes, he is, but the Lord needs him.
So apparently, this great purpose was to accompany Jon Snow and his buddies to capture a wight to convince a political adversary to not solidify her position? Being so generous, Beric did have the moment of pointing to Shogun and telling Jon that if they could kill him, everyone dies. Was that his magical destiny? To have told Jon that piece of information that frankly could have been intuited given how all the wights collapsed after Skyr was killed? This is the Lord's mysterious purpose?
Now, we know D&D are very good atheists who read The God Delusion, but we honestly don't think Beric was supposed to be blowing smoke out of his ass this whole time. He was risen from the dead multiple times, and Sandor's fire reading skills are not imagined. There is truly a Mount Arrowhead. So how on earth is this what we waited four years to see Beric do? Unless, of course, he's not really dead at Eastwatch and more is to come. But wow, what a waste this year was for the BWB. Poor Thoros even died! Though in fairness, he was a c-nt with a topknot.
It might shock you, but we have nothing else to say about these guys. We don't get it. We don't get what anyone was going for. We're not going to waste our time explaining to you what happened in the books, but suffice it to say it's a lot more interesting than this. Also remember when we were told Lady Stoneheart was too silly for this show? Glad we got something much more dignified.
To be continued next week!
Since we're a good 6,000 words in with no signs of slowing, we'll pause here so that you can take the time needed to process the depth of D&D's writing. If you're prepared, you can go on to Part 2 where we cover our absolute favorite book theater, the Greyjoys (friend and foe), and Olenna's surprisingly decent send-off. Trust us, we're all astonishment too.
In the meanwhile, you can check out the rest of our writings on Season 7 in our retrospective tag. We'll talk to you soon!
---
Images courtesy of HBO
FM+ Presents: GoT is Bad, the 5 Paragraph Essay