Introduction:
On Friday, Taylor Swift will be releasing a re-recorded version of her fourth studio album, RED, which originally came out on October 22nd, 2012. RED (Taylor's Version) will come with  "vault songs," previously unreleased songs that Swift intended to put on the album at one time or another. She did the same with Fearless (Taylor's Version). For some of these vault songs on both albums, she has and will be featuring guest vocalists. There will be nine "From the Vault" songs this time around, and one of them, 'Nothing New', will feature indie rock artist Phoebe Bridgers. (If you would like to learn more about this massive moment in music history, you can read more about Swift's re-recording situation here, here, and here.)
'Nothing New' is a sister song to 'The Lucky One', an album that made the original RED album and which distills Swift's fears and traumas about celebrity life into a third-person narrative. Understanding these songs together makes Swift's collaboration with Bridgers all the more poignant and powerful. By including Bridgers on 'Nothing New', Swift is making an unspoken feminist statement due to the song's subject matter and its relationship to Swift's overall writing at that time in her life, confronting ageism and misogyny in the music industry.
'The Lucky One' and Swift's Growing Disillusionment With Fame:
To better understand the genesis behind 'Nothing New', I am going to talk about 'The Lucky One' first, as its origins reflect back on the previous song, as they were written extremely close together, when Swift was at a particular headspace regarding her career. 
The song is a composite narrative of past musicians who have influenced her, though Swifties agree that Joni Mitchell is likeliest the most significant inspiration. Mitchell was one of Swift's favorite artists at that time in her life and whose 1971 Blue album influenced RED. Look at the album covers, and you can see the influence. And as part of the press for RED, Swift said that her favorite album of all-time was Blue. Producer Jeff Bhasker, who worked on 'The Lucky One', also backs this fan theory up:
"That track falls into a little bit more of a Springsteen, Joni Mitchell vein, which I think shows a lot of maturity and what a good songwriter she is. The lyrics are kind of about her, it has a story, and at the end I think she's talking about Joni Mitchell rejecting fame, even though she never mentions her. She was on tour in a hotel room alone feeling a little too famous when she wrote that."
'The Lucky One' tells the story of an unnamed songstress who rose to fame in 1960s Los Angeles before disappearing from the limelight, choosing "the Rose Garden over Madison Square." Swift inserts herself as a character during the song's bridge, contrasting her arrival into fame against the protagonist's successful disappearance and newfound freedom from public life. The repetitive chorus centers around being "the lucky one" and how what it means to be 'lucky' changes for Swift-as-narrator the more she understands the unnamed singer's choices. Overall, it's a song ruminating on the cycle of "young things"and how the Hollywood system traumatizes them before discarding them, treating women like cartons of expired milk.
Swift wrote 'The Lucky One' sometime during the Australian leg of her Speak Now World Tour (t. 9:07-10:04). It was early 2012, and she was deep into writing RED, reflecting on her career. In a track-by-track breakdown, she described the psychology behind 'The Lucky One' as one rooted in fear:
 "Through telling the story of other people that I was inspired by… but you know, more than their stories being told, I'm pretty much singing about what I'm scared of in that song. Ending up kind of caught up in this whole thing and lonely and feeling misunderstood. […] It kind of expresses my greatest fear of having this not end up not be fun anymore, having it end up being a scary place, and some people get there."
Swift got to that scary place in 2016. It was a year of trauma and tribulation for her, with the most significant trauma being the backlash she faced related to Kanye West and Kim Kardashian's manufactured scandal that casted Swift as a villain. That was when the public, particularly social media, 'canceled' her after Kardashian called her a snake on Twitter, aiding in West's harassment of Swift. The bullying ruined Swift's mental health, and she retreated from the public eye for a year, so much so that there were headlines and memes about her 'disappearance'.
I've already outlined the misogyny that fueled the digital attacks against Swift, but it's important to mention again, because 2016 turned Swift from the narrator of 'The Lucky One' into its protagonist. Tellingly, several songs from her 2017 album reputation have lyric parallels with 'The Lucky One', particularly 'Getaway Car' and 'Call It What You Want'. She even wrote and released a poem for reputation called 'Why She Disappeared', pulling from a headline about her public disappearance and likely from the 2012 song. Swift predicted her future years before it happened, and that real-life character transition informs Swift's approach to working with younger, newer artists like Phoebe Bridgers. (More on that in a bit.)
'Nothing New' Occupies the Same Headspace for Swift:
In 2019, Swift released old journal entries as part of the deluxe edition of her Lover album, and Version 2 included an entry about her trip to Australia as part of the Speak Now World Tour. On March 2nd, 2012, she reflected on her day in Perth, having gone to the beach with her band the day before, writing, "After our beach afternoon, we went to this restaurant right on the beach called Indiana. It was built in 1910 and looked like an old fancy hotel. It's one of the most beautiful places I've been, with old world arches and moldings, antique tables, and big French doors opening out to views of azure blue ocean."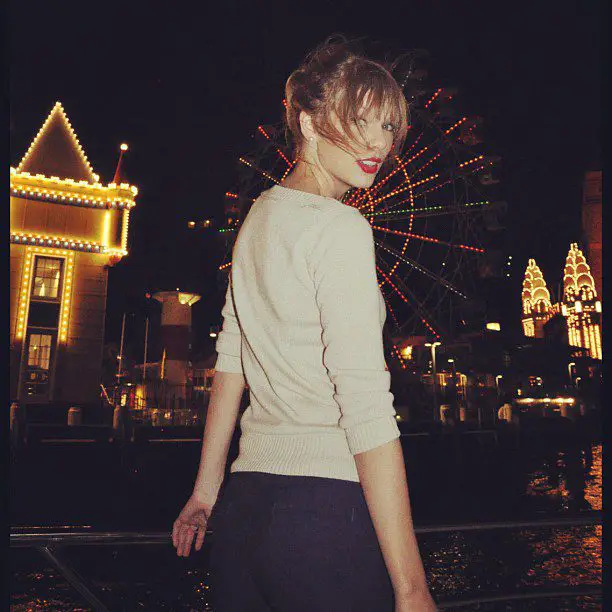 Her description of the restaurant echoes the second verse of 'The Lucky One': "Now it's big black cars, and Riviera views/And your lover in the foyer doesn't even know you[.]" Reviewing this entry, when considering the songs she would release in the coming decade, you can see how certain ideas percolated together in her mind, how 'Nothing New' is deeply woven together with 'The Lucky One'. (Tellingly, she also slips into a tangent about Joni Mitchell and Blue in the same journal entry.)
Swift likely wrote 'The Lucky One' in the subsequent days after, and that makes even more sense, as the entry reveals that she had just written 'Nothing New'. She summarizes 'Nothing New' as "being about scared of aging and things changing and losing what you have" because at that time, she'd "been thinking a lot about getting older and relevancy and how all my heroes have all ended up alone." She mentions song lyrics that describe going from being a confident 18-year-old to an uncertain 22-year-old in one verse. Then, the title line in the chorus goes, "And will you still want me/when I'm nothing new." 
The thematic parallels that 'Nothing New' share with 'The Lucky One' demonstrate that for Swift fame, womanhood, aging, and loneliness are all wrapped up in one complex, fear-ridden bundle. (Very relatable, as she always is.) She faces these issues head-on by working with Bridgers on 'Nothing New', the sister song to 'The Lucky One'.
The Buck (of Young Things) Stops Here:
In general, Swift's fears stem from a specific kind of misogyny that all women face, especially those in entertainment, as she feared aging and its potential ramifications on her career. She would revisit this theme in the documentary Miss Americana as the film followed her as she approached 30, coming to terms with the fact that she would probably never see the professional success of the 1989 era again.
The entertainment industry thrives on the commodification of young women, the "shiny new toys" that Swift referenced in Miss Americana. In the documentary, she adds that young female singers get about two years as 'shiny new toys' before they have to reinvent themselves. Swift's monologue on this combination of ageism and misogyny is laid over clips of her performing throughout the years, the camera often in close-up on her frame or of performance clips where Swift is tearing apart a costume to reveal a new outfit underneath. Her body, on display, in one way or another. 
This mindset, that women have a short shelf-life, goes back a long time. Indeed, one medieval writer noted that "old age begins for women at the age of thirty, but for men at fifty," (Rossiaud p. 18).
Swift alludes to this social trap that engulfs women in 'The Lucky One' as she narrates the protagonist's descent into and disillusionment with Hollywood. She sings:
"And they tell you that you're lucky

But you're so confused,

'Cause you don't feel pretty, you just feel used.

And all the young things line up to take your place.

Another name goes up in lights

You wonder if you'll make it out alive.
Again, this song connects to 'Nothing New' as it discusses doubt and how trauma damages a person's psyche, leading to a tarnished self-image. Here Swift also comments on gender and beauty, how young girls and women are almost lined up like mannequins on a conveyor belt. The lyric implies the imagery of 'shiny new toys' that Swift would use years later. Phoebe Bridgers, who belongs to the next generation of female singer-songwriters, is, in a sense, one of the 'young things'. 
Though the women are similar in age, Bridgers being twenty-seven to Swift's thirty-one, they are at completely different stages in their careers. Swift debuted in 2006 at 16, while Bridgers came onto the scene in 2015, before debuting her first album two years later when she was 23. And Swift doesn't fear or recoil from Bridgers; Swift embraces Bridgers, as she has embraced many young artists in her community. (I've seen more than one young artist call Swift a mentor.) Swift may have become the protagonist of 'The Lucky One' in a sense, a bit jaded and definitely wounded by the industry, but she has not retreated from her community. She is correcting her past by nurturing the future of others, offering them support and professional opportunities.
In her book 1991 book, The Beauty Myth, Naomi Wolf describes how ageism and misogyny intersect, preventing female solidarity:  
"[T]he myth seeks to discourage all young women from identifying with earlier feminists—simply because these are older women. Men grant themselves traditions to hand down through the generations; women are permitted only fashion which each season renders obsolete. Under that construct, the link between generations of women is weakened by definition: What came before is rarely held up for admiration as history or heritage, but derided by fashion's rigid rule as embarrassingly démodé." (p. 209)
While Wolf was writing about feminism and women's connection to our politics and our history, her comments resonate with female role models and women's community in general. In terms of the music industry, it relates to Swift and Bridgers watching their role models face rejection and vitriol as they age, as well as the general isolation female musicians have to contend with in a male-dominated field.
Defiantly, Swift has always embraced and advocated for young women in music, which has included featuring women on her songs, but she approaches this celebration of women now with more intent. She is also now more aware of the misogyny that fuels the public's attacks against girls and women of all ages, and thus she will approach her music with that in mind. For example, in her song 2019 song 'You Need to Calm Down' she asserted that all the girls of pop had "crowns" and condemned social media's attempts to divide them through petty point-scoring, which she reiterated in an interview with Rolling Stone. 2019 also saw her speaking up about turning 30 and vocally celebrating that. Overall, working with Phoebe Bridgers is an extension of these views, a retroactive healing of her past self, and an acknowledgement of internalized toxic beliefs about beauty culture and about women's objectification.
The media encourages divisiveness between women — comparing their looks, their style, their chart and sales success in ways that they don't for men. Ageism factors in as it provides the Hollywood machine another way to instill a means of control within women, her own internalized surveillance system. By bringing Phoebe Bridgers on to sing with her on 'Nothing New', Swift is refuting the catfight culture that the entertainment industry fuels through a combination of ageism and misogyny. Together, Swift and Bridgers are asserting that no woman is lesser because she isn't 'new' in society's eyes.
Images courtesy of Taylor Swift and Phoebe Bridgers
Have strong thoughts about this piece you need to share? Or maybe there's something else on your mind you're wanting to talk about with fellow Fandomentals? Head on over to our Community server to join in the conversation!