Introduction:
Back in August 2019, Taylor Swift revealed in a CBS interview that she would be re-recording her old music so as to (re)gain ownership of her songs. Fans and the music industry have been holding their breath in anticipation ever since, and Swift has teased this massive project for months. (If you want to brush up on Swift's battle to reclaim her music from her old record label, Big Machine, you can check out this deep dive.) Fearless (Taylor's Version) comes out tomorrow, and it will include six previously unreleased songs that she wanted to include on the original album, "vault tracks" that call to mind a director's cut. Yesterday, Swift surprise released one of the 'new' songs for the re-recorded version of Fearless, and the song, 'Mr. Perfectly Fine', is a fascinating window into the transitional nature of creativity.
The Complex History of Swift's Songwriting:
'Mr. Perfectly Fine' is a country-pop number that captures the moment when the narrator runs into her ex-lover after their break-up. Swift wrote the song alone, likely in 2008, and co-produced the released version with longtime collaborator Jack Antonoff. The narrator refers to her ex by various honorifics such as the titular "Mr. Perfectly Fine" and "Mr. Never told me why." She describes him as a well-dressed heartbreaker who has "all the eyes on [him]" and who "sashay[s] away to [his] seat." Overall, Swift paints the picture of a heartbroken young woman incensed by her ex's indifference to her, infuriated by how quickly he moved on from her, and the lyrics echo songs from her past and songs from what would become her future.
For example, when Swift sings "Mr. casually cruel" in the chorus, I have to keep myself from losing my mind, because "casually cruel" appears in one of the most devastating lyrics from her 2012 song, 'All Too Well', one of her most epic, most beloved compositions. She used that cacophonous phrase originally in 2008 and then brought it back a few years later, and we just never knew it till now. By releasing 'Mr. Perfectly Fine' today, Swift is creating a fascinating synergy between her known work and her overall writing process, as these 'new' old songs enrich the songs' interconnected narrative(s) and show her playing with themes that would develop more explicitly in later works.
Swift has written hundreds of songs over the course of almost twenty years. Dozens of acoustic and studio demos circulate online and as rare CDs, and these recordings make up an obscure part of the Swiftie fandom. (I've heard that the early 2010s saw a lot of fandom discourse about the ethics of listening to unreleased songs.) And since the early days of her career, some fans have collected these demos. A fan group who calls itself 'Taylor's Inner Circle' (IC) maintains a list for every known song, and the site has obtained a recording, it adds a description of the song for readers. I was one of many fans who speculated that she would include unreleased material for the re-recorded albums and who kept this list in mind.
On March 26th, she released a vault track, 'You All Over Me', a song that had leaked online in 2017. 'Mr. Perfectly Fine' is one of the rarer unreleased songs, the kind that had been locked up tight and had been heard only by a few lucky listeners. The site mentioned 'Mr. Perfectly Fine' without a description, further indicating how new this song is for all Swifties, diehard or not.
'Mr. Perfectly Fine' encapsulates the artistic transition Swift underwent in late 2008 as she finished making Fearless and started work on the material that would become Fearless Platinum Edition (2009) and Speak Now (2010). Though grounded in country music, 'Mr. Perfectly Fine' contains the pop-rock guitar sounds that ran throughout Fearless and manifested more concretely on Speak Now, which clearly pulled from rock music reminiscent of John Mayer, Paramore, and Evanescence. It has, for example, dance-y, anthemic energy fans would hear in 'The Story of Us', a Speak Now song. Swift's writing style, the descriptive lyrics and wordplay, also bridges the albums' writing styles. 'Mr. Perfectly Fine' has the same snarky, shady bitterness of a young woman seen in the likes of 'Forever & Always', a bratty pop-rocker Swift added last minute to Fearless. (The tone of those two songs can be seen today in the likes of Olivia Rodrigo's new single 'Deja Vu', a teenaged singer-songwriter dealing with break-ups in the limelight and who cites Swift as a major influence on her music.) In addition, the third verse in 'Mr. Perfectly Fine' depicts the ex at a swanky event "dignified in [his] well-pressed suit," and it recalls the titular 'Speak Now' and its image of a rude bride "wearing a gown shaped like a pastry."
The Teenage Heartbreak Behind 'Mr. Perfectly Fine'
I believe that Swift wrote 'Mr. Perfectly Fine' in late November or early December 2008, and such a timeline makes sense considering all the parallels 'Mr. Perfectly Fine' shares with 'Forever & Always' and the Speak Now song 'Last Kiss'. The reason why I propose this period as the genesis for the song has to do with its lyrics and how they correspond to Swift's life at the time. Swift dated musician Joe Jonas over the summer of 2008 before splitting early in the fall of that year. It marked her first public relationship and breakup, and as her career skyrocketed over the following year, Jonas stayed on her mind. She was a teenager, barely a legal adult, and her artistic projects over the following year reflected a young woman navigating the complexity of loss. 'Mr. Perfectly Fine' fits early into this process.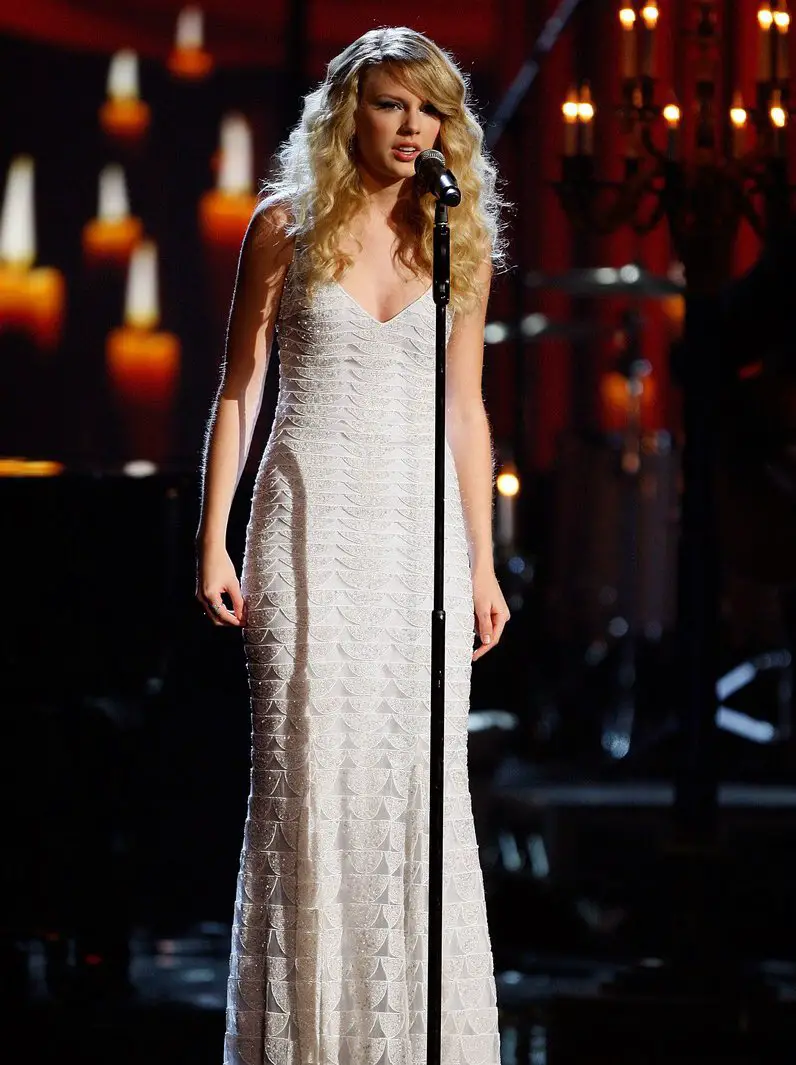 In late November that year, Fearless was out and already dominating the charts, and Swift was still grieving her relationship. When asked about it in interviews, she alternated between vulnerability and the resolve to move on. (Indeed, the song lyrics about persevering through the pain, knowing that one day she would move on, mirror her statements about the relationship at this period in her life.) The breakup was still raw for her at the time, and that was evident when she performed 'White Horse', her fairytale-gone-wrong ballad, on November 23rd at the American Music Awards (AMAs). Throughout the performance, she fought back tears, and her vocals were weaker than normal. Jonas had attended the same awards show. The singers were separately asked about their feelings on attending the same event, and while Swift focused on her professional success instead of the breakup, Jonas quipped, "It's all good," in reference to the split.
I totally can see Swift writing 'Mr. Perfectly Fine' in a red blaze of emotion after the AMAs. Earlier that month, she had posted a video to her MySpace page in order to promote Fearless, and it included a bit that involved dragging Jonas. In the video, she had held up a Joe Jonas doll and pointed at its phone, saying, "See, this one even comes with a phone, so he can break up with other dolls," referencing how he broke up with over a 27-second phone call. She then held up the doll based off of her, warning the doll to, "Stay away from him." It makes sense that seeing Jonas at the AMAs and having to manage heartbreak while in public might have been the catalyst, especially since 'Mr. Perfectly Fine' accentuates the sadness buried within 'Forever & Always', paving the way forward for a song like 'Last Kiss'. 
'Mr. Perfectly Fine' adds another layer of complexity to the grieving process that 'Forever & Always' and 'Last Kiss' capture.
A Confirmed Duo of Songs Turned Trio:
'Forever & Always' was the first song about Jonas that she released. (She confirmed the song's subject in multiple interviews early in the Fearless era.) She wrote it while still with him, and the song details her despair and rage over the declining relationship, wondering where it all went wrong. She recorded it on September 23rd, 2008 as Scott Borchetta, her then-label president, revealed in the E! Entertainment Special on Speak Now. The thrumming guitars express her frustration and confusion, as well as reflect the franticness within those emotions. 'Mr. Perfectly Fine' perfectly fits as the next chapter in the story, fast forwarding to the narrator single again and running into her ex.
'Forever & Always' starts with the narrator reflecting on the fairytale-like beginning of the relationship, singing, "Once upon, I believe it was a Tuesday when I caught your eye/And we caught onto something/I hold onto the night, you looked me in the eye and told me you loved me. […] Were you just kidding?" Similarly, 'Mr. Perfectly Fine' recalls an idyllic beginning based on a promise eventually broken: "Mr. Perfect face/Mr. Here to stay/Mr. Looked me in the eye and told me you would never go away." Swift's focus on direct eye contact highlights the intimacy of that memory and between the partners, how deep the betrayal goes.
'Forever & Always' and 'Mr. Perfectly Fine' also both describe an indifferent figure in the narrator's life, and the narrator copes through cutting comments. In the second verse of 'Forever & Always', she bitingly asks, "Was I out of line?/Did I say something way too honest, made you run and hide/Like a scared little boy?" She then quips in the vault track, "Hello Mr. Perfectly fine"/How's your heart after breakin' mine?" in the chorus. Such of scene of indifference could have easily been inspired by the AMAs as detailed in the song's third verse: "So dignified in your well-pressed suit/So strategized, all the eyes on you/Sashay away to your seat/It's the best seat, in the best room/Oh, he's so smug, Mr. Always wins/So far above me in every sense/So far above feeling anything." She practically screams the last line, emphasizing her commitment to the relationship against his indifference.
Indeed, the song's structure of a climatic third verse followed by a hushed bridge also appears on 'Last Kiss'.
Overall, 'Mr. Perfectly Fine' continues the grieving process in terms of anger before it fades into sadness, on the cusp of a whole other emotional landscape. The song ends as Swift repeats one of the first lines in the song: "Mr. you looked me in the eye and told me you would never go away/You said you'd never go away." She practically sighs the last line, the instrumentals fading out, and within that sigh comes the breakdown that leads to ballads like 'Last Kiss'. 
The latter song addressed the aftermath of their break-up, a six-minute-long country ballad that focuses on Swift recalling fond memories of the relationship. She has spoken little about this song — which kills me because it's been one of my favorite songs since its release. But Swifties, and some general listeners, know about the song's inspiration because Swift hinted it herself. For her early albums, Swift capitalized certain letters in her album booklets as a way to encode secret messages about each song, and the secret message for 'Last Kiss' is "FOREVER AND ALWAYS". (Let's hope we get new secret messages for the re-recorded albums!)
Such devastating loss is apparent from the song's first verse, which parallels the opening to 'Forever & Always' and 'Mr. Perfectly Fine'. She repeats the detail of two lovers face-to-face: "I still remember the look on your face/Lit through the darkness at 1:58/The words that you whispered for just us to know/You told me you loved me/So why did you go away?". 'Mr. Perfectly Fine' shares less similarities with 'Last Kiss', particularly in terms of genre, but the songs still relate to each other in lyricism.
In the first pre-chorus of 'Mr. Perfectly Fine', she mentions how "[i]t takes everything in [her] just to get up each day." Such sadness can easily translate into the mourning captured in 'Last Kiss' in which the narrator "sit[s] on the floor" wearing their ex-lover's clothes. Just an utter ball of sadness and rainy gray light. In addition, 'Last Kiss' elaborates on the theme of indifference in 'Forever & Always', Swift illustrating this point through physical sensation and contrast to happier times: "Your name, forever the name on my lips/[…] So I'll watch your life in pictures like I used to watch you sleep/And I feel you forget me like I used to feel you breathe."  (Her Speak Now style of writing focused on more detail-oriented lyricism.) 'Mr. Perfectly Fine' has the narrator similarly noting, except in the vein of bitterness, "He goes about his day/Forgets he ever even heard my name." The intimacy inherent to a person's name reduced to nothing, just like the promise of eternal love that haunts these three songs. 
One of the great things about Swift releasing all of these vault tracks today is that she can enjoy them without the recent grief attached to them and with less misogynistic scrutiny applied to them, free from judgement over her natural reactions as a young woman. Hilariously, Joe Jonas's wife Sophie Turner and Swift seemingly confirmed that he was the song's inspiration. Turner posted an InstaStory, and Swift replied to it, the two friends having fun online.
Tomorrow, fans will get to hear all six Fearless vault tracks, inspiring us to reevaluate an album that has been a part of pop culture for more than ten years. The synergy that I mentioned earlier does not just appear in the songs; it also appears in our relationship to the music that we have loved for years and how the artist can change that for us. So, no, I will not be 'Ms. Perfectly Fine' this Friday, and I am looking forward to that.
Images courtesy of Taylor Swift, Big Machine Records, and Republic Records
Have strong thoughts about this piece you need to share? Or maybe there's something else on your mind you're wanting to talk about with fellow Fandomentals? Head on over to our Community server to join in the conversation!