So the pandemic is on its way out, the world is opening up, and summer is about to begin. What an excellent time to start dating!
Ok, sorry, didn't mean to scare you. If you're not quite ready for that yet, you might want to try out Master Dater, a new party game from the creators of Cyanide & Happiness that lets you explore the utterly nonsensical world of dating with a few of your closest friends! The project went live on Gamefound in April, and it's Explosm's third game after Joking Hazard and Trial By Trolley.
but they were nice enough to send me a preview copy to check out ahead of its full release in Q4 of this year!
What's In The Box?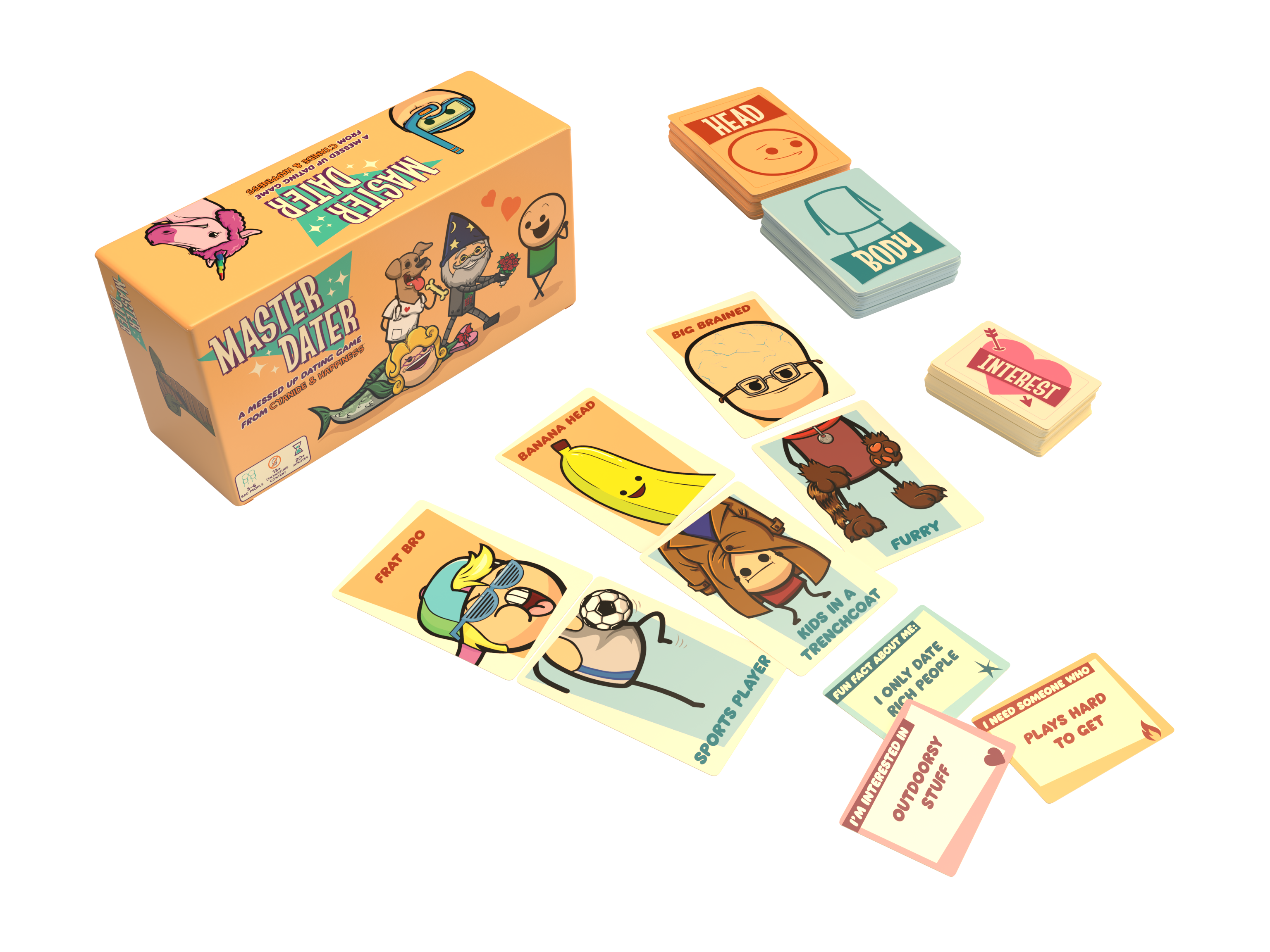 115 Heads,
115 Bodies
300 Interests (100 Hearts, 100 Sparks, 100 Flames)
The Big Love edition adds in
150 Card NSFW Uncut Expansion
4 pins
A "Sexy" pinup poster
A Sexy Single Token
Stickers!
How's It Play?
The core gameplay of Master Dater is pretty straightforward, based around the tried and true "pitch" formula you see in games like Tattoo Stories or Gorilla Marketing. One person acts as the "Sexy Single" looking for the perfect date. They'll have three interest cards representing who they are and what they're looking for in their partner.
The rest of the players draw three heads and three bodies (see above gallery). Once the Sexy Single has read out their interests, the Daters will pair one head with one body and then pitch/pander to the Single by justifying how their combo appeals to the interests given. At the end of the round, whichever Dater best matched the interest gets that card and the winner is the Dater who gets 5 interests, including one from each category!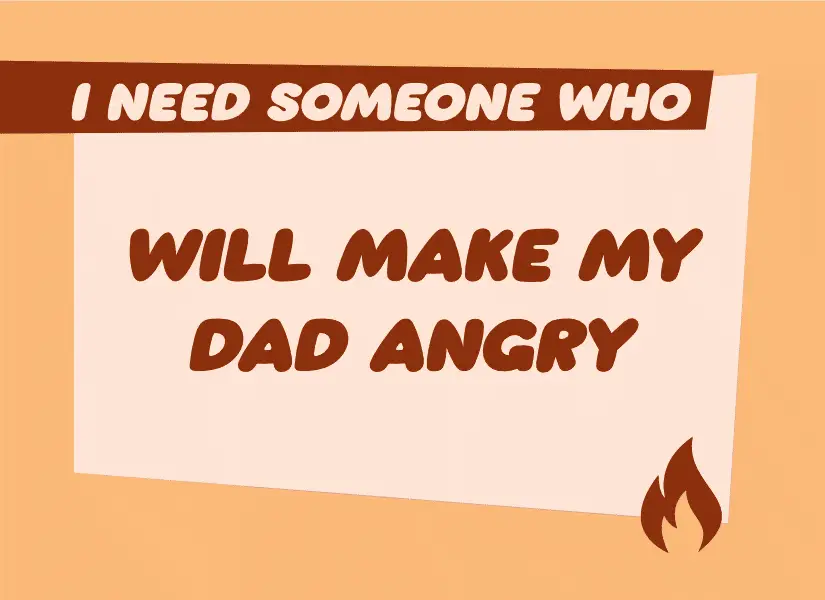 The charm with games like this is always in the writing. Explosm has been around for a while and I can for sure say that their style of humor has matured a bit since they started. The jokes in here are funny without being excessively gross or gorey, definitely aiming more at goofy personality traits over shock value. Obviously if the surreal, at times sophomoric style of Cyanide & Happiness isn't your cup of tea…I'm not sure why you're reading this review at this point. But you won't probably like this game in any case.
The art is all done by C&H so it's cartoony and fun, with plenty of interesting heads and bodies to choose from (I'm a fan of the Flaming Pumpkin Head and Threatening A Baby body). You're not getting a feast for the eyes here but for a party game it's good. Considering the creativity I've seen in just my demo copy, I'd be very interested in what they add in with the final game and especially the NSFW expansion. And while the 6 player maximum is lower than I'd like for a party game, it also means this is something you can…ahem…whip out and play casually.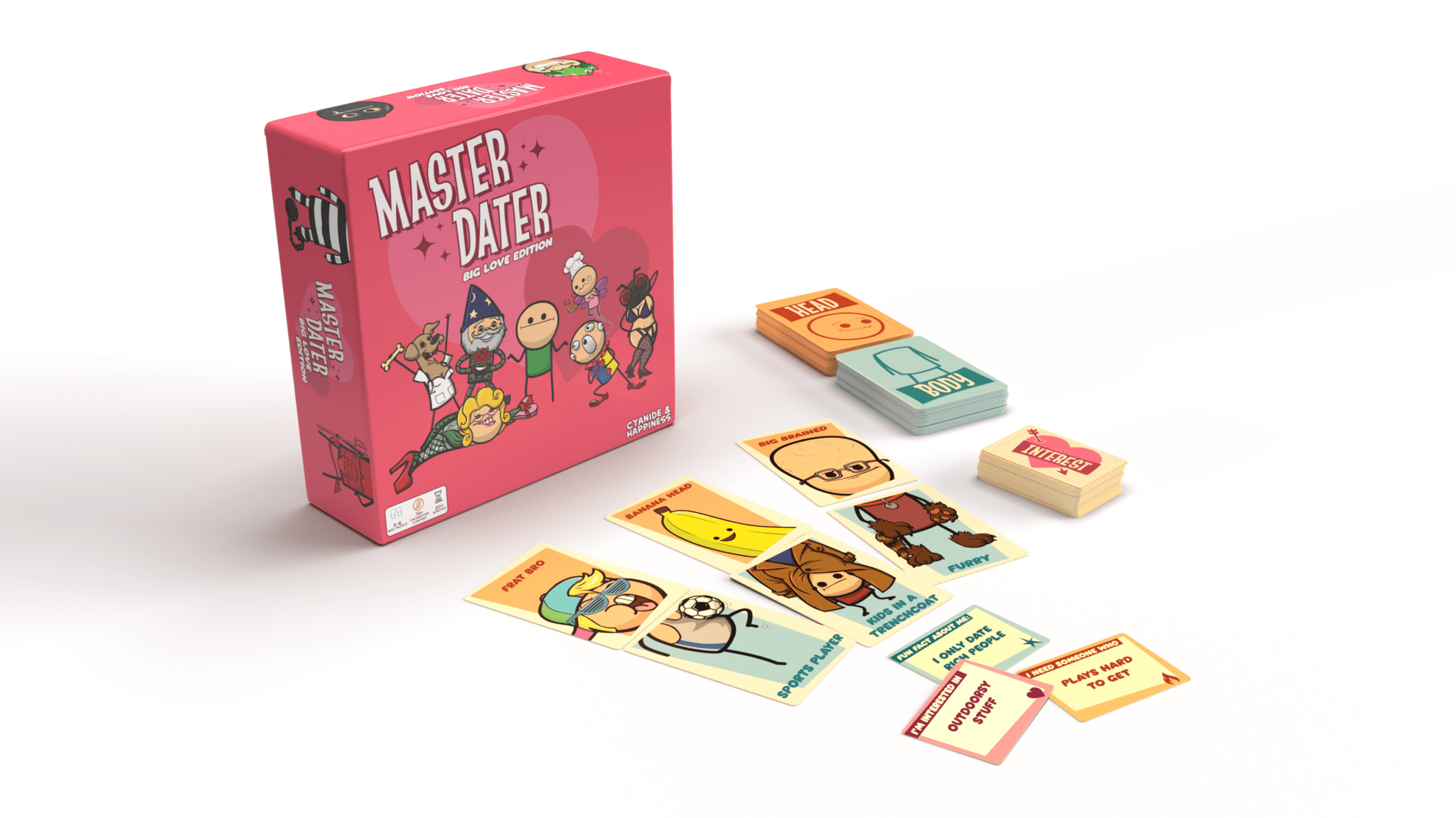 There's still two days left to back Master Dater on Gamefound, where the base game will run you $25.00 and the Big Love Edition topping out at $65. Extras like signed memorabilia, art commissions, and extra cards are all available as well!
Images via Explosm
Have strong thoughts about this piece you need to share? Or maybe there's something else on your mind you're wanting to talk about with fellow Fandomentals? Head on over to our Community server to join in the conversation!