Truth be told, the tabletop gaming industry is pretty damn white. While the people actually playing games has always been diverse, and is growing more diverse by the day, the people making the games remain fairly monochromatic. But that is also changing, and the ongoing Black Lives Matter protests have shed a lot of light on the state of Black designers in board gaming. To help point you in the right direction to help support Black designers (and get some cool games), I've compiled a short list of some of my favorites. I've tried to get something for everyone, but this list is not exhaustive by any means and I encourage you to check out this list for some of the folks I've missed.
Publisher: Board Game Brothas
MSRP: $60.00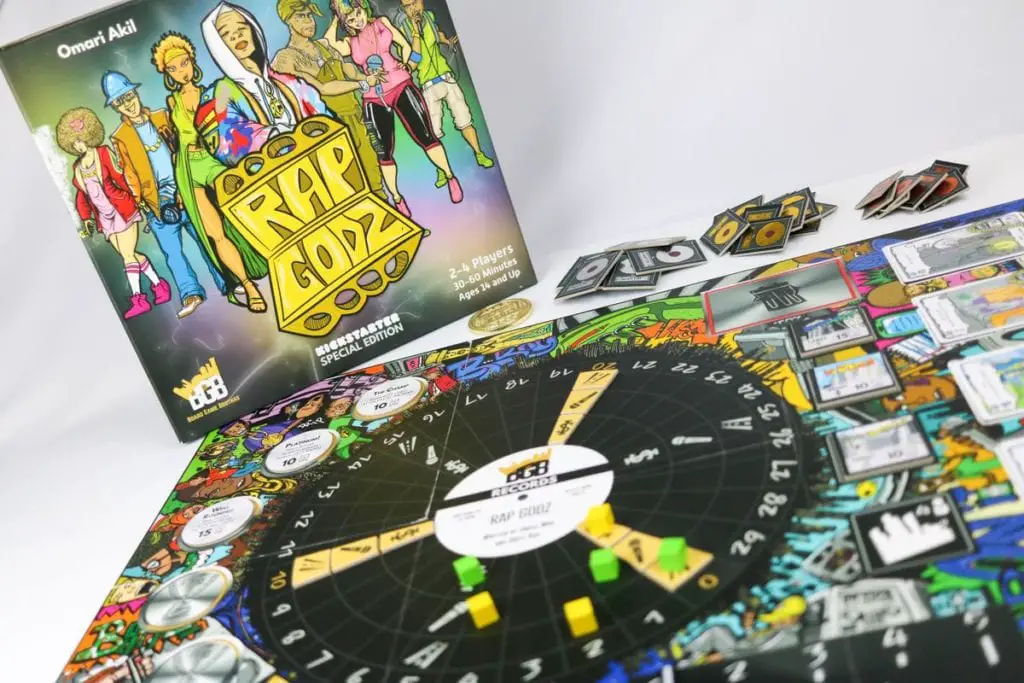 A self-published Kickstarter success, Rap Godz started out as an idea that artist and company co-founder Hamu Dennis cooked up with the pioneering New Orleans rapper Tim Smooth. After Smooth passed away in 2011, Dennis worked on the game on and off until he linked up with Omari Akil in 2017 to create what would eventually turn into Rap Godz. The game's success comes from marrying two seemingly incompatible genres: hip-hop culture and euro-style board gaming. Players take on the role of rappers trying to get their big break, and use resources like Street Cred, Rap Skills, and Money to make their way to the top of the rap game. Rappers can beef with each other to eliminate competition, and only one of them will have enough record sales to become the newest Rap God. Different hometowns, goals, roles, and objectives mean that each playthrough is different and many different genres of hip-hop are represented in a way that will satisfy even the most experienced of hip-hop heads. BGB is nearly sold out as of now thanks to a recent charity campaign that raised over $80,000 for several Black Lives Matter groups and the NAACP, but you can still check the game out on Tabletopia until the Brothas of Board Game print another run. You can also keep an eye out for Graffiti Knights, the follow up to Rap Godz that focuses on the underground world of tagging.
And keep an eye here for a full unboxing and review of Rap Godz coming soon!
Publisher: Bicycle
MSRP: $19.99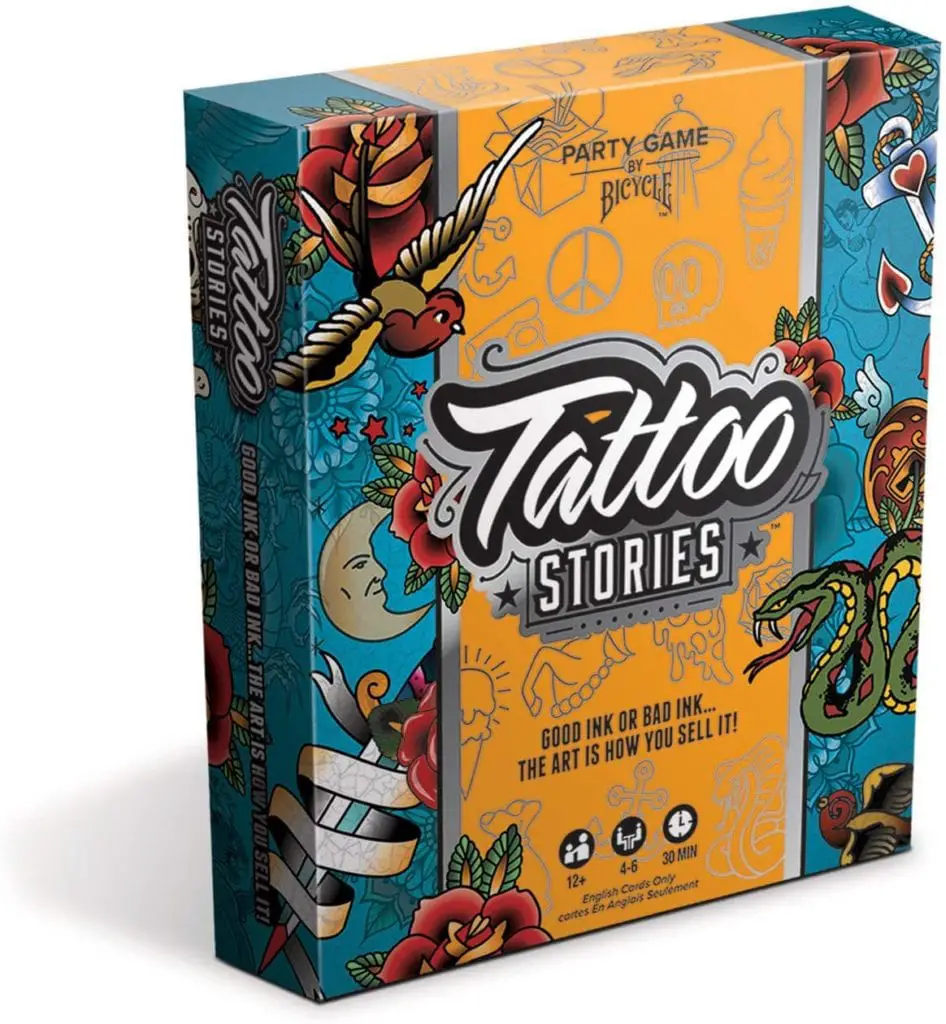 Part of Bicycle's debut lineup at Gencon 2019, Tattoo Stories is a unique party game centered around the crazy artistic process of tattoo art. The brainchild of Eric Slauson, who was inspired by tattoo artists friends and consulted with other artists while developing the game; Tattoo Stories places one player in the role of a customer looking to get a new tattoo while the others act as artists trying to win their business. As the customer describes their ideal tattoo (based on topic cards but still driven by the customer's imagination), the artists have to sketch in real time what they think the customer would most want. And, just like when you get a real tattoo, there's no erasing. Points are awarded for coming closest to the customer's vision, and then the customer rotates someone new.
Publisher: CMON
MSRP: $80.00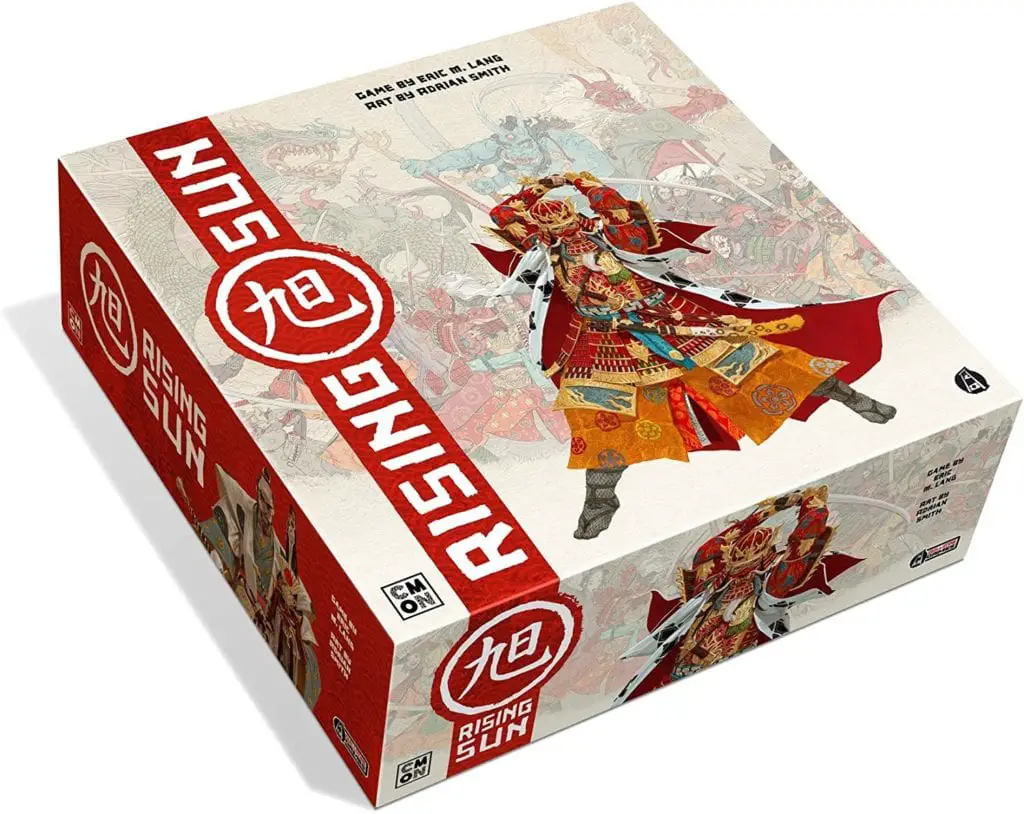 It was kind of hard to pick a game by Eric Lang, who has also worked on fantastic games like Cthulhu: Death May Die and Blood Rage, but Rising Sun is one that has consistently gotten rave reviews for its high production value and deep strategy. Set in feudal Japan, players have to not only manage their conquests and alliances but also the favor of the mighty Kami that have descended from heaven. It's a big'un and not cheap, but it has amazing art from Adrian Smith and the high quality, detailed minis that CMON have made a core part of many of their games.
Publisher: Water Bear Games
MSRP: $20.00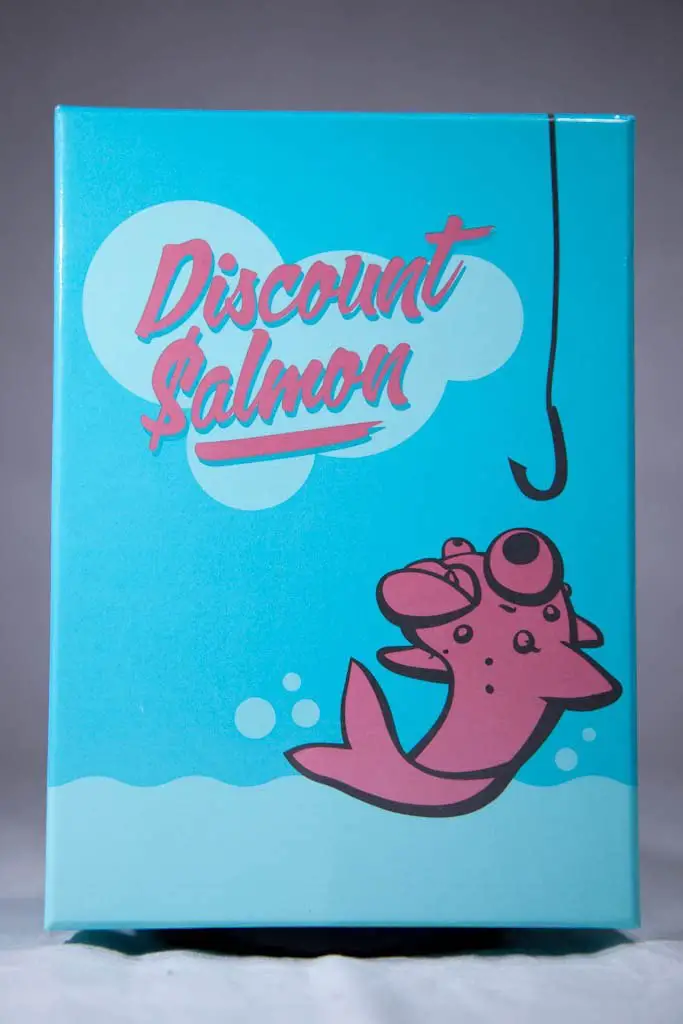 Water Bear Games (BEEEEES!, Kingmaker) is a collaboration between two Nebraska cousins, Marcus Ross and Cara Heacock, with Marcus handling much of the promotion and business while Cara uses her design experience and art skills to handle put the duo's ideas into motion. Discount Salmon has been around for a while, and it was Water Bear's first "big" publication as well as the game that got their name out there on a broader level. It's a game about fishmongers, who try to keep their catch fresh while offloading their sick, rotten, smelly, or just plain ugly fish onto their competition. It's meant to be a speed game, and there's a lot of chaos as players try to heal fish, offload fish, and claim new ones before the supply runs out and the game ends. The art is super cute and it's just a very pleasant card game all aroung.
You can pick up a copy of Discount Salmon on the Water Bear store. There's also a Print n' Play version available on the game's page.
Publisher: Cards For All People
MSRP: $17.99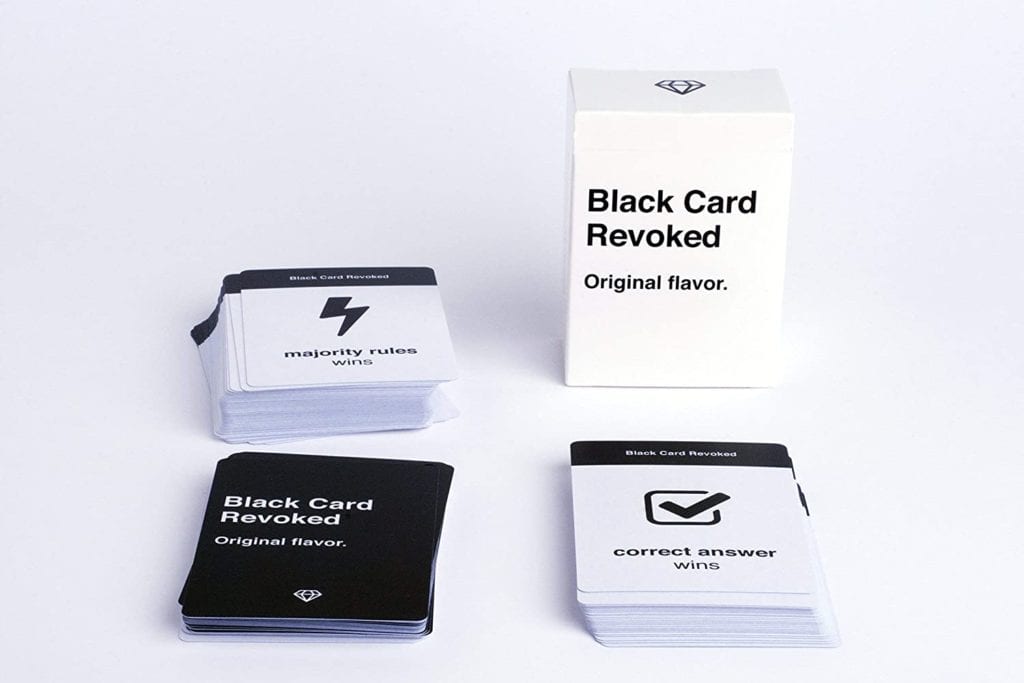 In many ways an answer to Cards Against Humanity (as the company's name make's explicit), Black Card Revoked was developed by marketer and executive Ayesha Williams to try to capture the solidarity and comedy of spaces like Black Twitter. In 2015, she linked up with software engineer and friend Jay Bobo to create the first edition of Black Card Revoked, which uses a simple multiple choice question format to spark conversations and debates between players. The two also founded Cards For All People around the same time, which has the stated goal of "providing entertaining card games for diverse populations across the country." Now on its fifth printing, Black Card Revoked has had multiple expansions including two "Old School" packs, a Black History pack, and a collab with gossip/news site The Shade Room called the "Still Petty Edition." They've also released Latino Card Revoked and Gay Card Revoked (currently sold out) that translates the experience to other cultures within the US.
MSRP: $19.99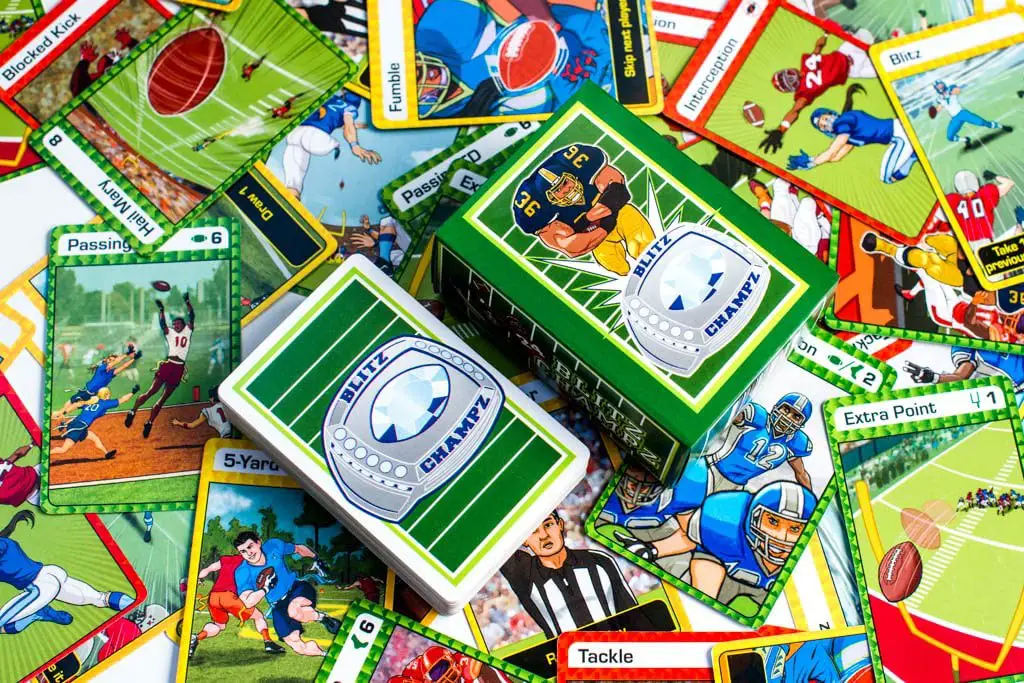 Like Black Card Revoked, Blitz Champz was also created by someone connected to the sports world: champion football player Adrienne Smith of the Boston Militia women's football team, who created the game as a way to improve math skills with a theme kids can connect with. Set up like a football game in card form, players have to use Offensive, Defensive, and Continuation cards to counter each other or advance their way to 21 points and victory. It's a cute game that has already gotten a NAPPA Award for its efforts. They also have a fundraiser program to help teams and groups make money by selling the game as well as E-Learning resources to aid in distance learning (something especially useful nowadays).
Publisher: Breaking Games
MSRP: $15.00
A 2014 release from AdMagic's Breaking Games, The Game of 49 is in many ways like Connect Four with bidding. Players start with $49 dollars each and must bid on chips that are auctioned off each round, then place those chips on a pre-determined spot on the 7×7 board. You want four in a row, so you can bid for spots that help you or screw up other people's plans, and sometimes you'll even get more money or get to choose where your chip goes. It's a neat little game with a lot of fun patterns and strategy to it.
MSRP: $30.99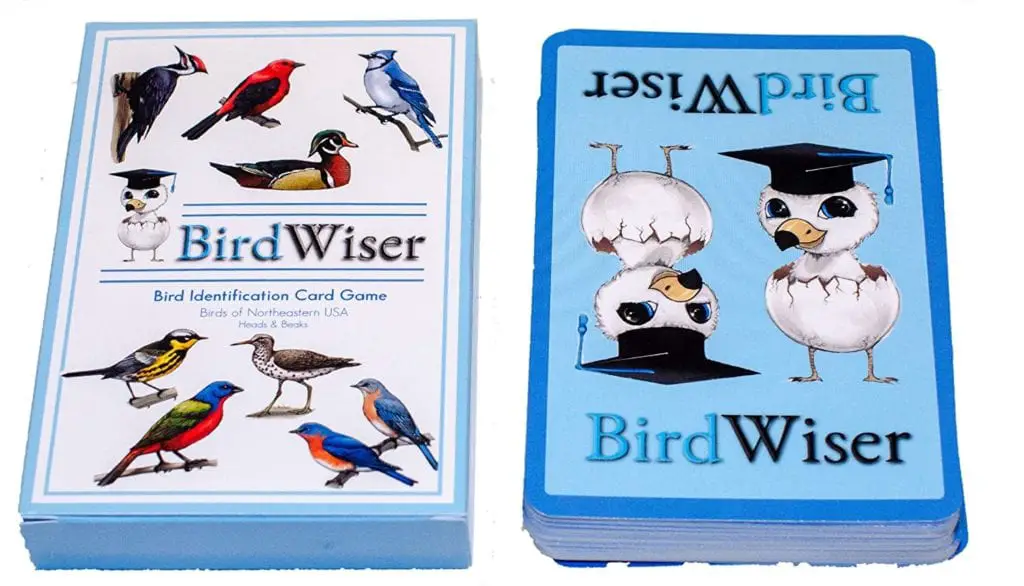 This game has a lot going for it. I mean the name is a pun on Budweiser, it's educational, and it has that cute little bird in a hat as a mascot. What isn't there to like? Designed by biologist, STEAM activist, and avid birder Chidi Paige, Birdwiser aims to help kids learn to identify birds and become aware of their environment (it touches on things like global warming and invasive feral cats) while having fun at the same time. Described as "UNO with feathers," it's a fun and fast game that seems like it would be a blast even if you're just a fan of birds and don't feel like committing to a game of Wingspan. Plus it helps raise money to protect birds and the environment! Win-win! Or maybe "Wing-Wing?"
Publisher: Gap Closer Games
Pre-Order: $49.00
The first release for Gap Closer, Rival Restaurants is a collab between the company's founder Rob Chew, game developer Jon Kang, the the company's operations manager Gary Alaka. As the name implies, players all run their own restaurants and are competing with the others for culinary dominance. They buy ingredients for food to impress the public, working to keep their income up and their rivals at bay until they get popular enough to be declared "The Wiener." It's a very silly game that has things both casual and more experienced players can enjoy.
As I said, this doesn't scratch the surface of what black designers are contributing to the gaming world. Be sure to check out Elizabeth Hargrave's full list here for many of the other names, as well as artists. If you'd like to support diversity in board games, check this Twitter thread for donation links to scholarships and mentoring programs that do just that.
Images via their respective owners