At this point, I have to imagine you've heard of The Crew: The Quest For Planet 9, Thames & Kosmos's 2020 sleeper hit that won a whole mess of awards including the prestigious Kennerspiel De Jahres. It was a huge success thanks to its easy to learn, hard to master spin on age-old trick taking card games. Now The Crew is back and this time we're going to get a bit wet. With a review copy sent to me by Thames & Kosmos, let's take a deep dive into The Crew: Mission Deep Sea.
What's In The Box?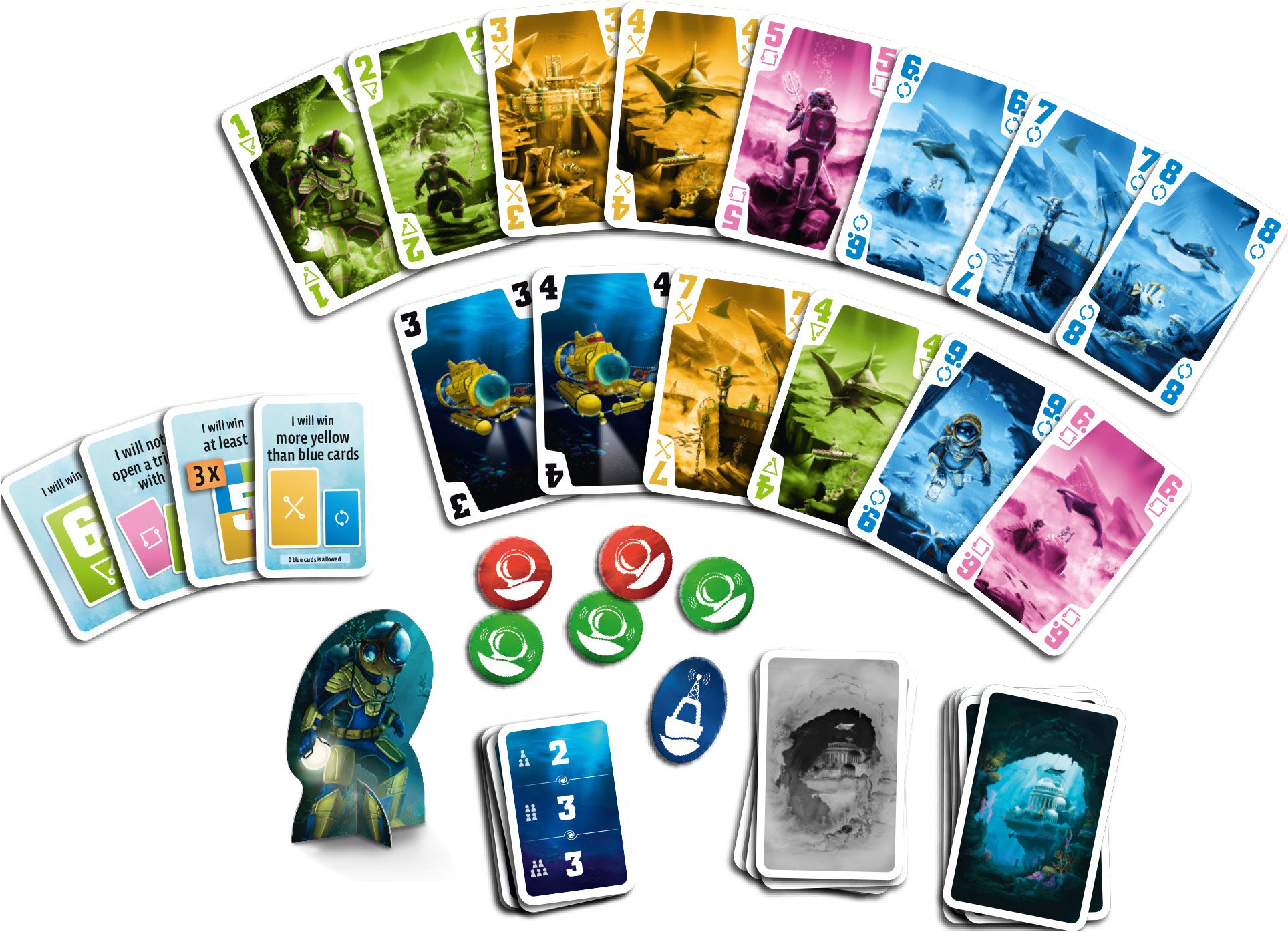 36 Color cards (9 per color/suit)
4 Submarine cards
5 Large reminder cards
96 Small Cards
5 Sonar Tokens
1 Distress Signal token
1 Captain Token
1 Rulebook
1 Logbook
Since it's a card game, there isn't a crazy amount to discuss about the contents. Other than the fact that I think Marco Armbruster did an even better job with the art this time than with the first game, capturing a sort of scientific whimsy on the cards. Look closely at the pictures, they're all referencing some sort of classic oceanic film.
How's It Play?
The thing about The Crew is that the core gameplay is something you've probably played a hundred times. Someone plays a card with a suit and a number, everyone has to follow suit, highest card wins. Submarine cards are wild. Pretty basic, right? The secret sauce here is the fifty missions and their corresponding tasks that you slowly work your way through in each session. These missions escalate in difficulty, and have all sorts of ways to make your life hell the further you go.
The missions are structured around your divers traveling to the Lost City of Mu, and each person having tasks they need to do in the dives in order to progress. These tasks are all things the player must do during that round in order to win. These range from the simple (I will win the first task) to the complicated (I will win a trick that contains only even numbered cards). Fans of the original game will recognize some similarities, but there've been some new tasks added as well. Making things trickier is the fact that everyone has a task (or more than one task) they need to accomplish in the limited amount of time each round. Oh and you can't talk. Because you're underwater.
This is where games tend to lose me, since I really just hate when an ostensibly social game doesn't let me…be social. But the restriction here isn't so tight, requiring only that you don't talk about what's in your hand. Instead, you communicated with Sonar, placing a token on a chosen card each round to tell your fellow divers what you do or don't have. It's a subtle way to accomplish this, and very flavorful, so I can't hate it too much.
The Verdict?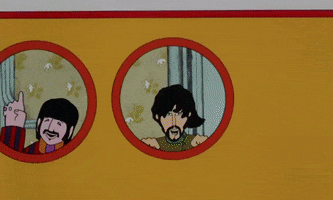 The Crew games are both excellent additions to anyone's game night rotation. They're easy to learn and quick to play, even for kids and people who don't play too many board games. Mission Deep Sea feels a little more streamlined than The Quest For Planet 9, making tasks a little easier to understand but adding in a few more variations on the tasks to make things exciting. Games can be as long or short as they need to be, though you'll rarely have one go over ten minutes. If you're looking for something chill that can still challenge you, give The Crew: Mission Deep Sea a try.
The Crew: Mission Deep Sea
Pros
Quick to learn and even quicker to play, this is a great game to bring out for younger or more casual players. Art is popping as well, with plenty of little details and bright colors to keep things interesting.
Cons
The "no talking rule" isn't perfect but you definitely see its use.
Summary
The Crew: Mission Deep Sea is, like its predecessor, a game that can comfortably fit onto any gamers shelf. Families will like something cooperative and not too hard while hobbyists will appreciate the challenge of later games. It's also got a ton of value for gamers who want a great game that won't break the wallet.
You can pick up a copy of The Crew: Mission Deep Sea at the Thames & Kosmos shop, Amazon, or at your FLGS, where it'll run you about $15.
Images and review copy via Thames & Kosmos
Have strong thoughts about this piece you need to share? Or maybe there's something else on your mind you're wanting to talk about with fellow Fandomentals? Head on over to our Community server to join in the conversation!