Tolkien is the talk of the town these days thanks to last week's debut of Amazon's Rings of Power series. Views of the movies have gone up on streaming services and the original books are going up on the sales charts. But it's not just the silver screen that has adapted Tolkien's Legendarium. The tabletop has always been the perfect place to engage with Middle-earth whether through TTRPG or board games. Today we're looking at the latest entry to that family, brand new version of the EXIT series of micro-escape room games centered around The Lord of the Rings. No, you're not playing AS the Fellowship in this one, though you'll engage with a few famous characters on the way. Instead, players must aid the fellowship by traveling ahead or behind them, clearing the path or cleaning up messes by solving mysterious puzzles.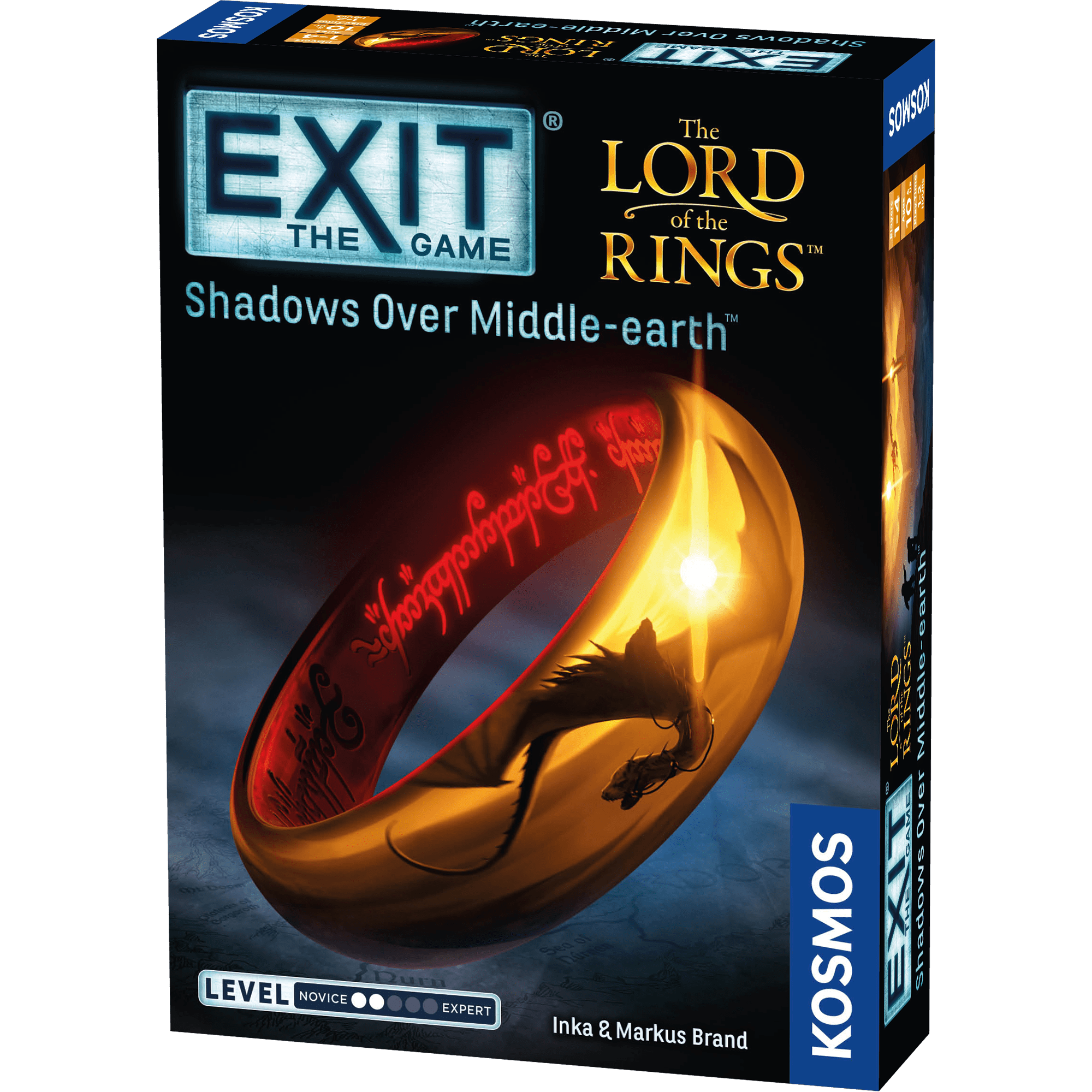 Ok, it's not the cleanest themeing ever, but is it still fun? Well, without going into too much detail as to ruin things, let's find out.
What's In The Box?
1 Decoder Disk
30 Help Cards
30 Answer Cards
27 Riddle Cards
9 Black Riders
1 door
7 fragments
8 mountains
1 "transparency"
1 Strange Parchment
1 riddle booklet
Players need to provide: note paper, scissors, a writing utensil, a stopwatch. KOSMOS also has a helper app that has a timer and thematic music.
KOSMOS always makes sure you get your money's worth when it comes to these games, making sure that a $20 game doesn't feel cheap. The license seems to have made them go even harder on this front, with super nice art all throughout the book that captures some of the whimsy of the setting as well as the darkness. Some of the "Strange Objects" are punched out of slightly flimsy paper and don't stand perfectly, but also don't rip easily either.
How's It Play?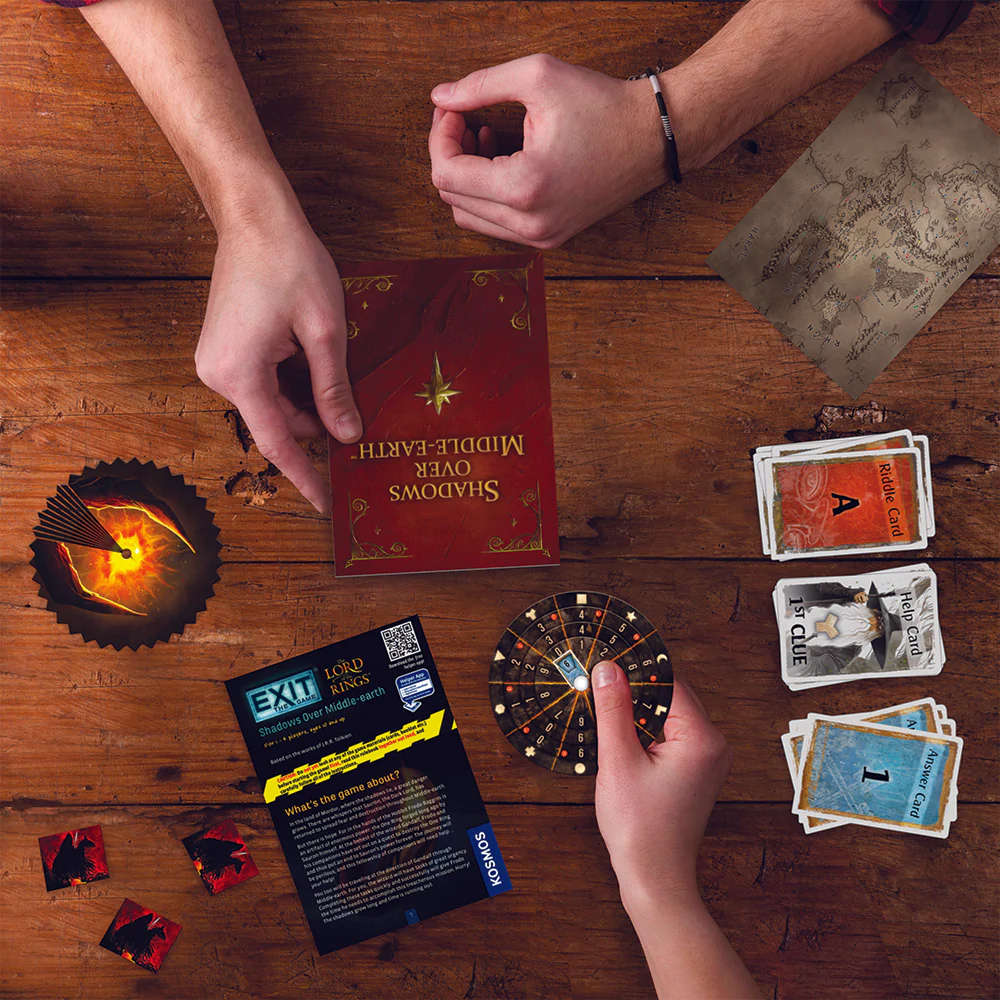 Once you get into the gameplay of Shadows Over Middle-earth, you'll easily be reminded of other EXIT releases. Since the "story" of the game spans the entirety of the books, you'll get to solve puzzles and riddles that tie into everything from Galadriel to Shelob. There's the usual tearing, folding, and aligning of things. But there's some new, fun elements that help make things feel distinctly Tolkien. Riddles, naturally, play a large part in your movement and come up quite a bit. There's mountains to arrange and the Black Riders of the Nazgûl to evade. And through it all you must evade the fiery gaze of the Dark Lord Sauron himself.
The Verdict?
The nice thing here is that KOSMOS has struck a great balance between innovation and fanservice, allowing any EXIT fan to enjoy the game for its challenge while letting LOTR nerds like me revel in the Middle-earth touches. It's not the most difficult edition of the game (because it's definitely drawing on those more casual newbies) but it's got enough challenge to make for a fun few hours. Even seasoned players will find a few surprises here and there. My only gripes relate to some of the theme, which can feel tacked on here and there and makes a few errors lore-wise. But I'm also someone who owns several editions of the series and has read The Silmarillion at least ten times so…you probably won't notice.
EXIT: The Lord of The Rings - Shadows Over Middle-Earth
Pros
EXIT's fun, efficient escape room gameplay is retained well, with enough changes to help it feel like it's really using the license. Great on-ramp for Tolkien fans new to the series but still with enough challenge for longtime EXIT-heads.
Cons
Theme can feel a little loose and there's some lore errors here and there. Punch-outs are high quality buy flimsy.
Summary
EXIT: The Lord of The Rings - Shadows Over Middle-Earth is a fantastic edition to the EXIT series just on its own merits, but the LOTR license adds a lot of fun to the mix for fans. Fun art and unique mechanics really use the license well, and it's naturally a great value at just twenty dollars.
You can grab a copy of EXIT: The Lord of The Rings – Shadows Over Middle-Earth from the KOSMOS website, Amazon, or your FLGS!
Have strong thoughts about this piece you need to share? Or maybe there's something else on your mind you're wanting to talk about with fellow Fandomentals? Head on over to our Community server to join in the conversation!