If there is one defining trait for She-Hulk, the latest venture into the streaming world by the MCU, it is that the show is fun. Everything about it wants the audience to have a good time. The characters are light and entertaining, the plot grounds itself in relatively low stakes, and the main concern so far is that you have a good time watching it. I don't need to think too hard, or analyze every scene, or worry about the larger implications about the entire MCU. I can just enjoy a half-hour of entertaining television.
And damn if this isn't exactly what I wanted. After three episodes, I find myself looking forward to the next week of She-Hulk in a way I haven't eagerly awaited an MCU streaming show since Loki. I really hope it stays this way, because this is such a breath of fresh air.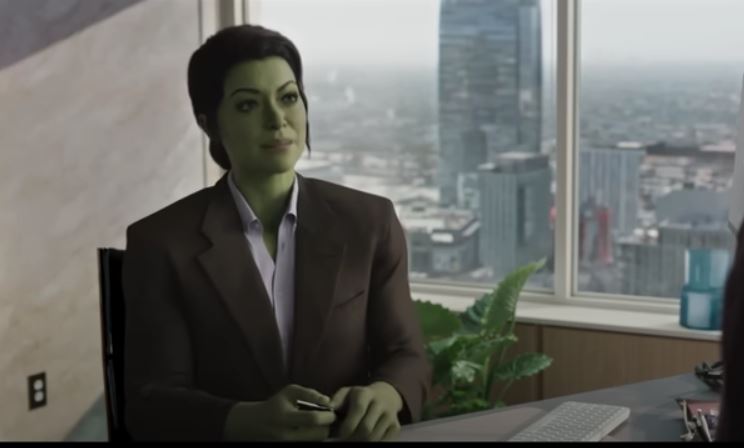 Now, don't take this opening rant as me suggesting that She-Hulk is shallow and lacks character. If anything, it is character that allows the show to exist in this less cataclysmic, street-level side of the MCU and be so fun to watch. There is a sense of identity and purpose to the show that, while not overly ambitious or complex, makes clear that its creators know exactly what they wanted to do with it.
Jen Walters perfectly exemplifies this. Obviously everything revolves around her and this is very much to She-Hulk's benefit. Tatiana Maslany is predictably excellent and that alone would make this worth watching, but Jen as a character is well-defined and gives her everything Maslany needs to work with. I find her character to be genuinely compelling as she struggles to reconcile her law career with being a Hulk. Her arc is laid out immediately; Jennifer Walters wants to leave She-Hulk behind and return her life to normal, but that will never happen, and she has to come to terms with that.
There was so much ridiculous backlash to the premiere episode's monologue where Jen mentions being able to control her anger better than Bruce since being a woman has meant spending her entire life learning to control it. Those criticizing the scene seemed to take this as Jen claiming she was somehow better at being a Hulk or an implication that men don't ever have to control their emotions, but this scene had a simple goal (besides the VERY REAL TRUTH that women have to worry about controlling their emotions more than men). This scene existed to establish what the internal struggle between Jen and her Hulk side will be.
Jen does not want to be a Hulk and is trying to wait out the "fad" of people caring about her before returning to normal. She seems to view She-Hulk as a different person, the same way Bruce once viewed his Hulk side as a different person. Jen doesn't want to be famous for a superhero persona, she wants to be famous for her effectiveness as a lawyer. She-Hulk is a cheat that brings her fame that has nothing to do with how good she is at her job.
These episodes have done a great job of using this premise for character work while still letting it be fun. Jen's Hulk persona is the introduction into the wackiness of everyday superhero life, while Jen's non-Hulk side provides that dose of grounded character work as she deals with this newfound life.

I know it's not the deepest story in the world, but why does it have to be? Why can't we just like a Wong cameo where we see a ridiculous resume and he runs from a prison after admitting to federal crimes? Why can't we just enjoy the absurdity of some chauvinistic lawyer who was catfished by a shapeshifting light elf? Or watch Jen deal with a law office that demands she be in She-Hulk mode while working? Is it really not fun to see She-Hulk predict every single sexist piece thing people said on social media and drag them for it?
The best thing the MCU can do is lean into the unique vibe of each character without worrying about weaving everything into a larger, more serious, world-changing plot. I expect She-Hulk to eventually do something that affects the larger universe, but I am almost dreading that moment. Just give me the Jennifer Walters Case of the Week show and I will be happy.
And if in the meantime we get interesting stories exploring the rehabilitation and legal rights of supervillains, the parallels between Hulk and Abomination, and such, well, even better.
If I have a major complaint, it's that She-Hulk has not put enough emphasis on the legal side of the show. My hopes were for something in line with a Jen Walters version of Better Call Saul, except more like the comedy that show was originally conceived to be. I want to see more of the absurdity of this massive green woman arguing court cases. I want to see her navigate the legal world, balancing the benefits of being a Hulk with the frustrations that she is not being recognized for her actual legal skill. Scenes like Tatiana busting into the courtroom, Jen transforming to stop her, and then wanting to continue her closing argument, are the moments that most interest me.
Really, though, I just want She-Hulk to lean as hard into the absurdity and fun of this show as it can, and I hope the audience can enjoy it for what it is.
Images Courtesy of Marvel Studios
Have strong thoughts about this piece you need to share? Or maybe there's something else on your mind you're wanting to talk about with fellow Fandomentals? Head on over to our Community server to join in the conversation!