Amsterdam is famous for its spring tulip festival, and Gift of Tulips from Weird Giraffe Games by designer Sara Perry and developer Carla Kopp is a gorgeous gifting came dedicated to the event.
For 2-6 players, the game boasts a short play time with beautiful art and cards of high quality. I had a lot of fun playing this with my cousins and recommend it for anyone who likes drafting and giving games.
Tulip enthusiasts explore Amsterdam's tulip festival to build colorful bouquets. Players can change the value of different tulips by playing in the Tulip Market, gain points by giving Tulips to other players, or build up their own Bouquet, which is scored at the end of the game.
What's in the box?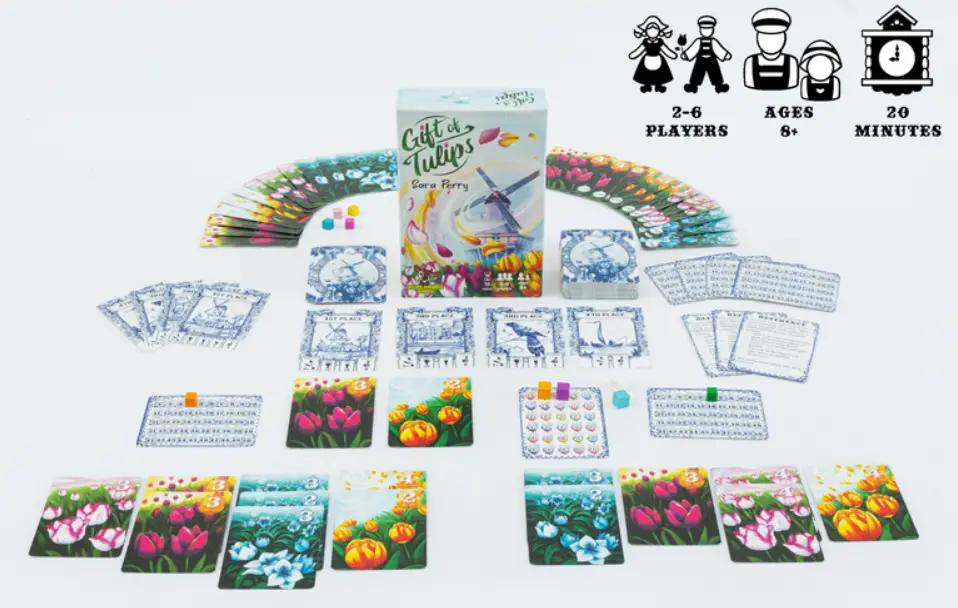 Weird Giraffe has some of the best production that I've seen. The game has 72 striking tulip cards, 8 festival cards (four in games of 2-4, 8 for games of 4-6), 1 tulip value tracking card and 4 tulip tracking tokens, 6 player scoring cards, and 6 player tokens, and 6 reference cards.
All the elements of the game are really well made, and I loved the cute player tracking tokens which you can see in the photo below. The box is also small which I'm a big fan of because as a casual gamer, I don't have a Kallax worth of games or space! Plus you can take this literally anywhere without worrying about losing any of the small pieces because the game also came with tiny zip bags!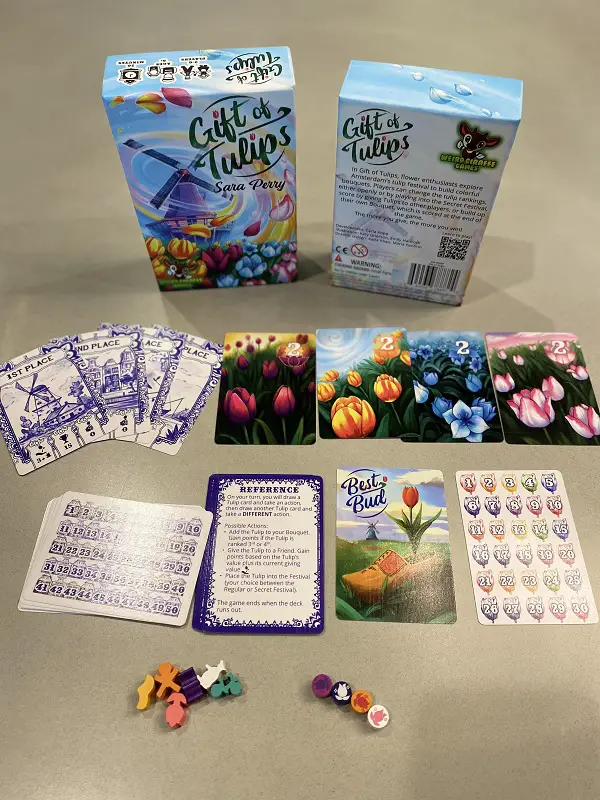 How's it Play?
The Kickstarter video above is actually a solid introduction to the game that you can use for reference if you pick a copy up.
Easy to learn, on each turn players must pick two of three actions. Players draw one tulip card and can either keep a tulip in their bouquet, give a tulip to a friend, or add a tulip to the festival. The second action has to be different than the first. Keeping cards helps to determine how much each player scores at the end of the game since you score for adding the tulip to your bouquet if that tulip is currently ranked third or fourth.
You also gain points when giving cards, and if you add a card to the festival, this helps determine how many points are awarded for whoever holds the most and second-most of that Tulip type at the end of the game.
Gift of Tulips ends when the deck runs out. Then a player shuffles and takes 5 random cards from the Secret Festival deck which are added to the Festival. Scoring occurs after those cards are added to the festival.
The player with the most points wins!
However, to add some spice to the game, adding tulips to the festival actually changes things up. If a player places a card with a value higher than the first and second-ranked tulips, that card can knock the other tulips down. So even though the game is really a game of giving, there's still strategy involved.
The verdict?
Gift of Tulips is a lot of fun and goes by really fast as people decide to keep or give cards. Not gameplay but just as great is the scoring cards which negate the need for scorebooks and wasted paper. The blue and white art and of course the tulips are all gorgeous and truly evoke the mood of the festival.
Perry states in the rulebook that they wanted to create a game that really exemplified visiting the Netherlands and how everyone Perry met was so giving. In turn, players who hoard their tulips won't get very far in scoring while those who give tulips to other players will win the most points. What a wonderful approach to card gaming!
You can pick up Gift of Tulips for $19, a great price for this game.
Gift of Tulips
Summary
Gift of Tulips is a quick and beautiful game great for the entire family.
Images and review copy courtesy of Weird Giraffe Games
Have strong thoughts about this piece you need to share? Or maybe there's something else on your mind you're wanting to talk about with fellow Fandomentals? Head on over to our Community server to join in the conversation.