Thames and Kosmos has all sorts of games for families and friend groups of all ages. Their Exit: The Game is a series of escape rooms, playable once, for the home. Which, even with a vaccine coming, we're not leaving our homes anytime soon.
Players must solve riddles and puzzles to crack a code to then escape from the themed room.
Each kit comes with a rule book, a decoder, and whatever else you'll need to beat the game, though you have to provide a writing utensil and scissors since you actually cut up the riddles to get through the game.
The game we were kindly provided to review is Exit: The Enchanted Forest which speaks to my fairy tale obsessed soul.
What you had planned to be a relaxing walk in the woods suddenly takes a very different turn. As you are walking over a bridge, it unexpectedly disappears behind you and you begin to encounter strange fairytale creatures and even stranger puzzles. What's going on here — and how are you ever going to find your way out of this forest again?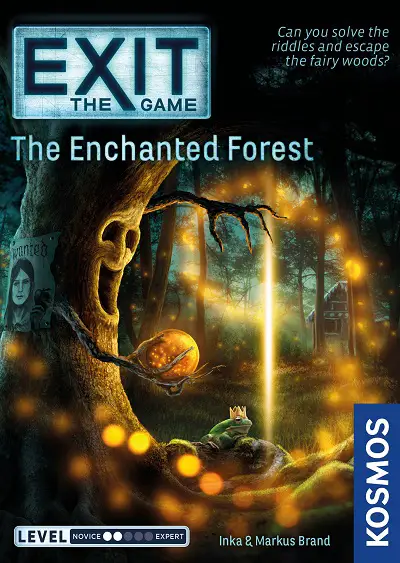 If you prefer to have the rules of this game explained to you instead of reading the rulebook, the Kosmos Helper App provides animated explanations and other features. This game came with a timer that played fun atmospheric music with ribbiting frogs and other noises.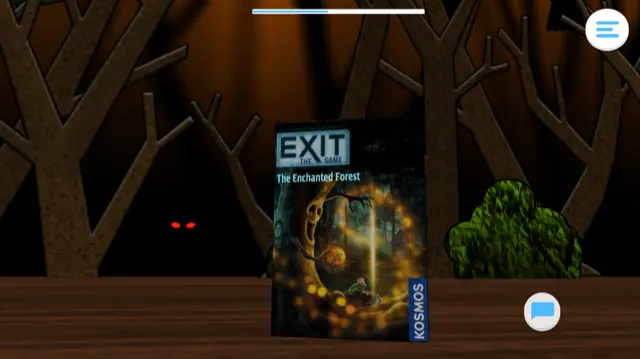 This game also included a decoder disk, 88 riddle, help, and strange cards, 1 game/story book, and the rulebook (below).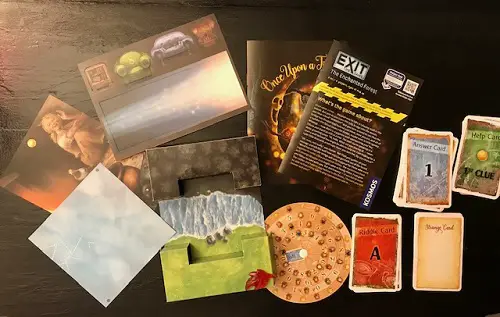 It isn't spoilers to say that the game is based on fairy tales we know like Cinderella, Hansel and Gretel, and other long-loved favorites, which means by the time you're done it feels like you've walked through a fairy tale multi-verse.
In fact the game starts by the bridge disappearing behind you and a wolf looking for a certain red-caped girl. However, you can't move forward in the book, or at least you shouldn't move forward in the book, without solving each riddle.
Fortunately you are provided with two hint cards per riddle and a solution card to help you solve the riddle, after which you can use the decoder ring to find the right solution card.
There's an added level of fun (or frustration) because if you get the wrong code and thus the wrong solution card, the game will tell you that you're struggling. Thus each solution card shows different symbols and point to the number of a different solution card that, if correct, actually sends you to the next page and riddle in the story.
I definitely had to use the hint cards a few times, which I'm blaming on post finals brain, but nothing was so difficult that it made the game unplayable or unenjoyable.
This Exit game was marked for 1-4 players aged 10+ but I had fun playing it by myself and don't see why more than 4 couldn't play together. Though the playing "board" is just the book, it might be unwieldy to have that many people trying to look at the riddles together, but I'm not sure if other games have more pieces or not.
At $14.95 a game, I think it's a good value, especially since everything can be recycled once you're done. However, if you want multiple plays this series of games is not the one for you. But with in person escape rooms still a no-go, this is a fun way to experience the same fun at home lasting anywhere from an hour to two hours depending on how easily distracted you are.
Plus, if you're really trying to get a screen-free experience, this series of games is great because it doesn't require anything but the game, you, pen, and scissors, unlike other escape room games.
I was also kindly provided Exit: Theft on the Mississippi which comes with a fun trailer (below) and is at a higher level of difficulty so I can't wait to try that soon! Hopefully with less hint usage…
Overall it was a really fun game and I'm interested to try more of the series out with friends and family, especially because unlike other games or projects that I've done recently, I really focused entirely on the game!
Thanks to Thames and Kosmos for the images and games.
Have strong thoughts about this piece you need to share? Or maybe there's something else on your mind you're wanting to talk about with fellow Fandomentals? Head on over to our Community server to join in the conversation!