This year has seen a lot of food related content here at The Fandomentals! Between Dan and I's list of dessert based games that needed playing in the spring and my review of Sweetlandia which pretty much gave me a sugar rush, the various trailers and news released during June"s game events meant one thing. I had to pull together a food based list of upcoming games!
The games on this list include food or created items in some manner, but I take no responsibility for how hungry you'll be when you finish reading!
---
Soup Pot
From Chikon Club comes Soup Pot all about cooking freely and learning more than 100 recipes. Players will make food with a range of locally sourced or supermarket ingredients in traditional kitchens making the game both leisurely and educational. The focus is on food from Philippine, Korean, and Japanese cuisines which promises mouthwatering delicacies.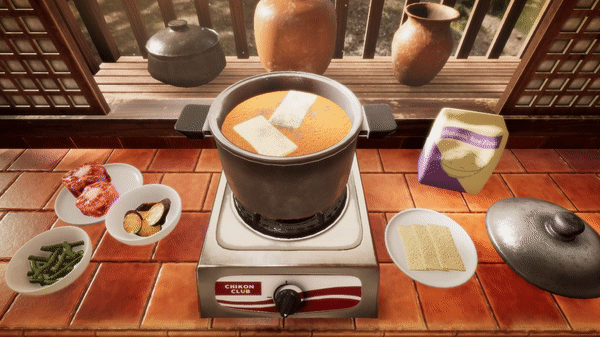 There's no demo yet, but the developers note that while cooking, ingredients will say their names (properly!) and the soundtrack is diverse in its inspirations. One added feature is that there's an in game social media platform, called Cookbook (way better than the book we have in the real world) where you will also learn cooking techniques!
You can wishlist Soup Pot on Steam now and be alerted when it releases later this year.
Venba
This game is one that I've had my eyes on pretty much since the first announcement trailer. Having played Raji: An Ancient Epic last year, I've been waiting for more South Asian inspired/set games and I'm super excited for Venba which is from Visai Studios, based in Toronto! A narrative cooking game,  you play as an Indian immigrant mom, who immigrates to Canada with her family in the 1980s. Players will cook various dishes and restore lost recipes, hold branching conversations and explore in this story about family, love, loss and more.
With beautiful visuals and animations inspired, the game promises a fulfilling story. I'm especially excited to see the specifically Tamil focus and the trailer above is even set to an original Tamil song! My parents immigrated from Bangladesh to the US before I was born and I still fondly remember learning to cook by my mom's side, so I'm prepare to be an emotional disaster when I play.
You can find Venba on Steam, though there's no release date quite yet!
Witchy Life Story
Another narrative focused game, Witchy Life Story from Sundew Studios is a humorous witchy life narrative sim where you tend your garden, craft spells, (maybe) befriend the local villagers, and (maybe) help sort out their lives and (maybe) yours too! That is, as a young witch and member of the illustrious von Teasel family, this witch isn't quite so illustrious. If the player can't help host a successful harvest festival, they're no longer going to be in training.
This game isn't firmly in the food category as much as the player (and their designed witch) must harvest different varieties of flowers and herbs to craft spells and potions for others in the village. Witch Teasel can also befriend six characters and maybe even date one of them which is always a lot of fun. I also really love that players can shape Teasel's personality and decide to make questionable life choices as they attempt to help the village come together for the festival. After all, I wanna stay in witchy training!
Add Witchy Life Story to your wishlist on Steam which has a release date set for 2022.
Dreamland Confectionary
So adding a game that has a 2023 release date is kind of mean, I know. However, Dreamland Confectionary from Wondersea Studio is very wholesome and engaging and I can't not put it on here because you BAKE IN THE GAME! Based in the main character's dreamland, this game is a comforting, reactive, and visually rich narratively driven adventure game about baking, exploring, and reconnecting with a lost childhood dream. The more inhabitants that Ami awakens and bonds with, the more her abilities and possibilities grow.
Dreamland Confectionary is pitched as a heartwarming story about mental health with a colofrful cast of long-lost imaginary friends and really about taking a pause and breathing. Where in this case, the pause involves exploration and baking magical desserts to regain perspective and happiness. Also you can pet the little creatures. What more could you want?!
Find Dreamland Confectionary on Steam now and keep an eye out for the new demo!
---
If these games look interesting at all to you, definitely check out the Wholesome Games Direct with footage and information about over 70 games that are as wholesome as the games I picked above (and were part of the direct themselves). Plus you can get to each of the games' sites from their website directly!
Images courtesy of their respective owners
Have strong thoughts about this piece you need to share? Or maybe there's something else on your mind you're wanting to talk about with fellow Fandomentals? Head on over to our Community server to join in the conversation!