From Pune, India and Nodding Head Games comes Raji: An Ancient Epic, released today on Steam, PS4, and Xbox after releasing on the Switch in August. Good timing as the popularity of roguelike Hades from Supergiant Games reaches feverish pitch.
I played the demo for the game and immediately fell in love with the art, music, gameplay, premise, and atmosphere.
Set in Ancient India, you play as Raji, who must save her brother Golu from the clutches of demons. The gameplay blends environmental puzzles such as fixing mandalas, fluid combat, and powers bestowed by the Hindu gods Durga, Vishnu, and others. See, the gods have picked Raji as the one who must save he human world from an invasion of demons. Just your regular day ending in y.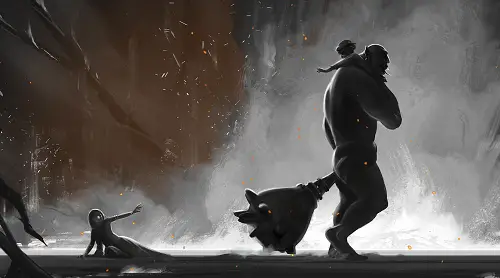 As you progress through the game, you can get striking abilities for various weapons like Durga's Trishul in fights against a variety of enemies including mini-bosses and huge demon bosses. Each fight is slightly more challenging than the previous but feasible.
The game was created by thirteen developers from India, Greece, Australia, Brazil, and the UK and is three years in the making. Well, actually a decade and after the company almost quit until Epic Games came in to help save the day! Following in the footsteps of Unrest and rogue-like Asura, it is definitely worth the wait.
With gorgeously luscious scenery evoking the true Ancient India, the game is backed with beautiful atmospheric music including beautifully sung Rajasthani folk songs and the sound of the shankh (conch shell) beautifully layered throughout the game.
In the inventive cutscenes, Raji and other characters are silhouette marionettes against the backdrop, evoking the feeling of sitting up close at a marionette show, which fits perfectly since Raji is a circus performer! An important character point because otherwise it wouldn't make sense for her to be able to climb so efficiently.
Jokes aside, Raji is a lovely character and the player is privy to her thoughts as she fights her way through the demons and returns demon-controlled lands to their former glory. It's so refreshing to have the first globally showcased Indian game follows a young girl wearing a braid and red choli! The game could have easily been about Golu.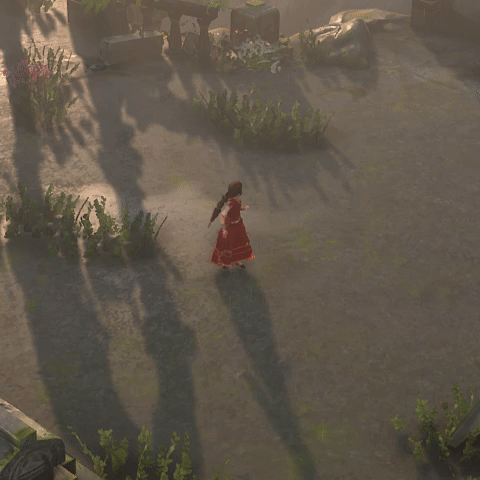 As she travels through her home of Rajasthan, Durga and Vishnu converse in voice-over about Raji, her quest, and about certain Hindu stories. And unlike games that lift from India or the broader South Asian context, this game is true to the Hindu myths and the current veneration of goddesses like Durga and gods like Vishnu.
For the unfamiliar then, the game also serves as a non-preachy education on the gods and goddesses important to millions of people around the world. Durga for example is one of the principal forms of the goddess Parvati, and in her warrior form is fighting demonic forces that threaten peace, prosperity, and good triumphing over evil. Fortunately for Raji she's also a protective mother (Ma) goddess who fights the wicked who oppress others.
A super fun surprise is the inclusion of Balinese child-eating demon queen Rangda (who has been associated with Durga) and her portion in the game is one of the points I am super excited to get to.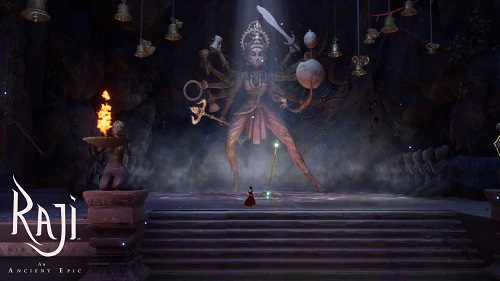 Raji on Empowerment
What makes this game groundbreaking is the studio's dedication to truly highlighting Ancient India and Hindu gods and goddesses. As a Muslim from Bangladesh, I'm quite aware of many of the Hindu deities and have become even more familiar with Durga and Kali due to their frequent use in Bengali Indian serials.
Other studios might have decided to craft a game around Durga herself fighting any one of the villians from her stories, but focusing on the human relationship between Raji and Golu elevates this game. I really hope other game developers take note and do the same. Give me more characters against the backdrop of Indian mythology, all South Asian settings, and Hindu diety led games, roguelike or otherwise!
The use of clearly Indian iconography, music, and motifs along with smooth animations made the game immensely enjoyable, even when I had issues figuring out how to make Raji jump after not playing games in over a year.
Though I only played the demo I know how the remainder of the game plays out and absolutely recommend purchasing this if you're into action adventures and empowered girls kicking demon butt.
Have strong thoughts about this piece you need to share? Or maybe there's something else on your mind you're wanting to talk about with fellow Fandomentals? Head on over to our Community server to join in the conversation!
Images courtesy of Nodding Head Games