From UltraPro and StoneBlade Entertainment comes Sweetlandia, a delightfully sweet kids card game that the entire family can play! Now where was this when we wrote about our favorite dessert games?
To realize the mouthwatering project of developing Sweetlandia, you must plan and acquire building locations. Each step you take in this monumental task will be amply rewarded with Donuts (wish they were real) from Mayor McSweet.
Rated for 2-6 players 8 and up, I played this game twice, the first time with my brother, and the second with my cousins. Both times were a lot of fun, but is definitely best with at least three players, nay, planners as they try to build the best Sweetlandia with locations like Lemonade Lake and the Flandromat. This game is perfect for a short half hour session or multiple sessions for the young ones in your life to play until they can't take the sweetness anymore. It's also a perfect intro to the city planning genre too!
What's In The Box?
From graphic artist Jessica Eyler and illustrators Glo Wan and Kristen Maslanka, the game comes with 36 bidding cards, a Mayor McSweet bidding card, 60 location cards, 20 incentive cards, and a score sheet pad.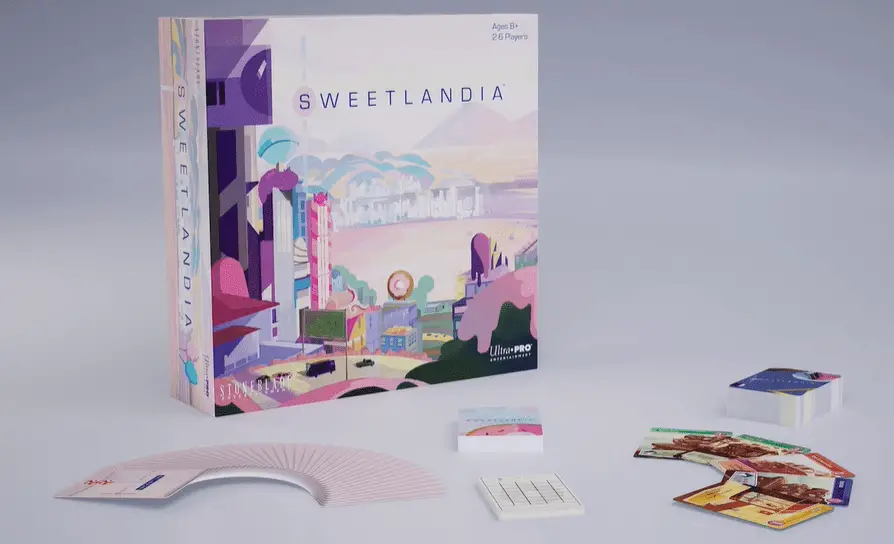 The box itself is also super snazzy with spot gloss on the title and lake. The pastel aesthetic is also perfect for this game and my brother and I spent a solid ten minutes just rifling through all the cards to see the various locations. On the second play, my youngest cousin took a few of the cards hostage because she found them so cute.
How's It Play?
Use bidding cards to acquire building areas from a delectable collection of locations: Gumdrop Garden, Rocky Road, Marshmallow Mountain, Lemonade Lake, Candy Cornfields, Flandromat and many others. Choose the right locations to achieve your goals and earn the most Donuts from Mayor McSweet. Make good choices, and watch Sweetlandia grow!
Each game plays over a total of three rounds with 5 bidding phases, a scoring phase, and a clean up phase. Planners receive a set of bidding cards and bid to pick a location card each phase in attempts to meet either the public incentives, or their own private incentive.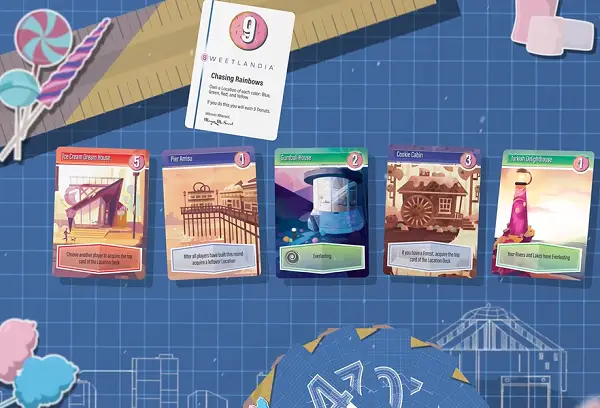 Location cards include bonuses like gaining additional donuts if the planner already owns a river, or grabbing the top card of the location deck. Incentives say things like, Yellow Brick Road or Doublemint. If a planner meets the former, they've got 3 or more Yellow locations and earn 7 donuts at the end of the round. Doublemint requires the planner to have two ore more locations with the same name, and they too receive 7 donuts. Any number of planner can achieve a public incentive, but only they can achieve their private incentive.
All locations are positive except for Fruitcake Falls (hah) which decrease a planner's donut count by 3 while Everlasting locations gain the planner a Donut per round it remains built.
After five bidding phases, everyone scores and moves onto the clean-up phase. Here planners shuffle all location cards except for Everlasting ones and then two new public incentive cards and one private incentive are dealt to each planner. The bid cards are passed to the planner on the left and the round begins a new with bidding.
The Verdict?
This game is absolutely adorable, so much so that my brother and I as grown adults couldn't help but love it and the puns especially. Flandromat, Turkish Delighthouse, Interstate Pieway, and Chocolate Mousseum are just some of the hilarious location names and I don't even like puns usually. A bag of candy (or any other individually wrapped snack) as a standin for donuts would really make this game even more enjoyable! The location designs are really cute too with art that really evokes the name of the location. There's also one Mayor McSweet's Manor card and if a planner gets that location, they receive the Mayor McSweet Bidding Card worth 100!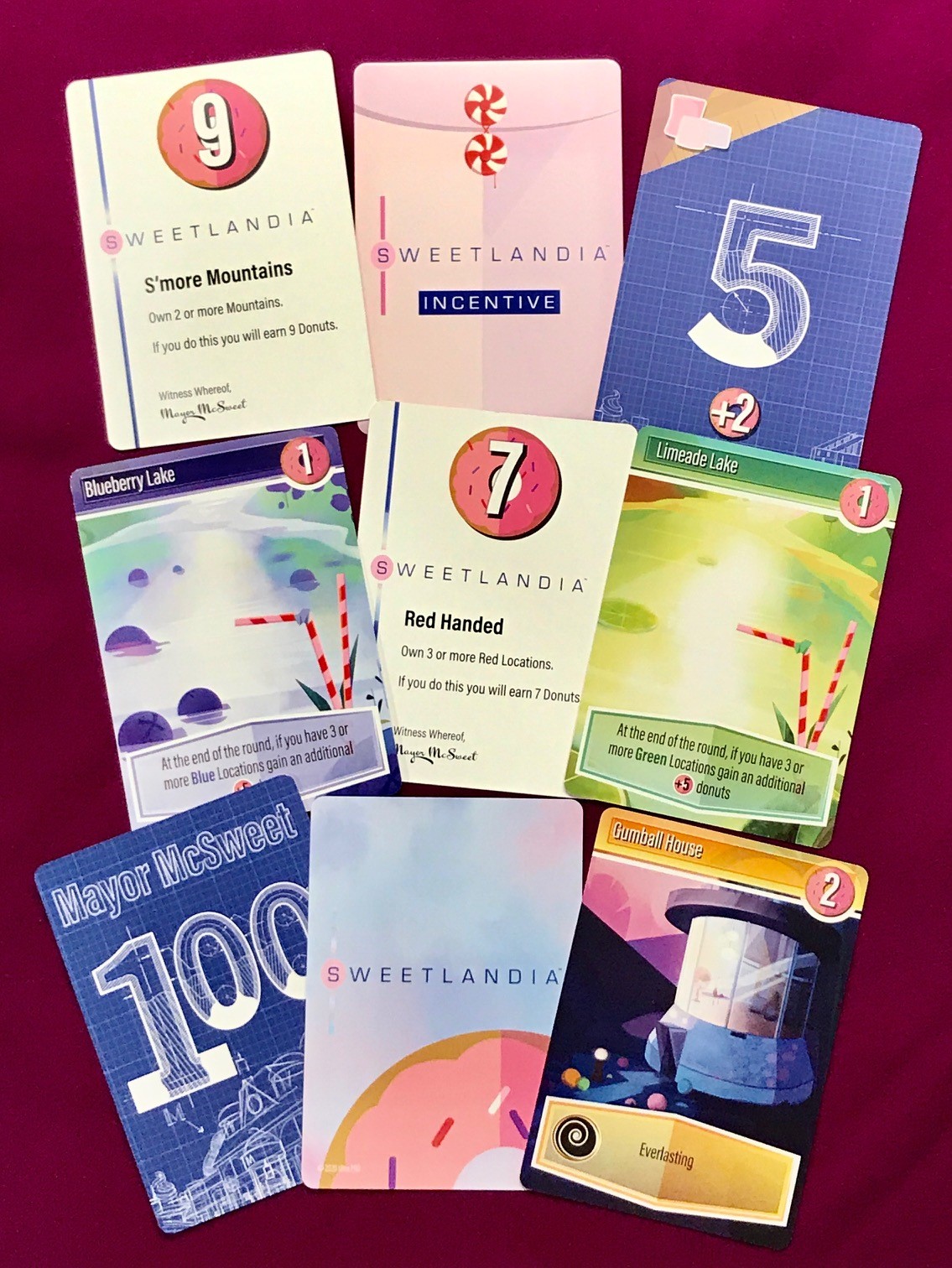 The only critique that I have is that if you're playing with two planners after the second round, both of you have bid with the same cards, making it pretty easy to strategize against one another for the third round. The way my brother and I solved this was by using two completely new sets of bidding cards for the three rounds. Two players also makes choosing locations a bit less dramatic because after the winner of the phase picks their location, unless the two locations left really stink, it doesn't really get in the way of the other player's goals.
Still Sweetlandia is perfect for a quick run-through and when playing with kids, both fun and educational. What more can you want, really? I know I'll keep playing it with family, which isn't always the case for games that I try.
Sweetlandia is available at UltraPro and Target for $15.
[rwp_box id="0″]
Images and review copy courtesy of UltraPro Entertainment and StoneBlade Entertainment
Have strong thoughts about this piece you need to share? Or maybe there's something else on your mind you're wanting to talk about with fellow Fandomentals? Head on over to our Community server to join in the conversation!