2020 was not a good year for a lot of people and businesses, with whole industries shutting down and even going bankrupt thanks to the pandemic. One industry that thrived, however, was the tabletop industry. Since we were all stuck at home anyway, games that we could play at home and especially over Zoom had a bit of a Renaissance. We all new that D&D was going to make out like bandits, but we just found out HOW big 2020 was for them until today when new sales figures came out showing peak activity across the board for their products and content.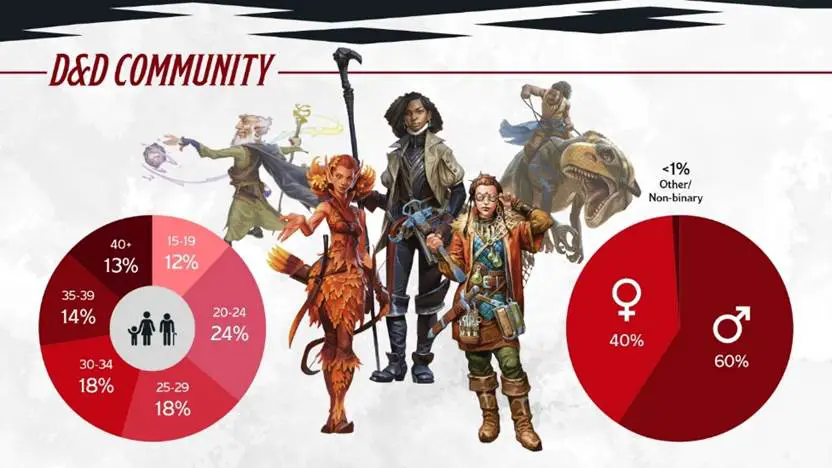 "Wizards of the Coast is proud to announce that 2020 was once again the most successful year for Dungeons & Dragons in its rich franchise history. This is on the back of 2019 also being a record year already, with the legendary tabletop game continuing to grow and diversify its community which now counts with more than 50 million fans worldwide"
Key stats from 2020 include:
●      More than 50 Million players to date!
●      7th consecutive year of growth
●      Sales increased 33% year-over-year globally
●      #DND is taking off on TikTok with over 1 Billion views in 2020
●      Over 4 Million views of D&D Live 2020
●      Tasha's Cauldron of Everything was D&D's most pre-ordered book ever!
●      March 2020 marked an all-time peak in search interest
●      Millions of downloaded free materialsfrom D&D's Stay at Home, Play at Home Hub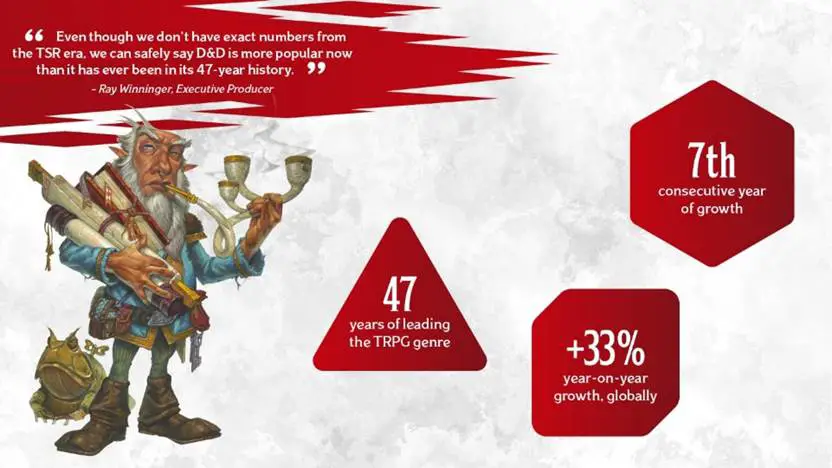 In 2020, D&D welcomed even more celebrity players and content creators to the table, be it at D&D Live, D&D Celebration or other exciting games, including the casts of Game of Thrones and Stranger Things as well as WWE Superstars and some of the UK's top comedians.
"We're proud that Dungeons & Dragons continued to bring people together during the challenges of the pandemic, providing valuable social connection even when we couldn't meet in person, as the brand continued to grow strongly. With our video game Dark Alliance, the first D&D and Magic: The Gathering crossover card set, special events such as D&D Live and D&D Celebration, additional TRPG releases, and more to come in 2021 alone, we're well set-up to sustain this progress. D&D is for everyone, and our growing EMEA¹ team are excited to introduce even more new fans to our legendary world of fantasy storytelling, now and in the years to come. We are hard at work on exciting plans for the future of D&D in our region and look forward to sharing them with you in more detail in the coming months." – Dan Barrett, Senior Brand Manager
Thanks to regular TRPG releases, the co-op action brawler Dark Alliance coming to PC, PlayStation 4, PlayStation 5, Xbox One, Xbox Series X|S and Xbox Game Pass on June 22, the exciting MTG and D&D crossover Magic expansion Dungeons & Dragons: Adventures in the Forgotten Realms releasingon July 16 and the return of special events such as D&D Live and D&D Celebration,the brandis setting the stage for yet another successful year, continuing to broaden their impact as a leading fantasy franchise in mainstream media.
Images via D&D