ClexaCon: A Safehaven for Queer Actors and Content Creators
It's been a week since ClexaCon ended, and I finally feel up to talking about it. Not because I haven't had anything to say, but because I've honestly been recovering from the worst con crud I've ever had for the past week (I'm still coughing and sneezing, but at least I don't feel like I'm dying anymore and napping 3x a day!). However, the prolonged time has given me space to fully flesh out my initial reactions.
Coming home last year, I was more focused on how ClexaCon solidified my personal writing and career goals. This year is a little different. Rather than thinking about what the con means to me, as an attendee and panelist, I find myself reflecting on what it means to the queer actors and creators. What it means for them to have this space, too.
It all started at Ascension—the afterparty Saturday night. Several of the celebrities showed up and mingled with fans, something they didn't have to do and showcased just how invested they were in us and our community. While watching Stephanie Beatriz get down with Isabella Gomez to the delight of the room, my friend Leah (one of the organizers of TGIFemslash, who we interviewed last year) pointed out that being surrounded by queer women who love her and her work must be a relief for Beatriz. For the first time, she gets to be the big star. Her existence as a queer woman of color is not just acknowledged but celebrated. That got me thinking: ClexaCon isn't just a safe space for the attendees, it's a safe space for queer actors, too.
Where else does Stephanie Beatriz get to talk openly about her bisexuality and the bisexuality of her character and be met with cheers? Where else does Erica Luttrell get to be openly affectionate with her girlfriend and be greeted not with disgust or avoidance but happy tears and heart-eyes? Where else can queer actors dress how they want and be surrounded by folks who look like them?
As attendees, we're so used to thinking about how important the con is in providing a space for us to be visible and see ourselves reflected in everyone around us. That's true. This year, I thought about that being true for the actors as well. Not just us, but they get to be in a room of women who are just like them. How often does that happen for them? Even in Hollywood, probably not all that often.
More than that, how often do they get to be the stars? How often do actors like Briana Venskus, Dot Marie Jones, Rachel Paulson, and Nicole Pacent get to be the actors that fans are lining up for and hype to get autographs, selfies, and photo ops with? How frequently do you think Elise Bauman and Natasha Negovanlis get to be some of the biggest stars in the room? When do these queer women get to be not just adjacent to the action, but the main attraction?
We're here to see them and that means just as much to them as it does to us. They're getting recognition and hype for being queer women who play queer female characters. They have space to celebrate who they are as much as we do. That's HUGE.
And even for straight actors playing queer female characters, how often is it that the queerness of the role they're playing is the main draw?
On Saturday, staff was shorthanded on volunteers in the autograph lines, so I signed myself up to help out. I ended up in Chyler Leigh's line scanning tickets and let me tell you, I was getting emotional listening to fans talk to her. I'm sure at other cons she gets to hear stories like the ones I heard, but imagine that being the only story you hear over and over. "You're so important to me as an actor because Alex helped me accept that I'm gay." "Alex helped me come out to my parents." "Alex's conversation with Kara was exactly like talking to my sister, and I cried watching it because of how important that was to see." All these and more.
For actors who truly care about the representation they're embodying with their characters, as all the actors at ClexaCon do, being bombarded with love, support, and celebration of the work they're doing must be one of the most fulfilling experiences. They might get flak from family, friends, or other people in the industry for portraying a queer character. They might have people say awful things to them because of the choice to support queer rep and do it well. But at ClexaCon, all they get is love. And them receiving that is important because they may not get it elsewhere.
That's why I got so angry when I heard about how short the autograph lines were for Nafessa Williams after I finished my volunteer shift. She plays Anissa Pierce on Black Lightning—a literal bulletproof black lesbian and, in my opinion, the most important queer female superhero on TV right now (no offense to White Canary or Alex Danvers) because of that. Yet she wasn't being given the same level of recognition as other actors were. This is her place to shine and be lauded for everything she's doing for queer women of color representation and yet…it wasn't happening the way I expected and wanted it to. Given the levels of racism and homophobia in our society, Nafessa Williams deserved to be celebrated at ClexaCon, because if not there, where else?
Because to me, ClexaCon isn't just a chance to gush about ships—though I do understand why that's such a huge draw—it's a space to participate in and listen to conversations about layered identities. Where else can we discuss what it means to be queer and mentally ill? Or about being queer and disabled? Or queer and non-white? Where else do those conversations get to be not just in the margins, but the main attractions?
I participated in three panels this year, and what has surprised me most is that the one I've gotten the most positive feedback from is the Neurodiversity in Writing panel I moderated. (Fellow managing editor Kylie and Fandomentals writers Lisa and Kristen were the panelists.) Sure, I got a lot of people saying how much they loved the Korrasami panel and my Responsibility of Media Makers panel (you can find both of those panels on YouTube). But I've had more people go out of their way to email, Tumblr message, or tweet me and my fellow panelists about the neurodiversity panel.
That tells me something. It tells me that this is a conversation people are desperate to have but have no space for. They're so grateful that we talked about it because no one else is making that space for them. Which, again, is why ClexaCon is so necessary and why it's important that it not just be about shipping. Because we as queer women don't get space to talk about ourselves and our layered identities anywhere else. And we need that if we're going to change the way stories about us are told.
Panels such as these allow us to talk about ourselves and what we want to see when it comes to representation. They're a form of activism because we're advocating for our own stories. We have to carve this space out for ourselves because no one else will. And if we don't have these conversations ourselves, how can what we say get back to the actual content creators in a way that they can listen to and reflect on when they're creating art?
Most content creators don't go online and listen to marginalized fans about how they want their stories told. Some do, but most don't. As much as I hate that it has to be this way, conventions are a recognized means of bringing attention to issues in a way that content creators might be more likely to listen to. Even then, there's no guarantee they will pay attention. Still, panels at a convention 'look' professional to the media industry and are more likely to be acknowledged. They spark conversations that can ripple into something bigger.
Nevertheless, some of the content creators are in the room and they're listening to us. And I don't just mean the industry professionals like Emily Andras of Wynonna Earp or Gloria Calderon Kellet and Mike Royce of One Day at a Time. It's great to have advocates within the industry who are writing and creating nuanced queer stories and characters. But they aren't the only ones who deserve our attention.
ClexaCon is bursting with original content creators who either haven't found a way to break into the industry or want to do things differently. Three times as many booths filled the vendor hall this year. Most of the fanartists also create their own original art, and I saw more book booths this year than last year, which makes my bibliophile heart happy to see. We need more queer books and the queer books we do have deserve more recognition, especially those being produced outside of traditional publishing avenues.
ClexaCon presents a unique opportunity for queer women and allies to support queer content creators. There's art or books to buy, films at the film festival to see, and plenty of time to talk about new projects and how to support a creator who is in media res. That's why I always take cash with me to ClexaCon. I look at it as an opportunity to put my money where my mouth is by supporting queer original content creators.
It's also why I take my microphone with me so that I can interview a creator or two for my Creator Corner series. I met Foley at ClexaCon last year—my all-time favorite fanartist for SuperCorp and Supergirl as well a really talented author and webcomic artist. This year, I met up with original fiction and fic author Rae D. Magdon to talk about her most recent book. I also caught up with the folks from the Clexa Project, who interviewed me last year and are still working on their documentary film about challenging industry standards for representation.
Not that everyone can do interviews or can afford to buy a lot of original art. The point is that I can. I have a position of relative privilege when it comes to spending cash and the added privilege of an online platform (however small it is) that I can use to benefit them. I truly believe that it's my responsibility as a member of this marginalized community to do what I can to support and highlight queer artists creating original content. I say it's what I want: more stories written by queer women about queer women. ClexaCon is a safe space where I can throw money at artists for making beautiful things and offer what little publicity I can. Because if we're going to change the media industry and society to make it safer for people like us, we all have to get there together.
And that's what I love so much about ClexaCon. Because when I'm there, I can see how it's possible. I see queer actors being celebrated and queer characters being cheered for and fawned over. I see queer art and queer books and queer artists and writers making these beautiful things for us to enjoy. And I think about how important it is for everyone who is there that this space exists.
ClexaCon isn't just for me. It's for every queer actor who has never gotten the chance to be in the spotlight or celebrated for who they are. It's for the actors playing queer characters to experience how powerful and necessary their allyship is first hand. It's for queer content creators and storytellers to gain recognition and support for the hard work they do making art for us. It's for all the panelists who spent time and energy preparing to talk about significant issues. It's for the volunteers and staff to see their hard work come to fruition and for the fans and attendees to revel in the safety and joy of being in a room full of like-minded people.
And it's for all the other queer women who can't be there, too. Who might not be out or safe enough or able to afford to go. We celebrate with them in spirit and hold them in our hearts.
ClexaCon is, quite simply, a place for all queer women to shine and for all of us to be stronger together.
---
Featured Image Courtesy of ClexaCon
Anthony Bourdain Definitely Left Something Good Behind
Content Warning for mentions of suicide and celebrity death. 
The beauty of technology lies in connecting people. Every now and again someone enters your life and changes you from afar—be it a character from a movie, an actor, a writer, a celebrity. You see that person or their work, and you connect with it. They speak to you, tell a bit of your story, give you back something of yourself that you never thought you'd see reflected and in a way that makes you better for seeing that truth, even if it's a hard one. When you lose that person, it hurts. Sometimes, it hurts as much as when a family member or pet dies. Just because you never met in real life doesn't diminish the sense of grief and loss. Because we don't have to intimately know people for their lives to touch us, change us, make us better.
Yesterday, we lost Anthony Bourdain. If you don't know who he is, you're missing someone special, and I'm sorry that you are only hearing about him after he's gone. I'll come back around to talk about his death, but right now, I want to talk about his life.
Anthony Bourdain might not sound like the kind of person who would end up doing what he did. He was a line cook for over a decade before he wrote his expose of the culinary industry. He did a lot of drugs and wasn't shy about it, even late in his life. He was frank about his struggles and about how much of an asshole he had been (and still was in some ways). Many would likely look at him and see 'privileged white male.' Plus, he comes from the culinary industry, and we've likely all seen enough cooking competitions to believe that most cis white dudes in that industry are arrogant dicks who don't care about anyone else. Or at least, that's what we assume even if it's not entirely true.
But over the past several years, Anthony Bourdain has become a staple in my partner's and my life. He was more than a celebrity chef and travel show host. He was a source of endless inspiration, of wonder, and of pithy one liners. (He had some pretty sick burns, yo, and aimed at the right people.)
See, unlike most travel shows, Bourdain didn't treat his visits like a tourist destination. He took the time to learn about local culture and find guides who would show him what 'real' life was like. Travel, to Bourdain, represented more than a leisure activity. It was a chance to listen and learn.
"Travel isn't always pretty. It isn't always comfortable. Sometimes it hurts, it even breaks your heart. But that's okay. The journey changes you; it should change you. It leaves marks on your memory, on your consciousness, on your heart, and on your body. You take something with you. Hopefully, you leave something good behind."— No Reservations: Around the World on an Empty Stomach
He never shied away from political or religious discussion with the locals, even if it meant them shitting on America for a while. Nor was he snooty about his food choices. One of my partner's and my favorite things about Bourdain was how much he loved his 'street meat.' He ate anything his hosts put in front of him and relished it. He wasn't an elitist and took great pains to celebrate the 'lowliest' of foods.
He was a connoisseur of the finer things, only the finer things didn't mean expensive. Handmade food with love from family recipes passed down generations. Handmade shoes or knives or suits crafted with painstaking labor and care. Everything made could be an art form to Bourdain.
If you're around my age or older, you remember Mr. Roger's Neighborhood and the sense of curiosity and wonder you felt when he would play videos about how things were made. Bourdain captured that for me in a way very few other shows have ever been able to do. I wanted to see the world as he saw it, explore everything, try everything, meet and talk to people, to listen to their stories like he did. Food, life, the world, people—everything was a gift, and we could choose to celebrate that or not. Watching his shows, I know what I wanted.
"If I'm an advocate for anything, it's to move. As far as you can, as much as you can. Across the ocean, or simply across the river. Walk in someone else's shoes or at least eat their food. It's a plus for everybody."—Parts Unknown
If you watch Parts Unknown from the earliest seasons to now, the evolution in both Bourdain himself and his work unfolds in a truly breathtaking way. Where his show had begun as a way to highlight the beauty of places most Westerners would consider beneath them, it became over the years to represent a form of rebellion against Western patriarchal, colonial, racist, and capitalist structures. He dove head first into places no one else would go and just let the people talk about their struggles. No judgment, no bias, just food and conversation.
He'd go to Puerto Rico and shit on how badly the US has treated them in one breath, then, a few episodes later go to West Virginia and listen to rural white folks' complaints about coal and lack of jobs. You get the sense he was trying to dismantle bigotry and prejudice one plate of food at a time.
And part of the beauty was, his open, honest demeanor made space for people to open up to him. He was expanding minds and worldviews through cooking and travel. My partner and I don't watch a lot of TV shows consistently, but we always looked forward to Bourdain. He was irreverent to what deserved it and treated as sacred those things that deserved it. Every human being on his show had dignity, a voice, and agency. He never disrespected cultures who were different and took time to try and help viewers understand what they were seeing from the inside out.
"Travel is about the gorgeous feeling of teetering in the unknown."—Parts Unknown
I saw so much wonder and joy through Bourdain's eyes. I also saw tragedy, pain, and suffering. He could cut through bullshit like butter and never shied away from showing the world how awful human beings could be to each other. And how stupid most of the reasons for being awful were. He fought fear of the Other with knowledge. He sought to increase cultural empathy and humanize everybody.
He cared about bringing voice to the voiceless. About standing up for those who were marginalized, misunderstood, and rejected. He stood up for food workers, especially immigrants. When Asia Argento, his girlfriend, got shit for being honest about what Harvey Weinstein did to her, he defended her. He'd become one of the most vocal male supporters of the #MeToo movement. And he put his money where his mouth was. He told Batali to retire after his scandal broke rather than try to rehabilitate his image. He spoke openly and frequently about the need to expose predatory men. When Argento dropped her nuclear bomb of a speech at Cannes this year, Bourdain told an interviewer how proud he was of her and how powerful a moment it was.
To my partner and I, he represented how cishet white male privilege ought to be used: to make the world a better place for those who don't have it.
"Right now, nothing else matters but women's stories of what it's like in the industry I have loved and celebrated for nearly 30 years  —  and our willingness, as human beings, citizens, men and women alike, to hear them out, fully, and in a way that other women can feel secure enough, and have faith enough that they, too, can tell their stories. We are clearly at a long overdue moment in history where everyone, good hearted or not, will HAVE to look at themselves, the part they played in the past, the things they've seen, ignored, accepted as normal, or simply missed  —  and consider what side of history they want to be on in the future."—"On Reacting to Bad News"
He was a rebel, a renegade. He gave no fucks about what anyone thought of him and used that position to advocate for and highlight people our society would rather ignore. He made space for everyone to speak. He reveled in the wonder of the world. Curiosity dominated his approach to others instead of prejudice. He made me want to be better.
And he struggled with mental illness and depression. He had all his life, had never been shy about that on any of his shows. My heart aches both because he made me want to be better and because his struggles are my struggles. He wanted to make the world a more honest, compassionate, just place, and he fought his own inner demons every day. He was battling on all sides, sometimes himself, sometimes on behalf of others. He was a warrior.
Depression lies. I know this intimately, as did Bourdain, and in the wake of his passing, I feel raw. Both from what he meant to me and from his death. He let me see for a moment, that the world, and my own fight against mental illness, could get better. It still can. His work still speaks to us. So, as my final thought, I want to honor Bourdain by giving us all a challenge worthy of his legacy:
Go into the parts unknown with wonder, curiosity, and love. Don't shy away from difficult questions or their complicated answers. Listen to everyone, accept their stories and gifts with love. Stand up for the voiceless, fight oppressive systems, and never let those who benefit from the system have the last word.
I took a walk through this beautiful world; felt the cool rain on my shoulders…
RIP Anthony Bourdain.
You left something truly beautiful behind after your journey here with us.
---
Images Courtesy of New York Magazine, Orchard Films, and FOX
Dr. Strange May Be A Truly Cult Movie
Watching Dr Strange was a truly strange experience for me. I sat before the screen expecting two hours of mindless fun as I watch a self-absorbed jerk become something like a decent guy. You know, this ever-present and ever-satisfying "break the haughty" narrative. A safe bet, not too harsh on the haughty (it's MCU, after all), but harsh enough we cheer him getting his comeuppance. What it turned into, was two hours of flashbacks as I watched a haughty jerk being broken and brainwashed into a cult.
Probably I wouldn't react that badly if this experience was not something from my personal past. Things I saw at the screen were excruciatingly familiar. I couldn't help rooting for the jerk, because I knew all too well what it is, feeling that you are nobody, that the world is crumbling around you—and then being handed something like a power over it.
And while I am sure that it was nowhere near authorial intent, I couldn't help wondering how many people—impressionable, vulnerable people—would buy into the narrative and turn to some secret knowledge to cope with their illnesses or insecurities. After all, Kamar Taj, both in appearance and in teaching, is very far from fantasyland. You can find dozens of wannabe Ancient Ones just around the corner, waiting for easy prey.
Yeah, sounds very purple, but let me show you why am I so agitated.
What Is a Cult?
A cult—also a totalitarian cult, toxic cult or destructive cult—is a religious or posing as a religious organisation which teachings and practice are designed to achieve and execute total control over its members' life and death. Not quite a lucid definition, and that's why the thin line between a cult and a new religious movement is so thin. The subject is controversial, the "cult" word is thrown around as a slur and generally only time we can safely use the definition is, while talking fiction or the cults that 100% exposed themselves as such via some drastic action. Mass suicide or terrorist attack, usually, and sometimes both.
But still there is a list (several lists, but they mostly talk the same things in different wording) of traits that may alarm you that the group is most probably toxic. Let me show how astonishingly well Kamar Taj fits the criteria. Then I'll try to demonstrate how typical dr Strange's situation actually is and what usual manipulative tactics were employed to guarantee his loyalty. I'll use the list provided by M. Kuzmin in his thesis.
1. A Teaching that Rationalises and Encourages Control and Manipulation
They don't just brainwash—they do it for the greater good and to prevent lesser ones from slipping on the path to salvation. Or something like that. It is prime trait of a toxic cult; a pity it is not easy to see it through, as the real teaching is not revealed until a person is considered "ready" (read: is totally broken).
Through the movie we hear Mordu describing his own path into Kamar Taj. He tells how he went there to get weapons and training sufficient to fight his foes and was promised to get those. Then he was made to go through usual training routine until he understood that his past—name included—was nothing and Kamar Taj was everything and he is destined to be its adherent. Though he recognises manipulation, he not only completely justifies it, but also expresses hope such would be dr Strange's fate, too.
And indeed, no one in the Kamar Taj is anywhere near ashamed of stringing along a desperate disabled person with promises of healing all the while basically training him as a cannon fodder for future battles.
2. The Leader, Regarded as an Absolute Unquestionable Authority
While there are some cults that have group leadership, this figure is almost inevitable when we talk about the cult, as they are built around them. The guru may proclaim themselves a literal god (or God), as Shoko Asahara or Maria Devi Christ did, or a prophet, as Jim Jones. They can even settle for indefinite "possessor of the knowledge", as Marshall Applewhite. No matter what they chose, entire existence of the cult depends on their very person and something only they know or can do.
Does Kamar Taj have such a person? Oh, certainly. The Ancient One is just that; an absolute, infallible guru who is right even when she is actually wrong, and whose actions are not for the lesser minds to judge. She wields absolute authority over her acolytes and can make them fight using real weapons or even leave for dead on a whim. All the while the very idea that she may be wrong is a heresy for the loyal Kamar Taj members, and a sign something is "unwell" with the person in question.
3. The Teaching Changes When Situation Changes, But It Is Never Acknowledged
They promised us the world's end and it didn't come? Oh, you see, it was not the real end. It was never about something like that. Or better: yesterday they taught absolute monogamy, but now the guru is caught cheating. So, as the guru is never wrong…
Well, we have an entire plot point, no less, dedicated to this exact rule of cult. So, the entire Kamar Taj had existed for ages on a premise that Dark Energy is bad and corrupting and everything Dark Dimension is vile. But lo! The guru used dark energy to sustain her all those innumerable years! She must be a crank, then? A liar, who forbid her loyal acolytes the thing she had been doing all along?
Nah. No way, You see, the rules exist to break them and cheat, and if you think the rules that you were manipulated to accept as a final truth matter, you are our next bad guy.
Or was it an instance of the next cult rule?
4. Each Subsequent Hierarchical Level Is Granted a Different Version of "Truth"
Basically this is the most glaring distinction between a religion, whatever new, and a cult. You join a religion, and you know what does it teach and what do you subscribe to. If it was one god, three goddesses and a ritual cup of tea every three hours when not asleep, that's it all along. With a cult, you join for a god, three goddesses and a cup of tea, but then learn that it's not tea but actually vodka, and when you progress in the ranks you may learn that there is one goddess and no god at all, and then – that gods are nothing, only guru matters. And then something.
The teaching of Kamar Taj does change from rank to rank, too. You come to them because they are healers and martial artists. If you are fit for them, you learn about astral and the source code of the Universe. Next level, and you learn the purpose of Kamar Taj is to protect Earth from a certain other dimension and you have to obey strict rules unless you would harm our world. Even next level, and the rules matter nothing and result is all. And then something.
And Others
To save time and space let me not delve into other very fitting criteria—like having a teaching that combines syncretic religion with pseudo-science, that justifies and even encourages violence towards critics and ex-members of the cult, that encourages active service in "do whatever you are told" way… Kamar Taj is already cult-like enough.
But nothing proves it as well as main character's story. Just look for yourself.
Cult Brainwashing 101
So, we have a man in his late thirties/mid-forties, the age of crisis. This man suffers an accident and is now disabled. As his only profession requires the very ability he's lost, he searches for rehabilitation and encounters a rumour of miraculous healer. Desperate, he goes for it and gradually becomes an active member of a group that presents itself as Earth's only hope and secret guardians. He never heals and is never able to go back to work. Also, he leaves the world forever, going on to live on the group's premises.
Huh, sounds familiar, doesn't it? But it can get worse.
Our hero roams the world in search of the healer, until he encounters a group of thugs. Those thugs beat him violently and destroy the last memento of his previous life: his wristwatch. Only then a member of the group intervenes and quickly saves the day. He waits, because he was told to wait. Because apparently our hero needs…something. Do you know what? He needs to lose everything and to be on his utmost vulnerable when presented with the cult teaching—and to be thankful for help. While not too common, the tactic is widely employed irl. It ensures bigger susceptibility of the adherent-to-be through combination of humiliation and gratitude.
Also, the very exhaustion he suffers because Kamar Taj remains hidden from him is quite helpful, too. Exhausted people are not quite able to think critically, as analysis and logic require much energy and all energy they have goes to sustaining them alive and upright.
And Then Some
Moving on, our hero is presented with some mumbo-jumbo and then graced with a very, VERY acid vision. While here it's magical in nature, it would be literal acid irl. Secretly feeding newcomers with hallucinogens is a very, very common tactic of those cults that emphasise and promise secret knowledge and spiritual experience. Bright, wild hallucinations make people believe that they were granted visions and have some supernatural power in them.
So, our hero's weakened mind is bombarded with mumbo-jumbo, followed by acid visions "proving" the mumbo-jumbo is actually true. Nice. But not perfect. To add a final touch, our hero is cast away and left on the street with nothing but his clothes, broken watch and a promise of miraculous healing. He has nowhere to go but to the c… Kamar Taj. But the Ancient One knows her manipulation 101 and makes him yell, beg, despair. He has to wish for acceptance with all his heart, to see no other way. He must beg, because nothing is as effective as humiliation.
Except for a death threat, of course. Being humiliated AND left in a mortal peril is much better. Do I need to remind our hero is subjected to it?
Conclusion (Or Lack Thereof)
My goal was not to imply the authors of the movie did all that on purpose. Never would I even dream of such a thing.
What I actually think is, that the authors used the same tropes the real-life cults use in recruiting new members and promoting their teaching. Those tropes are widely popular in popular culture—which is actually the very reason the cults use them. Familiarity is quite important when encountering something new. Things already at least seemingly familiar attract much more trust and attention than completely new ones.
Combined with several instances of what I consider authorial tone-deafness, this lead to a load of unfortunate implications. As with Thanos, the end result is horrifying idea no author would've supported as it is, but accidentally promoted.
The Crown and The Royal Wedding – Who Will Tell your Story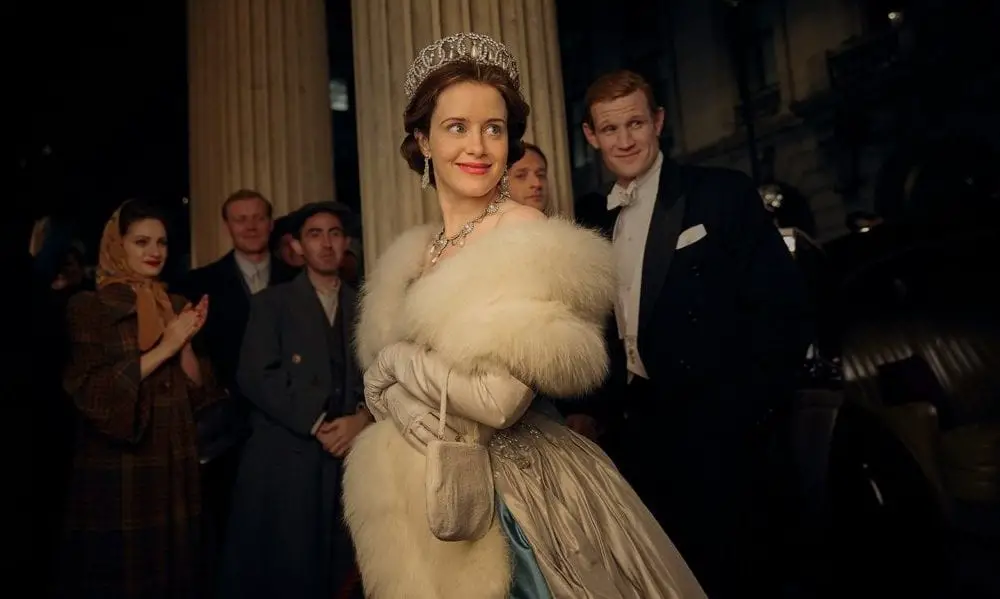 So today is the big day. Meghan Markle, one time actor on this show I never watched, is getting married to Prince Harry, who exists. (I guess he sometimes patronizes sporting events or embarrasses himself, but mostly what he does is exist.) And the one good thing I can see coming from this is that, maybe tomorrow people will finally stop talking about it. God, I hope so. Because I cannot express to you how deeply I do not care. I do not care what her dress looks like. I do not give one tiny shit if her father participates in the patriarchal ritual walking her down the aisle and handing her over to her new owner. Sure, I hope the two kids are happy or whatever, but the ubiquity of this event in all media, even the media that is usually above "celebrity gossip" is a tad exhausting for me.
But here's the thing. I'm a giant snob. I'm trash. Because I think following the daily lives of alive Royals is a little, well, unclassy, but I'm not willing to admit how many biographies of Queen Victoria I own. I once wrote a top ten list for this very website that discusses my favourite dramatizations of their lives.
Apart from my hopeless snobbiness, which probably accounts for about 73% of my feelings, there is at least one thing I can say in my defense. Monarchy, as an institution in general but specifically in the United Kingdom, has been waning in power and relevance for about, like 400 years. There was a civil war and a revolution that was apparently glorious, and the king/queen just eventually became the person who sat there and looked pretty. But, there was a time when these people's lives were very directly connected to the life and the fortunes of the nation. That elevated discussion of their personal lives above mere gossip, even if on some level, it continues to feel voyeuristic. Questions that we would never ask about "normal" people who lived hundreds of years ago who have no personal connection to us—who was her boyfriend and what what exactly did they get up to, what did he think of the precise details of the relationship between the Son and the Father within the Trinity, did the bad weather make him really grumpy that night he had an argument with his mother at dinner—become questions of monumental importance. As that became less true, there was still a lot of leftover reverence and loyalty to the Royal Family. And that has certainly waned too. So much so that these days, they occupy this rather bizarre between public figure and tabloid celebrity.
That's also the reason why we classy types don't sully ourselves with those shiny magazines at the grocery store detailing this or that HRH's romantic tribulations, even though we know, deep down, that our counterparts in future generations will venerate them as wonderful contemporaneous sources and keep them sealed in rare books libraries as they discuss the changing role of the monarchy and cultural change, or whatever. Now, though, the feeling of voyeurism, combined with my feeling of being better than the hoi-poloi, keeps me from caring.
But this same squeamishness is why I was a little guilty and hypocritical about my love for The Crown. Surely it treads into the territory of gossip. It certainly makes me a little uncomfortable to think of the nonagenarian Elizabeth watching this show going into the dark details of her marriage, her relationship with her family, and her deep insecurities (because we all know she watches it,) and saying, a little miffed: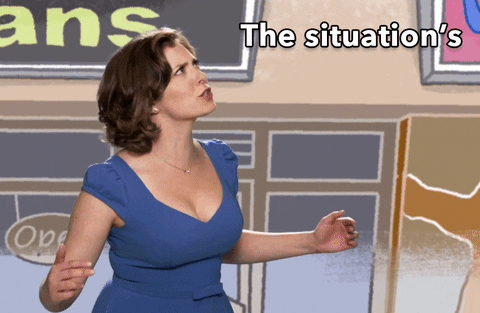 The sense of discomfort is not unjustified, and it hasn't ever really gone away for me. But there's another consequence to the fact that the life of the queen was the life of the nation: at some level, their lives belonged to the nation. The story of their lives was never really their own. So they became two people, and who knows how distinct. There's the person that they really were, as they lived their life. This person was as complex and internally contradictory as every other person who's ever lived. She had feelings and things. And then there's the character who is in our history books. The fool or the great leader, who had no feelings because their decisions were a matter of the state and no one cared about their dumb feelings. All anyone cared about was what they saw, and the consequences. This public, historical character might be an honest attempt to approximate the real person as best we can, but then again, maybe it's not.
Maybe it's a caricature, or a deeply unjust slander. But that character can be just as "real". At least in the sense that it can have value as common literary possession and cultural icon. Few people would say the Shakespeare's Richard III is worthless, just because the guy whose body they found in the car park was a little nicer than that. They're not the same person, but that doesn't really matter. The fact that the "real" Richard was maybe a better human than eloquent-but-sociopathic villain protagonist isn't nearly as important as the story we tell. The one that shapes the story of a whole nation.
Maybe you can see it as the price paid for all the privilege that the royals still enjoy. Their story enters the public domain. It's legitimate source material for our literature the same way that mythology or fairy stories are. After all, Shakespeare wasn't attempting to write a historically accurate account of Richard's reign, he was attempting to make a point about fate and freewill. Likewise, the people behind The Crown aren't so much interested in a dramatic reenactment of actual events. The fact that they don't depict things that are known untruths doesn't change the fact that their main goal is to tell a story. A story that is not in the control of these real people who it's about. Maybe it's a coincidence, or maybe it's just another way in which this show is brilliant, but the attempt (and inevitable failure) to control the narrative about yourself is a major theme throughout the 2 seasons released so far.
The characters, from Elizabeth herself to the members of her staff and the politicians who serve her are all very conscious of the fact that they're playing a role. It's filling the role that is expected of them, even when it's contrary to their own true personalities and desires, is seen as the ultimate possible achievement. After all, "The Crown must always win," the needs of the monarchy come before everything.
The narrative doesn't endorse this, of course, it spends most of its time showing us what this determination costs the characters, as well as asking the very good question of why they even bother. But on the other hand, the characters who do try to be themselves and buck the constraints of their roles can't escape being characterized as selfish, shallow, and more than a little maladjusted. Margret isn't just unhappy in her role, she wants all the perks of being a princess without any of the responsibility. The Duke of Windsor might be a little witty, but he's also cruel, spendthrift, and a goddamn Nazi.
Not only are the characters aware that they're playing a role, they're aware of how fake and often unnatural that role is. They embrace that fakeness as an essential part of their role. What they're supposed to do is tell a story, a story that they seek the power to determine; the story of Monarchy. And ironically (if that is the right word) this fictionalized portrayal of them on Netflix, dealing with the fictionalization of their lives, is no more likely to get at the truth of them.
Margret is told their own version of why they bother with this emotionally exhausting charade:
Queen Mother: No one wants complexity and reality from us. […]
People have enough of that in their own lives. They want us to help them escape.
Beaton: […] Imagine this, if you will a young woman, a commonplace creature. She sits in her drab little scullery. So much work to do. So much washing-up. How she longs for comfort, for hope. […] She wants to believe her life has some meaning beyond chores. She opens a magazine and she sees Her Royal Highness's photograph. For one glorious, transforming moment, she becomes a princess, too. She is lifted out of her miserable, pitiful reality into a fantasy. Later, she will step out of her house in a new neckerchief, perhaps, for which she has saved.
Oh, she will hold her head up high. She is renewed. And all thanks to you, Your Royal Highness and to the ideal which you represent.
Firstly, I suddenly feel a little better about my own level of snobbery. Secondly, this sounds nice, but it's really a kind way of saying, "be quiet, you're here for people's entertainment." But the rub of it is, the inescapable thing that The Crown is able to portray to well, is that despite what they do to shape these essentially fictional characters that are their public personas, it really is out of their control. Maybe because they don't want to be entertained by the perfect and glamorous Princess Margaret, but by the Hot Mess Margret they're trying so desperately to hide.
Was Margaret such a hot mess? Maybe. I don't really know. And the gods only know what people would think of me if all they saw was me leaving parties and the highlight reel of my romantic life. But billions of people do feel like they know Meghan and Harry, just as they once felt they knew Margret. And they feel deeply invested in their private lives.
The story that were supposed to be seeing today is meant to be inspiring. A heart-warming tale of the prince who fell in love with an ordinary girl from LA and made her a princess. You see, little girls of the world, all your dreams can come true! There are several reasons why I find that more regressive than heartwarming, but there are also a few things about Ms. Markle that are a good sign for the viability of the Monarchy and the progress of society as a whole. She's a woman of colour, she's over thirty, older than Prince Harry even, she's *gasp* an actor…  And while there has been some gross discourse, especially about that first part, the giant circus that Windsor is today proves that, if anything, all those things, which no too long ago would have been deal breakers, just makes the people love her more.
Poor Meghan. She's already a piece of media that we're analysing for meaning and implication. Maybe she's all over it. Maybe she loves how symbolic she is. Or maybe she just wants to marry her boyfriend and has no idea what she's getting into. How should I know.
---
Images courtesy of Netflix