Thank God I Found TGIFemslash
Fandom has, in many ways, existed in my life since I was a child. Yet I'm still a newcomer to conventions. I'd never even been to a fan convention prior to ClexaCon, and in many ways that one was exactly what I expected. Panels led by experts, celebrities signing autographs, photo ops, an official merchandise space with a lot of different booths, so much official programming you barely had time to breathe, and one or two official special events. All of these were things I'd come to expect of a con given my background in academia. ClexaCon as an event seemed a reasonable fandom analogue to an academic conference: interesting, exciting, exhausting, and professional. A great place to network, buy awesome merch, and engage with new ideas as well as celebrities and content creators.
This past weekend, I attended TGIFemslash, and let me tell you, I'd never been to a con like this, academic or fandom oriented, in my life. I knew to expect a more intimate atmosphere, but nothing could prepare me for how immediately welcome I felt. If Tumblr and a family reunion had a baby that had all the best aspects of both minus the assholes and crazy uncles, you'd get TGIFemslash. It's all your favorite social media blogs and fansites rolled into one with a healthy dose of band camp/closing night of a high school theater production. Plus alcohol and lots of snacky foods. And femslash. So much femslash.
It's a haven of femslash and queer folks. Everyone freely celebrates their fave shows, pairings, headcanons, videos, and fics. Have an unusual femslash pairing that's your OTP? Chances are at least one other person there loves it, so you can go talk in a corner for hours. You'll likely pick up a few more fans along the way if you talk loud enough (I definitely do). Have a favorite show that doesn't get enough Tumblr attention? Want to gush about power dynamics in femslassh pairings or your favorite headcanon? People will listen and gush along with you. I have more headcanons and fic ideas than I know what to do with for a long list of shows.
Even more academically-minded folks like me found some time and people to talk with about themes or analysis on a deep, engaging level. Friday night, I had a four hour long conversation (or was it five?) that started with linguistics and eventually came around to Steven Universe and Legend of Korra. Saturday night I had at least a three hour conversation about Supergirl, and that wasn't the only one I had on that show.
The panels themselves functioned more like extended group conversations than lectures or discussions featuring a small group of experts. Each had a moderator, to be sure. I moderated the panel on Steven Universe, actually. But we only existed to provide direction, keep the conversation going, and step in if the conversation was veering too far into the weeds or was starting to become unproductive. We got to talk about the shows and media we loved in our way and about the topics that mean most to us. Aside from fandom specific panels, TGIFemslash had everything from meta panels like religion and fandom or femslash history to fic specific panels like writing fanfic, headcanons and AUs (alternate universes), and power dynamics.
And if there wasn't an interesting panel at any given time, DIY panels were heavily encouraged. I went to an impromptu 'panel' where we discussed yuri manga. Someone had even brought a table full of manga for us to look through and helped us all wade our way through recommendations. That discussion ended with 5-6 people crowded around a computer while I started playing Life is Strange, but that's another story. There were DIY panels on Power Rangers, Xena, and even an extension of my Steven Universe panel. Because 50 minutes isn't nearly enough time to talk about that gem of a show. Basically, if it was femslash related and you wanted to talk about it, there was either an official or DIY panel available to do so.
The programming offered unique experiences I'd probably never see at a 'big time' con like Clexacon. The fan auction may have been my favorite of the special events. It's hard to describe just how utterly absurd and delightful it is to see people in a mad bidding war over a Clexa or Wayhaught themed basket of goodies. And all while using paddles with the faces of famous ladies and lady characters on them. I never thought I'd see Cat Grant win a Marvel basket (traitor), or Kormione (Korra x Hermione) and Saverly (Santana x Waverly) get into a bidding war over a manga/animation basket.
Don't even get me started on how much Hillary Clinton wanted to buy. (Side note, we also had a Hillary Clinton cut out in the main con room, and her wide grin delighted me every time I saw it. She was so happy to be there.)
Then there was Club Femslash: three hours of dancing set to fan videos featuring ladies loving ladies. Some people preferred just to watch the vids and that was perfectly okay, too. Everyone had fun in their own way. And how could I not mention the fic battle? Two teams of 9 writers writing dueling fanfics using femslash characters and genres/prompts shouted at them by the audience. I've never laughed so hard in my life. Not to mention the 75 minute femslash vidshow or the orginal works panel, both of which featured content created by con attendees. Many of these activities had been adapted from other small cons, as the organizers have admitted, but in the context of femslash, they were that much more enjoyable and meaningful to me as a queer woman.
The con organizers also went out of their way to create safe spaces for everyone. Not only was the con itself a haven for queer folks who want to celebrate ladies loving ladies, there were special spaces specifically devoted to resting as well as having loud conversations. Stocked with snacks and drinks, the party room provided a contained space for yelling about faves without fear of being overheard or interrupted by the outside world.
The quiet room, on the other hand, provided a silent space to rest and recoup for introverts like me that didn't require retreating to a hotel room. It was right next door to the con suite, so when I needed a break, I didn't have to stray far from the center of action. As someone who can get easily overwhelmed either by people or by sensory input, having a quiet space close at hand meant a lot to me. A built-in, guilt-free escape everyone would respect? I didn't know I needed that at a con until this weekend.
Yet, I found that I needed it far less than I expected. As I mentioned earlier, I spent literal hours having conversations with a lot of different people. There were 110+ attendees this past weekend, and I felt like I made 110+ new friends. I normally need a lot of time to recover after a long day talking with people. Going to be early is normal for me at conventions. I stayed up until 3am or later every night but the first night. I didn't even go to bed on Sunday night because I had a red eye flight out of LA and wanted to keep talking. Pulling an all nighter, and with an entire group of relative strangers before this weekend, hasn't happened since college.
I can't emphasize enough just how much friendship pervaded this past weekend. So many people felt like 'home' to me. More than once I would forget that I'd only met someone hours or days ago that felt like they'd been my friend for years. The conversations haven't died down either. I've already had hundreds of notifications on my phone today from the group messaging service we used. If you want to make a ton of amazing, smart, fun, delightful new queer friends who love femslash, this is the con to go to.
What I love most is that there's space for both types of con to exist. This doesn't compete with the 'big time' cons like ClexaCon, because they're two completely different experiences. Yes, there's some overlap in the making friends and connections department. I wouldn't have gone to TGIFemslash if I hadn't have made friends like John, Apple, Alice, Kayla, Krizten, Jaime, and Kendra at ClexaCon. They're what got me to this con.
At the same time, both types of con feed my soul in different ways. As an academic, I love the expert panels and making professional connections. Ideas for meta analysis articles are more likely to come from the conversations had at a con like ClexaCon. As a fangirl, TGIFemslash feeds my creative writing juices for fic and personal writing. I'd been struggling to prioritize my fiction writing in recent weeks. Coming home from this con, I'm more determined than ever to set boundaries around my fiction (and hopefully fic) writing time.
It also lets me gush, rant, yell, and laugh about all my fave fandoms and characters in a more intimate way than I can do online. I love social media sites like Tumblr and Twitter; eight times out of ten, I'd choose to sit at home and talk online because I'm introverted and like being able to control my engagement. Still, it's hard to beat staying up until 3 am talking about Korrasami and sad Lena Luthor headcanons.
We need both types of spaces. Some people will always prefer to go to a con like ClexaCon. Others would rather go to TGIFemslash and never consider going to a con with several thousand people rather than just over a hundred. Me? I'm going to both for as long as I can afford to. I need both, because they nourish and excite me in different, complimentary ways.
All that to say, I love my TGIFamily, and I'm so glad I met them. I felt more seen, celebrated, and loved as part of a community than I've felt in my life. I made a lot of new friends and hope to have many of them in my life for years (you know who you are). So mark the date for TGIFemslash for next year folks, it's so worth it!
---
Header Image Courtesy of TGIFemslash
Coming Soon: Fandomentals+ Subscription Service
As we rapidly approach the middle of 2018, it's hard for us to believe that The Fandomentals has been running strong for a couple of years. We owe that all to our readers, and the experience has been absolutely incredible, at least as far as we editors are concerned.
We've really tried to build something unique here—a place where thoughtful, and even over-zealous analysis of media is valued, and where people feel safe to engage in debating various aspects of the things we watch and read. We are truly humbled and pleased to find that others value as well, since we continue to grow every day.
We're also well aware that we owe every drop of success to our contributors. We adore the team we've built and without their hard work and dedication, we'd have given up a long time ago. While we're encouraged to see readership steadily climb, it's simply not fast enough for us to get to a point where we can offer compensation to our writers, and that's something we're eager to correct.
We debated many options: do we gate popular articles behind a paywall? Do we begin pushing video content that could be monetized? Ultimately, we realized that we truly don't want the experience for our readers to be altered in any way. So here's the good news: if you want to keep on keepin' in, visiting our site, reading articles, commenting, and listening to podcasts…you'll be able to do just that, with no pressure to do otherwise.
However, we are also opening up a second tier with an optional subscription: Fandomentals+. Similar to Patreon, we're going to have perks available to those who are able to contribute $3 each month. What are these perks exactly? Well…
A twice-monthly Fandomentals+ only editor podcast

10% discount on all store items

Your credit with the name of your choosing on our upcoming Supporters Page and a shoutout on the podcast of your choice (The Fandomentals, Ladies First, or Beneath the Screen of the Ultra-Critics)

A once-monthly live hang-out of some kind, such as a YouTube Q&A session, a Google Hangouts voice call, a live movie viewing, or a Twitch stream

An exclusive monthly article by an editor
Sure, this may not exactly set the world on fire, but we hope it's fairly reasonable for the price of one small latte a month. Plus, you have the knowledge that you're helping to support the effort behind the pieces you've been enjoying here.
Whether you choose to support us or not, we want to let you know that we appreciate you just coming here in the first place. We really feel like we've made a great home in this odd little slice of the internet, and we look forward to continuing on into this next exciting chapter.
---
Fandomental Family,
In the coming days, we will be migrating to a new commenting system. During The Fandomentals' time of operation, we have used Disqus as our commenting system, and our commenters have registered on their network. Due to our growth, and the GDPR (General Data Protection Regulation) standards, we will be switching to a locally hosted commenting system powered by wpDiscuz that will better position the Fandomentals to both comply with the GDPR regulations, as well as provide a better experience for our users.
While we are excited about our new system, we want to make you aware of the need to create a new account to comment, and also post a notice that we will unfortunately not be able to carry your old comment discussions over.
We thank you for your understanding as we continue working to make The Fandomentals experience as optimized for our users as possible.
Fandom Resolutions for the New Year
2017 is finally rolling to a close. I can't recall making any resolutions at the time, though frankly just surviving the year was a feat in and of itself. Remember the Hollywood sign edits and Winona Ryder gifs from the SAGs? Yeah, those were both this year. Heck, "Right in front of my salad?" isn't even five months old.
However, 2018 seems like the perfect time for renewed optimism and at least a vague attempt at self-betterment. The most popular resolutions are about saving money and getting regular exercise. But for those of us around here, much of our time is spent online, engaging with media and fandoms. So why not strive to be the best versions of ourselves we can be in this space?
Below are the 10 fandom resolutions for the coming year. Nothing is a requirement at all, of course, and this is not meant to be taken as an "all or nothing" list. Even within each point, there's shades of grey. After all, fandom is a fun space first and foremost.
1. "I resolve to have my mind changed about a piece of media."
On the surface, this may be a strange resolution to make. First of all, our opinions are our opinions, and our reactions to media are our reactions. There's nothing inherently wrong with making up our minds about something.
Secondly, not everyone's argument is going to be compelling. I've read essays pontificating on the massive intellect of Game of Thrones's scripts, but that doesn't mean I'm going to be wooed. So resolving to have your mind changed by someone else's writing, which likely doesn't even exist yet, does sound like setting yourself up for failure.
Except…we all have to admit that we don't have perfect opinions on things, right? That our reads of situations are heavily a result of our own unique backgrounds, and interacting with competing interpretations challenges ourselves to look outside that frame of reference? I'm not saying that in 2018 we have to start loving a piece of media we formerly hated, or vice versa. But at least once, maybe we can see an aspect in a different light. Maybe one of our judgements we made about a "useless" character will fall flat after reading someone's case for why they were so compelled.
Heck, just the comment section alone on my last piece changed my mind about the possibility of a Kylo Ren redemption arc in Episode IX working out. Even if my underlying penchant is the same, I can at least see a path where the other direction could work.
We know and feel what we know and feel. But that's true for everyone we interact with as well. Let's try and listen to each other more in 2018.
2. "I resolve to read books—at least one, but more would be nifty—written by someone other than a white cishet man."
A variation of this could also be, "I resolve to read books starring nonwhite/cishet male characters."
This…shouldn't be a challenge. However, I am personally an abysmal reader when it comes to fictional books, so if I'm going to resolve to read something, it might as well be by an author whose voice would not naturally be leveraged.
Gretchen is actually the reason this resolution exists, since her 2017 resolution was not just to read a book by a non-white-cishet man, but to only read books filling that criteria. (If I commit to this, Winds of Winter will have to be an exception. Resolutions need to be feasible, after all.) She was quite successful in this endeavor, and even compiled a list of Sci Fi and fantasy books by women and POC that had been recommended to her, so that we can all use it. Thanks, buddy!
3. "I resolve to differentiate between actors and characters."
Part of the reason fandom is fun is because of the passion we feel when we're really invested in a piece of media. However, this passion can often…get the better of us.
Championing a character can often lead to championing an actor portraying them, though it's important to remember that the latter is a human doing their job. Likewise, the actor is not responsible for what happens to their character. Also, actors are fallible—very fallible. They have a very public platform and inherently are in an advantaged position, but to expect perfect commentary that's completely keyed into current fandom dialogues isn't realistic.
Hopefully, this is a no-brainer resolution. But if there's something actionable you want to do to drive it home, I recommend some kind of positivity post about an actor. Bonus points if it's for an actor of a character you don't like! Just something that says, "Hey. This is a good job portraying this character that makes me feel emotions, and I appreciate having that."
4. "I resolve to engage with a new piece of media."
I feel like a lot of people will laugh at this one, because there's always new media. There's always game releases, and movies in theaters, and comic books coming out. But then at the same time, there's pieces of media you've likely held off on watching, despite hearty recommendations. Even in the case of something you pick up, have you checked out its fandom at all?
Maybe you'll hate it. Maybe you'll hate what The Discourse™ surrounding it is. However at the end of the day, we'll never lose out by trying to broaden our horizons.
So yes, I'll finally check out The Marvelous Mrs. Maisel in 2018, okay? Okay.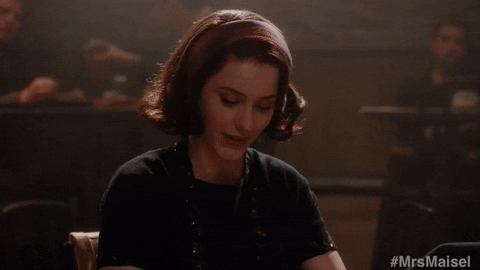 5. "I resolve to make a purchase at my local comic book shop or small-scale bookshop, if available."
This is a very region-dependent one. I understand that there's some places where local comic book shops simply don't exist. Yet if you live near one, try to check it out. I know that as a woman who is new to reading comics, I was overwhelmed by the idea, especially given the gatekeepery reputation I had heard about. This was not made better by the fact that my first interaction was calling to reserve North and South Part 3, a comic for ages 8+.
But, you know. It's a shop. The guy who worked there was really knowledgeable and actually seemed excited when I explained why it was that I was buying this volume and how I had really disliked the one that came before it. I tend towards small-talk when I feel awkward, but even this hadn't been necessary at all. Then I got an iced coffee and called it a day.
Go. Browse. There's sure to be something of interest there, and sometimes nothing can beat holding that physical copy. Also, if you choose a tiny bookstore, the finds are sure to be amazing.
6. "I resolve to participate in one new area of transformative fandom that I never have before."
Transformative fandom is large and encompassing. Fic! Fanart! Cosplay! It's admittedly daunting to wade into this if you're new to it, but once you try, it's surprisingly easy. For one, all you have to do is try something new. You don't have to be good at it. It could be as minimal as relettering a panel of a comic with a silly quote, if that's something you've never tried before.
Just try to make it something. For me, I know that while I've been writing fic for a bit, I've never tried AU or crossover premises. Even canon-divergence makes me break out in a mild rash. But in 2018, I'm challenging myself to at least do a one-off that fits this criteria. Unless, of course, my Legend of Korra political cartoonist career really takes off.
7. "I resolve to go to the movie theater alone at least once (if financially/physically feasible)."
I saw The Last Jedi alone. I mentioned this to someone, who gasped and said, "I could never do that." Taking yourself out to a restaurant alone, I somewhat understand. Going to a movie? It never even occurred to me that this could be a challenge.
So go! Try it out! Hell, bring a notepad and scribble things down in the dark. You think I was able to memorize the bathroom break scenes or something? I promise that it's actually a pretty fun experience. You don't have to justify your movie snacks to anyone but yourself, and afterwards you have time to sit and be with your own thoughts. You can also select the viewing time that works the best for you. I personally love 9 AM showings, since that's when I'm awake and feeling best.
It's a completely judgement-free way to enjoy a film, and getting lost in it becomes easier when you're not worrying about anyone else. Don't get me wrong: going with friends is really fun. But to me, going to the movies alone is kind of like taking yourself out to dinner, only without any social stigmatization. Because it's dark in there, so who cares.
8. "I resolve to leave a comment on the fics I read—ideally every single one."
I know this is an ambitious one, especially since it's so easy to consume so many fics. Also, there are times when you start a fic (or even finish it), and…boy, it was just not good. There are also times you read a fic in an incognito tab, and perhaps would rather not advertise this as your choice in material.
However, fic writers work very hard. And from what I've personally experienced, as well as heard from others, any comment is appreciated. So if it's within reason for you to comment on a fic, try to. You can always offer constructive criticism if you weren't super sweet on it, or just leave it with something shorter and more specific. "I liked the way you described X's hair in Chapter Y." There's usually some aspect that would have worked for you.
My own challenge is to say something on every chapter I read, since I know when I post mine, I check my inbox with baited breath. We write fics to be read. Give a little something in 2018 towards that.
9. "I resolve to check out one new fandom podcast."
This is a resolution that can be knocked out January 2nd, likely in under an hour.
There are no shortages of fandom podcasts. None. Is there a show or movie where you think hearing people talk about it might make a commute or workout go faster? Good. Search for that in your podcast app, and pick the one with the logo you like the best. There's even a search engine for it if you'd rather, which can be sorted by date and by episode or podcast.
Finding a podcast that's right for you is a very personal thing. But when you hit it, it can really make you look forward to normal drudgery. Just put one on for 20 minutes; worst thing is, you're back to not listening to it.
10. "I resolve to walk away from at least one fandom fight."
I don't know if this is a resolution you need. I also think there's a fine line between 'fandom disagreement' and 'fandom fight.' However, at least once this year, I am resolving to not engage in a situation where things are, or might get, acrimonious. It could be not answering an ask on my Tumblr, or just letting someone get the last word in a forum thread rather than crafting another response.
The real trick is to get it out of your mind. But once you realize that your input is just…not required in any way, shape, or form, it allows for online debate to feel less exhausting.
***
There's the list. Now truly, the only real fandom resolution anyone needs is to listen. There's a person behind every great—and terrible—opinion you read, and it's important to stay mindful of that. So let's do what we can to make our 2018 fandom participation as fun and fresh as possible.
---
Featured image courtesy of Wikimedia Commons