Monster Hunter World is the best selling game in its series, with over 7.5 million units shipped. There are many reasons for this: The game is more accessible for new players, it's not just on a handheld console anymore, there was actually some marketing push for this game…the list goes on.
However, I personally think one of the reasons the game is so popular is its food eating cutscenes. Before you go on a hunt, you can eat a meal at a canteen that gives you buffs. You're also treated to an adorable and very tasty looking cutscene of the Palicoes (a cat like race that helps you hunt monsters) making your meal. The details are so lavish and the end product looks so good I couldn't help thinking about it off and on for weeks. And one question that kept recurring was, "Would any of this food be Kosher?"
Kosher foods, for those of you who may not know, are foods that conform to the Jewish kashrut (dietary law). The word treif describes any food that does not abide by this law. Determining what foods are Kosher or not can get complicated since different groups of animals have different rules. At its most basic though, there are three groups of animals: land, flying, and fish (invertebrates as a rule are treif). Conveniently enough, most monsters in Monster Hunter World could fit under the same categories. We'll go through each category and examine a few monsters from the game to decide if any (or all) of them can be Kosher.
Before we begin though, I'd like to give major props to one of our editors, Gretchen. Before I wrote this article, I knew next to nothing about what makes a food Kosher or not. Gretchen not only educated me, but did a lot of the heavy lifting, and for that I am grateful.
By Land
The first monster up for discussion is called Uragaan. Uragaan lives mostly in volcanic regions and is identifiable its large chin, its shiny, lustrous golden hide, and the spikes along its back. It consumes mostly bedrock and those large spikes on its back are actually crystals. It produces a sticky, tar like substance on its stomach, which it uses to attach explosive rocks to itself as a means of defense. If someone were to knock down or kill Uragaan, they'd be able to mine the vast mineral wealth on it's back…but they wouldn't be able to eat it, as Uragaan isn't Kosher.
In order for a land animal to be Kosher, it has to meet three basic requirements. First, it can not be a carnivore or a scavenger. It can not eat meat. Second, it must have a split hoof. Horses aren't Kosher, but animals like cattle and sheep are. Finally, the animal must chew its cud. Pigs have split hooves, but they don't chew their cud and thus are not Kosher. Uragaan meets the first rule, but fails with the second and third. As such, Uragaan can never be Kosher.
The next monster up is Kirin. Kirin resembles a unicorn or (more accurately) a Chinese Qilin. It has a single large horn growing out of its head, with a white mane and tail that seem to stand on end from static electricity. It's body appears to have fur, but those actually are scales. Kirin also seems to crackle with electricity as it walks. Looking at the picture we can see clearly that it has a split hoof. The game doesn't tell us what it eats or if it chews its cud, but if we extrapolate what it looks like and compare to say, an antelope or a deer (both of which are Kosher) we can safely assume that Kirin is Kosher as well, right? Wrong.
Kirin fails to be Kosher not by the quality of the animal, but by the quality of its behavior. You see, Kirin belongs to a group of monsters called Elder Dragons and these monsters, in addition to being tougher the ordinary monsters, are immune to traps and tranqs unlike other monsters. This presents a problem, as in order for meat be Kosher, the butchering must happen in one swift action using a sharp knife. Shooting the creature with an automatic repeating crossbow is not the way to do it. Kirin, unfortunately, is not Kosher for this reason.
We come now to the last land based monster in this article: The Kelbi. Kelbi, unlike the monsters mentioned thus far, are not aggressive. They are small, and the males are usually green in color while the females and juveniles are blue. Males also have large, prominent horns while female horns are smaller. In-game, Kelbi horns are medicinal, and players make potions out of them. I'm also happy to report that Kelbi might be our first (possibly) Kosher monster.
Like Kirin, Kelbi has a split hoof. We also know that Kelbi are herbivores, but it is unknown whether or not Kelbi chew their cud. Extrapolating and comparing them to real world deer and goats though, we can have more confidence that Kelbi are, in fact, Kosher.
By Air
Now we will discuss birds. According to Jewish tradition, animals that fly and are not insects are birds. Thus animals such as bats are 'birds' in regards to Kosher rules. The rules for birds themselves are fairly simple. They can't be predatory or scavengers. This rule immediately rules out the next monster on the list: Rathalos.
Rathalos is known as the "King of the Sky" and is the male counterpart to Rathian, another flying monster.  Rathalos are bipedal wyverns, primarily red in color, with sharp, poisonous claws that they use to hunt with. In addition to that, they have a flame sac that they use to produce flaming projectiles from, and their long thick tail has a club at the end of it. But as I mentioned in the previous paragraph, no birds of prey can be Kosher.
The next monster on the list is one of the oddest in the game. Pukei-Pukei resembles at first glance a giant chameleon with frog like eyes, wings, and green scales covering its body everywhere except around its wings and neck, where it has feathers. The Pukei-Pukei is an herbivore and it will eat poisonous plants so it can produce a poison to defend itself. Despite all of these peculiar traits, Pukei-Pukei appears to be Kosher.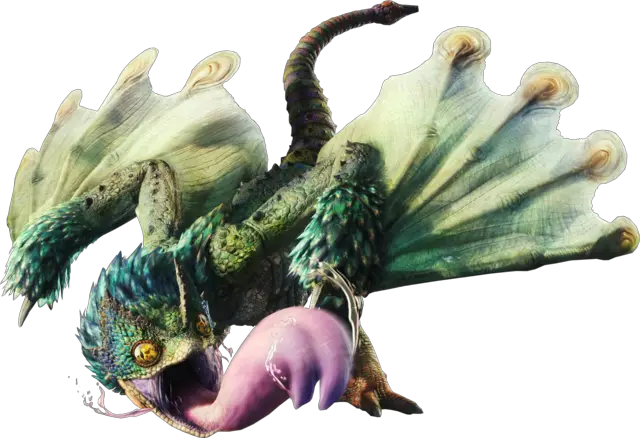 I was surprised to hear Gretchen tell me this, as I thought there would be no way a monster as weird as Pukei-Pukei could be considered Kosher. But as she laid the case out it began to make more sense. Despite some reptilian traits, Pukei-Pukei has more avian traits, and that classifies it as a creature of the air under the kashrut. As a creature of the air, it has to meat a few specifications. It does not scavenge like a vulture, nor does it hunt like a bird of prey. Thus, Pukei-Pukei meets the requirements.
And By Sea
There aren't very many sea monsters in Monster Hunter World sadly. Only one of them really seems like it would count. And this one is Jyuratodus. Jyuratodus resembles nothing more than a bipedal coelacanth fish. It has two dorsal fins, two pectoral fins, two pelvic fins, and a long, thick tail that it can use to defend itself. It also covers itself in mud and other ooze, to act as another layer of defense and to possibly keep its gills and scales damp. Fortunately for us, practically the only water based monster in this game is also Kosher.
For a sea animal to be considered Kosher, it must have fins and scales that can be removed. This generally means that the stereotypical fish is allowed, but not animals such as eel, lobster, squid or crab. Jyuratodus, despite its size and aggression does have fins and scales and would be Kosher.
The Hunt Goes On…
So what are we left with from this list? Two monsters that could be considered Kosher, three that are not, and one that might be, if it chews cud. And this is only a small sample of the monsters in the game. Not only that, but Capcom has plans to release more monsters as free DLC over the upcoming months. When the PC version of the game is out, I might revisit this article and expand on it. Until then though, happy hunting and bon appétit!
---
Images Courtesy of Capcom