Beacon Pines from Hiding Spot Games has been out for over a week now and we were so excited to get an interview with Matt Meyer, the game's creative director and co-writer (who also did a whole lot more!)
If you haven't already checked out Molly's general review of the game and my spoiler-free review of the game's story and themes, you should head on over to read those. And if you haven't gotten the game already, well what are you waiting for?!
Beacon Pines is a cute and creepy adventure game within a magical storybook. You play as both the reader of the book and its main character, Luka. Sneak out late, make new friends, uncover hidden truths, and collect words that will change the course of fate. We spoke with Matt Meyer about the team's experiences writing the game and what might come next.
This interview has been condensed and edited for clarity.
FM: What was it like writing the story of the game? Were y'all inspired by other pieces of media?
Matt: Co-writing can be tricky. There were times when Brent Calhoun (designer and co-writer) and I would quibble about every single word. But, there were just as many times when our writing sessions were like having a great conversation with a friend. The best indicator of when we were on the right track, was when we were making each other laugh.
The development of the story came from all three team members: myself, Brent, and Ilse (Harting, the game's lead artist and designer). So the inspiration comes from various sources of media that we all enjoy. One thing I harp on a lot is the love that the Coen brothers give to every character, even minor ones. It makes me happy when our beta testers say that their favorite character in the game is a side character.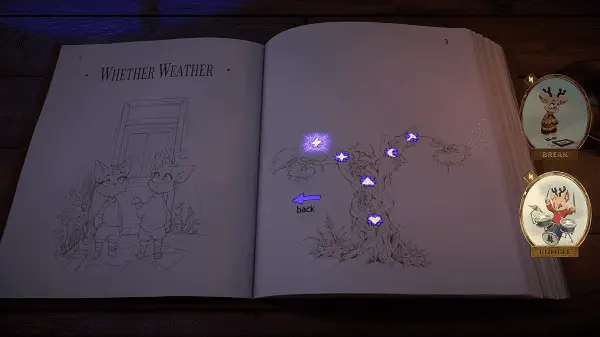 FM: One of the best parts of the game is the Chronicle mechanic. How did you handle all the various branching storylines and make sure they came together to tell one cohesive story?
Matt: It was important to us that every branch do several jobs: tell its own unique story, explore character arcs not seen in other branches, introduce and resolve important parts of the game's mysteries, all while fitting into the overarching narrative in a hopefully coherent way. We have an intimidatingly large story diagram that became essential in wrangling all that together.
FM: Y'all have discussed before that the game was originally a rhythm-based RPG battler with a fantasy theme. Are there plans to go back to a fantasy or RPG-style game in the future?
Matt: Not anytime soon. A rhythm-based RPG battler may sound like a fun idea (heck, we even had a playable prototype that looked really cool), but the game that ended up being Beacon Pines grew from the parts of that prototype that we all latched onto: the characters, environments, and exploration.
FM: How did choosing a person to narrate work? The voice-over really adds to the experience and really made the game feel like story time!
Matt: We had the good problem of getting something like 130 audition submissions for the Narrator. We all picked our top ten, and slowly narrowed it down from there. In the end, Kirsten (Mize) stole our hearts with her welcoming and kind voice, combined with her ability to nail the sarcastic tone that the Narrator often requires.
FM: The ending seems to imply more to come. Is that just a fun nod for players or do y'all have more planned in the Beacon Pines world in the future? (Maybe we'll see another town entirely?)
Matt: Planned is a strong word. Let's say we have ideas.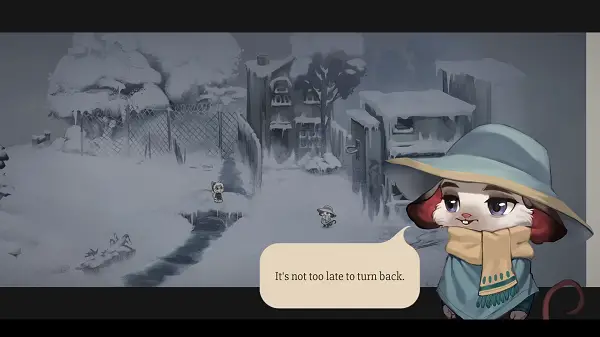 FM: What is Hiding Spot Games planning on working on next? (If you can tell us.)
Matt: One of the hardest parts of devoting 5 years to a single project is the urge to do other things. While there's plenty more fertile ground to cover in the story of Beacon Pines, I also have a lot of other game ideas I'd love to prototype out. At this point, it's hard to say what will happen next.
FM: What games are you playing right now?
Matt: I'm just getting to the point of having time to play games again. Lost in Play looks great and I can't wait to try it out.
FM: If you had to pick an animal to be in Beacon Pines, what would you be?
Matt: An owl.
FM: Finally, what is your favorite part of the game?
Matt: The Epilogue.
FM: Okay the Epilogue is pretty awesome. Thank you so much for your time!
You can find Matt and the rest of the team on Twitter and grab the game on Xbox, Steam, and Nintendo Switch!
Beacon Pines images courtesy of Hiding Spot Games
Have strong thoughts about this piece you need to share? Or maybe there's something else on your mind you're wanting to talk about with fellow Fandomentals? Head on over to our Community server to join in the conversation!