September is just about the tail end of bee "season" for apiaries around the country, and while we wind down the summer and look to the cold of winter we wanted to get one more little bit of outdoor sweetness in before bundling up for good. That's why today I'm looking at Honey Buzz, a medium-weight Euro from Elf Creek Games (Merchants of the Dark Road). I know what you're thinking. Euros? You don't like Euros!
No, I usually don't. But I have been tricked into enjoying them lately as we move away from the normal genres of "colonial LARP" and "train" and into more interesting genres. Like, for instance, bees discovering capitalism. Yes, like in The Bee Movie.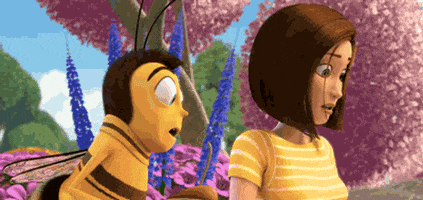 What's In The Box?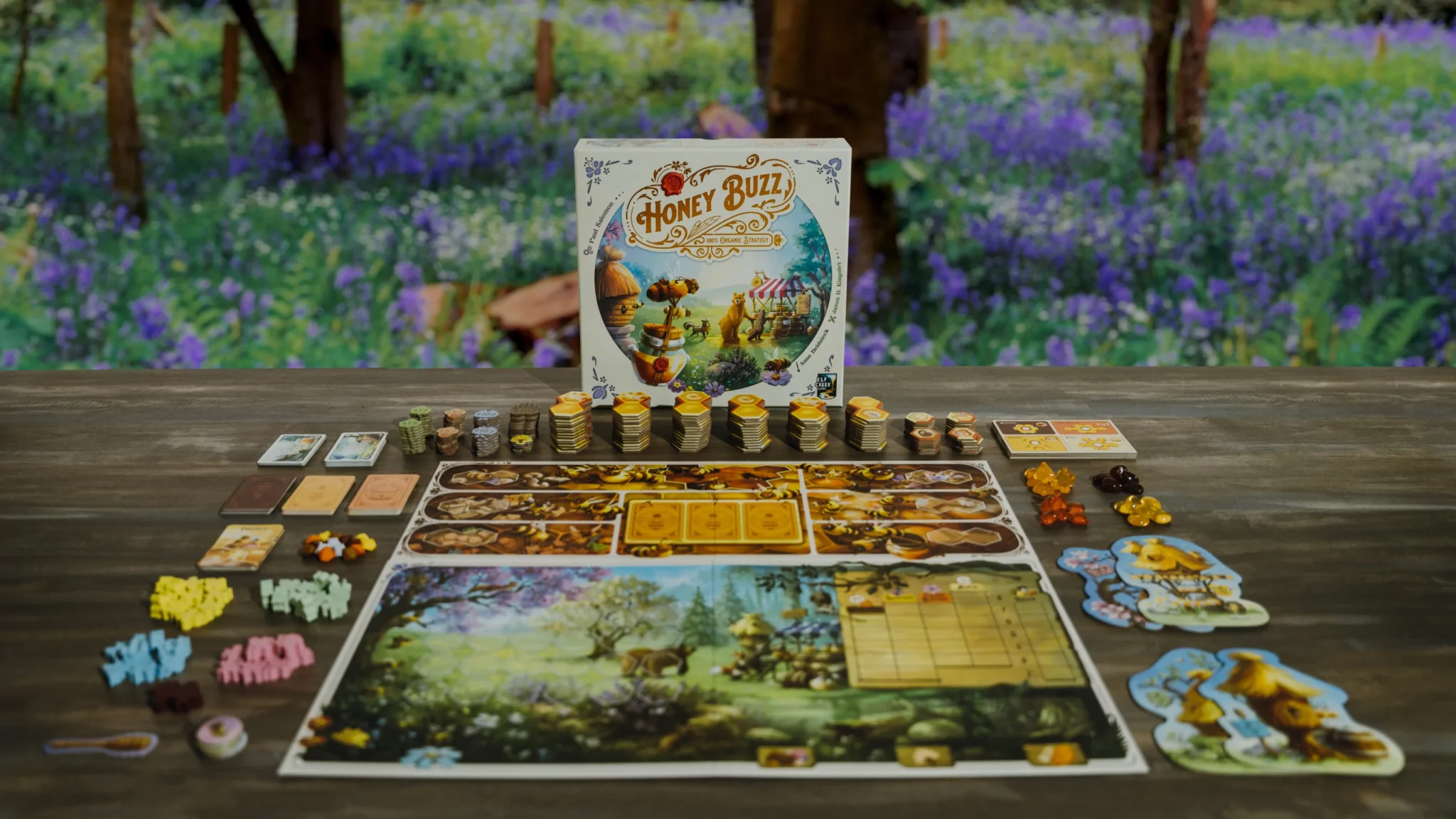 1 hive board
1 woodland board
40 worker beeples (wood)
4 forage tokens
4 fan tokens
4 player boards
4 player aids
16 starting hive tiles
63 standard hive tiles
24 nectar tiles
60 coins
15 pollen (acrylic)
28 honey (squishy plastic)
1 first player marker
26 order cards
17 configuration cards
24 queens' contest cards
10 drone cards
2 drone beeples (wood)
Custom box insert for component storage
1 rulebook
78 mini‐european cards total (44×68mm)
How's It Play?
The conceit of Honey Buzz is that bees have discovered economics (namely, capitalism) and figured out that they can sell their honey to the residents of the forest in exchange for…money? It's a little unclear what they do with the money but boy do they want it. As such, they're taking their wares to the Bear Market (this game runs on puns so get used to it) and its up to you, the bee accountant, to keep everything in order, develop your hive, and win out as the Chief Architect for the Queen.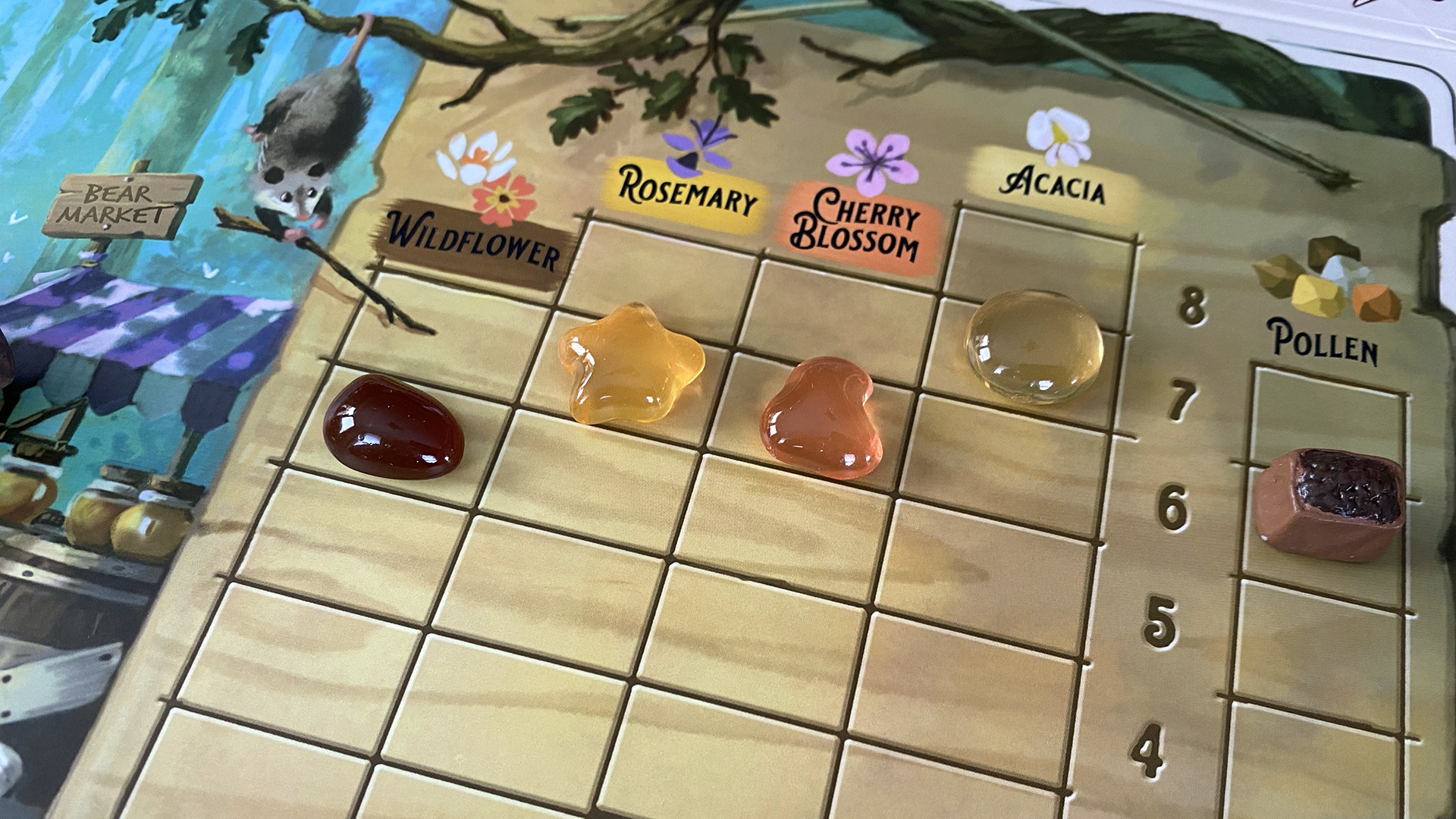 Over the course of the game, you'll place your "beeples" around different parts of the hive in order to gather resources, develop your hive, or sell your honey to the woodland. Each placement gets you a hive tile for you to use. The worker placement stuff is fairly standard, but the hive is where the game is truly special.
Your hive takes the form of a grid of hexagons that, when linked together in certain ways, create different kinds of honey when you use the associated pollen. Each hex of the hive also has its own power associated with it that only activates once you complete a circle with your tiles. Once those activate, you do things like get new larva for workers, visit the market, gather pollen etc. It creates a fantastic little spatial puzzle as you try to get the right tiles from the pool and lay them correctly while also blocking your opponents development as best you can.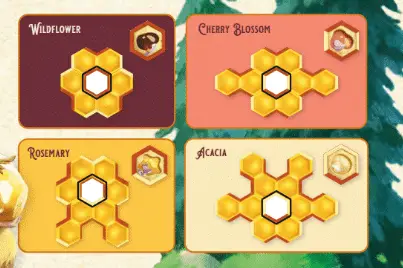 Like most Euros, each action essentially is its own mini game. Pollen foraging happens on its own little space and requires you to track where your opponents right and gather judiciously, because the layout is random and when pollen is taken it's gone. The Market requires you to keep track of the price of different honeys (they go down when sold) while getting the right combination of ingredients to fulfill the lucrative orders on the board. You'll also be keeping track of the special challenges each game that reward you for hitting certain milestones, like being the first to get all ten of your beeple workers or having the most nectar on the board. No one strategy is overly dominant, and you can really find your own path to victory over time.
The game ends once 2/3 of the orders are filled or the price of most of the honey can't go lower. Then you count up your money, points, honey, and pollen to see who wins!
The Verdict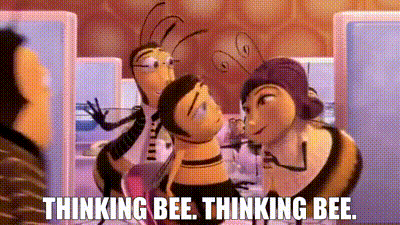 As I said at the start, this is the perfect Euro for people who normally hate Euros. It's adorable to look at and the components are top notch (especially if you can upgrade to the deluxe editions). Everything evokes a storybook and makes you just enjoy being in the little world that Elf Creek has created.
The gameplay has some density to it, but a forgiving learning curve. Older kids or casual players can easily pick it up and enjoy themselves. But if you're more of a hardcore fan, you'll still find plenty of ways to work your strategy brain here. They didn't just slap a bee suit onto a Euro, instead it truly feels carefully crafted to be something unique especially in the way the tile placement and honey production are tied together.
Honey Buzz
Summary
Thanks to great art and a unique spin on worker placement and Euro gaming, Honey Buzz is a real sweet treat of a game. By the end of it, you'll almost certainly be thinking bee.
You can order Honey Buzz through the Elf Creek store or at your FLGS. The base game will run you about $50, while the deluxe edition will cost $80.
Images via Elf Creek Games
Have strong thoughts about this piece you need to share? Or maybe there's something else on your mind you're wanting to talk about with fellow Fandomentals? Head on over to our Community server to join in the conversation!