At 7:38pm PST on May 1st, the Writers Guild of America (WGA) posted that there would be a strike effective 1 minute after midnight on the 2nd. In negotiations for weeks, the Alliance of Motion Picture and Television Producers did not come to an agreement with WGA on their pattern of demands. And by not come to an agreement it sure seems like they didn't try to offer anything seriously at all. This is the first strike since 2007 which lasted 100 days and we're now over two weeks in.
For anyone following along, this year and the last really decade prior have seen numerous changes and issues in production of TV, movies, and other media. The pandemic of course ground production to a halt for a period of time and we're still seeing the ramifications of deals that never got to film and even projects that did film never aired. Streaming has completely changed how media works which brings us to this year where three unions, the WGA, DGA, and SAG-AFTRA are all negotiating another three year contract. (IATSE negotiates next year, and their commercial contract goes up in 2025.)
WGA proposals would gain writers approximately $429 million per year; AMPTP's offer is approximately $86 million per year, 48% of which is from the minimums increase.

WGA Documentation
From the WGA website, this quote was at the bottom of the document showing the status of negotiations as of May 1st. Yet the 13 CEOs of major media companies combined made over $400 million in compensation last year. Now I'm bad at math but…
The pattern of demands outlines the major categories of what the WGA asked for and the status document details the percentages and numbers for each category. Of note, the AMPTP rejected and didn't even counter a number of points including regulating use of artificial intelligence, a viewership based residual, and minimum staff guaranteed for a number of weeks during employment, and more.
In a time where the AMPTP companies is making more profit (but not the growth that Wall Street demands) and writers literally don't make enough to have heat, the blatant disregard for the labor that goes into making the shows that actually bring in the profit is simultaneously laughable and enraging. And the claim that this is an existential battle is not exaggerating. The studios have on record said that writers having term employment are "lucky" and have been treating writers as gig workers. Add in their absolute disregard for incredibly necessary concerns and the WGA is in for a fight that they never wanted! No one wanted to strike and be out of work for endless days?
However, the WGA's success is everyone's success in that it sets the stage for other unions to follow or emulate (like The Animation Guild) and of course DGA/SAG-AFTRA/IATSE.
The Hollywood Reporter's TV focused podcast had a solid interview with WGA Negotiation Committee Co-Chair Chris Keyser which gets into the issues even more. One key point is that the companies that make up AMPTP are just banding together to fight the WGA when their real battles are with one another!
Familiars to my Seher Says column know that this time of year is also usually when I summarize the key parts of the Upfront presentations, where networks announce their new shows, schedules, and other important info and provide trailer reactions. With a strike going on, this is the least important part of this piece though I am very happy for the creatives whose work is going to happen post strike. I do want to touch on some of the situations that further highlight how necessary the negotiations are this round for all three unions.
For context, even before the strike, broadcast moved away from a specific "pilot season" and development now occurs year round. The Big 4 only picked up 14 pilots this year for "pilot season". This is compared to 98 in 2013 to the 35 last year). The four networks only greenlit 8 series as of publication.
---
THE CW
RIP The CW it was nice knowing you. The sale announced in January of last year was finalized to Nexstar in November with only All American receiving an early renewal for its sixth season in January. They cancelled everything else but Walker (which got a 13 ep season 4) with no news for All American: Homecoming, Gotham Knights, and Superman and Lois. Their schedule is moving to mostly acquisitions from other countries and live fare. They did order a six part series and a spin-off for The Librarians. Unless something changes next May, I won't have much to say about The CW anymore!
In all seriousness though, it's actually very sad that The CW has come to this point. I am the first person to discuss the issues on screen and behind the scenes (and there were plenty), but as a network they also trained so many creatives, and it's very unlikely there will be a place like that for writers, actors, directors, crew, and more to learn ever again.
ABC
With Grey's Anatomy going into its 20th season (with a new showrunner), nothing is super new here. They did not order any new shows except High Potential (based on the French show) and news on the remaining five pilots is to come. Their fall schedule is set to air unscripted, sports, and games. There's also a few reruns, so they clearly don't expect the strike to end anytime soon and are aware that no matter what their viewers will want scripted of some kind.
More than that it highlights what the WGA has been saying this entire time, that streaming has completely undone everything that TV was known for and if the AMPTP doesn't come to the table, the legacy networks and studios are just as likely to be cannibalized as the writers themselves by said streamers.
CBS
Bob ❤️ Abishola reduced its entire cast except the two leads from series regular to recurring. None of these changes bodes well for actors in the future when recurring actors are struggling to make a living already. Due to the strike they didn't host their Upfront event replacement, what was to be a party announcing their fall schedule.
On the flip side, cast on Blue Bloods took lower salaries so that the show would receive another season. Will they do it again next year? CBS cancelled and then two days later renewed SWAT for a 13 ep final season (Sony must have budged on fees), and otherwise business continues to be as usual.
Three dramas based on IP received orders. Elsbeth, another The Good Wife spin-off, Matlock starring Kathy Bates, and Tracker, based on The Never Game. Also a Damon Wayans and Damon Wayans Jr. father and son comedy made the cut.
FOX
911: Lone Star lives to see another season but the renewal for 911 includes a move to ABC (what are these days we live in) and of course all its comedies are moving onto the next season (with two season renewals for Family Guy, Simpsons, and Bob's Burgers). Its approach has gone completely straight-to-series order with Doc (based on Italian series Doc — Nelle tue mani) and Hi-Surf ordered earlier this year.
Doc follows Dr Amy Elias who returns to her practice after a brain injury erases the last 8 years of her memory, while Hi-Surf is about the heavy-water lifeguards working on the North Shore of O'ahu. They had also ordered animated comedy The Hoagie Guys (working title) about two brothers who lose their jobs after the hotdog factory in town goes fully automated.
FOX continues to be the most interesting network to me at a logistic level ever since the sale of 20th Century Fox to Disney and how they've adapted each year, first adding Friday Night SmackDown and losing Thursday Night Football.
NBC
All Dick Wolf shows were renewed, but the number of episodes for cast members is reduced to save money. (See above with CBS. To be a fly on the wall of the SAG-AFTRA negcom!) The rest of their renewals are as expected. They have four pilots to choose from and will announce orders in the future.
---
I have nothing really to say about the literally only two trailers available, especially when none of these shows are getting made if AMPTP doesn't get its act together and negotiate with the three unions. Though Matlock did make me laugh a few times, which is very hard to do, so if I was still watching CBS shows that would be the pick for me. I am cautiously intrigued by Hi-Surf, assuming its not exploitative of Hawai'i like every other show set there in the past.
DGA's negotiations started on the 10th and SAG-AFTRA going in June, so there's predictions the WGA strike (and maybe subsequent strikes) will last far into the summer. On the17th, the SAG-AFTRA board unanimously agreed to send a strike authorization vote to its members leaving only the DGA to do the same.
Which, the DGA seems much aligned with WGA, with negotiating chair John Avnet speaking at the WGA held meeting at The Shrine in LA on May 3rd (along with TEAMSTERS president and support from IATSE and others).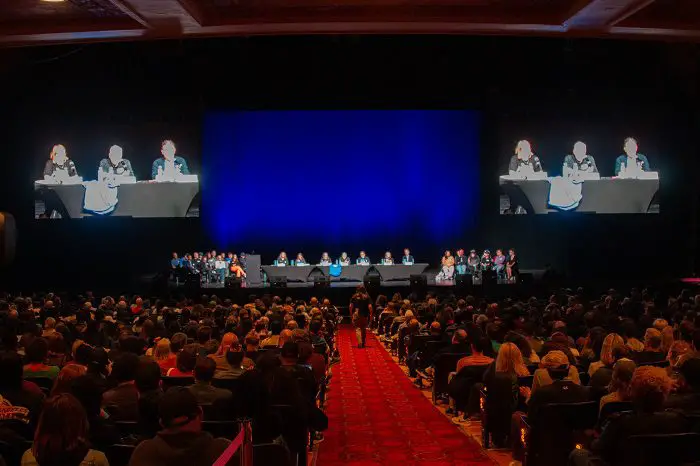 Publicly, the DGA has discussed that instituting a streaming residual formula that accounts for global subscribers is key to this year's negotiation. Also in the proposals: the need for data transparency, expanding the union's health and pension plan, boosting wage floors, protecting contractual creative rights, expanding DEI institutions, and instituting new safety standards. (In 2021, IATSE negotiations established new turnaround minimums and weekend rest periods. )
Obviously here at The Fandomentals we support the WGA (and the others) and their efforts and hope that AMPTP will negotiate fairly. Until then, I'll be doing monthly articles with a summary of the important events and moments as the other unions begin negotiating in earnest.
Images courtesy of WGA and their respective owners
Have strong thoughts about this piece you need to share? Or maybe there's something else on your mind you're wanting to talk about with fellow Fandomentals? Head on over to our Community server to join in the conversation!