In the first year of in-person upfront presentations since the pandemic started, broadcast networks ordered the second fewest number of pilots in over a decade. After ordering 22 series last year (compared to 19 in 2019 and 36 in 2018), the networks have 20 new shows (three from last year) from a total of 35 pilots for broadcast. Many of these were based on presentations to network brass, and many pilots weren't even for consideration for the fall season. Broadcast, the times are changing.
ABC
Grey's Anatomy will never die it seems, or at least not anytime soon with yet another season coming our way, along with season 6 of Station 19. ABC is the most business as usual this year because it only cancelled three shows and picked up 3 shows to join Avalon ordered in February based on a Michael Connelly short story in a tourist community.
Joining that drama is The Rookie: Feds, Alaska with Hilary Swank as a disgraced reporter moving from New York to join a daily newspaper in Alaska. Comedy Not Dead Yet, based on a book stars Gina Rodriguez as a broke woman forced to take a job writing obituaries who gets help from an unexpected source (ghosts?).
Total: 6 comedies and 10 dramas | 4 new
CBS
Interestingly CBS gave the FBIs (original, Most Wanted, International), and The Equalizer two season renewals. In a surprise they cancelled three comedies including one from Chuck Lorre cutting down to two comedy hours, and no new comedies either.
Their lone non-CBS Studios produced drama, Fire Country is written by and stars Max Thierot who joins a prison firefighting group but said firefighting group ends up in his home town and well… drama! This looks perfect for their line up and for broadcast viewers interests considering how well the 9-1-1 and Chicago franchises are doing.
East New York is the networks' newest take on police in NYC, set at the edge of Brooklyn and dealing with early seeds of gentrification.
So Help Me Todd follows a directionless PI begrudingly agreeing to work as the in-house investigator for his overbearing mother who just got divorced (oof).
Finally, True Lies is a reboot of the 1994 James Cameron movie about a suburban housewife who joins her husband's spy life.
Total: 4 comedies and 13 dramas | 4 new
FOX
With Thursday Night Football no longer on the docket, FOX has ordered five new shows this season. Continuing to focus on building out their animated options which are cheaper to produce, Fox ordered Grimsburg staring Jon Hamm while Krapopolis set in ancient Greece from Dan Harmon was ordered last year.
Their only dramas are Accused, based on the British show which opens in a courtroom with a defendant and backtracks to reveal how said defendant got there, Monarch, a multigenerational country music drama, and Alert about the LAPD's missing persons unit.
Hilariously, FOX presented a pre-recorded presentation to advertisers and reporters who were stuck in person…
Total: 10 comedies and 7 dramas | 5 new
NBC
The Dick Wolf extended universe continues to thrive and all but Organized Crime and the revival had already received renewals through to next year. New Amsterdam which also had a three season renewal is ending next year. NBC also renewed The Blacklist (okay how cheap are the licensing fees) for a 10th season.
Of their many pilots, only two were ordered for the fall with everything else set as off-cycle development. Lopez vs. Lopez is George Lopez and family shenanigans while drama Quantum Leap is the sequel to the original. Comedy Night Court (a sequel) was ordered last fall. They do have five drama pilots still coming in so more shows to join in mid-season, I assume.
Total: 4 comedies and 12 dramas | 3 new
The CW
Probably the most interesting network this year, we learned early in the year that the network was for sale! Between that and the Warner Bros. Discovery merger impacting half their ownership, and CBS turning into Paramount, when only seven shows were renewed in February, we all sighted the Grim Reaper. They cancelled 10 shows, and gave a late renewal to All American: Homecoming last week.
53% of shows cancelled is the most in over 15 years (FOX cancelled half their shows in 2019 after they lost 20th Television to Disney).
When shows don't make money there's no incentive to keep them around and Batwoman and Legends of Tomorrow died because Warner Bros. Discovery didn't want to pay the sound stage rent even though the network was trying to keep them alive. On the bubble shows had also been warned to create satisfying finales, but some shows did not do this. Oops.
Add in the loss of the Netflix money and fewer foreign sales when the parent companies ended the deal to help their streamng platforms, well it's surprising that even 8 shows were renewed. There's no official word for Tom Swift and Stargirl but the former's writer's room said in a deleted tweet that they had originally received a two season order so we'll find out soon enough and the latter will air on Wednesdays this fall.
In their new shows, The CW also has a Supernatural reunion happening of sort with all three involving Ackles, Padalecki, and Collins. Two new series are from WB. The Supernatural prequel, The Winchesters about the parents is narrated by Ackles.
New entry to the DC comics extended universe is Gotham Knights starring Collins as Henry Dent who is after Bruce Wayne's adopted son and the kids of some of Batman's enemies, all under suspicion of killing Bruce!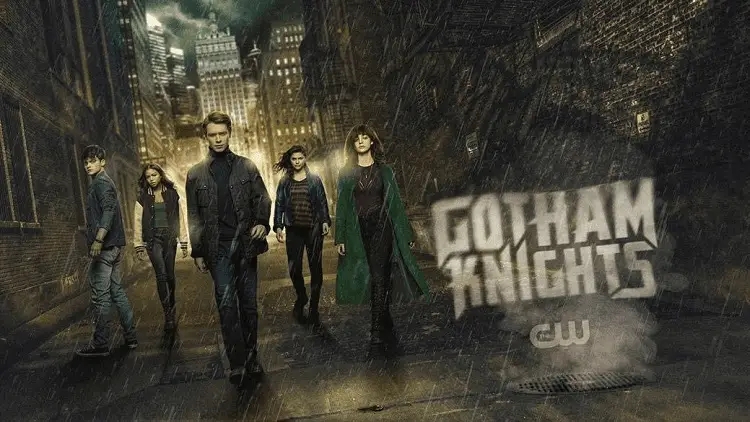 Prequel to Walker, Walker Independence is from CBS.
Interestingly, though Riverdale is in fact ending next season, it and The Flash are both premiering mid-season as are Nancy Drew, new series Gotham Knights, and Superman and Lois. Can't wait to see the number of episodes all their shows receive this next season and to see what the network's new normal will be assuming the sale goes through sometime between now and next May! If we actually get that Zorro update though, I might be watching…
Total: 13 dramas (including Stargirl and Tom Swift which air later this year) | 3 new
---
Broadcast No Longer Golden Goose
Broadcast has survived the changes from the last few years pretty well and this is the first time that so many pilots were not actually in consideration for the fall schedule. Rather, shows are now being picked up and developed while the time to order is as varied as the shows themselves, especially due to all the competition from streamers for the most sought after actors. At the Upfront presentations themselves, broadcast has taken a backseat, unheard of only five years ago.
The final 2022-23 season will likely end up having more new scripted series than last year, but I'll be shocked if it's as many as 2018 or more. As always, IP continues to thrive. Half of the 20 newbies are based on something that already exists or is a spin-off for a franchise.
In fact, of the 77 scripted series across all five networks, 45 (!) are based on an already existing show, book, short-story, or part of a larger franchise (the FBIs, NCIS's, and such). Also, I am not doing the actual math but I'm pretty sure 77 is in the lowest number of scripted in the last 10 years!
While linear ratings are not the single most important thing anymore, it's worth noting how depressed they've gotten over the last decade where the average for broadcast last week was .51, or approximately 665,000 people aged 18-49. Woof.
Honestly, this upfront season is simultaneously the most fascinating and boring at the same time. With so few trailers not including the sad 16 second cuts from ABC, the networks must reassess how to present content to advertisers (the people that matter) and the rest of us (the people that don't). The lack of comedies is the most surprising thing over all but I'm sure more are coming in mid-season.
Personally, Fire Country is the first broadcast show I'll be watching in years pending how the various shows do in the fall and spring. I still haven't even watched The Cleaning Lady yet because I wanted to wait for its renewal to binge.
See y'all again next year!
Images courtesy of their respective owners
Have strong thoughts about this piece you need to share? Or maybe there's something else on your mind you're wanting to talk about with fellow Fandomentals? Head on over to our Community server to join in the conversation!