(Spoilers: Undertale is a game best played fresh. It pushes the boundaries of video game interactivity in ways best found out for itself. It's one of those games that deserve two or more play throughs. Its a cheep game and it even has a demo you can enjoy at the game's official site. Now that you've either played the game, demo, or don't care, lets get on with the essay.)
A lot of us are feelings acedia, emotional numbness, in the face of a lot of the media we watch. Lexa's random bullet wound in The 100, The Walking Dead's killing yet another of its one-off female characters, and the entirety of Game of Thrones. When so much of what we consume is so depressing, we start to lose our hope. I think a lot of us feel like calling it quits and giving up. We have a tunnel vision of hopelessness.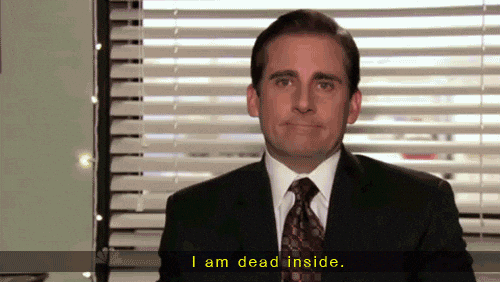 In times like these, it's good to rebalance one's self. Believe it or not, there is a lot of good media out there. Art that let's its characters live and rewards the consumer for caring about them. Steven Universe, Jessica Jones, and a game I want to talk about today called Undertale.
For those you who don't know, Undertale is an indie RPG. The tagline used in its trailer sums up the game pretty well: The friendly RPG where nobody has to die. In the vast majority of RPGs, you have to level up your character. To level up your character you must kill a limitless spawn of enemies. Often times the enemies only character trait is what they look like and maybe their attacks. So already Undertale is inverting genre expectations
This brings me to one of the most important parts of Undertale: every enemy is a character with depth. When you kill someone in Undertale it matters. In most games, these enemies would be mooks. Like the Goombas of the Super Mario series. They are identity-less monsters that exist purely for the gameplay challenge. You're never asked about the moral implications of killing these enemies. Undertale completely destroys this idea. [Note: Torial is the game's parental figure]
Froggit, Whimsun. Vegatoid, Loox. Migosp, Moldsmal. Thinks about those names. Do you think any of those monsters have families? Do you think any of them have friends? Each one of them could have been someone else's Torial. Selfish Brat. Someone is dead because of you.—Flowey
In Undertale, everyone matters. From the smallest Whimsum to the giant Glyde. From their attacks to even their dialogue, the enemies you fight are oozing with characterization. So instead of killing them, the game instead lets you spare these monsters. This can usually be done by talking and befriend them through various actions.
It seems to be thread in some shows to have us care about characters only to then kill them off. It's done to be shocking, instead of being meaningful. Which, in my opinion, is pointless and lazy writing. Fortunately Undertale avoids this by letting you befriend the game's characters and making it so none of them have to die.
One of the easiest to befriend is Papyrus. He's a hopeful cinnamon bun and I found him to one of the most likable characters of the game. Papyrus is a skeleton who fashions himself as a member of the royal guard, calls himself the great Papyrus, and sleeps in a race car bed. Initially I thought he was immature and full of himself. But interestingly enough, he has a lot of depth.
He is the only enemy in the game that can never kill you. Instead he 'traps' you in his shed so his superior can later come and get you. However, if you continue again and again to fight him without winning, he even offers you the chance to skip battling him.
YOU'RE BACK AGAIN?!?!  I FINALLY REALIZE THE TRUE REASON WHY.  YOU…  JUST MISS SEEING MY FACE SO MUCH…  I'M NOT SURE I CAN FIGHT SOMEONE WHO FEELS THIS WAY.  BUT MOSTLY… I'M GETTING REALLY TIRED OF CAPTURING YOU!—Papyrus (and yes, he speaks IN ALL CAPS)
At his heart, Papyrus wants to be your friend, and help. If you choose to date him later (Yes. You get to date a skeleton. It is glorious), he'll explain how he's happy to be your friend, and even gives you his phone number. You can call him and he'll help you through puzzles. What makes Papryrus work is how he's never punished for helping you. Well, unless you kill him. Because in Undertale, you choose whether people live or die.
There is a route called the Genocide route, where you hunt down and kill every enemy. The route in of its self deserves its own essay, but I want to touch on something in it. If you fight Papyrus in the genocide run, things are a bit different.
I, PAPYRUS, SEE GREAT POTENTIAL WITHIN YOU!

EVERYONE CAN BE A GREAT PERSON IF THEY TRY!

AND ME, I HARDLY HAVE TO TRY AT ALL!!!

NYEH HEH HEH HEH HEH HEH!!! —Papyrus before battling you
Though you've killed a ton of people up to this point, Papyrus is still hopeful that you can stop your killing spree. Even if you kill him.
W-WELL, THAT'S NOT WHAT I EXPECTED… BUT… ST… STILL! I BELIEVE IN YOU! YOU CAN DO A LITTLE BETTER! EVEN IF YOU DON'T THINK SO! I… I PROMISE…—Papyrus' last words
Papyrus, and I think the game itself, is telling you that you can do better. That you can be a first person. I remember reading some posts on how people abandoned the genocide run after encountering Papyrus. He is the game's hope spot, and removing him makes the world a little darker.
Undertale holds out hope that you'll not attack anyone, and instead focus on saving everyone. While I am loathed to spoil, I will say this about the true boss of the game. This will sound nebulous, but only with hope, determination, and patience do you finally insure everyone their happy ending. My words won't do the finale justice. There are so many subtleties and nuances I could mention. But I can't ever truly describe the game as it deserves. Yet, there a few more things I want to touch on.
The music is one of the most cheery but honest things I've ever heard. It adds ambiance and the game wouldn't be the same. Would we know as much about Papyrus without the goofy Bonetrousle? Or the Ruins and Snowedin themes.The trope of bury your gays is beautifully subverted two times. Alphys and Undyne, and two guard mini-bosses can live out their lives together without getting murdered or killed. LGBT character are well represented by not being a big deal at all. Speaking of Alphys, she is a total Martell. She fits nearly all of the criteria and her internalized guilt is very interesting.
Undertale is a great game. It's a wonderful cure for acedia. I heartily suggest it to anyone who's been feeling down for the past few days. Mayhaps you'll like it like I have.
---
Image Courtesy of Toby Fox
(This essay wouldn't have been possible without two people: fellow writer Gretchen and the youtuber EmceeProphIt. Gretchen for teaching me the meaning of Acedia in her excellent essay: Game of Thrones and Acedia. And EmceeProphIt for inspiring me with his excellent Undertale analysis videos.)