From Thames and Kosmos and author Grzegorz Rejchtman comes the perfect board game for me. Fast-paced and colorful, Ubongo is addictive and easy-to-learn geometric puzzle game. I love puzzles, as we know, and I was super excited to get a chance to get this game in return for a fair review.
This Fun-Size Edition has the fun of the original game in a more-portable format, which means you can take it literally anywhere to play! Perfect for families and players aged 7 and above, the game is a ton of fun and definitely one I recommend to all game players.
What's in the box?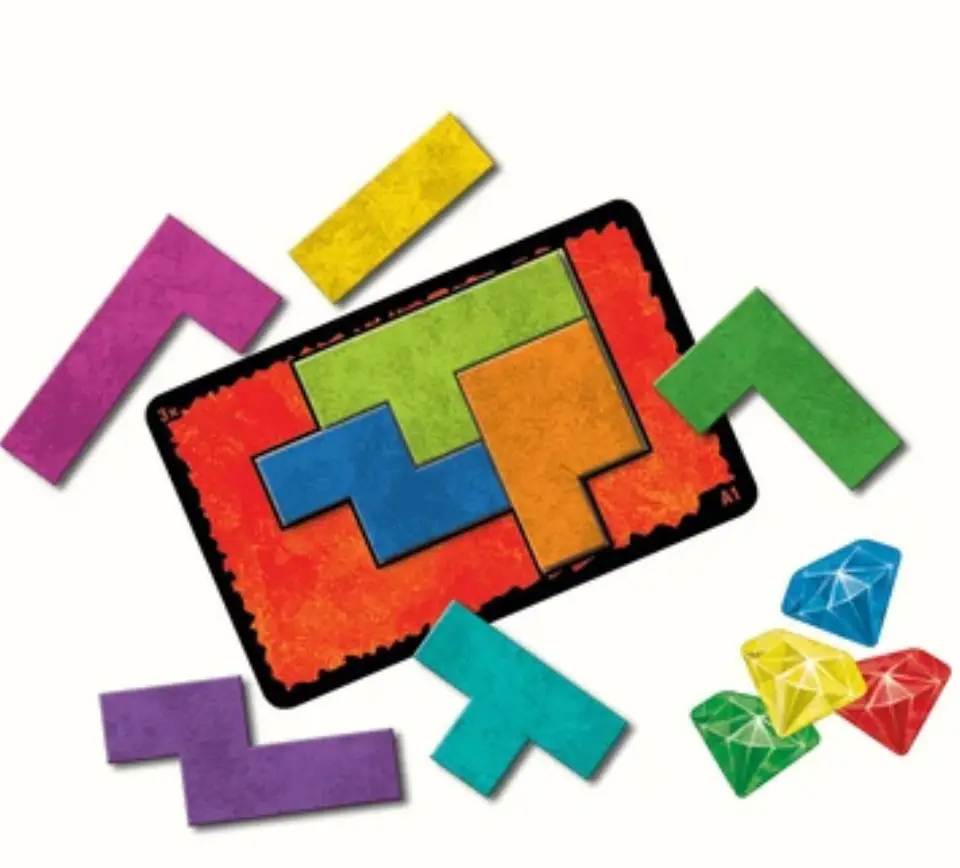 The game comes with 32 double-sided puzzle cards, 4 sets of 8 tiles in pink, purple, dark and light green, dark and light blue, yellow, and orange, and 8 gemstone tokens. The pieces are super sturdy and easy to pick up which is important in a game like this, and for younger players who can use this game for dexterity practice! However, they are pretty thin which can get chaotic when racing to place the pieces in on the puzzle cards.
How's it play?
Each player receives a set of eight tiles. The tiles are polyominos — geometric shapes formed of equal-size squares joined edge to edge in different arrangements. At the start of each round, each player gets a new puzzle board. Each player must perfectly fill the blank space on the puzzle board with tiles.
Once the first player has solved the puzzle, the player shouts "Ubongo!" and the countdown is on: The other players must solve the puzzle within the time limit, or they will not earn any points. All players who solve the puzzle get a point, and the fastest player also gets a bonus gem worth one point. After eight rounds, the player with the most points wins.
In the solo mode, your aim is to finish as many cards as possible in pre-set times, making this a easily transportable and versatile game for folks who want to keep their hands busy.
The Verdict?
My cousins and I really enjoyed playing Ubongo especially because with so many puzzle cards, it will take us a while to get through them all. Also our collective memory sucks so we wouldn't remember if we finished a card in the first place! My youngest cousin (6) was able to keep up with her older sisters and me (ranging in age) and still manage to win a round or two! Important because for younger players, always losing would stink. However if it's just adults/advanced players, you can even remove the yellow straight tile to make solving the puzzles a bit more difficult.
The game also lends itself to solo play with actual rules, or as a way to turn your brain off from the real world and focus on solving some puzzles, which is sorely needed these days. Overall, Ubongo is a delightful and fast paced game perfect for opening game night or hanging out with friends and family. Since the box is the size of a standard book and fits super snugly, you can carry it pretty much anywhere without worrying about the box opening or having to force all the pieces back into the box.
Ubongo Fun-Size Edition is actually one of multiple entries in the Ubongo universe, which also includes a compact version with over 200 puzzles and a 3d version with 671 puzzles coming later this year. This one is available at Thames and Kosmos and Amazon for $14.95, a superb value.
Images courtesy of Thames and Kosmos
Have strong thoughts about this piece you need to share? Or maybe there's something else on your mind you're wanting to talk about with fellow Fandomentals? Head on over to our Community server to join in the conversation!