My quest for whimsical puzzles and other crafts has ended (for now) with another wooden puzzle company, JigsaWow.
JigsaWow was established in early 2020 and inspired by the owners' three children who requested more shaped puzzles, from Animals to Princesses to Heroes. JigsaWow puzzles are enjoyable because of the whimsical shapes in each irregularly shaped puzzle.
A year into production and the company offers 12 large puzzles and 2 minis. All but the Medusa puzzle are animals!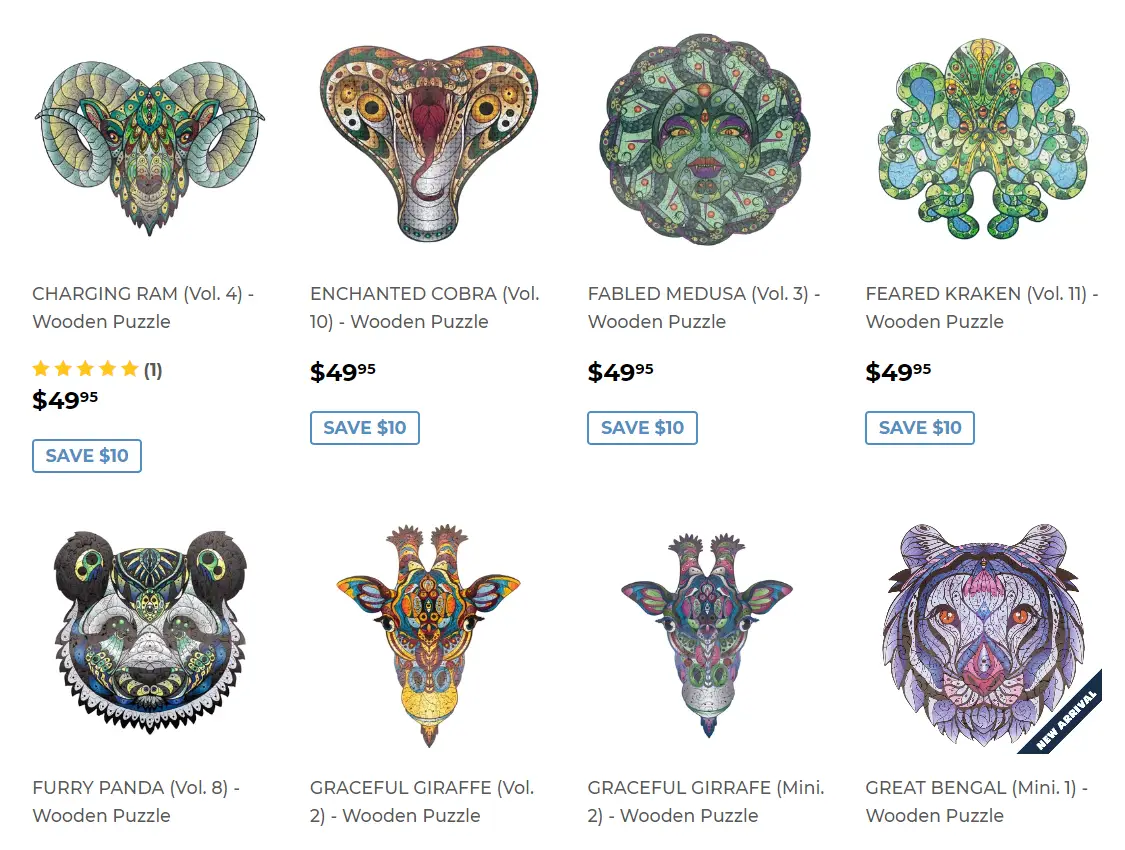 The company kindly sent me the Kraken to puzzle through (hah) and review, and I'm glad to say that it was one of the best puzzles that I've ever done. Each puzzle is themed and includes a list of the whimsy pieces to look out for.
In volume 11 we take a deep dive into one great element of Norse mythology, Kraken. This feared octopus of deep see has inspired many stories. In this puzzle set you will be greeted by Dolphin, Octopus, Whale, Shark, Crab and many more for a total of 13 whimsies not including our adorable logo, J & W.

Feared Kraken
Unlike previous puzzles, where nearly every piece was differently shaped, the majority of the pieces in this puzzle are the same or have the same loops and open areas, making it a more difficult puzzle.
It also had, as seen below, special themed pieces which were a lot of fun to place.
My Feared Kraken arrived in a wooden box with a small piece meant to hold the cover up so that puzzlers can view the finished image. I personally don't use that because I move the cover around quite a bit when working on my puzzles.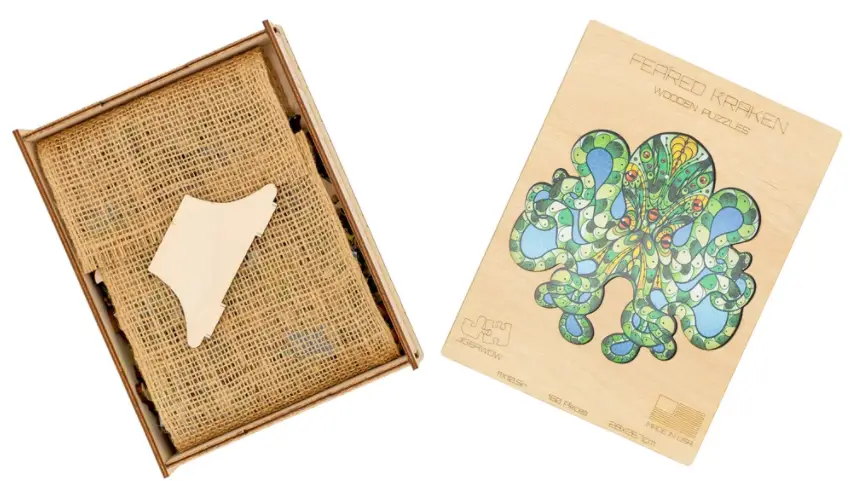 I love krakens, so was incredibly excited to start this and got to it right away. I didn't time myself doing this one because again, I'm always watching TV when working on my crafts, but I would estimate it took around six hours total over a few nights, which wasn't bad at all. The greatest difficulty came from there being so many pieces with the exact same loops and portions to fit together.
Still, I had a ton of fun working on this, especially because the puzzles themselves are symmetrical, adding a second layer of difficulty. Except for the middle portion and the eyes, I really couldn't just separate by color, since the whole puzzle was the same colors!
So I just sorted all the predominantly blues, greens, and reds from one another and started piecing them together. It did help that there were a few shades of each color towards the end, but it was still a hard puzzle.
JigsaWow puzzles do have an outline but it is not as defined as the dragon puzzle that I did, first which adds a third level of difficulty.
Once I finished the puzzle, I tried a new method of keeping the pieces together, though JigsaWow Puzzles' boxes are meant to stack or put side by side as they create "volumes." Instead of Mod Podge, I placed stickers created specifically for puzzlers to hold it together!
For more sturdiness, I definitely suggest brushing Mod Podge or other clear drying glue across the front, at least if you're planning to put it on the wall. Otherwise you can just take it apart when you want to make all over again later.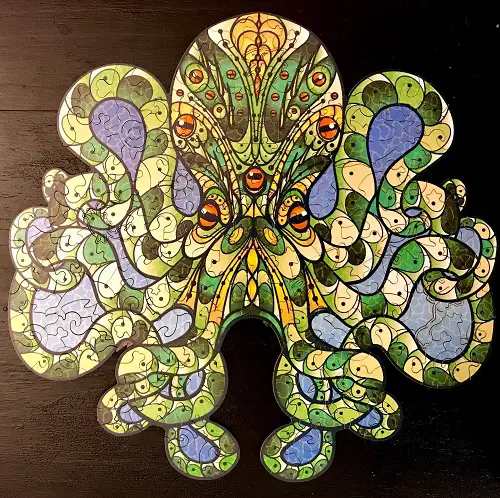 At $50, with free shipping, and coming in at around 11″ by 10.5″, Feared Kraken is absolutely worth purchasing. In fact, I loved it so much I bought one of the minis and a Medusa as gifts for friends!
Puzzle and images courtesy of JigsaWow Puzzles.
Have strong thoughts about this piece you need to share? Or maybe there's something else on your mind you're wanting to talk about with fellow Fandomentals? Head on over to our Community server to join in the conversation!