The moon is high and the children of the night have begun to make their music: Van Richten's Guide To Ravenloft looms large on the horizon. But while we prepare to dive into the mists yet again, we wanted to take a look at our last visit, when we were the guests of one Strahd von Zahrovich. Curse of Strahd is probably the most popular campaign released since the start of Fifth Edition, and last fall it got a bit of a ReVamp courtesy of both D&D and our good friends at Beadle & Grimm's Pandemonium Warehouse. The goblins at Beadle & Grimm's sent us a copy to check out as we gear up for their Shadowy Silver Edition of Van Richten's Guide To Ravenloft. And if you're itching to dive into the darkness of Ravenloft before the new book releases on the 18th, and with a second printing dropping this month; it's the perfect time to pick it up.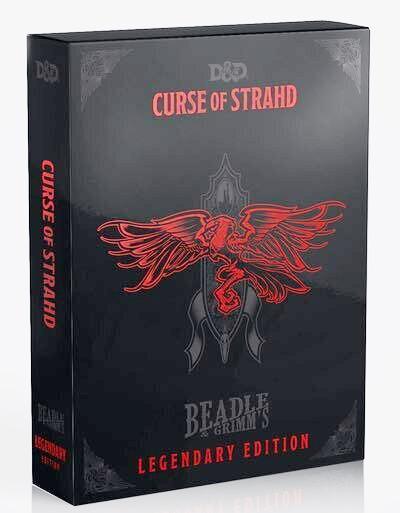 The Legendary edition of Curse of Strahd represents something new for the Pandemoniun Warehouse in that it broke their "metal" system and represents something truly unique. It started out as a silver edition like their next Ravenloft, but then they decided to make maps. And oh boy are their maps. We'll get a closer look in a bit, but the maps are what put this box over the top into something special. Before we get there, let's talk about the game book.
The Books of Barovia
As with all Beadle & Grimm's box sets, the complete Curse of Strahd book is included and broken up into different sections. I'm not going to go into too much detail on this since it's standard now, but I'll just reiterate that this is one of the most useful tools for a DM. Makes navigating things so much easier. Then of course there are the encounter cards, which are pretty helpful in barovia considering just how many NPC's and monsters you need to juggle in the game. I have a feeling a fair few of them will have decent amount of longevity as we re-enter Ravenloft later this month.
Gifts from the Mist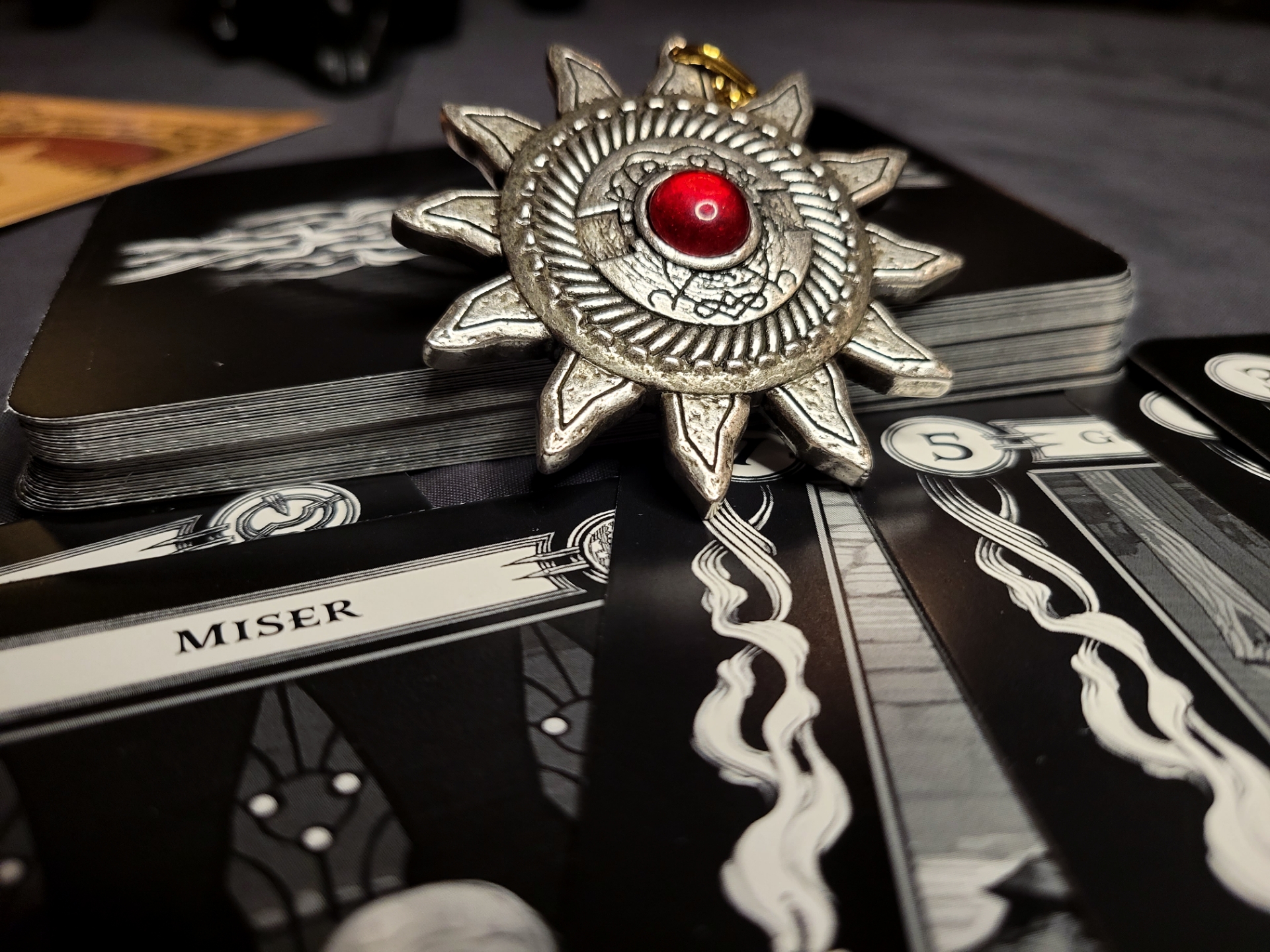 So yeah, books. Exciting, right? No, the thing that you're here to see are the little goodies, the shinies and feelies that you can't really get anywhere else. And boy, there's a lot of those. The biggest "get" in the box is the Holy Symbol of Ravenkind, the very thing that Big Z (I can call him that, we're buds) himself wears. It's a lovely piece of jewelry that acts as the centerpiece for the whole box. It's not the only big inclusion here, as an oversized deck of Tarokka cards (definitely not tarot cards) that not only have some very cool, gothic illustrations on them but also a silvery inlay on the back that really makes them pop on the table. For an adventure that centers these cards as much as Strahd, they're essential.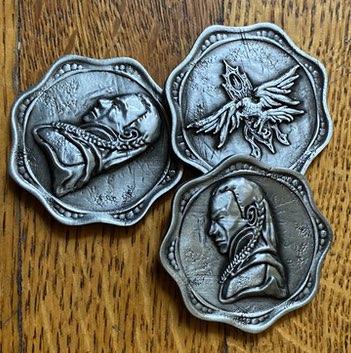 There's some smaller inclusions as well, like the Strahd coins, which come in a very nice velvety pouch and show off not just his seal but the visage of the vamp himself. Not that you'll really be giving out three at a time, but it helps with the immersion. Also helping with that is maybe THE best paper feelie included, which is a personal invitation from Strahd himself to dinner. One of the key turning points in the campaign, it's a really cool thing to give out AND it comes with little faux-wax seals you can stick on bearing his signet so it feels right and proper. The big flashy things get all the attention, but it's the little touches like that which really make you feel like you're in Ravenloft.
Did you REALLY think I was going to forget about the puppets? Yes, if you weren't aware Curse of Strahd: Legendary Edition features a five packs of Gadof Blinski brand (Remember, is no fun, is no Blinski!) finger puppets that can be used to tell the tale of Strahd as well as just for general Ravenloft fun and shenanigans. They're really nice puppets too (so nice that they delayed the box by a little bit), lots of details and good stitching. While Strahd's puppet is obviously the best, the zombie cleric that plays a part in one of the included bonus encounters is probably my favorite. Look at his wee little face!
Mapping Ravenloft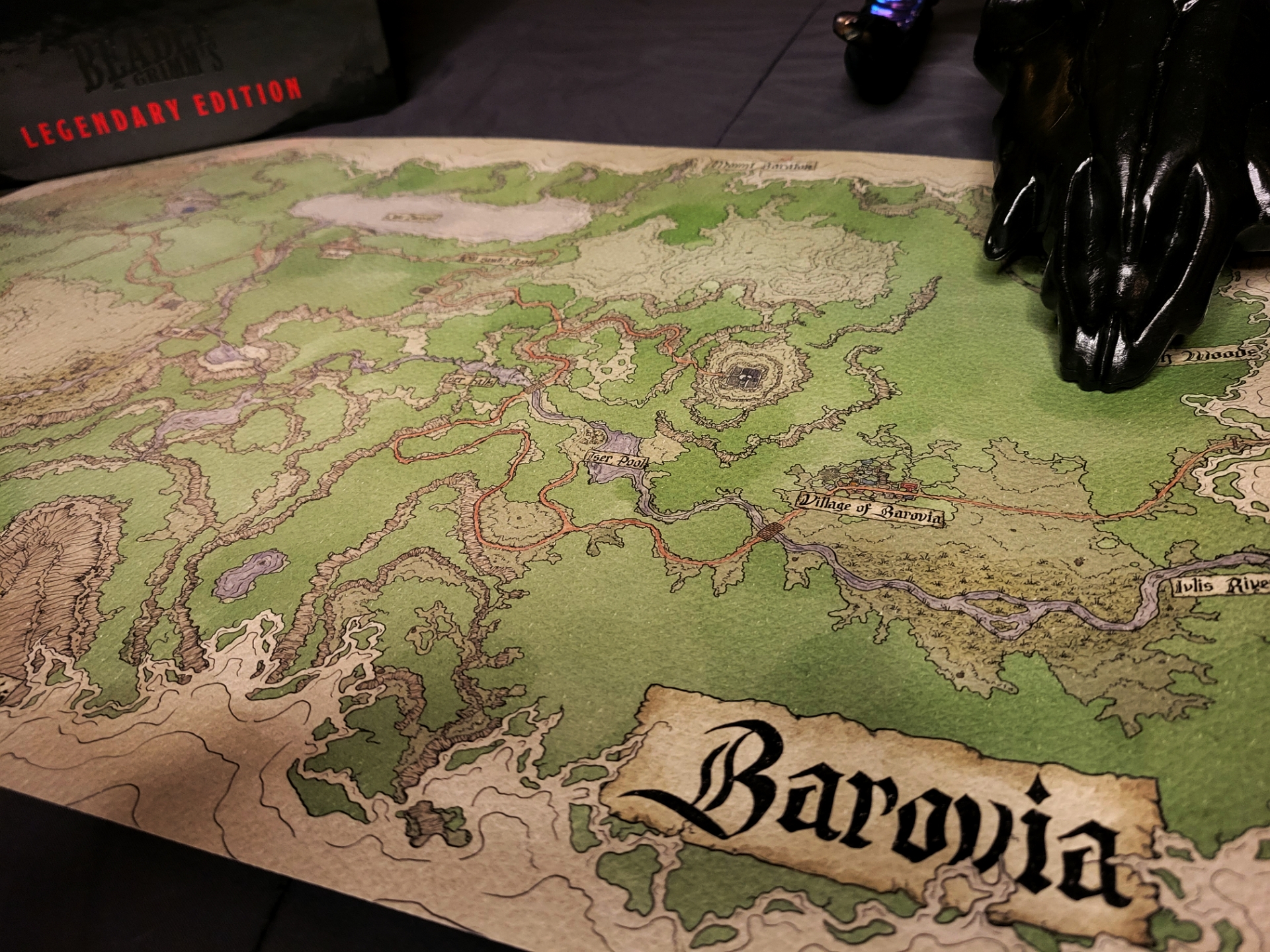 As I said, the maps are what drove this box into another tier beyond Silver and probably even Gold editions. There's of course some lovely battle maps that you can use for several of the fights in the game, including at the Wizard of Wines. As well, Deven Rue contributed an absolute banger of a worldmap for Barovia that pretty much is made to be framed. But the star of the show are the maps of Castle Ravenloft, which was mapped in its entirety. Yes every floor, every room, every nook and cranny of the iconic castle has been painstakingly rendered in map form so the party can really explore all it has to offer in this adventure and in potential future adventures that the DM might want to run. With Van Richten's coming soon and Castle Ravenloft back in the mix, it's something to keep in mind. And it really is a crowning achievement for Beadle & Grimm's and something that I think is going to be very hard to top.
Legendary vs Revamped
So, between this and the Revamped Special Edition from Wizards, which is the better Strahd experience. Well, if you don't have a LOT of money but want a more luxurious experience nonetheless, the offering from Wizards isn't a bad choice. It's got a cool box, a few feelies, and a nice tarokka deck. And for $99 dollars, it's a pretty good deal. But if you can swing it, you should go for the Legendary Edition. Not only does it do everything that the other version does better and with a bit more panache, it just has more to it. More handouts, more eye catching objects for immersion, more Ravenloft love, and so many maps.
You can pre-order Curse of Strahd Legendary Edition at the Beadle & Grimm's shop, where it runs for $399.99. You can also pre-order the Shadowy Silver Edition of Van Richten's Guide To Ravenloft there as well, and for more details on that check in tomorrow for an exclusive interview with Matt Lillard to get the inside scoop on what's going into their next box of horrors!
Have strong thoughts about this piece you need to share? Or maybe there's something else on your mind you're wanting to talk about with fellow Fandomentals? Head on over to our Community server to join in the conversation!