The Kickstarter for Red Spring Studio's debut visual novel TOUCHSTARVED goes live next week and with it so does the demo, which I had the fortune of playing early and, my, is it a wonderful introduction! With seven CGs and a secret ending, the demo gives a tantalizing taste of what's to come in this gothic horror romance VN.
(This version of 'Everytime We Touch' is incredible.)
TOUCHSTARVED follows the main character attempting to find a cure for their curse in the dangerous city of Eridia. To survive you must choose one of the five love interests to entrust your fate to and each is uniquely monstrous. Your choices will determine if the route ends with gothic romance or blood-curdling horror. Will you give up your humanity in search for a cure or will you find a way to save yourself and those you love?
You can pick your name, pronouns (he, she, they), and one of three origin backstories. In the demo this plays out pretty quickly with hints to your life before your journey to Eridia and in conversations with the other characters.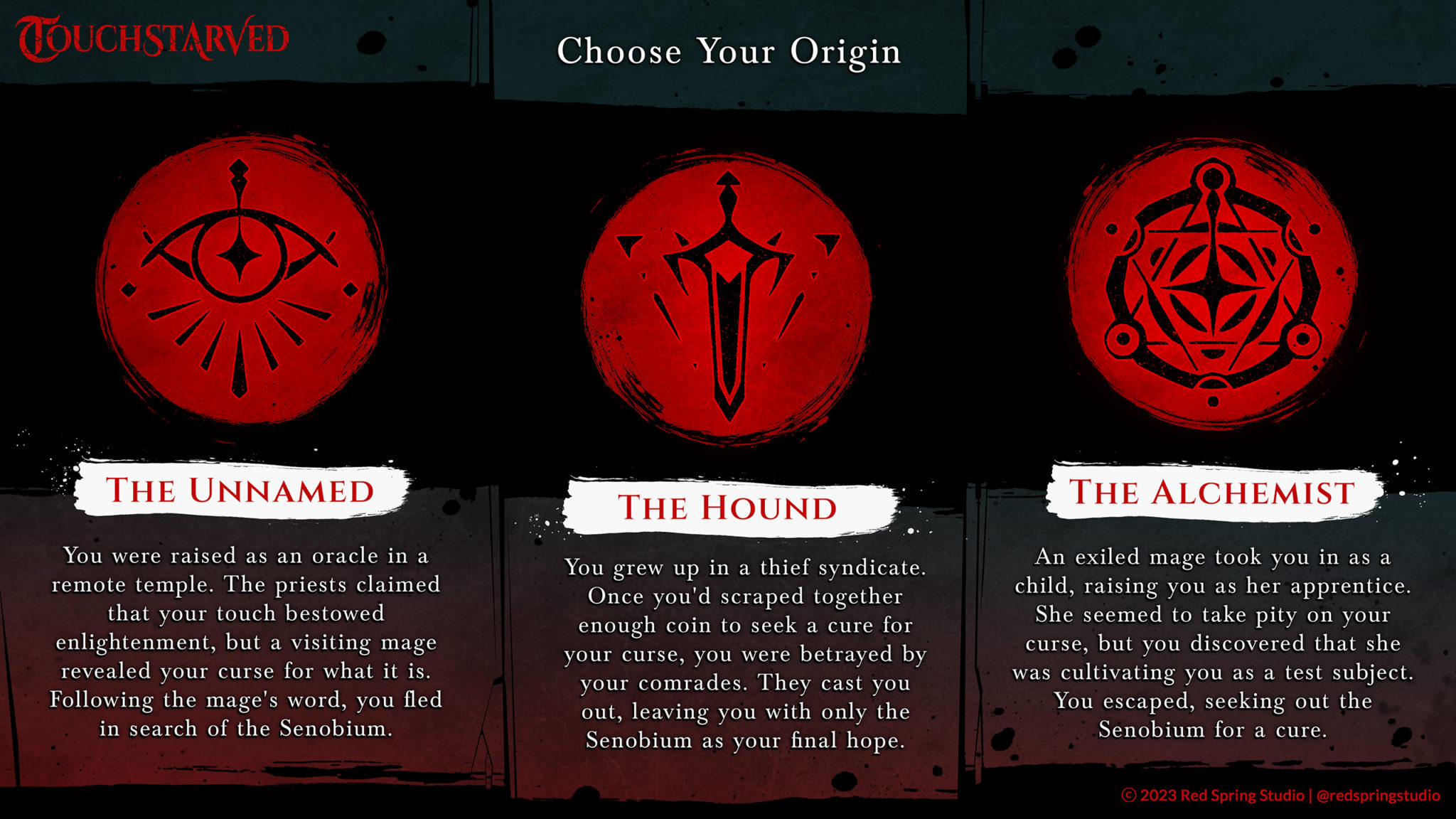 Having a choice of backstories provides more depth to the game and a different experience when playing through each origin.
TOUCHSTARVED Brings the Fear
TOUCHSTARVED starts with your journey to Eridia setting up the horror premise quite early when you run into a Soulless, a monster who only knows violence. In attempting to get away from the monster we fall and get our first look at how the curse works and why our character is so hungry for a cure.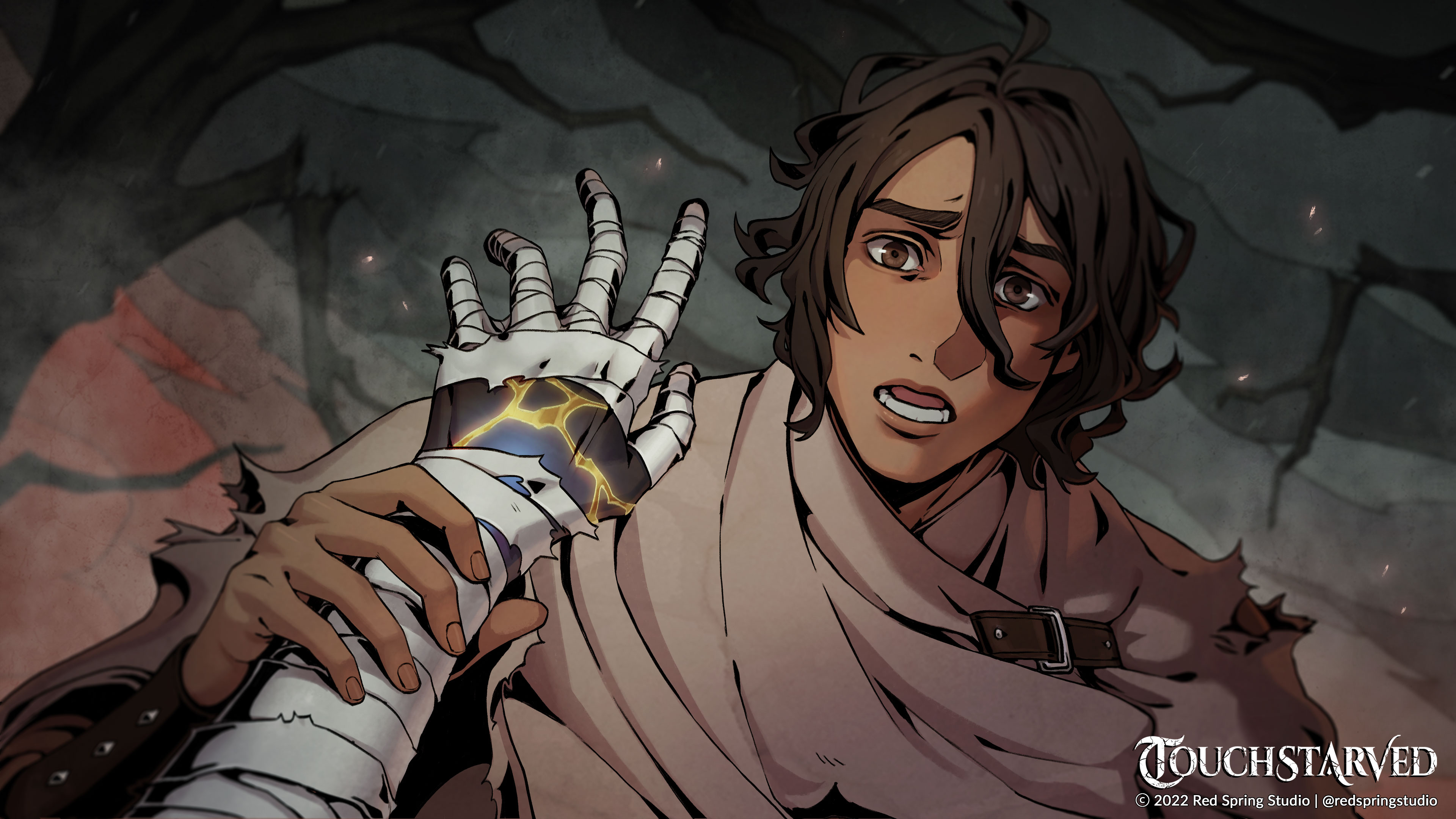 A single touch to our hands and the person who touches us turns to madness with an unstoppable bloodlust. Unfortunately for the traveler, they're killed by the monster and fortunately for us…well you'll need to play the demo to find out!
Once we get past the caravan attack, we meet the various love interests one by one and learn more about Eridia with its empty streets at night (except for the entertainment district) and overcast hue during the day even though there are food stalls and some level of bustle then.
One of the best parts of the game is the detail and love put into the backgrounds. A lot of visual novels have wonderful atmospheric backgrounds but the art style in TOUCHSTARVED allows for really detailed streets and buildings and interiors.
Meeting Leander in The Wet Wick (hah), there's lots of bottles and decor to make the bar area stand out. Since this is likely one of the main locations we'll spend time in, it's nice to have a full view of the space.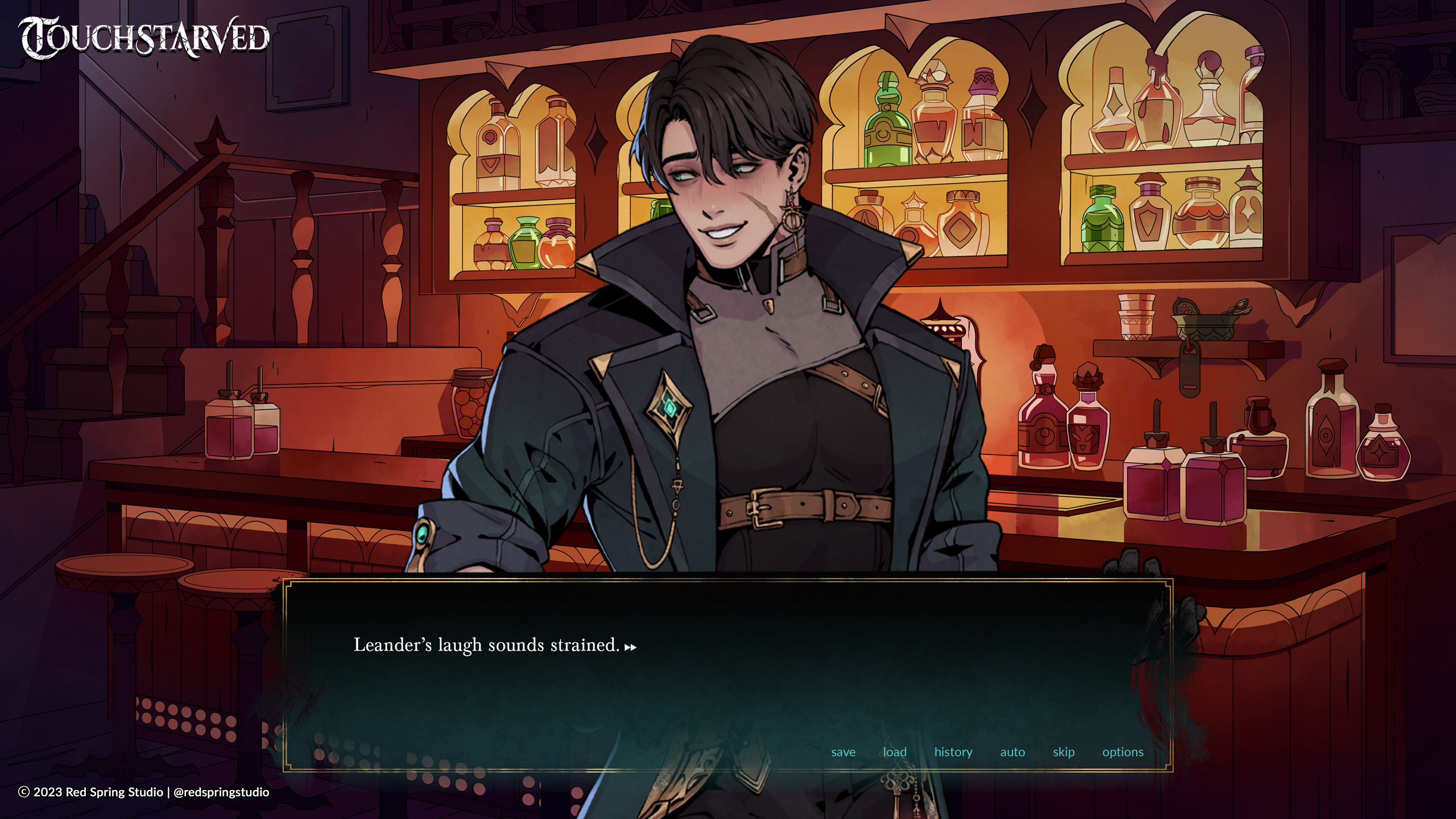 Of course not all the locations are fun! Between the wastelands which freak me out, the dark corners where Soulless are clearly creeping looking for their next snack, and the Senobium itself, there's plenty of places no one needs to be caught alone thought it might not be too bad with a "friend".
Similarly the sound and music for TOUCHSTARVED is superb, with sound effects deployed to the strongest effect by the team (full credits below). Nothing like a slurp of a monster or squelch of a bone breaking to get you engrossed or to jump because even though this is a horror novel you think "oh it can't be that bad" and then you knock your water over and don't be me y'all! Seriously though, the sound effects are not over the top nor are they extraneous, when they play, they are perfectly placed.
Then there's the fascinating story, and though the demo focuses primarily on introducing us to Leander, Kuras, Ais, Vere, Mhin, and Eridia, there is a lot of important information spooled out interaction after another leading to many questions.
Why is Vere bound by the Senobium clerics? Why is Kuras the only doctor around? What monster is Ais hiding and how did he gain his own territory out in the wastelands? Then there's Mhin who is moody as hell and hiding his own deadly secret. Even Leander, the heroic mage has Something Going On. What caused the Senobium to turn its face away from the common people? Will we find (more) people who can withstand our curse? I hope we do, the scenes of the first time our main character gets to hold hands wrecked me.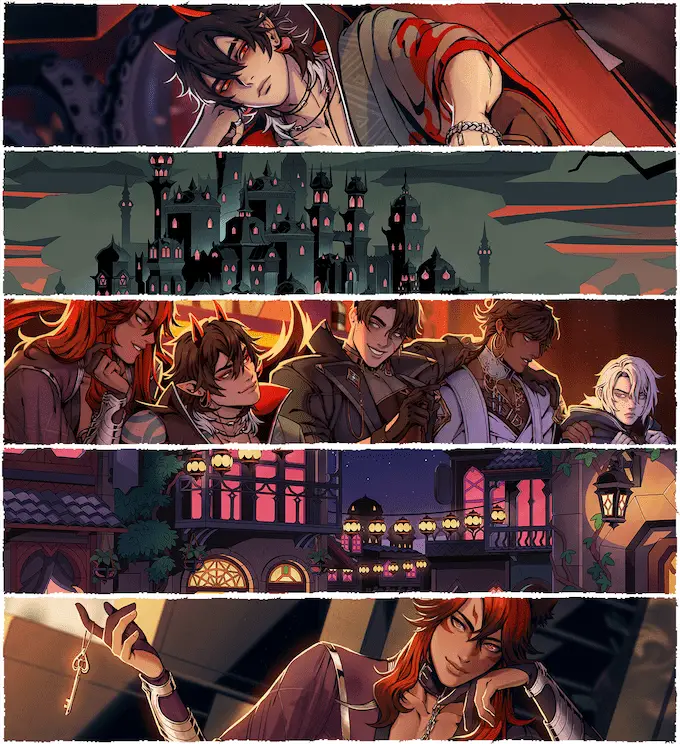 How are all our love interests connected? Okay that last one is actually answered a little bit, as the demo allows us to spend time with each one of the interests and ask their opinions about the others. (Will we have any polyam routes because eyes at Vere and Ais…?)
How many times can I make food puns in the full game review?
Between the five interests, the glimpses of a few other characters (in descriptive form), and of course our cursed lead, there are hundreds of questions to be answered in the full game. The secret ending too implies more endings that won't go quite as we expect.
Though the most important question of all is: are we going to get to see the monstrous forms of these characters because hello, the hints!!
As someone who really loves visual novels for what they can explore, I'm really excited to see this debut from the team and their dedication to telling a complex but realistic story within a fantastical setting has me already invested.
If you're into gothic romance, monsters, and dark unsettling stories, then TOUCHSTARVED is the game for you and you should check out the Kickstarter which is live now!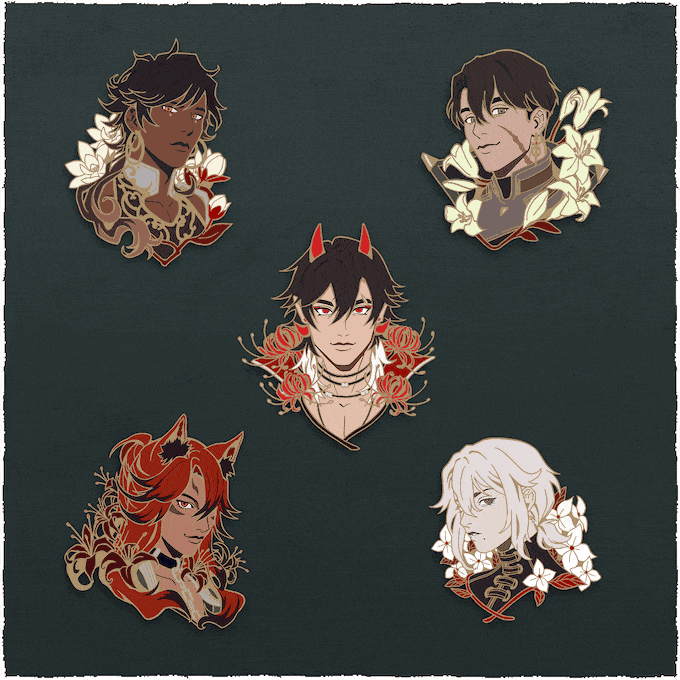 There are a number of incredible backer rewards including stickers, enamel pins (grabby hands!), the full version of the trailer theme "Every Time We Touch (ft. Dan Avidan) by Jesse Cale", standees, and so much more. Plus there's even more details about our love interests and the main character so check it out!
Plus there are a number of stretch goals which will unlock voice acting, more scenes, DLCs for the love interests and side characters we'll meet in the full game, a bonus for the team for past work (this is awesome!), and a variety of other cool options so I'm really excited to see where the final game will take us.
You can follow along on Twitter, Instagram, and Tumblr.
---
Red Spring Studio is a small, POC and queer-owned indie studio made up of diverse talent from the gaming industry. United by a shared passion for dark, mature stories, they've poured their hearts into TOUCHSTARVED with the goal of telling ground-breaking tales for outcasts, danger lovers, and hopeless romantics.
Red Spring Studio
Dev (she/her) – Co-Director
Lulu (they/them) – Co-Director
Vika (they/them)  – Art Director & Character Designer
Allie Jean (they/she) – Writer & PR Manager
Grace (she/her) – Writer & Technical Narrative Designer
Lynne (they/them) – Writer
Hika (she/they) – Merchandise Lead & Product Designer
Seihar (they/them) – Character Artist
LN (she/they) – Production Artist & Graphic Designer
Gabby (they/them) – Production Artist
Medi Mint (she/her) – Social Media Manager
Ariana (she/her) – Project Coordinator
Joeshua Baker (he/him) – Lead Programmer
Contractors
Fion Fitzgerald (he/him) – Background Artist
Nez (they/them) – Monster Concept Artist
Souha Al-Samkari, Truant Pixel (she/her) – Casting & Voice Director
Michelle Rojas, Studio Nano (she/they) – Casting & Audio Production
Images courtesy of Red Spring Studio
Have strong thoughts about this piece you need to share? Or maybe there's something else on your mind you're wanting to talk about with fellow Fandomentals? Head on over to our Community server to join in the conversation!