I may have misspoken in my review of Chang Can Dunk, in that it appears Julia Hart's 2020 Stargirl had already begun dragging Disney+ into not just competent cinematic territory but capturing the once infamous Disney magic for which the channel is famous.
Hart splendidly shrouds Stargirl in a way that feels like a melancholy memory. Its mood and energy reminded me of an Iris DeMent song, "Our Town," in which a woman sings about the memories of the small town she grew up in. I am not sure what Jerry Spinelli's book is about, but Hart's adaptation of Jerry Spinelli's YA novel uses the tale of young love, and the power of a young girl's sense of self, as a way for a young man to remember the place where he grew up.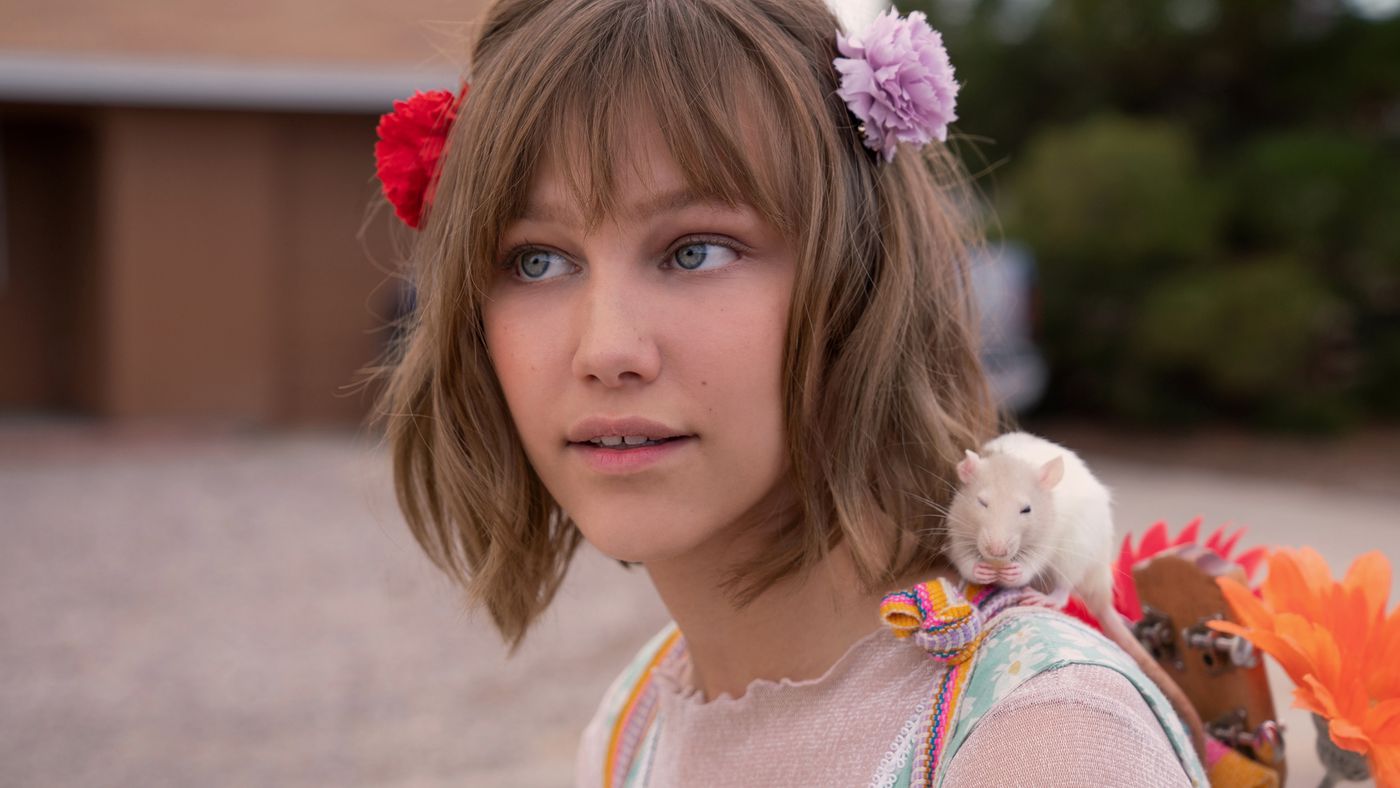 The script is written by Hart, along with frequent collaborator and husband Jordan Horowitz and Kristin Hahn, who adapts Spinelli's book in a way that feels like it's heading towards cliche until it doesn't. Granted, this is due to Grace VanderWaal, as Stargirl, who, despite her name being the title of the movie and Stargirl being a vehicle for VanderWaaal, is not the main character. But with VanderWaal's compelling screen presence, she is whether the story believes she is or not. She is another in a long line of young women whose story is "about" them without being about them.
But Hart, Horowitz, and Hahn find ways of puncturing holes in the cliche by allowing VanderWaal's Stargirl to be more complex than most cliched dream girls who capture the eye of the shy band nerd, Leo (Graham Verchere). Yes, she wears brightly colored clothes and seems wise beyond her fifteen years, carries a ukulele, and inspires confidence wherever she goes, almost like a magical creature misplaced into our drab reality. 
It's this aspect that makes Stargirl so enchanting. As Leo narrates the story, he makes Stargirl out to be more mythical than she is. But she's merely a young girl confident in her beliefs and worldview. Which, to a young boy unsure of himself and the world around him, can seem like magic.
On the surface, Stargirl is your typical Young Adult adaptation with your standard young adult characters. But as we go along, we suspect Hart may be doing more than giving us charming, beautifully framed fare about young love.
Leo and his friends live in the small town of Mica, Arizona. For all its flaws, part of Hart's spell is how she seemingly gets the feel of a small town. Having grown up in a small town, our high school was the combination of our town, another town, and the overflow of three other surrounding cities, located on, I kid you not, School Road. Mica is a small town where nothing much happens until Stargril shows up.
Their football team had never been all that good. But then one night, during halftime, she appears, as if by magic, alone on the field, with her ukulele and sings the Beach Boys, "Be True to Your School." So here we discover that Stargirl, among other things, is a jukebox musical–and a kind of laid-back, charming one at that.
VanderWaal is a magnetic presence when she's not singing, but when she does sing, there's a quiet allure to her that makes her being a girl named Stargirl not all that implausible. Bryce Fortner's camera keeps the musical numbers grounded. He and Hart weave a sense of magical realism about Stargirl. The musical numbers range from choreographed numbers to moments of sweet romanticism.
Eventually, Leo and Stargirl become friends and even start dating. All the while, this once home-schooled girl is rising to be the most popular girl in school, upsetting the social hierarchies along the way. She's almost less of a girl and more of a good luck charm that everyone loves. Well, almost everyone, and those who don't might have a good reason.
When you think you've got a handle on Stargirl, Hart unveils a new layer of complexity. Someone beloved for always doing the right thing is bound to do something others don't approve of. For Stragirl, it's rushing to be by the side of the other school's quarterback after a particularly brutal tackle. Hart looks at the scene with a cold, objective eye, while Fortner shows us how everyone seems stunned and frozen. Finally, we see a shot from the stands, the crowd's perspective, as she rushes out to be by the boy to comfort him.
I found myself gasping at this moment. Partly because of its simple power. But also because it reminded me of when I was hit by a car and collapsed in shock. The medics eventually arrived, but what I remember most was the older woman who stayed by me and comforted me. Stargirl argues that he needed someone to be there, and she couldn't understand why everyone else just stood by.
The idol has fallen, not because she was impossibly imperfect but because she was never viewed as human. But also because she believed that being kind meant being kind to people who aren't from your school. Her popularity begins to wane as Stargirl refuses to apologize. It's easy to judge the teenagers, but what's fascinating is how Hart doesn't seem to. Of course, they are cruel, but that comes from a fear of not knowing who they are. After all, Stargirl's magic is her self-confidence.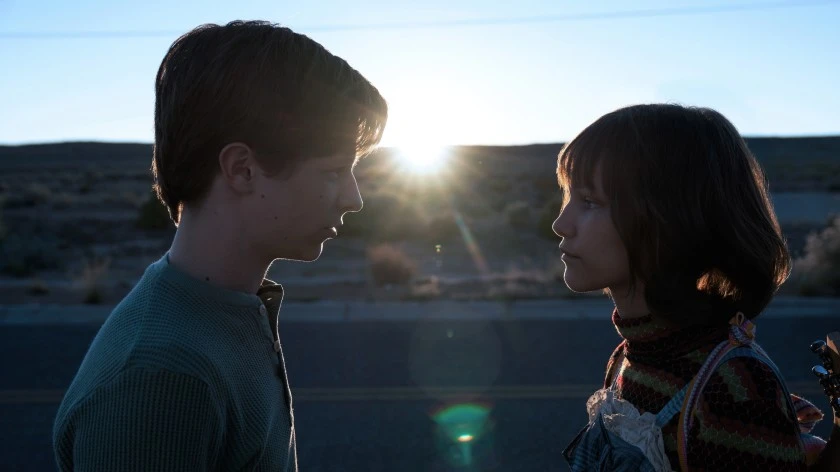 In some ways, she created herself. Hart and the script allude to this when Leo discovers her name is Susan. "So that's your name." "No, I'm Stargirl." "But your name is-" "I'm Stargirl." The movie takes what would typically be a cynic's attempt to skewer hippie mores and instead uses it to show how self-assured Stargirl is.
Leo and his best friend, Kevin (Karan Brar), run the school show "The Hot Seat." Of all the cliches that I find baffling about stories set in high school are ones where the school has a television station or a radio station specifically for the school. I have yet to meet anyone who grew up with such an advanced AV club with more than an overhead projector and the TV strapped to a cart with a VCR. But I can forgive it if only because Hart and her actors make it seem so natural that I wondered if high schools have budgets for television or radio studios.
After Stargirl's "betrayal," she asks to go on "The Hot Seat" to explain herself. It goes about as well as you would expect. But VanderWaal's Stargirl is lonely and sad as she confesses to her peers that she stopped homeschooling because she wanted to make friends.
Vechere's Leo, although the main character, is almost a cipher for Stargirl. The lens through which we see this seemingly "magical" creature. What's refreshing is how adults seem to keep trying to tell Leo that Stargirl is just a girl and that most of what he feels about her is merely a projection. 
As a character, Leo is almost as much of a cliche as Stargirl. Shy, earnest, and quirky, Leo loves dinosaurs. So much he often goes to a nearby Dinosaur camp run by his friend and mentor, Archie (Giancarlo Esposito). Archie constantly tells Leo that he's not understanding, that "magic and reality are the same things," his way of getting Leo to realize Stargirl isn't magic, but that doesn't mean she can't be magical.
Magic is an overriding theme of Stargirl, which, as much as it is about the power of self-confidence, is also a very touching, sweet love story. The movie's highlight is Stargirl giving Leo a downloaded copy, after he admits to not having a record player, of the 1978 album "The Cars." Hart's staging, Fortner's framing, and Shayar Bansali and Tracey Wadmore- Smith's editing makes the scene a standout, not just for how it conveys Leo Stargirl's blossoming relationship but also how it's a reminder of how enchanting falling in love at that age feels.
Verhere plays Leo with a soft-spoken sensitivity. He is quietly quirky, with his funny ties and his passion for marching band, dinosaurs, and AV club. Yet, unlike his friends or Stargirl, he doesn't seem to know himself or what he wants.
His grieving mother, Gloria (Darby Stanchfield), is busy with work. What she does, we never find out. Late in the movie, the two have a heart-to-heart, and Gloria finally gets what she's wanted, for her son to talk to her. The scene is sweet because it's another reminder by an adult that nothing Leo is going through is all that different from what anyone else is going through.
At times Stargirl feels slight, but the themes are so potent that they feel more vibrant because they are tethered to an overflowing story. It adds to the feeling of postcard idealism of Leo's memories.
Stargirl would not work for an instance if not for Hart and VanderWaal. Hart's adaptation of a twenty-year-old YA novel is an enchanting, if flawed, look at a girl with so much self-confidence that if it were anyone else behind the camera, she would merely be a manic pixie dream girl. But in Hart's hands, she is what she is; she's Stargirl.
Images courtesy of Disney+
Have strong thoughts about this piece you need to share? Or maybe there's something else on your mind you're wanting to talk about with fellow Fandomentals? Head on over to our Community server to join in the conversation!