Funko Games makes games that appeal to huge fandoms like Disney, Jurassic Park, and Godzilla. But they also have been investing in more niche fandoms, applying their focus on combining great game design with classic media to more cult classics or themes that don't obviously lend themselves to adaptation. The Warriors: Come Out To Play is a great example of that as a game adapting a cult classic derided as over the top and corny when it came out but beloved now for…pretty much the same reasons. But gang warfare is fantastic fodder for game design, so the real question is why nobody made it into a board game sooner?
What's In The Box?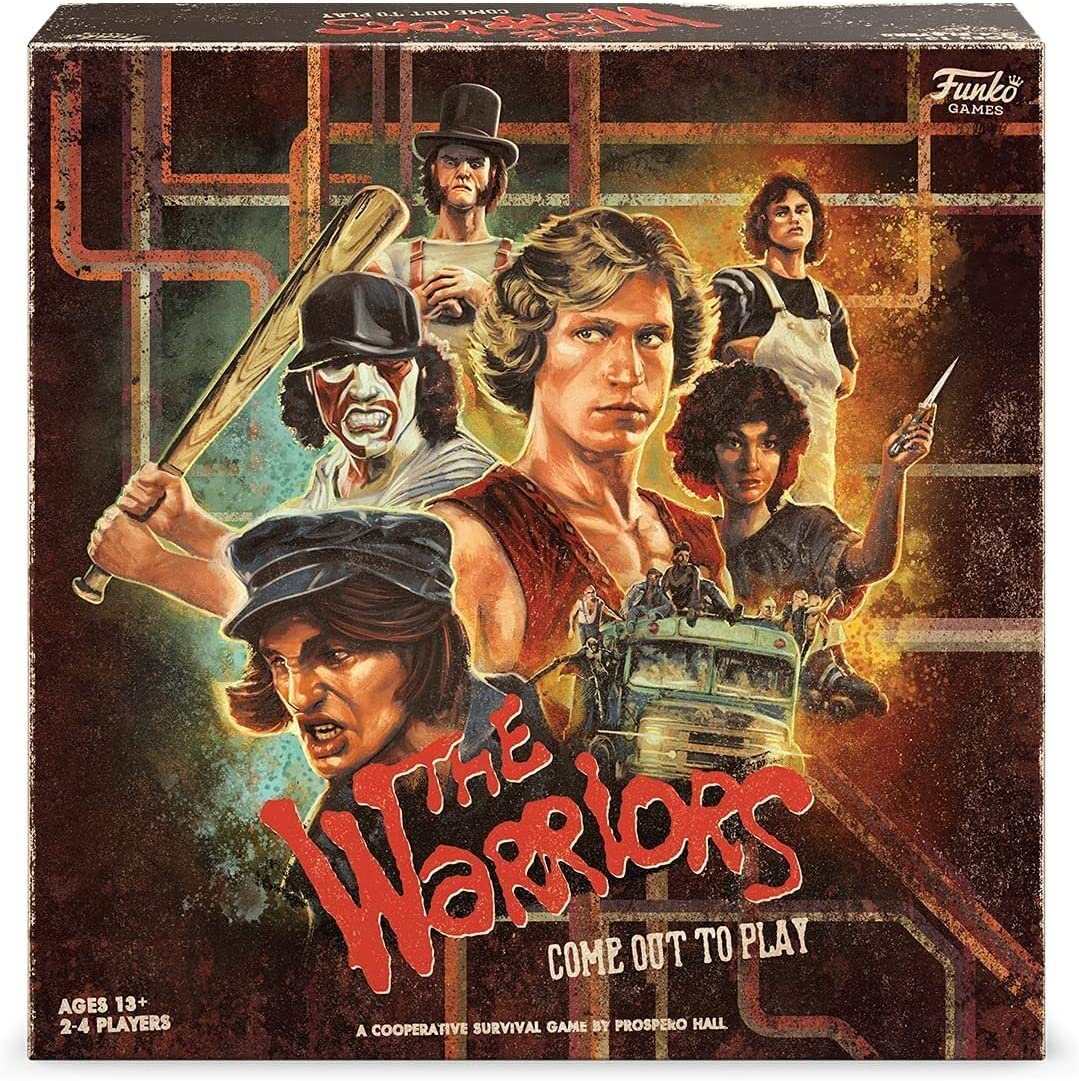 1 Game Board
7 Gang Leader Figures
8 Warriors Movers with Bases
5 Dice
6 Gang Tiles
13 Location Tiles
Coney Island Showdown Tile
56 War Cards
24 Bopper Cards
20 Weapon Cards
21 Tokens
How's It Play?
The Warriors: Come Out To Play is basically a fast-paced deck building game, and an incredibly well designed one at that. Each player picks one of the eight Warriors, each of which has their own deck and weapons they have access to. The differences between the different decks are mostly in minor ways they can affect the board or your card draw. There's not "sub-optimal" options, so you can basically just pick whoever you vibe with.
Your goal is, like the movie, to get from one end of Manhatten to the other, working through enemy gangs, gaining respect, and preparing for the final showdown on Coney Island. Each location on the board will have some effect like card draw, subway travel, or let you have a weapon. As you go, you'll reveal Bopper Cards that either do nothing or lead to a fight. Some spaces even make you draw two. You'll also run into fight spaces where you HAVE to fight it out with a rival gang.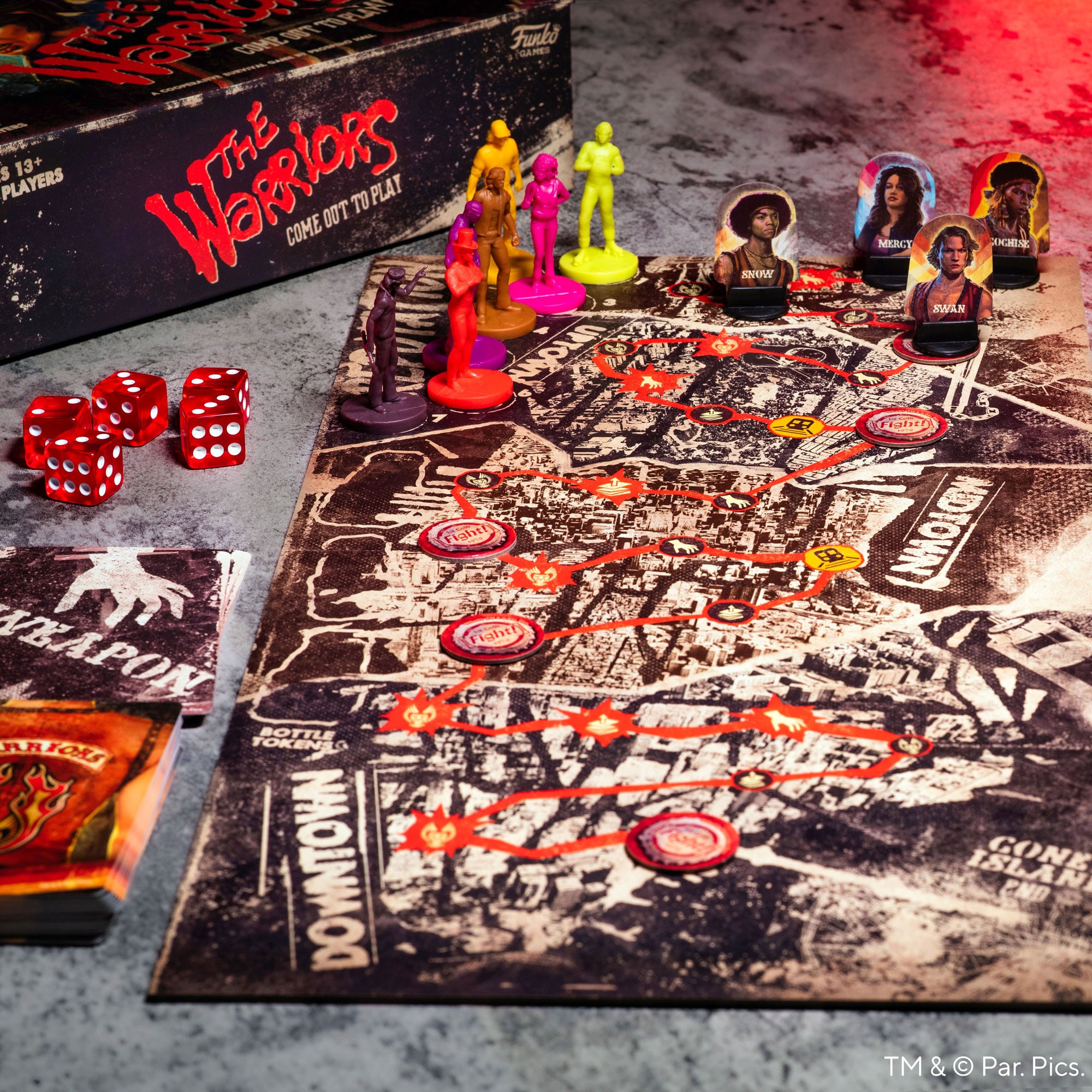 Combat is quick and easy to understand after you start. Each fight there's a gang and a location that you're duking it out with, and you need to cover up all of the spots on the card and location tile to win. Some spots are covered up by the right weapons cards (Molotovs act as wild cards), while others have to be covered by playing War cards and rolling the right number on the dice. War cards also can have effects here like rerolling dice, replacing weapons, or reviving knocked out Warriors. If you win, you move your leader mini up the reputation track and move the loser to the back. Your goal is to win enough fights that you get him to the front of the line.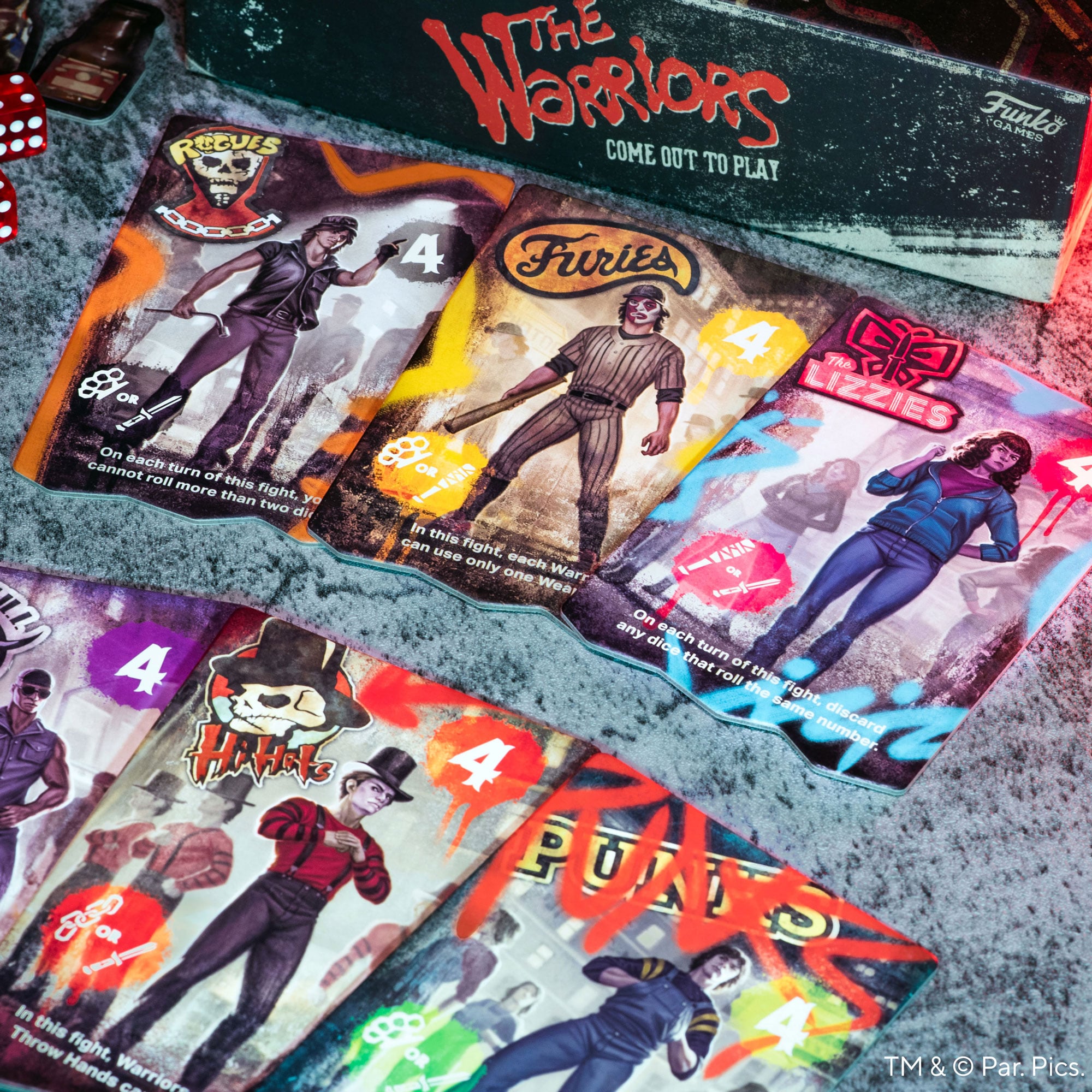 You CAN avoid fights using the Bottle Tokens (come out to plaaaaay), but you'll take a reputation hit. You'll also take a reputation hit if all of the Warriors in a fight get knocked out. If your rep gets too low, you lose. The goal is to get to Coney and win the Final Showdown, with each fight getting more and more complicated as you go. By the end, you'll have a lot more to cover but ALSO should be pretty well equipped to boot. If it seems to easy, you can take away more of the All Clear Bopper cards to increase the chances of a fight.
The Verdict
Even if you haven't seen the original The Warriors movie, this is a really fun game. I know this because I was the only person at the table who HAD seen it before hand, but afterwards everyone was very into the idea of playing it again. The aesthetic is beautifully grungy, covered in spraypaint and spikes. Fight mechanics are logical and fast, and the deckbuilding is simple enough that you can get a hang of it lightning fast. You can really feel the tension build as you go, as people take damage, run out of cards, or get knocked out. The Bopper cards add some instability to movement, and some strategy around choosing when, not if, you get into a fight. It's also a great game for taking out to game night since it actually does play at around 30-40 minutes thanks to how fast people can pick it up. As always with Funko, fans are who will get the most of this release, but even if you're not into the property you're going to have a real groovy time.
The Warriors: Come Out To Play
Summary
Thanks to devotion to the source material and tight rules that encourage fast thinking and teamwork, The Warriors: Come Out To Play is a fantastic simulation of the movie that inspired it. Stripped down deck-building makes teaching a breeze, and it's a rare game that actually hits its estimated gameplay time on the first try. Fans of the original will find a lot of love here, but gamers of all kinds shouldn't overlook this diamond in the rough.
You can pick up The Warriors: Come Out To Play at the Funko shop, Amazon, or your FLGS!
Images and review copy via Funko Games
Have strong thoughts about this piece you need to share? Or maybe there's something else on your mind you're wanting to talk about with fellow Fandomentals? Head on over to our Community server to join in the conversation!