Do you like drafting card games? Old wallpaper? Shiny gold cards? Piecing cards together to make something beautiful (or at least fun to look at)? Then That Old Wallpaper is the game for you! From Alderac Entertainment Group, this drafting game designed by Nathan Thornton and Danielle Deley is delightful and provides fun for 2 to 5 players.
Players must draft columns of wallpaper cards to piece them together to most closely re-create patterns. The player who matches the most shapes and colors, collects the most unique mementos, and puts together the highest-scoring section of wallpaper wins the game and makes their (or any fictional) grandma proud.
What's in the box?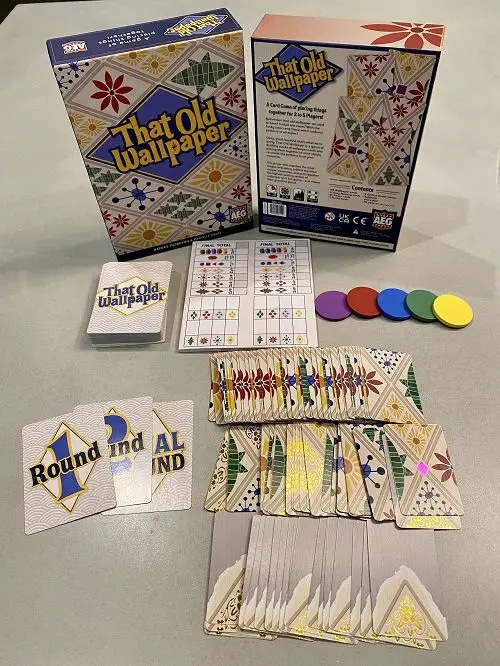 That Old Wallpaper comes with 109 colorful wallpaper cards with four sides (two small and two long) and each side shows one of five patterns. Red flowery things, yellow sunshine, blue spacey things, green leafy stuff, and the "wild" pattern which is a shiny gold pattern. Some cards also feature red oval or purple shapes in the center which are the unique mementos.
There are also 21 double-sided hazy memory cards which have a short side and long side with the wild gold pattern against a gray background, 5 perfect recall tokens, 5 sets of 10 player cards, three round cards to help keep track of rounds, and a scoring pad.
Y'all, the wallpaper cards are so sleek, I kept dropping them while shuffling! They're pretty tiny in comparison to the round and player cards, but the perfect size for playing with all five people on a standard table. At some point, I'm totally going to put all the wallpaper cards together just to see what it looks like. The wallpaper designs really are that old wallpaper and reminds me of every episode of an HGTV series that I've watched with questionable wallpaper.
How's It Play?
Gameplay in That Old Wallpaper is simultaneous and simple. Each player has cards numbered 1 to 10 which are shuffled and placed in a draw pile face down. Each player receives an initial hand of five cards, and the perfect recall tokens which match the player colors are placed arranged by age of player, youngest first, and oldest last.
Wallpaper cards are shuffled while the hazy memory cards are placed to the side. Columns equal to the number of layers are placed face-up in the middle of the play area. If a card has a red oval in the center, another card is placed in the same column below it so that both are visible. The column closest to the draw pile is the low end and the farthest out is the high end.
Players will pick a number to collect one of the columns of wallpaper cards to add to their wall so the highest numbered card means that player can pick the wallpaper they want first, so on and so forth. If two or more players have the same number, they've bumped one another and the order of the recall tokens decides who gets to pick first. The token then moves to the end of the line so the same person can't always get a card first.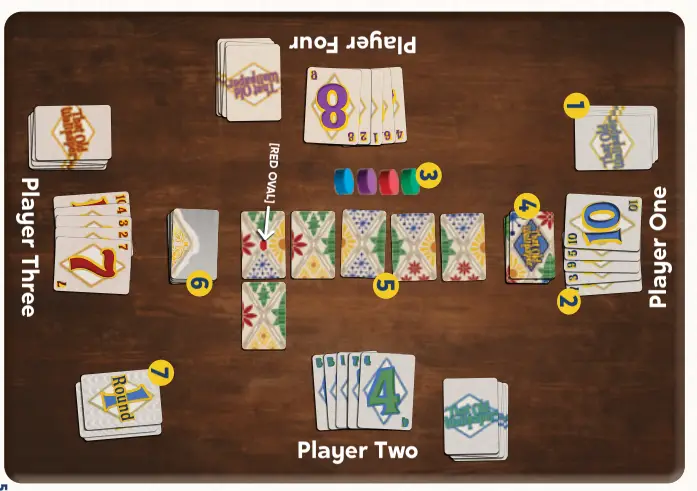 Columns are replenished with more cards and the game continues like so until all three rounds have been played and there's a whole scoring system that is laid out in the scorebook.
Wallpaper sides must match and must also match short to short side or long to long side, but cannot be placed diagonally. If hazy memory cards are used they complete shapes but not if they are placed next to the other wild patterns.
The Verdict?
That Old Wallpaper is so much fun! It reminds me a lot of A Gentle Rain with the wallpapers unfolding differently for each player and in each game. This set up makes for countless versions (though I'm sure someone could do the math to figure out the exact number of combinations).
The game also has a two-player variant where the set up is for three players and the third player is your grandma! (Ghost?) She won't make a wall or score points, but she does compete to take wallpaper columns and the top card from her player card deck is played each time. So if you don't have more than two players, you can still play the game and keep the level of difficulty the same as when playing with more players.
It's a game that's perfect for beginners to the drafting subgenre of board games and really does have endless opportunities for fun because each game will always play out differently!
You can grab That Old Wallpaper later this year on Amazon or on AEG's website for $24.99, a very fair price for a game of this caliber.
Images and review copy courtesy of AEG
That Old Wallpaper
Summary
That Old Wallpaper promises hours of fun over multiple games without being complicated.
Have strong thoughts about this piece you need to share? Or maybe there's something else on your mind you're wanting to talk about with fellow Fandomentals? Head on over to our Community server to join in the conversation.