Ever want to play a board game that's soothing and doesn't require a single ounce of competition? From Mondo Games and designer Kevin Wilson and artist Chris Bilheimer comes A Gentle Rain, which is just that. Suitable for solo and co-operative play, the game is super easy to play but takes time to master, making it fun to play again and again. As already established, I'm a fan of anything with puzzles so I was really excited to receive a copy in return for a fair review.
How's It Play?
Mondo's video on how to play the game is one of the best how to play videos that I've seen, so of course I had to include it here. With literally only 28 lake tiles, 8 wooden tokens, and game instructions, A Gentle Rain is an incredibly consolidated board game.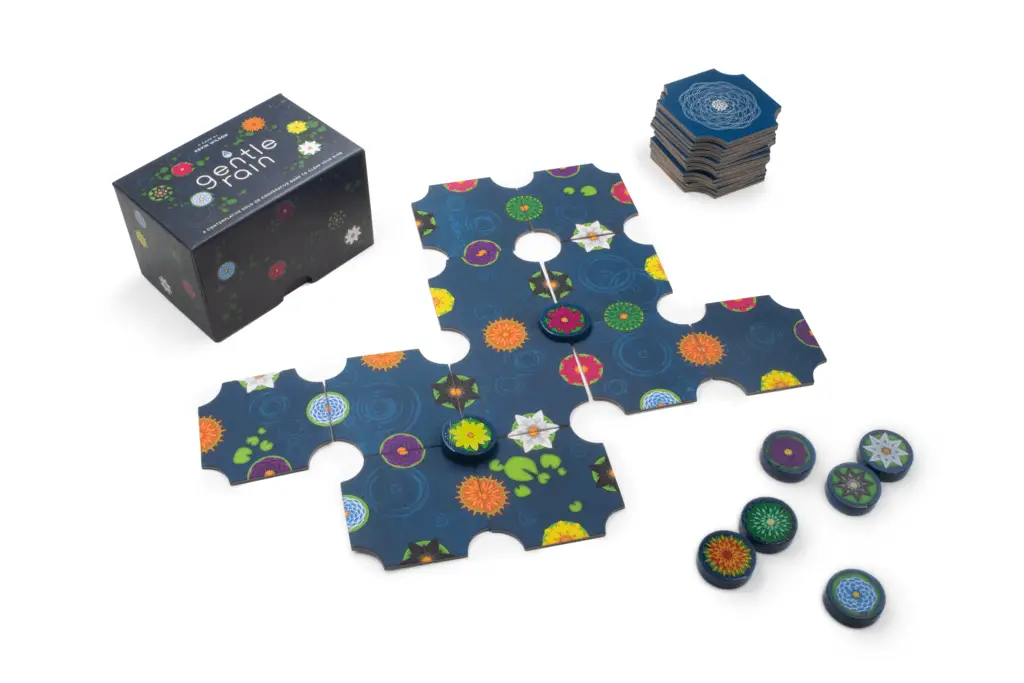 Perfect for travel, work, coffee tables, and anywhere you've got a flat surface, all you do is place tiles one next to another and match the colors in attempts to create a blossom. When four tiles create a square, a blossom has opened and the token can be placed inside the space created by that square.
Player(s) place tiles until there are no more tiles, and thus the 'rain has stopped'. If you get all the tokens placed, you've won. If not, you can just play again!
Scoring is super simple. If the eighth blossom opens during the game, play ends and your score is equal to the number of unplaited tiles left in the pile plus 8. If you run out of tiles before all 8 blossoms open, your score is how many blossoms you did open. If played with friends, each person takes turns until the tiles are gone.
The Verdict?
At first A Gentle Rain looks really easy. Just place some tiles! However, all sides that touch must match properly so it is really easy to create a sprawling assortment of lilies throughout the lake. I had a lot of fun just piecing the tiles together in attempts to see how large I could make the lake.
Turn on some background music, and this game could take up hours of time. I also love how compact the packaging is with really sturdy cardboard tiles and solid yet light tokens. Board games for understandable reasons utilize ridiculous amounts of plastic, so I am always happy to see something that eschews that as much as possible. Plus with the major delays in shipment, anything that requires less materials is likelier to stay in stock.
A Gentle Rain really is about the journey to placing all the tiles, and there's an incredibly large number of possibilities of how your lake will look when finished. I played it twice through before writing this review and got vastly different layouts! The other graduate students in my office had super different layouts too and I have a feeling that I'll be taking this game with me any time I'm hanging out with friends.
My one and only critique is that the space created by four tiles touching is slightly smaller than the tokens, so the tokens don't fit perfectly inside. Not the end of the world, and it doesn't change the gameplay at all, I just really wanted everything to fit snugly. This game really is perfect for anyone who likes puzzles and solitaire style board games!
Grab a copy of A Gentle Rain for just $22 today!
A Gentle Rain
Summary
A Gentle Rain is a truly gentle and soothing game, perfect for solo and group play. Simple yet still engaging, the game is replayable over and over again.
Images courtesy of Mondo
Have strong thoughts about this piece you need to share? Or maybe there's something else on your mind you're wanting to talk about with fellow Fandomentals? Head on over to our Community server to join in the conversation!