The board game industry, as we have seen, is a truly international entity, with companies from every corner of the world adding unique voices to the growing market. And while many begin with a friendliness towards the Anglophone sphere, others work largely in their own languages and, due to the relative cultural hegemony of the United States within games journalism and conventions, sometimes are not so readily known as their British or American counterparts. Some companies are working to change that, however, through translation, promotion, and distribution to help designers reach a truly international audience. One such company is Surfin' Meeple.
Surfin' Meeple began when Editions Matagot (Meeple Circus), one of the biggest board game publishers and importers in France, wanted to expand their market beyond Europe and "out of their comfort zone," as they put it. They've since added companies like the American Kolossal Games (Western Legends), Canadian Maple Games (Sagrada), French Studio Bombyx, and Australian Grail Games (Medici).  I got to meet with them at GenCon, and learn all about the different companies that make up the team as well as the upcoming games coming from across the pond as well as in my own backyard.
Editions Matagot
Named for a creature of French folklore, a magical cat who rewards loving owners with gold, Matagot was founded in 2005 as a publisher of tabletop games, founder and longtime president Hicham Ayoub Bedran's Cendres and Te Deum for a Massacre. It soon expanded into board games, with Hatchet and Expedition Altiplano, and by 2011 it had become one of the biggest game companies in France, selling over 300,000 copies of Antoine Bauza's Takenoko. The company has been going through a transition period lately, with the company moving to new digs in Paris and original founder Bedran leaving the company to head up Studio H. Bedran's longtime partner Arnaud Charpentier became the head of the company, and continues to fulfill Matagot's goal to make "Board Games For Everyone."
Paris: New Eden
Release: Q4 2019
Previewed at GenCon but properly launched at this year's Essen, Paris: New Eden puts players in charge of The City of Lights…if those lights were a radioactive glow. Ok it's not that bleak, but it's still a post-apocalyptic vision of a Paris that has gone from a bustling world city to a silent ruin. Your goal is to help set the new Paris on a path towards the future. It's centered around dice-drafting, with your dice representing the survivors you'll recruit, train, and put to work rebuilding the city. You'll improve your shelter, farm, and explore the jungle that has overtaken the ruined city. It takes place over the course of a year, with the different seasons affecting your workers and your projects. By winter's end, the player with the most victory points, earned through construction and successful development of Paris, wins.
Paris New Eden released at Essen and will hit US Retail in Q4 of this year, where it will retail for $49.99
Further flung from the others, Grail Games hails from the Southern Hemisphere by way of Sydney, Australia. It's stated goal is to create games that are family friendly, easy to teach, and are easily replayable. Their most recent games include Boomerang (naturally), a Aussie-themed card game that mixes card drafting with roll-and-write gameplay, Stephenson's Rocket, a train game themed around the earliest period in rail, and Yellow & Yangtze, a civilization building strategy game that takes players to the birthplace of civilization.
Hailing from my own backyard (and GenCon's) of Fishers, Indiana, Kolossal Games is the main American publisher within the family. The company's only a few years old, but it's racked up quite a resume, with Western Legends in particular putting them certifiably on the map as a publisher to watch, especially when they drop one of their insanely popular Kickstarters.
Retail: $85.00
Release: Fall 2019
Mezo is a brand new addition to Kolossal's line of big box strategy games, the first from John Clowdus, who previously worked on their small box games with Omen, Hemloch, and Neolithic. It draws heavily on Mayan mythology, with each player acting as one of 4 gods of that pantheon: the featherd serpent Kukulcan, the mountain god Cabrakan, the Jaguar medicine goddess Ixchel, and the (slightly inaccurately named) death god Ah-Puch. The "God Pack" adds in Chaac, Etznab, Ix-Tub,Tun, Xaman Ek, while the Souls For Xibalba expansion adds in three more death gods for Ah-Puch to play with. Each god has their own goal and win condition, so there's a huge amount of possible games available to you.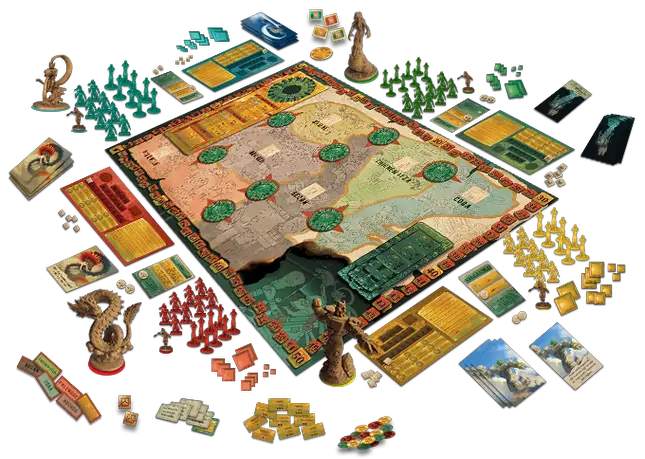 The main actors for the game are actually each god's followers, who gather resources, battle each other, build  mighty pyramids, and make sacrifices to their god. Gods exert influence over different regions, and its up to you to strike when your tribe is most powerful. As the three ages pass, you'll gain powerful new abilities that can take your strategy to new heights. The underworld of Xibalba, land of the dead, can be affected as well and is always in play. The game features the high level of detail and production that Kolossal has made an essential part of their brand, with the massive sculpted figures of the gods being particular standouts.
Mezo is set for release later this year, but you can pre-order it on the Kolossal store. The other expansions, the aforementioned Souls For Xibalba and "God Pack," as well as a "5th Player," can also all be pre-ordered. There's also ways to enhance the game visually, with a "Standee Pack" and "Pyramid Pack" adding new pieces to the game.
Retail: $25.00
Release: Q4 2019
A brand new entry to the incredibly popular genre of games centered around the Cthulhu Mythos, All Manor Of Evil is a really unique twist on hidden identity and deduction games like Salem 1692. The premise of the game is a heist, but not just any heist. In this game, players are breaking into the home of HP Lovecraft himself to rob him blind. Unlike the real life Lovecraft, who lived in relative poverty and mostly ate beans, this Lovecraft lives in a well appointed manor filled with priceless artifacts. Also unlike the real Lovecraft (as far as we know), the artifacts this Lovecraft owns are all connected to the very real and very dangerous Elder Gods. Players will each have a character with their own goals, largely divided between characters who want to stop the waking of the Elder Gods and those who very much do. You'll have to balance your own goals with thwarting those of others, manage your sanity, and try to steal the most valuable items and come away the richest (and hopefull, sanest) thief.  There's also a solo mode, that pits a solo thief against the bizarre mind of HP Lovecraft himself as you evade him and try to accomplish your agenda.
The base game is available for pre-order now, as is the first expansion Madness Stirs, which adds in new game mechanics and the addition of a sixth player to the game. Kolossal let me have a copy of the Kickstarter edition of the game, and I'll have a full review of  it up very soon!
Release: January 2020
Kolossal's most recent Kickstarter, Papillon is a beautiful little game centered around the building of gardens in order to attract butterflies. You'll be drafting tiles and controlling different parts of the board in order to get butterflies to gather nectar from the highest-value flowers. The winner is the gardener with the most nectar after eight rounds. It's visually stunning, as any game with a garden theme really should, and I especially love the 3D flowers and butterflies that make the game really pop off the table.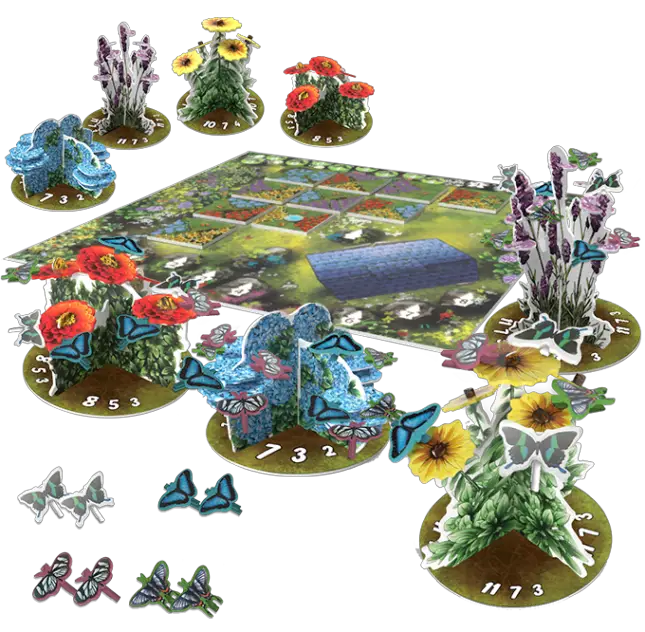 The Papillon Kickstarter is still accepting late pledges. The base level that gets you the game is $39.00, which also includes all unlocked stretch goals like new tokens and upgraded components, as well as the Beyond The Meadow expansion. You can also fund at the $55 dollar level, which also gets you wooden tokens to add to the game. It's set to release to backers in early 2020, with wider release beginning soon after.
Another French company like Matagot, based out of Brittany, Studio Bombyx also shares with Matagot a wide spread of games. There's family games, kids games, and expert hobbyist-level games all under the same roof. Catch The Moon was a particular success in the world of kid's games, and I can say from personal experience that it's a really fun little game. Imaginarium was their most recent release in the "Expert" category, a strategy game with a whimsical, dreamlike steampunk aesthetic. Like all the companies in the Surfin' Meeple family, there isn't a set theme behind their games, other than a clear attention to fun and high production value in all their games.

Moving back across the pond and then up north, Maple Games is the youngest studio in the Surfin Meeple stable. Founded by Daryl Andrews and Peter Wocken, the company's goal is to "strive to create an immersive gaming experience with gorgeous art and fun mechanisms that combine to provide great gaming moments for all."
Release: Fall 2019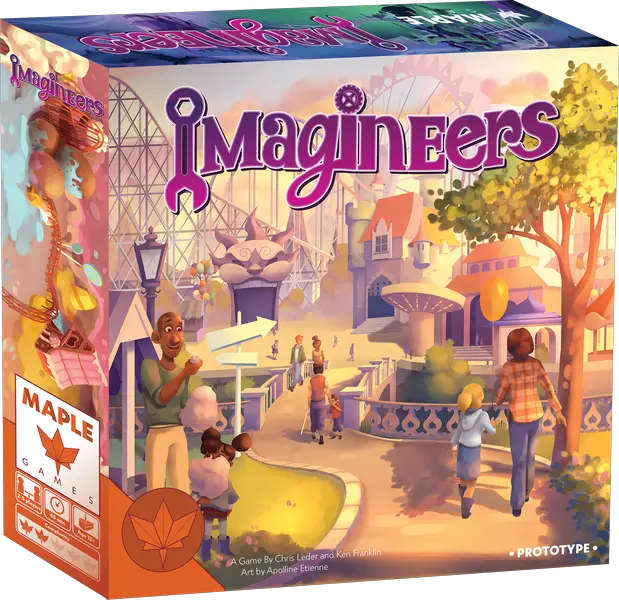 No, this has no relation to Disney and, frankly, I have no idea where you got the idea that it was related. Luckily, Maple has crossed their i's and dotted their t's to make sure The Mouse doesn't come for them, and now we can look forward to Imagineers with no fear. Imagineers is, in many ways, Roller Coaster Tycoon as a board game. Players take on the role of a theme park manager trying to take their third-rate little carnival to the height of theme park success. They'll try to attract visitors with the biggest and best rides and attractions, manage their extremely enthusiastic staff, improve their park, and earn as much fame as possible by making your theme park the Jolliest Location On The Planet!
Imagineers is currently available for pre-order, although Maple's store appears to be down at this time.
Another game themed around Ancient China, Dragon Boats Of The Four Seas is an economic game where players take on the role of head of a noble Chinese house. They'll work to become the most prosperous family in China by expanding their family's reach across the titular 4 Seas by making smart trade deals, helping their farmers sell their goods, and making sure their dragon boats can get around safely. The thing that makes this game stand out are the dragon boats, which physically sit on the board and are moved by the players, lending a kinetic and visual element to a genre of game that can sometimes be a bit numbers heavy.
Dragon Boats of the Four Seas will release soon and you should be able to pre-order it as soon as Maple's store is back up.
There's a lot of exciting stuff happening with Surfin' Meeple, and you can keep an eye on The Fandomentals for all the latest from every part of their collective. Be sure to look out for my review of All Manor of Evil in the coming weeks!
All images via Surfin Meeple and it's component companies