EN: Due to the recent actions of Kickstarter with regards to its treatment of its workers and its handling of their subsequent unionization, we didn't really want to feature them so highly on our site twice a month. The Kickstarter employees have not called for a boycott, and as such, we'll continue to feature Kickstarters as part of this column and other coverage. It's often the only way smaller companies can fund their work, and we don't want to punish them for Kickstarter's actions. However, Cat will also be broadening her search try to include other crowdfunding campaigns going forward. Should the situation with Kickstarter change, or if the union does call for a boycott, we'll cease to feature the company on our site until the situation is resolved in the union's favor.

Welcome back to Cat's Crowdfunding Corner! Some updates from my last column: Scarlet Night was funded with all stretch goals unlocked. Occult and Reigns have been funded. The North Road has 7 days to go and has reached 64%. Now onto this edition. You'll notice the name has changed, or if you didn't, I hope you enjoy the new alliteration!
Board Games
Elder Shadows by pawnjoker games
https://www.kickstarter.com/projects/pawnjokergames/elder-shadows
https://www.kickstarter.com/projects/pawnjokergames/elder-shadows
Goal: $25,000
Current Percentage: 8%
Days Remaining: 8
Okay all, this one needs a lot of help. I know, I know, it's another Cthulhu game. But it's a two-player Cthulhu game, and there aren't a lot of those! It's Cultist vs Investigator in this hidden information game. However, there's more here than a simple game of cat and mouse. The replayability is high as each role has six different faction options. Who do you work for? Will you summon the old gods or uncover their secrets?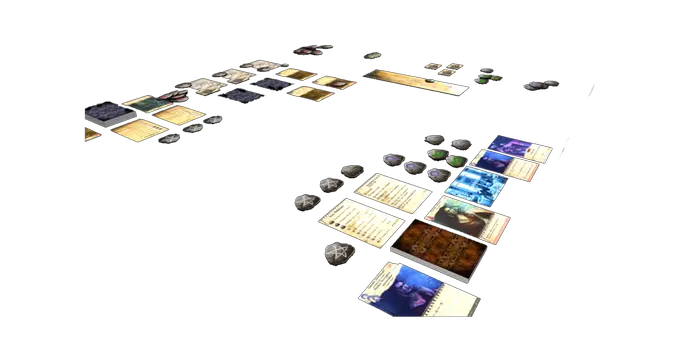 Absolute Card Game by Absolute Card Co.
https://www.kickstarter.com/projects/absolutecardco/absolute-card-game
https://www.kickstarter.com/projects/absolutecardco/absolute-card-game
Goal: $7,016
Current Percentage: 26%
Days Remaining: 11
Uno got an upgrade! This is a card game involving numbers, where your goal is to have no numbers. Sounds really familiar, right? This time, though, some of the numbers are negative, which sounds a lot less familiar. Instead of matching the card player before you, the goal is indicated by the Absolute. All cards played must be between the Absolute and zero. There are plenty of special cards and rules as well, so you'll need to stay on your toes. The board is designed in such a way as to help streamline that process. The game as a whole has a very minimalist and sleek design.
Tabletop RPG
The Last Will and Testament of Obediah Felkner (For DCC RPG) by Thick Skull Adventures
https://www.kickstarter.com/projects/1726155168/the-last-will-and-testament-of-obediah-felkner-for-dcc-rpg
Next Stretch Goal: $5,500
Current Percentage: 77%
Days Remaining: 13
This is a full adventure for 4-6 Level One players in the Dungeon Crawl Classic system (an old school system from Goodman Games that hearkens back to 1st Edition D&D). It's a western adventure involving the players receiving the mine of Obediah Felkner. Even though they never knew him… Oh, it's also a horror game. This final stretch goal includes information on a certain entity, in the form of a patron. I won't say too much, but if you want spoilers for this spooky adventure, they are listed for you. If you want to get into the spooky spirit and start a new DCC game, this will definitely help with both.

Accessory
The Catastrophes of Blightmoor by Bear Clan Creative
https://www.kickstarter.com/projects/blightmoor/the-catastrophes-of-blightmoor
Next Stretch Goal: $20,000
Current Percentage: 68%
Days Remaining: 8
These minis are gorgeous. While the main push is for the awe-inspiring dragons, there are also smaller monsters available at the lower tiers. Though, honestly, a 16-inch multi-headed dragon is very tempting… The minis will require assembly and painting, but the dragons come with backstories to help you integrate them into your game. Thanks to stretch goals, a map of the swamp region they call home, Blightmoor, will now come with all pledges that offer freebies. If the final stretch goal is unlocked, the minis will not require glue for assembly. Check these out for your next swampy fight.
Wild Card
The Red Dragon Inn: Allies – Piper vs Ripsnarl by SlugFest Games
https://www.kickstarter.com/projects/slugfestgames/the-red-dragon-inn-allies-piper-vs-ripsnarl
Goal: $10,000
Current Percentage: 488%
Days Remaining: 17
If you didn't know before, I love Red Dragon Inn. I get so excited every time they add new characters, and this time is no different as they add a pair of wild warriors straight from the Battle For Greyport deckbuilder. If you are unfamiliar with the game, Red Dragon Inn is what happens after a group has finished fighting (or more recently, doing) evil (there's a special pledge level for you neophytes, which get you both the new characters and the original game). There is drinking, gambling, and rough housing. Piper is a sharp shooter and Ripsnarl is a werewolf. We've had a wolf before, but as a pixie's companion, never as a player on their own. And as far as archers go, we haven't had one yet. Now it is even more possible to play as the character of your dreams. And oh, since these are characters 48 and 49, I cannot wait to see what happens for number 50!
Stay tuned for my next column, when we'll look at some of the best crowdfunding campaigns of October!
Images via their respective owners