When people think of European game companies, their thoughts tend to immediately go to Germany. After all, one of the biggest board game conventions in the world occurs at Essen every year, and many of the all-time classic board games like Settlers of Catan and Carcassonne originated there. But France is no slouch in the gaming department, and in recent years board game companies from all over the Hexagon have been making themselves known in a big way.
One such company is IELLO (pronounced like the color), which began life in the north-eastern city of Nancy as a distributor before expanding in 2008 to develop their own games. They hit "the big time," so to speak, in 2011 with the monster (pun intended) hit King of Tokyo, creating IELLO USA shortly thereafter to handle their stateside operation. Fifteen years (as of yesterday) after they entered the business, IELLO has become a major player in the industry and is frequently discussed alongside much older companies like Rio Grande Games or Days of Wonder. I had a chance to meet with IELLO at GenCon, where I got the scoop on their newest tabletop releases.
Release: September 2019
Ninja Academy is the newest addition to IELLO's Mini line of games, which also includes Tem-Purr-A and Ninja Taisen. In this game, you are battling it out with fellow students to show your skill and become the strongest ninja or them all. Believe it! The game involves two different kinds ninja tasks: collective trials, which involve all players, and duels, which only involve two players at a time. Duels don't leave everyone out, however, as those ninjas not in the duel can vote for a winner and earn points if their chosen ninja wins. These tasks take many forms, but my favorite is probably the one I was shown at GenCon, where you have to get your ninja meeples into the correct positions to earn the points. But you do this by physically rolling them like dice, trying to get them to fall in the different poses before your opponent. There's a lot of very cool economical things in the game that lets IELLO pack a lot into a small package, including using the inside of the box as the Ninja Dojo where many tasks take place.
Ninja Academy will be available on IELLO USA's store as well as retailers nationwide starting in September, with a retail price of $14.99
Retail: $14.99
Decrypto, for those unfamiliar, is one of IELLO's games produced in partnership with Quebecois company Le  Scorpion Masque. It's a party game where two teams work to decrypt codes being sent to them, as well as those intercepted from the other team. One player on each team gets a card with numbers laid out in a certain order, and they have to use clue words to help players figure out the numbers of their code. If they succeed, they get a white spot, but if they fail, they get a black spot. The game ends when a team gets two of either color, with ties decided by guessing the other team's words. It has a very retro aesthetic, with lots of blocky numbers and pre-GUI computer elements, and the new expansion adds to that. Laser Drive adds in new category cards that players have to use when giving out their clues. If a player gives all three clues in that category, they get a red laser token that can eventually be used to try to guess one of the other team's words. If they succeed, they'll get as white marker and be halfway to victory. It adds a new element of creativity to the game, as well as upping the level of cross-team deduction that goes on (plus it gets to remind us all that laserdiscs existed).
Decrypto: Laser Drive went out to IELLO's Platinum retailers (special stores that carry ALL of IELLO's games, sometimes a month earlier than others) on August 29th, where it goes for $14.99. You can check and see if one such retailer is near you here, with a wider release set for late September.
Ishtar: Gardens of Babylon
Release: October 24th
The biggest release at GenCon, both in size and level of excitement, was Ishtar: Gardens of Babylon, the latest game from French designer Bruno Cathala (7 Wonders Duel, Five Tribes). Inspired by the famed Hanging Gardens of Babylon (one of the 7 Wonders of the Ancient World), Ishtar tasks you with the transformation of the Mesopotamian desert into a beautiful garden. The gameplay is a unique mix between an engine builder, a worker placement game, and an area control game, as you use your planted flowers to earn gems that help you upgrade your garden to earn progressively greater rewards and plant better and better trees, while also blocking the other gardeners from building up their own copses.
The game is visually stunning, really capturing the mystery and beauty of Ancient Babylon without exoticizing it. There's little meeples for both the trees and the apprentices, who have little crooks in hand. The flowers and trees you can plant are shaped in specific ways, and they fit on the sort of circular gird that is laid out on the desert board. The different tree varieties are mystical and whimsical at the same time, with their size and beauty growing as they increase in value.
Ishtar: Gardens of Babylon releases to your FLGS on October 24th, with an online release set for November 4th, and will retail for $49.99.
Retail: $29.99
Little Town is a resource management game that has players become the mayor of their own town and develop it into a great place to live. It's a lightweight game, meant to played in under an hour, and is aimed more at families than other more complicated or cutthroat games of a similar type. Players place their workers around the board to gather food (wheat and fish) or building materials (wood and stone). They then use them to build buildings around your town, each of which has a special benefit.
But you can't just place them willy nilly: not only can other players benefit from buildings you build with their own workers, you have to make sure that your buildings don't but up against theirs, or else you'll have to pay the troll toll. There's a tight four round limit to the game, and by the end of it the player with the most victory points wins.
Little Town is available both online and at your FLGS.
Loki
The newest addition to the IELLO family is the LOKI brand of children's games. They've devoted an entire team of designers to the games, many of whom have worked on award winning IELLO releases like The Mysterious Forest and Sticky Chameleons. Meant to be engaging and stimulating, the games are playtested by kids at every step of the process (though they can be fun for adults as well). The ultimate goal of the brand is to introduce young kids, and their families to the game mechanics present in their more complex games for older players. The first two games released in the line were Farmini, an entry level tile placement game, and Little Battle, a "child's first card drafting" game.
Retail: $19.99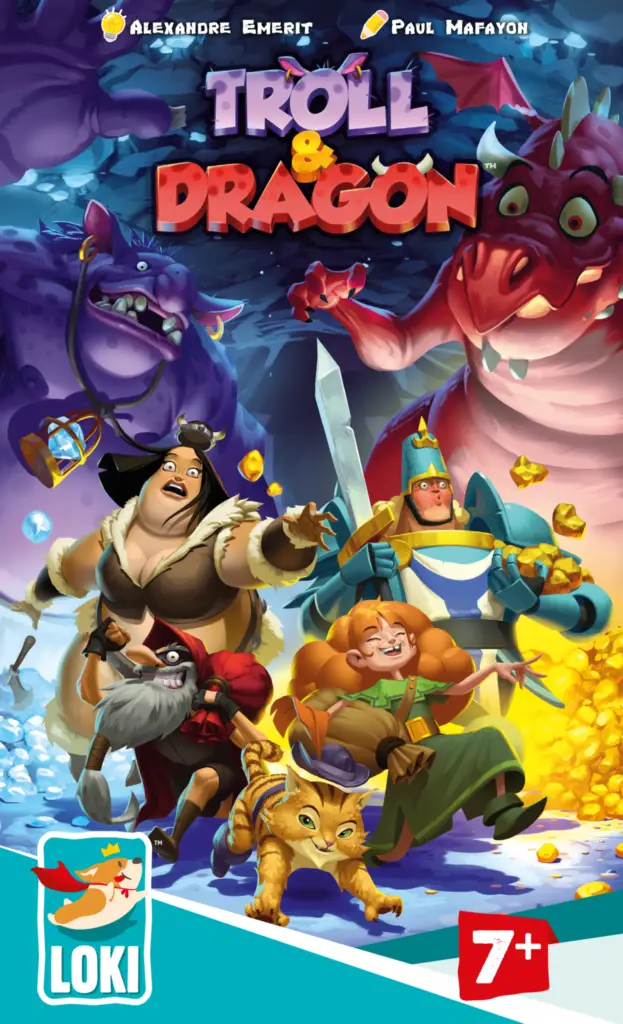 The first new addition to the LOKI family shown at GenCon was Troll & Dragon, a cartoony press your luck game about theft. Tasked by the king to gather diamonds and gold nuggets for the royal treasury, players have to enter the lairs of the titular beasts in order to gather the precious items. The game is centered on dice rolls, with the dice deciding the amount of treasure you get. In theory, the more you roll the more you earn. However, you have to beware the hungry troll who locks your dice and makes them unusable. You can always stop as well, putting your loot in your bag for safe keeping. Should you get lucky and enter the gold-filled treasure room, you'll be racing your teammates to gather gold before the Dragon wakes up and makes you share. It's a quick and fun little game with simple mechanics and adorable artwork.
Troll & Dragon released to brick-and-mortar stores on August 29th, and should become available online by the end of September.
Retail: $29.99
SOS Dino is a bit bigger than other games in the LOKI line, and as such has the ability to introduce several mechanics to young players like tile placement, movement, miniatures, and co-op play. In this game, players have to help the (extremely cute) dinosaurs escape the lava from an erupting volcano. Each turn, a tile is drawn from a bag and placed on the board. The lava tokens all have  markers that change which way the lava is flowing, letting players predict its movement (to some extent) and move their Dino to safety.
But the dinos can't just move to the safety of the mountains, they also have to rescue the clutches of eggs that are on the board and in the direct line of the lava flow. There's also, as always with dinosaurs, meteors falling from the sky that threaten you as well. While it's aimed firmly at younger kids, the game has already picked up a periphery demographic of older players who enjoy it for the cute minis and fun gameplay. They've even found ways to make it more difficult, like drawing two tiles each turn or, sadistically, actively trying to get their dinosaurs consumed by lava.
SOS Dino released to your FLGS on August 29th, but if you don't have one (or they've already sold out), you can pre-order from IELLO. Those will ship on September 12.
Sneak Peeks
In addition to the in depth looks I got at the above games, I also got to learn about a couple other new things that IELLO was working on.
"Cybertooth" is the fourth Monster Pack for King of Tokyo and King of New York (it's compatible with both), and introduces the character of Cybertooth, a massive transforming robot straight out of Beast Wars. He's a fierce berserker who can harness his rage for power, or become lost in it. The pack introduces the Berserk Die, which is not exclusive to Cybertooth and can be used in any game of King of you might play
"Cybertooth" is currently sold out on IELLO's store, but you can keep an eye on there for news on restock.
The long awaited expansion to IELLO's freaky-deaky deckbuilder The Big Book of Madness, The 5th Element is still being kept largely under wraps by IELLO. They've released some small photos, but nothing big yet. However, they did share with me a promo card that's part of the expansion, "The Spirit of Christmas," that gives a possible glimpse at the new additions coming to the game.
The new expansion is slated for a February 2020 release, and more information on the game will be coming in October of this year.
There's still more coming down the line from IELLO, so keep an eye on The Fandomentals for all the latest on IELLO and the world of tabletop.
All Images via IELLO USA