Ten minutes into the first episode of Netflix' new reality series Say I Do, host Jeremiah Brent says "you just didn't know that it was gonna take three small gay men" to make dreams come true. If that feels familiar it's because this show is from the producers of the Queer Eye reboot but set in Cincinnati and Indianapolis. What Brent should have said though is that three small gay men were going to make everyone cry!
Say I Do follows interior designer Jeremiah Brent, fashion designer Thai Nguyen, and chef Gabriele Bertaccini as they pull together a surprise dream wedding in just a bit over a weeks time. We meet the groom and their partner (sometime brides, sometimes grooms) as they talk about their lives and experiences since the other half thinks its just about their love story.
Halfway through the episode though, the other partner finds out that they're actually getting married! The first episode follows couple Marcus and Tiffany whose first wedding seven years ago ended in disaster when they had to evacuate because the venue caught on fire!
The rest of the episode shows our favorite three gayngels coming together to make Marcus and Tiffany's dream wedding come to fruition with Thai designing a beautiful black dress that honors Tiffany's father with purple crystal to honor her only sister, who both passed away unexpectedly within months of each other. Gabriele works to create a soul food inspired menu that's also healthy because Marcus has type 1 diabetes. Jeremiah works to make the venue just like Tiffany wants, or as she calls it, the eternal date night.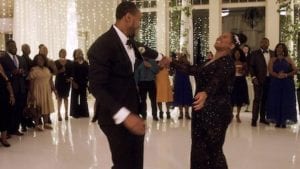 Of course, the show wouldn't be from the Queer Eye producers if it also wasn't about getting everyone to be vulnerable, including the hosts. Between the emotional stories confessed by Marcus and Tiffany, we also learn from Gabriele about his experience being diagnosed with HIV. Something he definitely didn't have to share but he chooses to open up and connect with Marcus about. The show also has discussions about addiction, cancer, adoption, issues with pregnancy, internalized homophobia (the final ep is a lot), and more. It's less a reality show about weddings and more about all the intense stuff we all face in life and resiliency. Which is to say when you watch, be ready with tissues and comment below if you need or want specific warnings.
Say I Do to Vulnerability
This vulnerability and true emotional connection continues throughout the first season. Elsewhere we have a heart to heart between Thai and the others about whether or not he'll get to have a gay wedding like Jason and Jonathan in episode six. As a Vietnamese man, it's harder for him to fully express himself to his family. There's a lot more that we learn about our hosts, but you have to watch to find out exactly what.
Unlike the majority of shows about weddings, Say I Do, like its spiritual sibling Queer Eye, is really about the people in the show coming together to be there for someone. Of course in the latter show, part of that absolutely is the whole makeover shtick. Both shows too are primed to feed off of the audience's emotions for very obvious reasons. Similarly, this show uses the wedding as a backdrop to work through a whole lot more for the couple in what feels like a long-lasting way.
Yet, just like Queer Eye is about letting the person's inner beauty and personality through, Say I Do is about bringing a couple and their loved ones together to celebrate their dedication to one another in spite of, and maybe precisely because of the intense experiences that they've all gone through.
As Jeremiah tells Entertainment Weekly the connective tissue between everybody is love.
"The year before I actually got married to my husband, I wasn't allowed to be married," Brent shares. "The irony now [is] of these couples from all different walks of life, from all different colors, sizes, sexualities, trusting these three loud gay guys to come in and not only trust them with one of the most important days in someone's life, but to trust them with their story, which is the part that I don't think even we anticipated: the vulnerability, the honesty. I think we all believe the connective tissue between everybody is love and that's really at the heart of what this show is about."
Beyond the emotion and intensity, the show is also plain hilarious. The number of times I let out an unexpected laugh just in the first episode alone…It's a good thing that I don't have roommates or they would have been super annoyed. Essentially it's the best kind of emotional roller-coaster operated by the three hosts who have the best chemistry and what is clearly a true friendship.
I really only have two major complaints. The first is that Netflix seriously needs to green light a show with lesbians saving the day! Come on, it's 2020. There's no way there aren't lesbian interior designers, fashion designers, and chefs! Obviously I'm joking. We all know they exist. Related, if this is renewed, give me two brides!!! The list continues.
The second complaint is that like any reality show based around emotion, there's a lot of confessionals going on to pull the audience into the show. Yes, vulnerability is important, no, necessary for a show like this. However, I don't actually need to know every awful thing that's happened unless the couple really wants to bring it up themselves.
Even so, I found Say I Do truly enjoyable and one of the better series offered on Netflix, which as you may know, I've been watching a whole lot of recently.
I mean, I cried, and I never cry.
Images courtesy of Netflix