If you want a cooking show to watch with recipes that don't have sixty-two steps because you're pressed on time but still want filling and tasty meals, Nadiya's Time to Eat is the show for you!
Catapulted to household popularity in the UK and around the world, most know Nadiya Hussain, a Bangladeshi cook from Luton from when she won the sixth series of The Great British Bake Off. After winning Hussain signed contracts with BBC and has hosted the documentary The Chronicles of Nadiya, Nadiya's British Adventure, Nadiya's Family Favourites, and co-presented The Big Family Cooking Showdown. She's also written a number of books and is just a complete superstar!
Released during Ramadan on Netflix (which is the only reason I haven't reviewed it until now), her newest series Nadiya's Time to Eat gets right to the point. Nadiya teaches viewers quick and easy recipes that make multiple servings for busy individuals and families. Each episode features multiple recipes. One recipe uses an ingredient that Nadiya actually goes directly to the source to learn about which is super important because cooking with local ingredients has an incredible impact on the food ecosystem. She also visits people around the UK to teach them recipes too.
Described as including "various time-saving kitchen hacks" in recipes designed to save time and stay within a realistic family budget, the show's seven episodes have a number of incredibly appealing recipes that all of us can make!
Narrated by Nadiya, each episode is nearly 30 minutes of pure unpretentious cooking fun and each hack is realistic, unlike the stuff that shows up on Facebook or Youtube. Plus the recipes look so delicious.
A strawberry milkshake funnel cake? It's like she read my mind! Or the egg rolls below? I'm already salivating!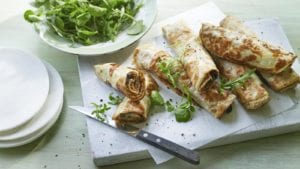 Y'all wanna know how good this show is? I have watched literally thousands of hours of Food Network competition shows and how to cook shows, and this is the first time I've wanted to actually make a recipe shown on screen. Nadiya knows her stuff and it's so fun watching her because she's incredibly effervescent. Since she keeps halal, I can actually make all of her recipes without needing to alter them! And, since the shortcuts are tricks she uses in real life, the show is "true and very real" to her own life and therefore much more believable than what is generally shown on TV.
More importantly, the people she teaches how to cook are from a variety of backgrounds and I really appreciate that. The budgets then vary too. Anyone watching can find something that they can cook for themselves that feels genuinely good to eat without any of the shaming that usually goes along with "hacks" around food.
Additionally, it's clear she's super thoughtful about what recipes to recommend to each family she helps. For example, she helps an Indian woman learn how to create a quick jackfruit curry. Anyone who knows anything about South Asian food knows it usually takes literal hours to make well and is one of the most significant parts of our culture. To cut that time in half and help a busy woman figure out how to make culturally relevant food for herself and her family is awesome. Plus we get to see Nadiya's lovely family too.
I have no idea how much control Nadiya had on the direction of the series, but her love for cooking and cookery specifically is clear. The show feels like a love letter to the genre and to her audience all around the world. I can't wait for my next grocery trip to buy ingredients to try out some of her recipes.
Nadiya's Time to Eat is available on Netflix and BBC Two.
Image courtesy of Netflix.