Have you ever wanted to vacation and stay in an Airbnb before? Maybe in a firehouse in New York City, or a fancy boat with views to "die for"? That's the premise of a Netflix original titled, aptly, Stay Here. Starring Genevieve Gorder (HGTV) and real estate expert Peter Lorimer, the show released in 2018. The two hosts traveled to a number of unique first-time renters teaching them how to make their properties appealing to people from all over the world.
While the show is entertaining and the properties highlighted are truly unique, it (like other shows) legitimizes Airbnb and rental property value propositions. That is, renting out your property for added income is a good thing. The first of these shows, Income Property literally was about homeowners renovating areas of their homes to create rental suites to generate additional revenue to cover their mortgages (and the cost of the renovations).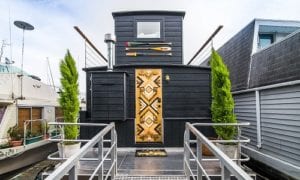 Airing from 2008 to 2016, Income Property ran while Airbnb started and grew to a point that two million people were staying with Airbnb a night in 2019. To my recollection, while Scott McGillivray did not advertise to his clients the rental suites as short-term properties, I would be shocked if none of the homeowners did not go that route as Airbnb grew in popularity.
On the other hand, Australian Instant Hotel (available on Netflix) follows teams of Australian homeowners competing for the title of having the best instant hotel based on the experiences the other homeowners have at each team's property. Of course, they couldn't call the show Best Airbnbs, but all the properties are in fact hosted on Airbnbs and other short-term rental sites. Unlike Stay Here which involves a true design and renovation process, Instant Hotel's judges provide feedback that along with contestant suggestions are used by the top two scoring teams to adjust their properties for a second stay.
As someone who clearly watches a ton of renovation shows, I was intrigued by the reporting around Airbnbs and landlords who were flipping the front door out about losing their income. Obviously losing your job during a pandemic sucks, but landlord is not actually a job. Providing housing for people is not a job! So Airbnb hosts and landlords having a bad time has been one of the unprecedented side-effects from COVID-19 worth talking about more in detail.
Airbnb Collapses
As stay at home orders and rules came down across the world, for obvious reasons, Airbnbs and other properties lost their value immediately. Who was going to stay in these rental units if no one was vacationing?
As Airbnb hosts started to flood the rental market in attempts to recoup some of their costs, people began to track just how much of the market was held up in these short-term rental properties. Some hosts were moving their listings to other short-term websites for month to month renting. In Spain and other European countries, officials stated that the Airbnb slump means cities can return to residents! Many cities and entities have rightfully blamed Airbnb for raising rent around the world and the flood of one year rentals revealed at once just how many properties are held up by these hosts.
Now, I understand that some hosts are just renting out a guest room and I can almost feel sympathetic for those hosts since it was added income for their own mortgage. I have no sympathy for the hosts who own multiple properties. AirDNA estimates that one-third of hosts own one property, one-third own two to 24 properties, and the remaining third owns more than 25 properties. More than 25! 
Think about the number of people who currently don't own their home or aren't even paying towards a mortgage on the property. Obviously there are a number of reasons for people choosing not to own property (or their inability to due to the sheer costs associated with homeownership) but part of it is absolutely the number of properties held up by start-ups or apartments that are really just hotels! Not that I even believe we should have to pay rent, but that's an article for another day.
Real briefly though, many landlords sent notices about rent since the crisis started, with one illegally looking up whether their tenants had received their stimulus check! (They're getting sued.)
Ultimately, home design shows about renovating for added income make up far less of the home renovation show market and due to COVID-19 are not making an appearance on HGTV or streaming anytime soon. Still, they legitimized the proposition made by Airbnb and its consistent assertion that the majority of its hosts are sharing their own homes. Even in the face of evidence that clearly shows otherwise. Hilariously, in the wow this is awful way, this year Airbnb was supposed to do a deep dive into all of its properties to prove to the rest of us that its properties are all listed accurately.
If all the apartments turned hotels turned back into apartments don't make it back onto the platform, maybe they'll get closer to that dream.
Images courtesy of Airbnb