Rock, paper, scissors is one of the first games we learn in life. Whether you're making bets or just trying to figure out who has to do the dishes, it's just something woven into the fabric of our lives. So, naturally, board game designers have come up with ways to make it even more complicated.
Designers Josh Cappel, Jay Cormier, and Sen-Foong Lim have come up with a formula that adds just a little bit of strategy to game with Rock, Paper, Wizards, where D&D players use variations on the basic hand gestures to barter over dragon gold. That formula was revisited in 2020 with WWE: Headlock, Paper, Scissors, which translates it into a wrestling ring where the hand signs are used as stand-ins for wrestling moves. And now, Wizkids has brought the three back together once more for a new spin on the game: Rock, Paper, Heroes: Enter The Danger Room.
What's In The Box?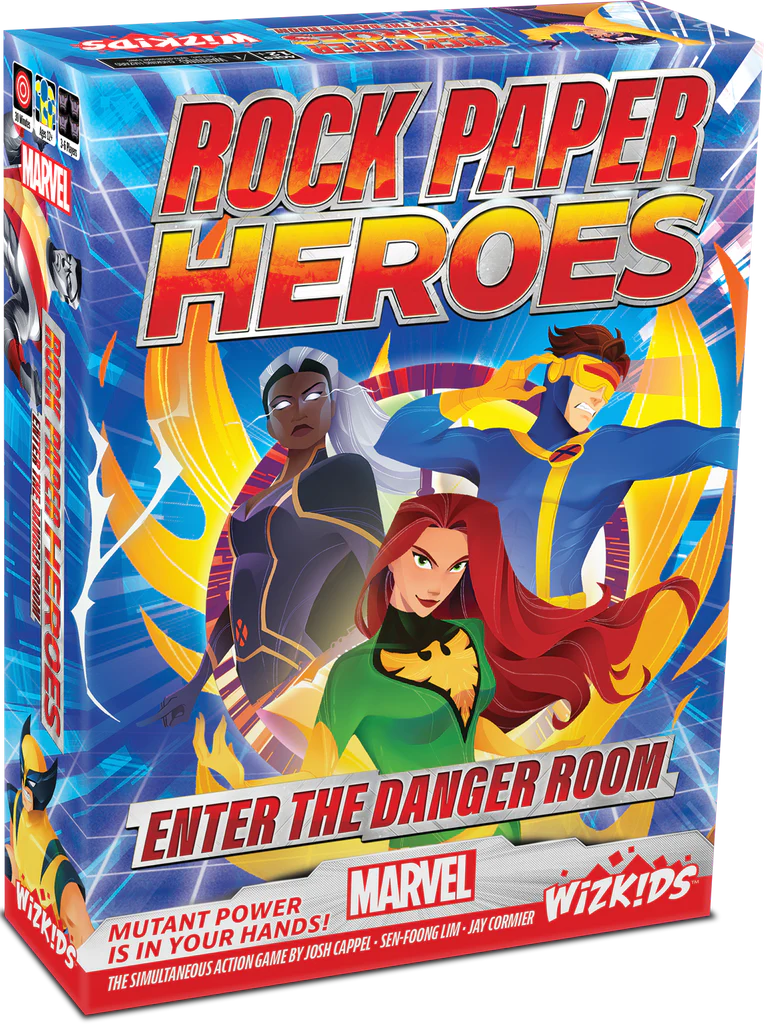 Danger Room Board
8 X-Men Playmats : Jean Grey, Cyclops, Storm, Wolverine, Colossus, Rogue, Kitty Pryde, and JubileeEac
8 X-Men Standees
8 Plastic Stands
20 Technique Cards
9 Hazard Cards
1 Initiative Token
30+ Energy Tokens
30+ VP Tokens
1 Rulebook
Like most games in this format, there's not a lot to it. Each character has a "playmat" (it's a card) and a standee, and the rest of the game is centered around cards as well. The only other component is the board itself, a compact little rectangle that fits neatly into the box. The art is stylized and unique rather than robbed from the comics, and mixes a few different looks together like Scott's 90's look, Storm's more modern bodysuit, and Jean Grey's classic Phoenix costume. All in all it's got more going for it visually than you'd think a tie-in would.
How's It Play?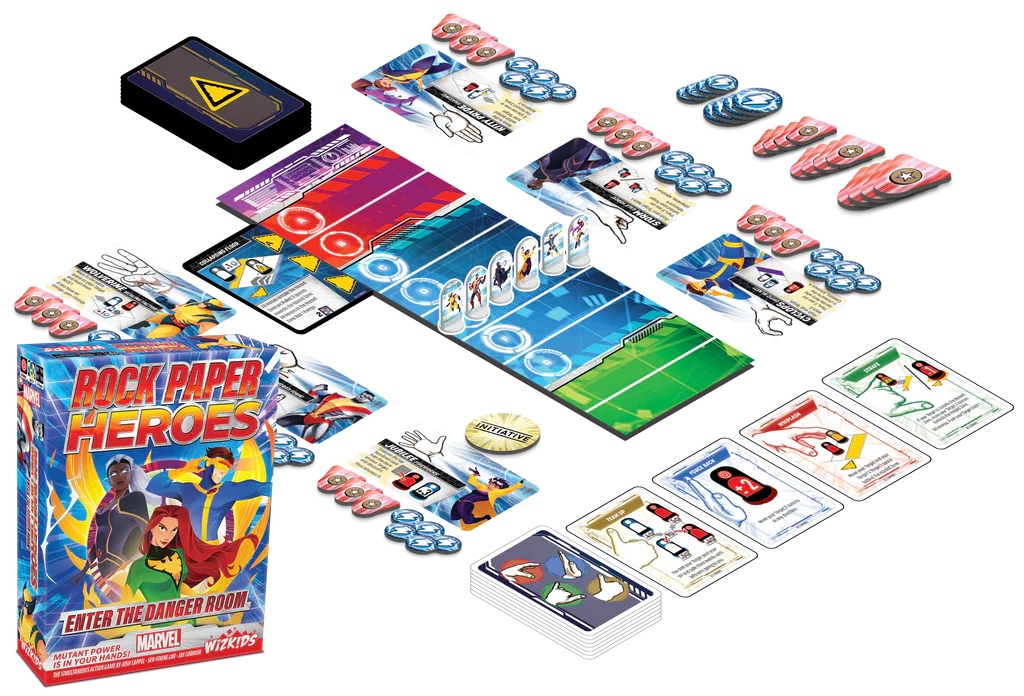 The theme of the game is that the X-Men are training in the Danger Room against a variety of simulated enemies, practicing their techniques for the real deal. Like the other versions of this game, the competition focuses on moving towards or away from a goal, in this case the "hazard." Since these are the X-Men, being near the goal isn't about winning it's about "defeating" it, and heroes who end up in the right place deactivate the hazard and get the most points. If it's not deactivated, the effects of the hazard kick in and cause all sorts of penalties like loss of energy or victory points.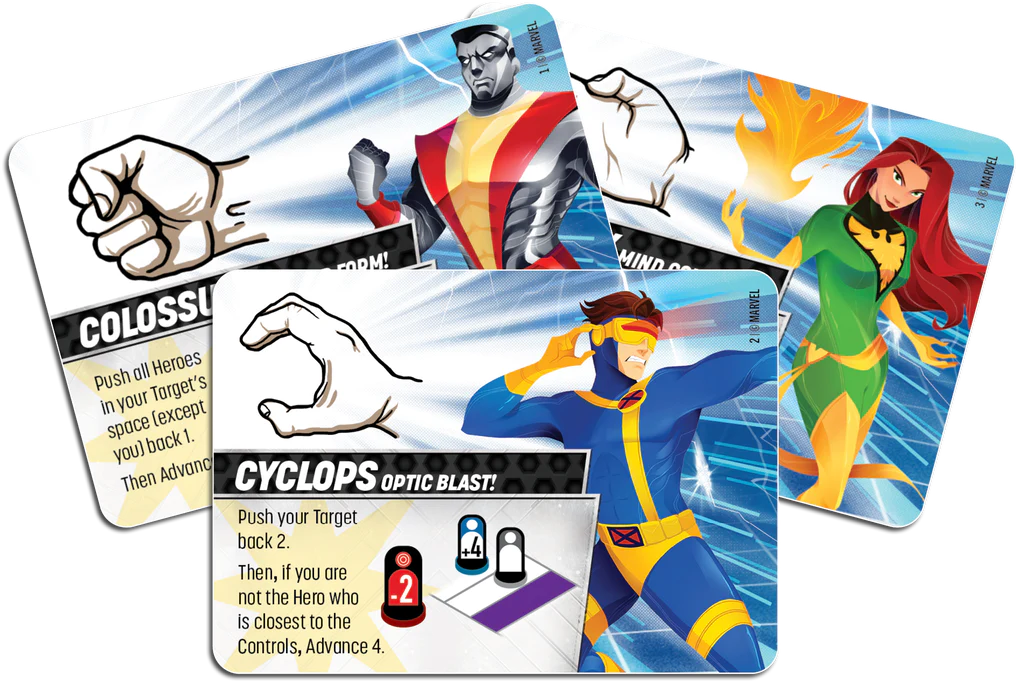 On each turn, players select a technique either from their hand or use their heroes superpower. These techniques do things like move other heroes around, cancel out other techniques, or steal energy/VP. Super powers are unique to each X-Man and are significantly better than the common techniques players can draft. These almost all have multiple effect, usually moving your character forward on the board while messing with your opponents whether through direct movement (Colossus), target control (Jean), or power copying (guess who).
You pick the technique separately, say "Rock, Paper, Heroes" and then throw. Everyone has vague knowledge of what other players might do, but there's always curve balls thrown here. Each technique has a hand sign which you don't really need, but it's part of the silliness of the game. The game goes until either the Hazard deck runs out or a player ends up with 20 or more points.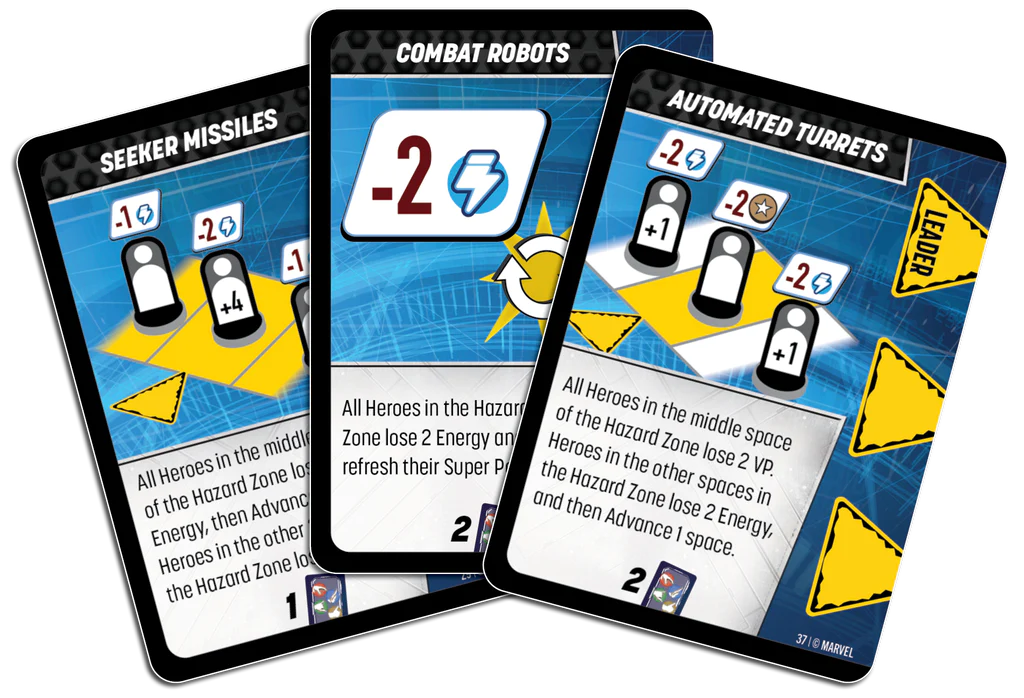 The Verdict?
Anyone who's played the previous iterations of the game will understand the gist of this one. And if you haven't, it's not crazy deep. It falls into a lot of the pitfalls most X-Men media does these days by being stuck in some sort of mélange of the 80's and 90's and thus feels a wee bit dated. But it's certainly something a little fun for X-Fans to add to their collection, and a great thing to bring out at parties or to play with younger gamers.
Rock, Paper, Heroes: Enter The Danger Room
Summary
X-men fans wanting something a little faster than other games released starring the Merry Mutants, Rock Paper Heroes: Enter The Danger Room is worth checking out. There's a lot of fun to be had in this little box, and it's an easy thing to pick up and play with other fans. Though it's not going to exactly change the world design wise, it's an admirable attempt to mix up a formula.
Rock Paper Heroes: Enter The Danger Room is set to release in Q4 of 2022. You can pre-order your copy from the Wizkids shop now, with an MSRP of $20.99.
Images via Wizkids and Disney
Have strong thoughts about this piece you need to share? Or maybe there's something else on your mind you're wanting to talk about with fellow Fandomentals? Head on over to our Community server to join in the conversation!