GenCon has returned in a limited capacity, and despite pandemic and numerous shipping issues, publishers and designers are still trying their best to chug along and get new games out. WizKids is no different, putting on a big show at GenCon as well as unveiling some exciting games coming out in the back half of this year that show just how much their board game division has grown over the years. And of course their mini selection has expanded, with new ways to customize them as well as upcoming tie-ins to The Wild Beyond the Witchlight.
Dungeon Scrawlers
Release: October 2021
A new twist on the drawing game from WizKids, this game is yet another tie-in to their partnership with Dungeons & Dragons. While it looks at first to be a roll-and-write, it's actually a competitive maze game where each player is racing to complete the maze first while also collecting loot and slaying the monsters. Each player has their own class from D&D (adorably wielding markers and erasers instead of proper weapons) and must complete mini-challenges like connecting numbers and scribbling out monsters to defeat them. There's a lot of maps in the game that escalate in difficulty, letting players build their skills as they battle through progressively more challenging mazes.
Clash of Cultures
Release: October 13, 2021
Clash of Cultures is a classic civ builder that was incredibly popular when it came out and remains a "grail" for fans of the genre, but it's been out of print for years now. Seeing a strong market for the game, WizKids bought the license and remade it, making it bigger and better than ever. Key to this is the inclusion of over 350 miniatures in the game representing all parts of cities and battles, which WizKids has stated comes from applying their own expertise in minis to the game. And the minis are quite nice, especially the cities which fit together and tangibly grow on the board!
Release: November 2021
Famed supervillain Dr. Schism has died, and his minions (you) are fighting for his fortune. Highly thematic with a fun, campy artistic flair that instantly stands out on the table, Bequest is all about knowing what cards to pass on to your neighbors and which ones to keep in a "split."
Zombie Princes And The Enchanted Maze
Release: October 2021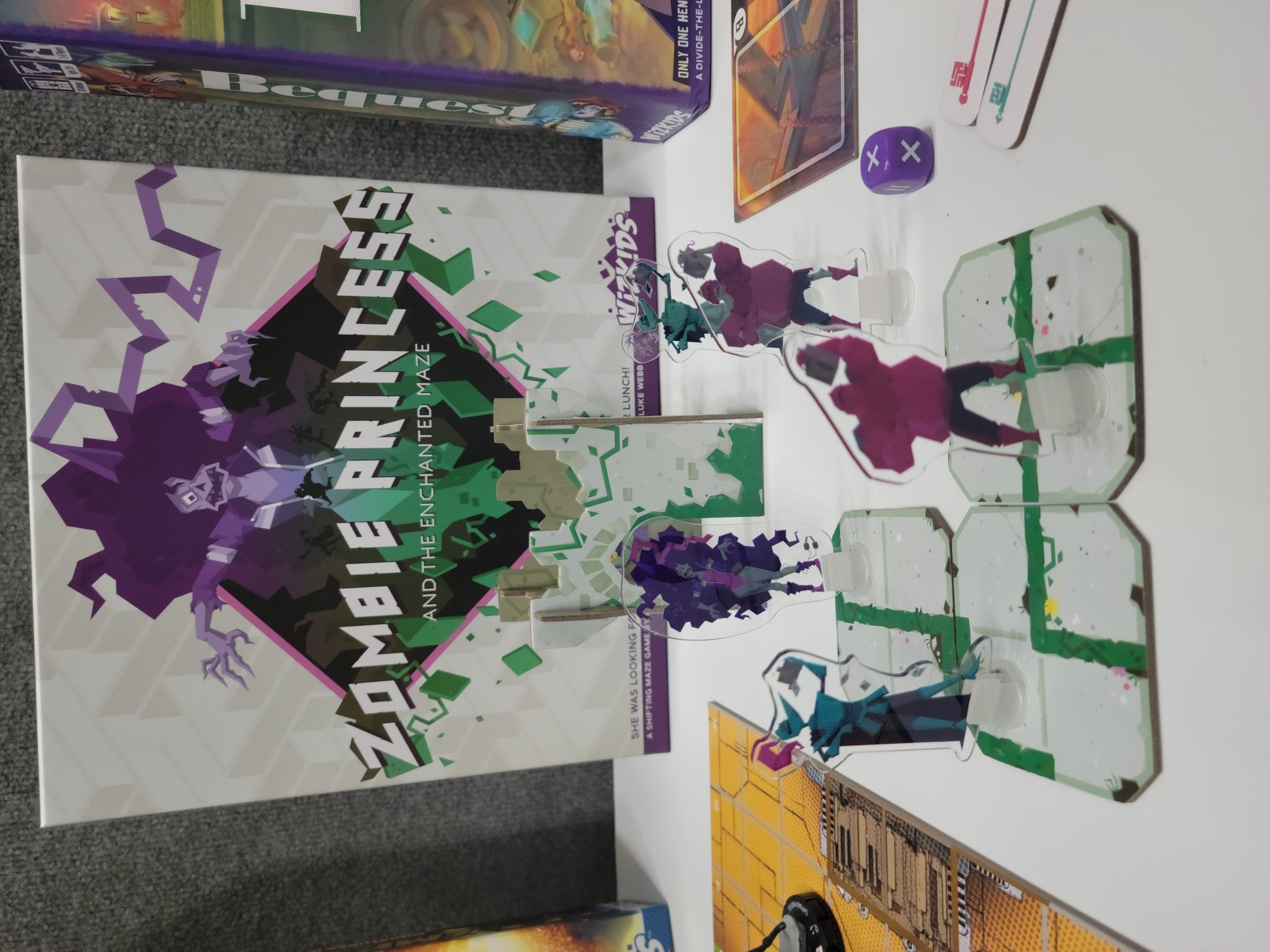 A very thematic game for October, Zombie Princess turns the whole fairy tale on its head as the knights try to escape the freshly zombified princess they THOUGHT they were going to rescue. Each turn the princess moves and each turn you, the knight, have to move the maze around so you can escape and keep her from biting you. If she does give you a love bite, you'll flip and become a Zombie Knight. This is yet another game where WizKids crosses the streams, using the 2D minis they make as a model for the pieces used in this game.
Super-Skill Pinball: Ramp It Up!
Release: November 2021
A sequel to Super-Skill Pinball: 4-Cade, Ramp It Up! adds four new formats to the roll-and write fun, each providing the fun and variety you'd expect from different pinball tables. Thanks to the flexibility of the form and easy themeing, WizKids has hinted that there may be more thematic version of Super-Skill Pinball on the horizon, but didn't elaborate further.
More Than Just Minis
Dungeons & Dragons 12″ Githyanki Premium Statue
Release: November 2021
A key emphasis for WizKids on the "minis" end of things is that they want to capture everyone from newbies to the hardcore big money crowd, and releases like this big Githyanki reflect that. Straight from an old-school D&D book and with the box to match, this high quality and incredibly hefty statue is aimed squarely at old school fans who want something nice for the mantle. A second statue, of the Efreeti from the original Dungeon Master's Guide, will follow it in January.
Critical Role Unpainted Miniatures
The pre-painted minis already released by WizKids and Critical Role have been a monster success, so a series of unpainted minis are a natural next step. This new wave of releases will dig deeper into the world of Exandria and really flesh things out for players who want a complete experience in Wildemount.
Gold Dragon "Mini" and Forest Game Mat
Release: November 2021
Everyone likes dragons, and the new Gold Dragon out in November is a real beauty. Like their other dragons, it's got a dynamic pose calculated to capture the "spirit" of the dragon. It also has an interchangeable head so you have have it breathing fire!
Also shown above is the new line of Battlemats that WizKids is launching, which have multiple terrains on top of the grid to aid in immersion. A further line of smaller battlemats will also be releasing soon to act more as backdrops for the Warlock tiles line.
Frameworks Minis
A new venture for Wizkids, the Frameworks line takes the WizKids minis and makes them similar to what you might see in more high-end wargaming. The plastic used for this line is harder than in their past unpainted minis, and allows for more details on the mini itself. The goal with these is to allow a little step up from the regular minis as well as a more extensive level of customization for players. As you can see in the Human Druid box (not final), there's a lot of options for accessories and weapons that you just don't get in a regular mini from them. While the first line will be of D&D minis, there are also plans for Frameworks releases with Pathfinder and as a setting agnostic line.
Images via WizKids
Have strong thoughts about this piece you need to share? Or maybe there's something else on your mind you're wanting to talk about with fellow Fandomentals? Head on over to our Community server to join in the conversation!