Originally airing on iON Television, CBC's Murdoch Mysteries returns to the US and other viewers on Ovation TV next Saturday, February 20 at 7PM EST.
Ovation TV kindly shared a screener of the first episode "Murdoch and the Tramp" with The Fandomentals and I'm excited to provide a (mostly) spoiler free review of the first episode and what's to come!
For the uninitiated: set in Toronto at the dawn of the 20th century, Murdoch Mysteries is a one-hour drama series that explores the intriguing world of William Murdoch (Yannick Bisson), a methodical and dashing detective who pioneers innovative forensic techniques to solve some of the city's most gruesome murders.
When we last left off Murdoch and colleagues, he and Dr. Julia Ogden (Hélène Joy) (also his wife) had just patched up after an awkward situation with one of Julia's colleagues. Elsewhere gruff Inspector Thomas Brackenreid (Thomas Craig) and wife Margaret (Arwen Humphreys) were on their way to mending their relationship after it was revealed that Brackenreid had a Black daughter, Nomi Johnston (Shailene Garnett)!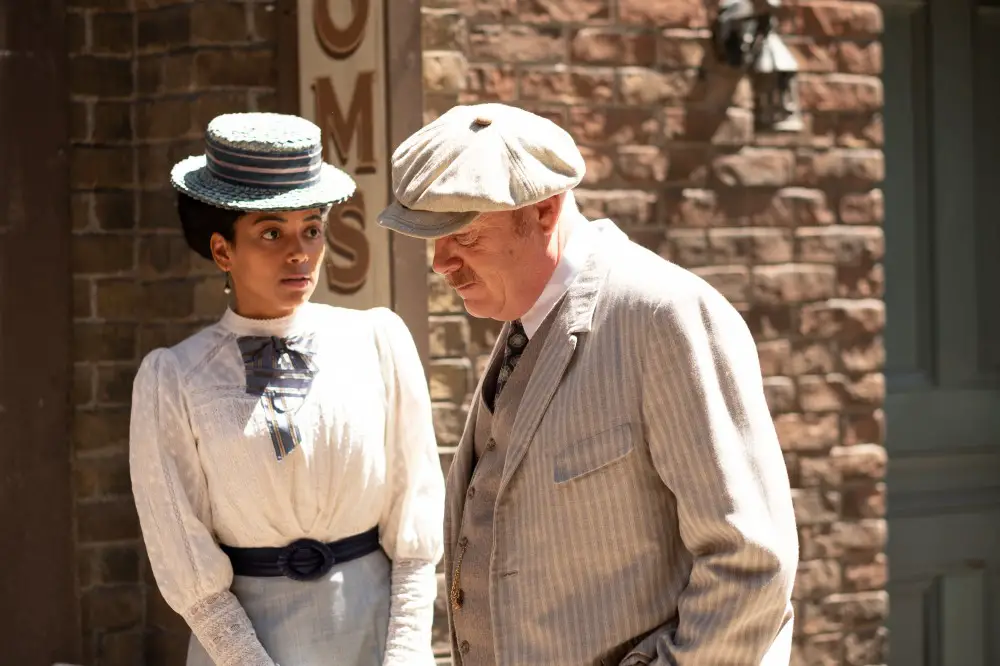 George Crabtree (Jonny Harris), our favorite Constable, had just survived a kidnapping and rekindling of his relationship with Effie Newsome. Plus we learned that Detective Llewelyn Watts is gay and has a relationship with the local butcher, Jack. Constable Henry Higgins-Newsome (Lachlan Murdoch) was celebrating married life with Ruth Newsome (Siobhan Murphy). Finally, though certainly not least, the relentlessly ambitious young coroner, Violet Hart (Shanice Banton) was forgiven for her misdeeds and given another chance to work with the constabulary.
Between the pandemic and shorter shooting schedule, this season of Murdoch Mysteries is only 11 episodes!
Murdoch Mysteries Season 14
Season fourteen of the top-rated, internationally acclaimed series continues to explore the personal and professional developments in the lives of Murdoch, Julia, Brackenreid and his wife Margaret, both Constables George and Harry and their romantic interests (Effie and Ruth), Watts, and Violet.
As this season begins, Detective Murdoch continues his inventive detective work with assistance from his most trusted associate – Julia. The first episode starts off firmly in the hilarious welcoming back the viewers space but immediately shifts tonally in the second episode as Brackenreid must solve a murder that his son Bobby is implicated in!
Never to let a wonderful historical callback to go by the wayside, the premiere introduces Murdoch and friends to a motley gang of vaudeville performers including Charlie Chaplin, Stan Laurel, and Buster Keaton after the death of an insult comedian at a carnival. Their reason for why Chaplin had his "The Tramp" character is perfect.
A Victoria Day carnival turns dour after a man falls to his death beside vaudeville impresario Obie Stratford. As Murdoch and Crabtree investigate, they meet Charlie Chaplin, a cocksure Englishman, who says the victim was an insult comic who tussled the previous night with performer Ed Ward. Ward claims Chaplin's friend Stan Laurel was also miffed and there was argument in the hotel. But as the investigation proceeds, Murdoch suspects the intended victim was actually Mr. Chaplin.

Ovation TV | CBC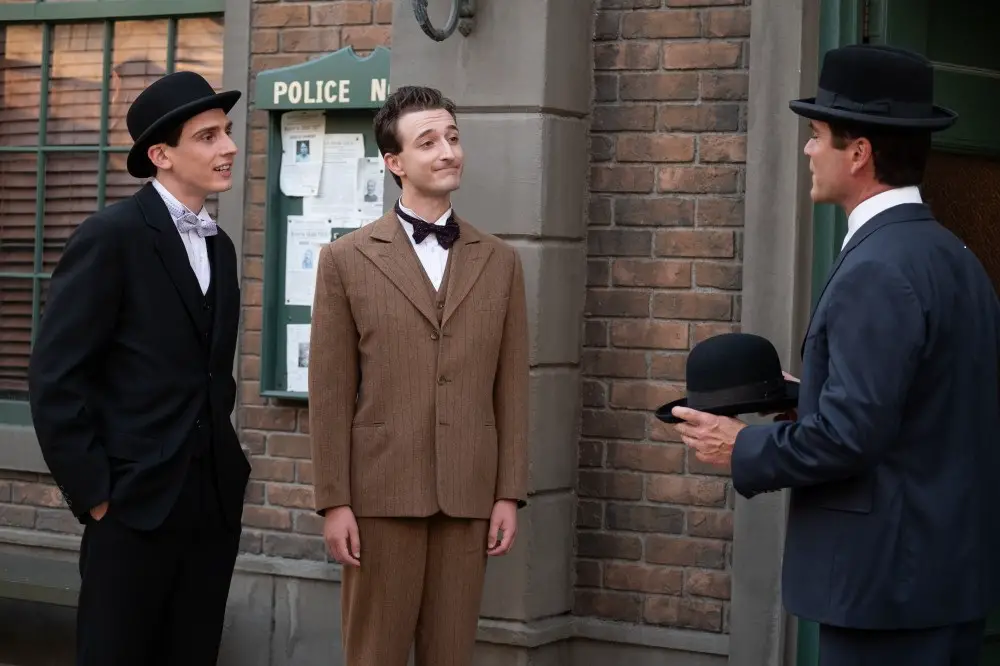 When George isn't dressed up as Charlie this episode, he's plagued by unwanted attention. George fears for his and Effie's safety when her new assistant turns out to look just like the woman who abducted him! Though she provides an excuse in the first episode, I'm suspecting that she is probably quite nefarious. Though I really hope this isn't a poorly written take on multiple personalities because nope, do not want.
Meanwhile Watts, who continues to pursue relations with his lover, Jack the butcher, finds their relationship under scrutiny that may ultimately prove intolerable and extremely dangerous. Fortunately he has his colleagues' support but who knows how much that can actually help in the early 1900s…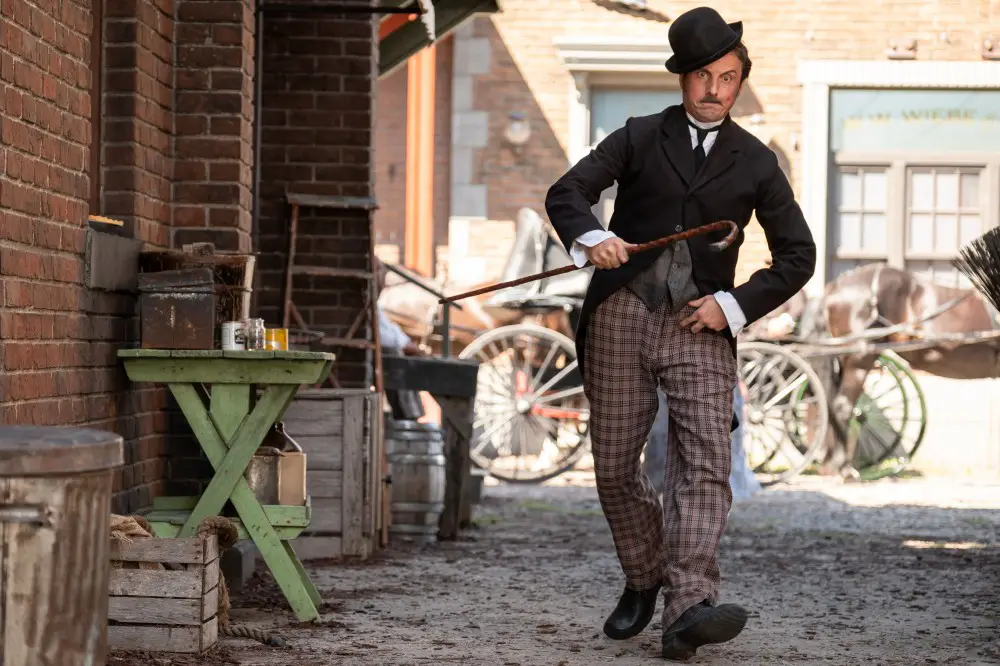 On the other hand, we also learn that Henry's ecstatic because Ruth is pregnant, but anyone who knows Ruth knows that she'll be quite demanding, which will not go well on their combined salary and inheritance. Later in the season this will lead to a major tiff and give Ogden a taste of Ruth up close.
Unfortunately, or fortunately depending on how one looks at it, Violet Hart begins to expand her personal world through a courtship with wealthy playboy, Arthur Carmichael (James Graham), whom we meet in the first episode and who enjoys the scandal caused every time he appears with Violet in public. (Yuck!)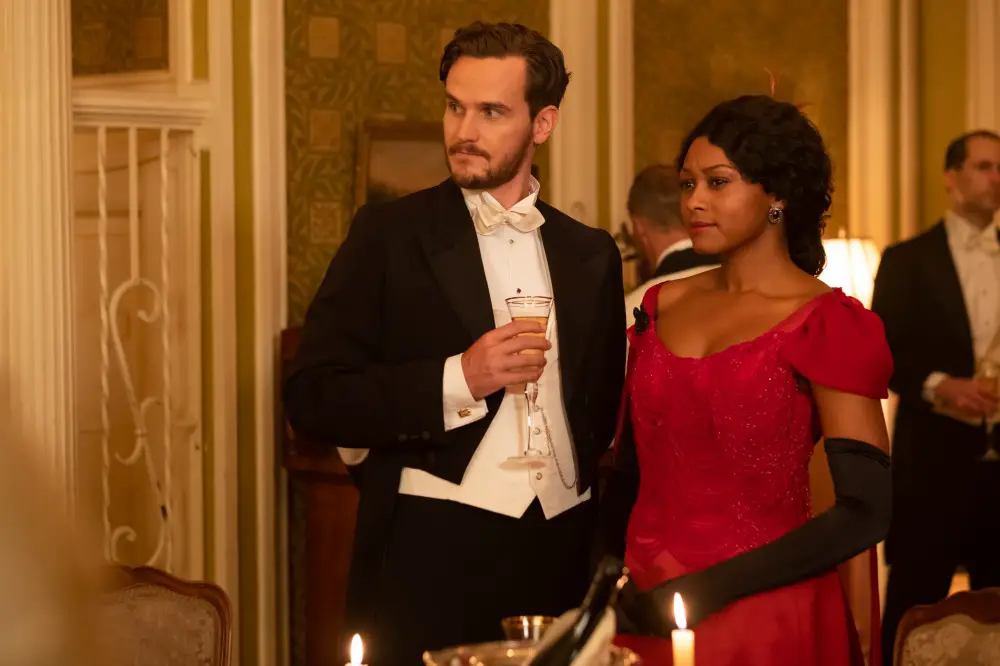 This is the perfect continuation of the writers' exploration of what a Black woman may go through in the early 20th century, and specifically of Violet's character who we know has done a number of things to get ahead in life. Only time will tell if this relationship will be mutally beneficial or leave Violet burned and worse off.
Returning guest stars include Colin Mochrie as Private Investigator turned murderer Ralph Fellows, Peter Stebbings as intrepid entrepreneur James Pendrick, who finds himself abducted by unlikely adversaries, and Peter Keleghan as spy Terrence Meyers, who frantically enlists Murdoch and Ogden to find the missing man. All are well loved characters and their return gives the long-time audience something extra to look forward to.
Future episodes include the group trying to escape from a room set to blow — and I love escape rooms so I cannot wait — as well as run ins with other past characters and major trials for some of the characters.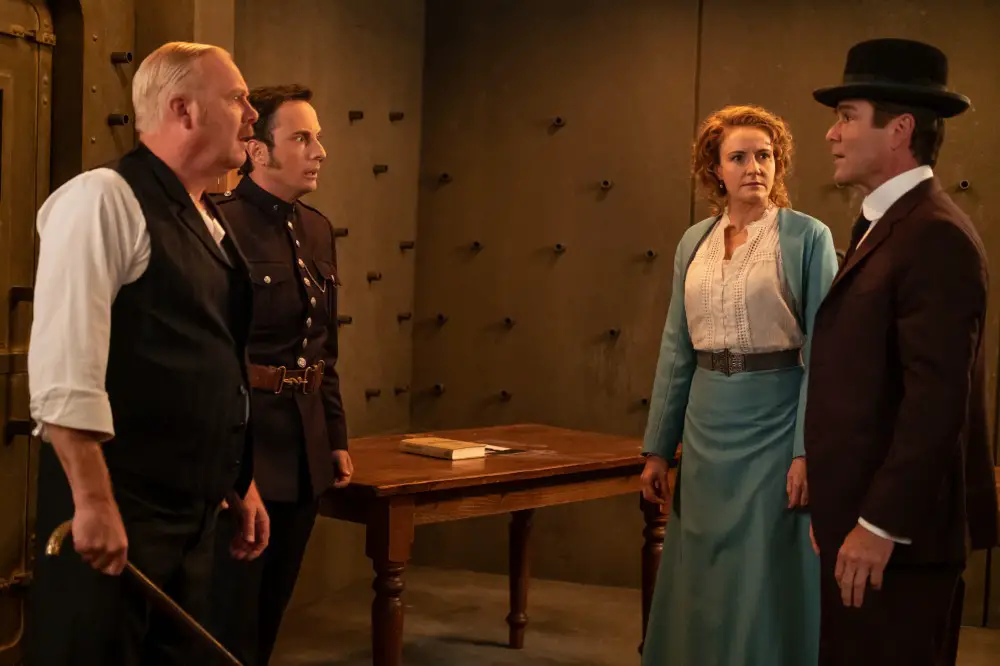 The biggest "spoiler" (though this is listed on the Ovation TV site) is that Murdoch and Julia will ultimately come across a son he never knew about through an investigation! Considering the long-term through-line of Julia's inability to have children, a surprise son may be a boon neither expected. However it could also fall apart entirely depending on how old this son is and what happened to his mother.
Having seen conversations on Canadian Twitter about the recently aired episodes, they're clearly laying the crumbs for this plotline. Even in 14×01 there's a lovely conversation between George and Murdoch about their reactions to Harry (and Ruth's) big news.
For any avid fans of Murdoch Mysteries (like me!), this season is shaping up to be intense and jampacked yet fun season with plenty of emotional moments and science, which is precisely what the show is famous for.
For viewers that need to catch up on past seasons, Ovation TV has made seasons eleven, twelve, and thirteen available and free to watch under the Mystery Alley banner on the Ovation NOW app and at http://www.ovationtv.com/watch. These seasons are available now and will be available throughout season fourteen's run.
Images courtesy of CBC and Ovation TV.
Have strong thoughts about this piece you need to share? Or maybe there's something else on your mind you're wanting to talk about with fellow Fandomentals? Head on over to our Community server to join in the conversation!