There's art in making a game that gets its audience to laugh every few moments naturally, never mind during a murder mystery. Loco Motive from Robust Games released its demo during LudoNarraCon, and I don't think I've ever laughed so hard. Mixing beautifully illustrated pixel art and animations, item based puzzles, and with the option for interactive character control or a point and click experience, Loco Motive is a delightful entry to the world of adventure comedy games.
I cannot get over Lady Unterwald's voice, it's so perfect! I can't wait to hear how the entire cast sounds when the game is released.
Loco Motive follows three different characters trying to figure out who killed Lady Unterwald moments before she announced who would receive everything after her death. The demo begins with her untimely murder and her lawyer Arthur Ackerman's interrogation by one clearly terrible detective and one maybe slightly better one.
The introductory puzzle sets up the major mechanic for Loco Motive: scenes require one of the the playable characters to investigate the area and find items or information to help them move forward. In this case, Arthur needs to find something to help get the keys closer to him. However it's not as easy as find an item and get moving. Instead, Arthur has to find multiple items and combine them to get the keys!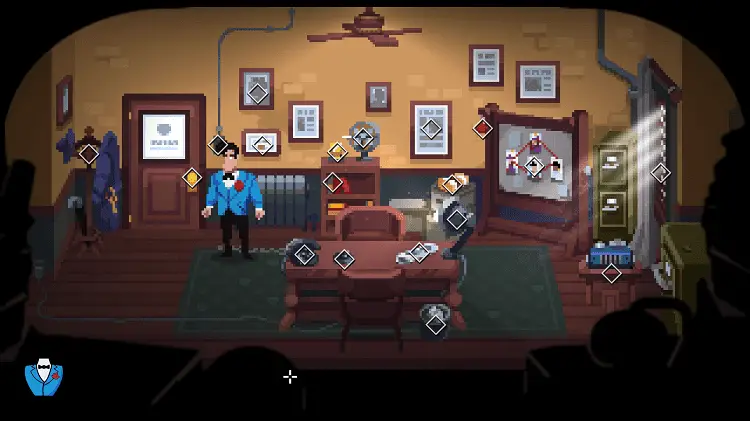 Combining items is an added layer of interaction, prompting players to experiment with different items and situations. As a huge fan of hidden object games that do the same, I really enjoyed the first puzzle and the others that we get to try in the demo, though I won't spoil those.
After a puzzle where we have to help Arthur get out of shackles (seriously! shackles!) we flash back in time to the night of the murder on the Reuss Express and what Arthur was doing before and after the murder. The rest of the demo (and likely much of the game) takes place on the Reuss Express with a few moments in the interrogation room.
One of the best parts about Loco Motive's design is the dedication to sense of space. When you move as one of the characters, it takes time to move through each cabin and the train itself moves in the other direction as it should!
We are also introduced to our two other playable characters, Herman Merman (I cannot get over this name) and Diana Osterhagen. Arthur actually spends more time interacting with Herman, a self-described detective and crime novelist dreaming of solving a real case. The archetypical characters are a delight, and I am ready to delve deeper into who each one is! Which leaves our third character, Diana who is a spy! A British operative, she's undercover trying to get close to the Unterwald family.
The only problem is all three of our characters are the main suspects! Bringing us back to the start where we play as Arthur trying to escape the shackles. This implies to me that we'll have many scenes with the detective who can't detect and the one who maybe can but isn't all that helpful either, as each character tells them what they know.
We also get a glimpse of bedrooms in the train, the casino, Lady Unterwald and Arthur's room, the baggage area, and the kitchen. The last of which has some of the funniest interactions of the game yet. I really hope we'll get to spend more time with that crew.
The demo ends with Arthur being yoinked into a special room, implying there's much more to uncover than just who killed Lady Unterwald (and if she's dead at all?). Loco Motive originally started as a 2-week game jam project and received a strong reception from the gaming community and media, leading to its eventual publishing by Chucklefish. Obviously, the game has grown leaps and bounds since the original short demo, and I'm hopeful for the final product being just as hilariously fun as the demo available now!
Wishlist the game after playing the demo on Steam! You can follow the game's development on Twitter.
Images and review copy courtesy of Robust Games and LudoNarraCon
Have strong thoughts about this piece you need to share? Or maybe there's something else on your mind you're wanting to talk about with fellow Fandomentals? Head on over to our Community server to join in the conversation!