My foray into subscription boxes continues with the famous Grove Collaborative.
Like other Instagram users I've seen numerous sponsored posts by influencers brandishing their newest items from Grove Collaborative, usually cleaning or other housing knick-nacks. However the company is so much more than just cleaning products!
Grove started as an idea between three friends talking in a spare bedroom in San Francisco: what if it was easy to find healthier home essentials? The belief that what we bring into our homes contributes to that homey, cozy feel prompted them to try to make their idea a reality. Welcome to Grove. We're here to help you create your best version of home with ease and enjoyment.

Grove Collaborative
I decided to go ahead and try their products after seeing that Jeremiah Brent (who was one of three hosts on Netflix' Say I Do and will compete with his husband Nate Berkus on HGTV's Rock The Block season 2) and one of my favorite designers had his own collection!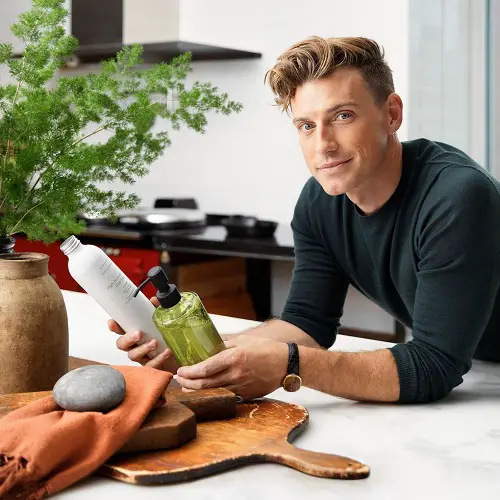 Fortunately for me and new customers, Grove Co. offers a few different "sets for free" which are collections of different bundles as long as you spend over $30.
As Brent explains in an interview,
We used natural fragrances, soy wax, organic cottons—all of that stuff is really important to me. And my house is a very design-centric home, so everything that you bring into the house has to really rise up. We care about the way things look, whether it's a soap or a candle, or a hand towel.

House Beautiful
Sustainability and healthier living are cornerstones for Grove Co. and Brent which makes purchasing items from Grove Co. on a subscription system guilt-free and effortless too. They'll even be plastic free by 2025!
Jeremiah Brent x Grove Co. Collection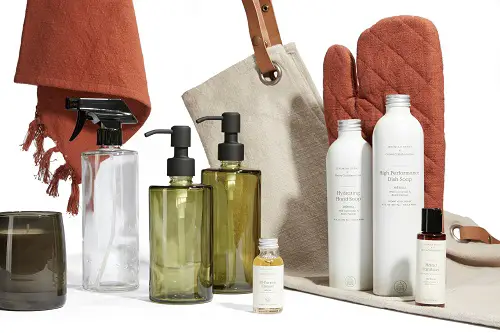 The Free Jeremiah Brent X Grove Collaborative Collection set came with the following items:
Hydrating Hand Sanitizer in the Jeremiah Brent Merida Scent, originally $4.95
Grove Co. Walnut Scrubber Sponge (comes in a 2-pack), originally $4.95
Kitchen Towel (Jeremiah Brent), originally $7.95
Glass Hand Soap Dispenser (Jeremiah Brent), originally $16.95
Hydrating Hand Soap (Jeremiah Brent), originally $5.95
This was a nearly $41 bundle and once you click through the offer, Grove Co. suggests a number of items which automatically adds another free bonus item after reaching $38.
All Purpose Cleaner Concentrate + Spray Bottle Set (Jeremiah Brent), originally $24.00
However, I did not want or need any of the suggested items and removed them to instead add the following items to my cart which of course had to include a Mrs. Meyer's product which I'm pretty sure every influencer parent (and others) on the planet use to clean now.
"Careyes" Soy Candle (Jeremiah Brent), $19.95
Marble Sink-Side Tray (Jeremiah Brent), $17.95
Mrs. Meyer's Dish Soap (Peppermint), $3.89
I love candles and can't have them because I live in school housing so I rarely purchase them but I knew I needed to get it before it was out of stock for future use. I have lit it once and it smells just like the description, beautiful! I'm definitely going to order the Merida candle for my mom.
Careyes blends together notes of old world vanilla, cinnamon bark, sweet mandarin, and dried thyme for a room-filling scent that's both warm and inviting. It's vegan, paraben-free, and cruelty-free, and has a natural fragrance made from essential oils and other plant-based ingredients.

Grove Co.
The marble tray is something that I would have never bought otherwise but it got me to the $30 threshold required to actually get the free bundle and free shipping, plus it's sparkly and more beautiful than the photos even show. Mine now sits in my dorm bathroom elevating it from sad dorm to dorm-chic, plus it holds all my Farmacy Beauty minis and skin-care products perfectly!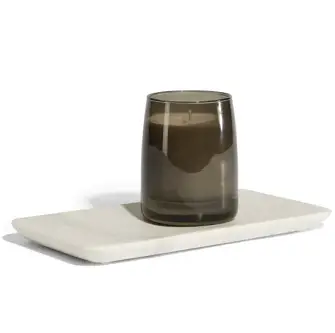 Thus with a little bit of finagling, I received 9 items for a total of $39.56 compared to the almost $110 had I not been a new subscriber and picked the free set.
Overall I'm incredibly happy with my purchases. Glass items are obviously better than plastic for if I ever want to recycle them. I can upcycle them a hundred ways before I need to get rid of them entirely, and like Brent plan to put flowers in the candle once it's finished burning. Both the spray bottle and soap dispenser are gorgeous. And with the way things have gone in trying to get disinfectant and cleaning products, having items that I can reuse to put my own products in after I'm done is great!
The smell of peppermint when I'm doing dishes is also wonderful because I am the person who goes through an unnecessary number of candy cane boxes during the holiday season.
If you're looking for more sustainable cleaning products and other lifestyle products, Grove Co. is the perfect place to start.
Have strong thoughts about this piece you need to share? Or maybe there's something else on your mind you're wanting to talk about with fellow Fandomentals? Head on over to our Community server to join in the conversation!
Images courtesy of Grove Co. and Jeremiah Brent.