Steamforged Games (Ni No Kuni II, DARK SOULS The Board Game) has made collectible video game adaptations their bread and butter, with highly detailed minis a key part of that. And Horizon Zero Dawn, the PS4 hit from Guerilla Games released in 2017, was an easy sell for their market thanks to the unique designs of both the post-apocalyptic world and the giant machine monsters that inhabit it. A big success on Kickstarter, the original game has gotten several expansions released. I'll be handling those in future pieces, but for now I want to focus on the core game, which Steamforged was nice enough to send me to review.
What's In The Box?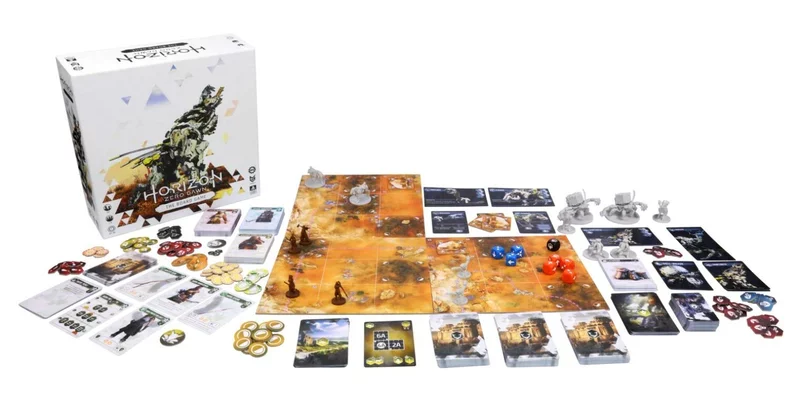 4x Hunters (Nora Marksman, Carja Warrior, Banuk Survivor, Oseram Forgesmith)
4x Watchers
4x Striders
4x Grazers
4x Scrappers
2x Shell-Walkers
2x Sawtooths
8 dice (4 orange, 3 blue, 1 black)
6 Encounter tiles
13 Tracking Deck Cards
17 Event Deck Cards
20 Stamina Cards
54 Salvage Cards
108 Merchant cards (36 per level)
5 Rocky Outcrop/Ruin cards
6 Machine Data Cards
11 Machine Behavior cards
124 assorted tokens
4 Hunter Profile cards
4 Skill Tree cards
12 Starting Equipment cards (3 per hunter)
64 Action Deck cards
52 Upgrade Cards
WHEW. Yeah, this is a BIG game, which definitely goes a ways towards justifying the price tag ($110). But all of those components are absolutely gorgeous. Super well made, bright, easy to read. The one downside is that a lot of the art used for the items are clearly just art from the game. You can even see Aloy holding some of the weapons or wearing bits of armor. For a licensed game, not a huge issue (the concept art used in the book is pretty regardless), but still a bit off.
The minis are, like all Steamforged releases the main draw here, and I'm sure some people out there buy this JUST for the minis. The hunter minis are well detailed but the Machines are where the true work went in. Super chunky in the hand, they feel more like resin statues than normal minis. If you're the painting sort, you can really do a lot to make these look identical to the ones in the games.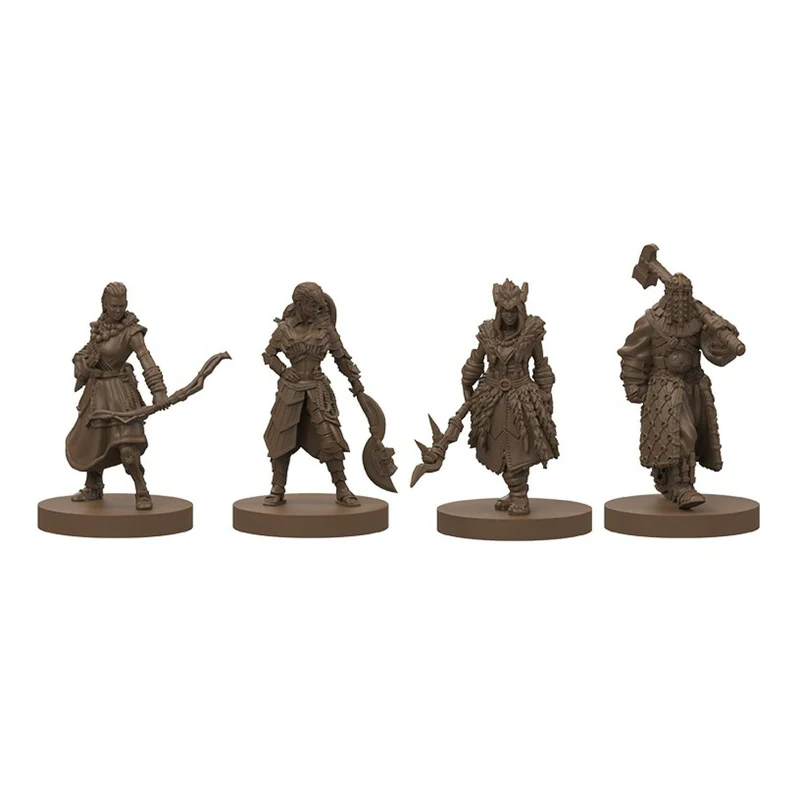 How's It Play?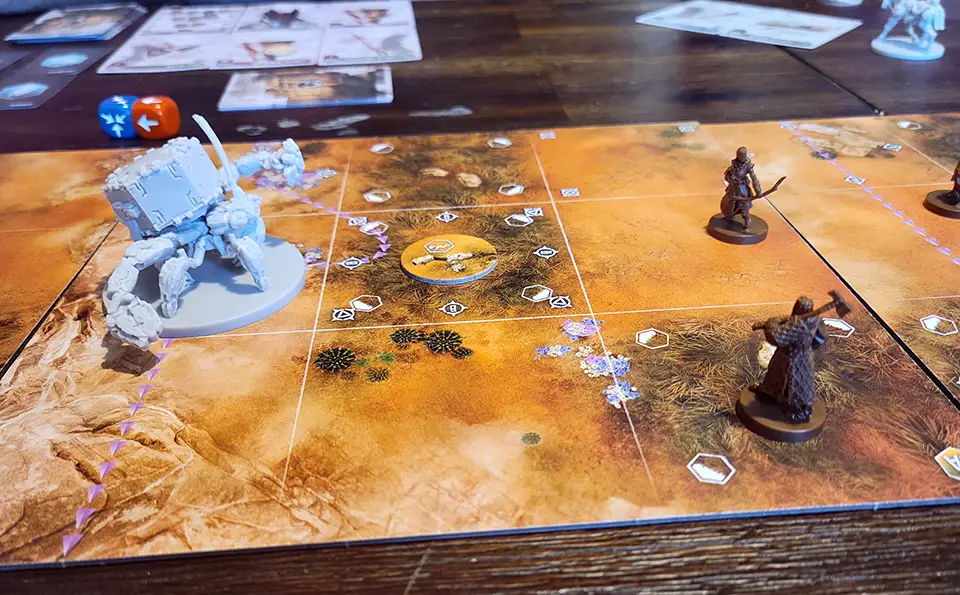 At it's core, this is a skirmish game akin to Unmatched, were you have to keep track of the cards you're drawing and then keeping track of your action points as you play cards and carry out their effects. But rather than being a simple "go here and fight a thing," Horizon Zero Dawn instead has players work through different scenarios that represent the different hunts. Each hunt requires you track a particular machine as a Quest, which in the base game is always the Sawtooth. Each encounter is preceded by a Tracking step, where the location of the encounter will be and certain events occur, and followed by the Campfire step, where you can upgrade your items, gain new skills, and visit merchants.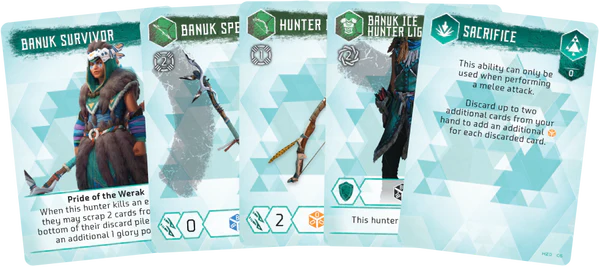 Each hunter has a set deck of cards and starting equipment, which you cycle through each encounter and modify as you go with loot, purchases, or experience. The four hunters each have a certain specialty, like the durable and melee-focused Forgesmith or the fragile but powerful Carja Warrior. Attacks all have a card attached to them, and weapons require the right ammo to use. Combining these abilities and effects are key to survival.
Enemies in the encounter scale over time, and all have abilities they can threaten your hunters with. These abilities follow a simple "if-then" structure based on things like distance or number of enemies, a fun bit of small programming that makes them feel a bit more robotic. Most of them also have weaknesses that, like in the game, can be exploited to disable certain abilities; take out a Shell-back's cargo and get some loot, take out a Scrapper's radar to disable its ability, etc. The enemies move on the different tiles along set paths, and it's up to the players to know the perfect time to aggro them off the path and start a fight. Because once you do…hoo boy they are hard to beat.
The biggest wrinkle in the hunt is that the game isn't 100% co-op, which unfortunately is also the most aggravating aspect of the game. See, while everyone is working together to hunt and survive, you're also all representing your tribes and trying to win glory through epic feats (what that means differs between hunters). So kill steals and stupid bravado are sort of encouraged. The role of "leader" changes regularly as well, and whoever is doing the worst gets to often hurt the leader or other players with their selection of events AND scenarios in the Tracking step. This game would make SO MUCH sense as co-op, and it does have a sort of tacked on co-op ruleset, but it just feels like a waste.
The Verdict?
This game was a blast, and I'm saying that as someone who hadn't played the original game at the time. The players who had played the game had even more fun connecting the dots, picking up the references, and engaging with the world of Horizon Zero Dawn (though were rather disappointed that Aloy and other characters were Kickstarter exclusives). Everything about it is made to the best possible quality, and fans of minis and mini painting will have a lot of fun adding these to their collection.
Gameplay is pretty easy to pick up and the encounters scale well, meaning you learn over time and have some breathing room before things get difficult. No one class is too overpowered, and can do well in tandem or on their own. Each enemy has enough variation to not be repetitive, and the simple AI means they can prove a challenge even if you think you have things down. You might lose, you might win, but I guarantee you'll feel the thrill of the hunt by the time the game ends.
You can grab copy of Horizon Zero Dawn as well as its expansions on the Steamforged shop, with the base game available on Amazon and at your FLGS.
Horizon Zero Dawn: The Board Game
Summary
For fans of Horizon Zero Dawn, you couldn't do much better when it comes to games. While highly collectible for fans, it can stand on its own thanks to fun and highly variable skirmish gameplay that's only enhanced by the theme. While it might not be the co-op game you want for proper teamwork, it's a thrilling game that would fit well in anyone's trophy case.
Images via Steamforged Games and Guerilla Games
Have strong thoughts about this piece you need to share? Or maybe there's something else on your mind you're wanting to talk about with fellow Fandomentals? Head on over to our Community server to join in the conversation!