Ni No Kuni II – The Board Game is a cooperative kingdom building game for 1 to 4 players. Players will work together to go on quests, fight monsters, and grow the kingdom to be prepared to defeat the boss monster. Ni No Kuni is known for its popular role playing video game published by Level-5 in Japan. This game takes the same characters to make a family friendly family weight game that can be played by almost anyone. Although Ni No Kuni II – The Board Game is far different from the video game, it still has its place in many tables around the world.
Steamforged Games is known for Guildball, Dark Souls: The Board Game, Resident Evil 2: The Board Game, more recently Bardsung, and their newest game coming to kickstarter Rivet Wars Reloaded. We hope to bring to you information and reviews of these other titles, but Ni No Kuni II: The Board Game is a great start to see the variety of games that Steamforged Games publishes.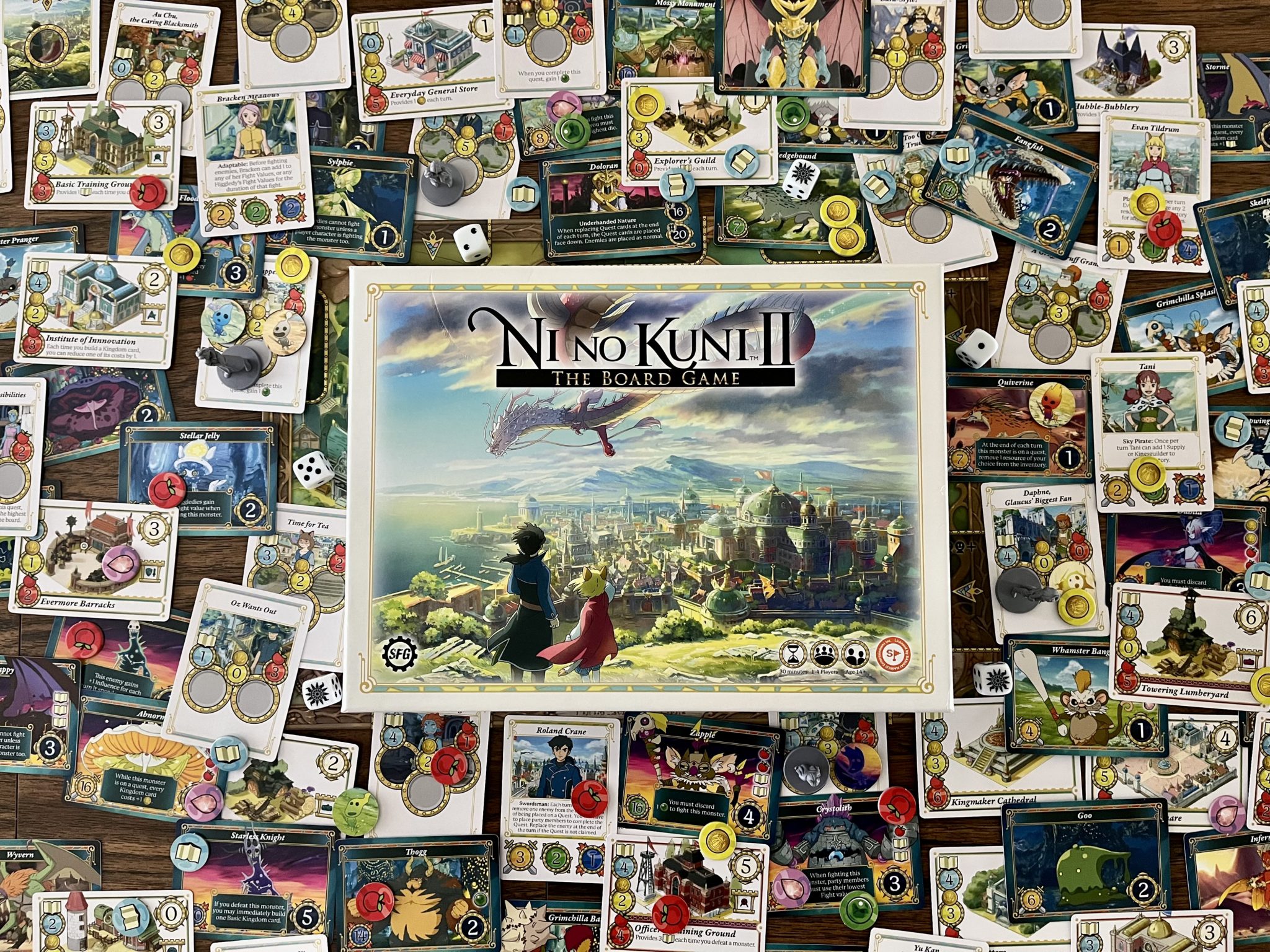 What's in the Box?
4 Character Miniatures
4 Character Cards
6 Higgledy Tokens
19 Basic Kingdom Cards
9 Upgraded Kingdom Cards
40 Quest Cards
34 Enemy Cards
2 Boss Cards
1 Evermore Board
40 Resource Tokens ( 10 Experience, 10 Kingsguilder, 10 Supply, 5 Angel's Tears, and 5 Someway Sweets)
5 Turn Tokens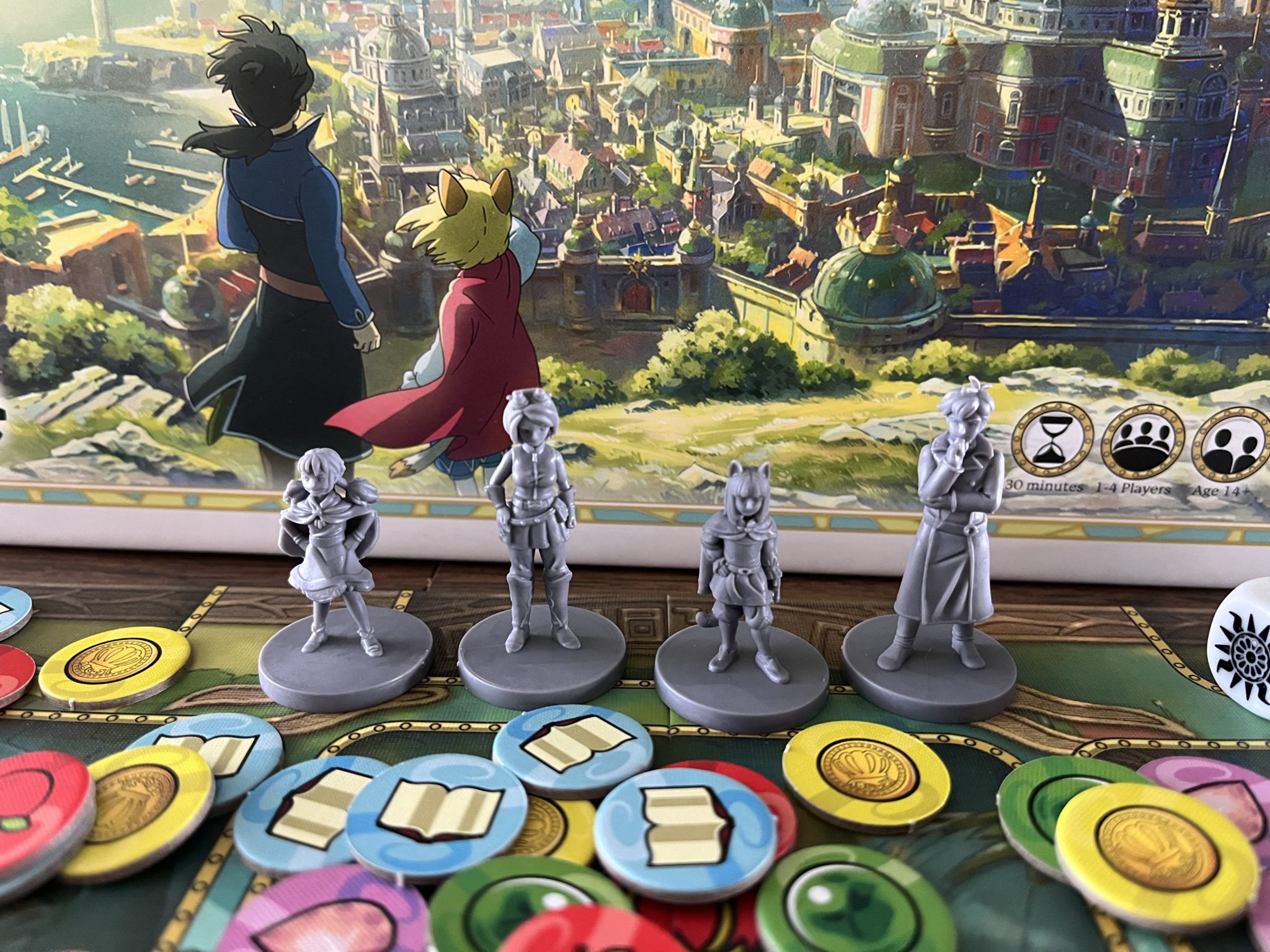 How's it Play?
Ni No Kuni II is a cooperative game, meaning everyone is working together to fight the monsters and ultimately the boss character. There are two bosses in the game, but during setup only one will be chosen to play against. Players all share resources in a giant pool, and decide together how to use them during the game. Players also decide together where to place their characters and higgledies to defeat the most enemies.
Each player takes one of the character cards and its matching miniature. Each character has their own fight values, as some can fight against specific type of enemies more easier. These values are: physical fight, ranged fight, and magical fight. Some characters are better or worse at different fight styles. In addition, each player will also have a number of Higgledies that will help fight with them.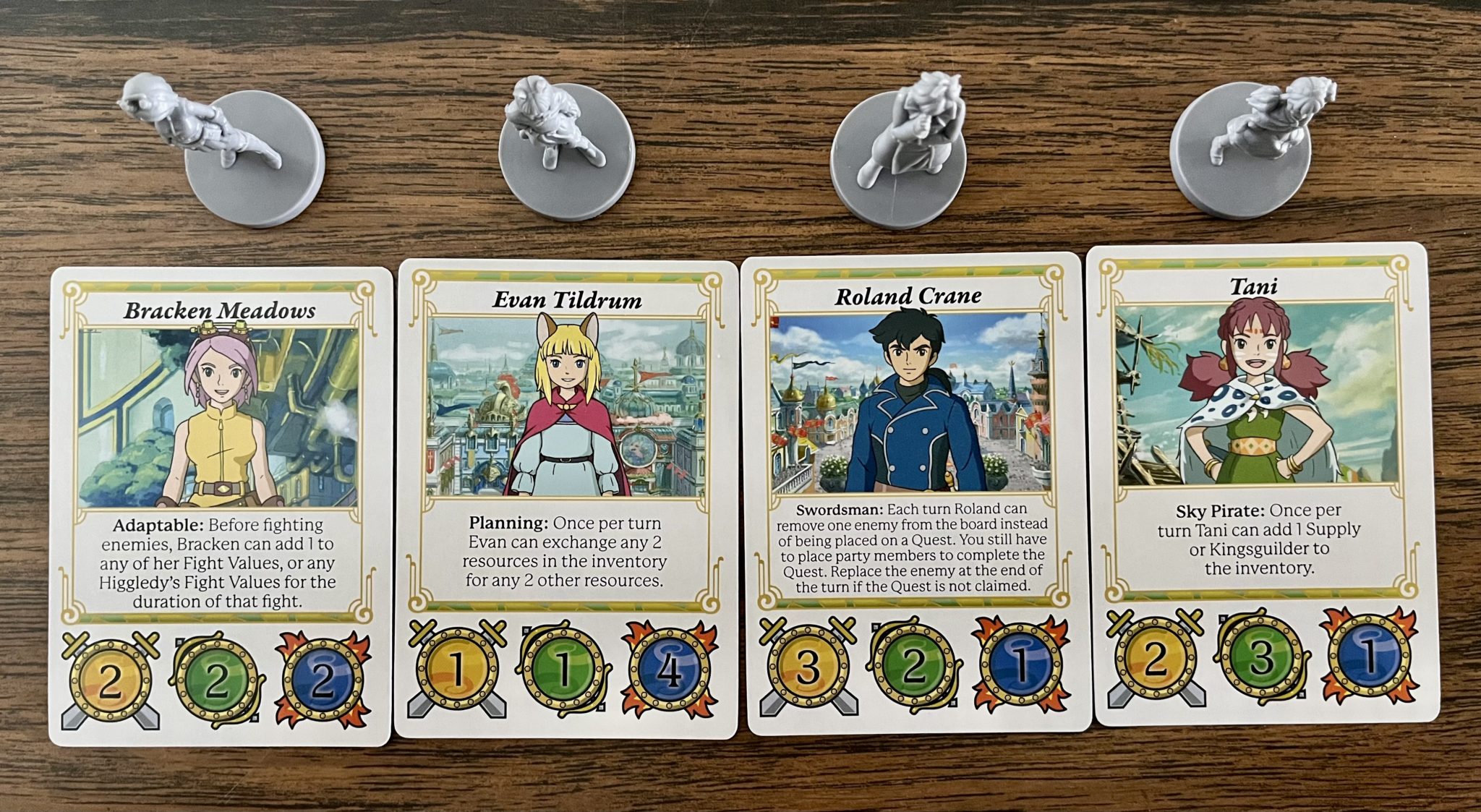 The game plays over 5 rounds with 3 phases in each round. A turn starts with the adventure phase, where players choose which quests they want to go on with each of their characters and higgledies. There are 6-8 quests placed out on the board at a time connected with an enemy. To complete a quest, you have to defeat the enemy. Then, you gain the resources or abilities listed on that enemy card as well as the resources listed on the quest card. These cards are randomly linked together, so there can be any combination of quest cards to enemy cards. 
Each quest card lists a minimum number of party members that quest requires, but you can always send additional members to any quest. So in this step, you place out all your characters and higgledies, and then fight each enemy by rolling the dice. Each enemy has a type of fighting style you have to use to fight it, and a fight value that you have to beat with your dice roll. Higgledies will always give you one die to roll of each attack style, and your characters will have their own stats for each attacking style, so you will want to fight the monsters where your fighting style is high and you're able to roll additional dice to create a higher fight value.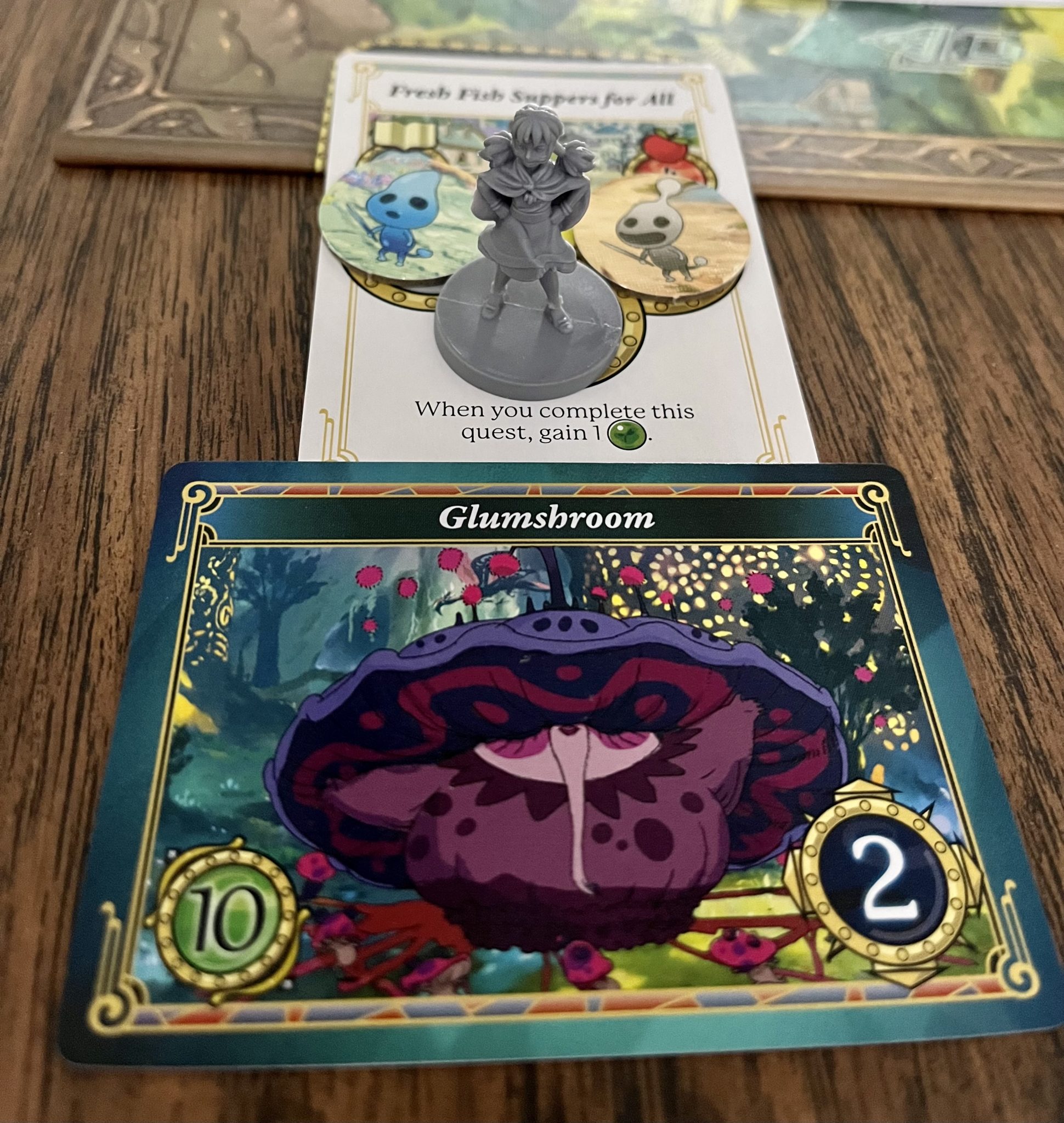 After rolling your dice for each enemy, if the total is equal to or higher than the enemy's fight value, you defeat them and gain any stated benefits. If the players lose, they remove their people from the quest card. After fighting all the enemies, you move to the next phase: the resource phase.
For each quest card you completed by defeating the monsters on each one, you receive the resources shown on that card. The card is removed from the board so new quests can come out. Players can also at this time use any of their player abilities to change or modify resources.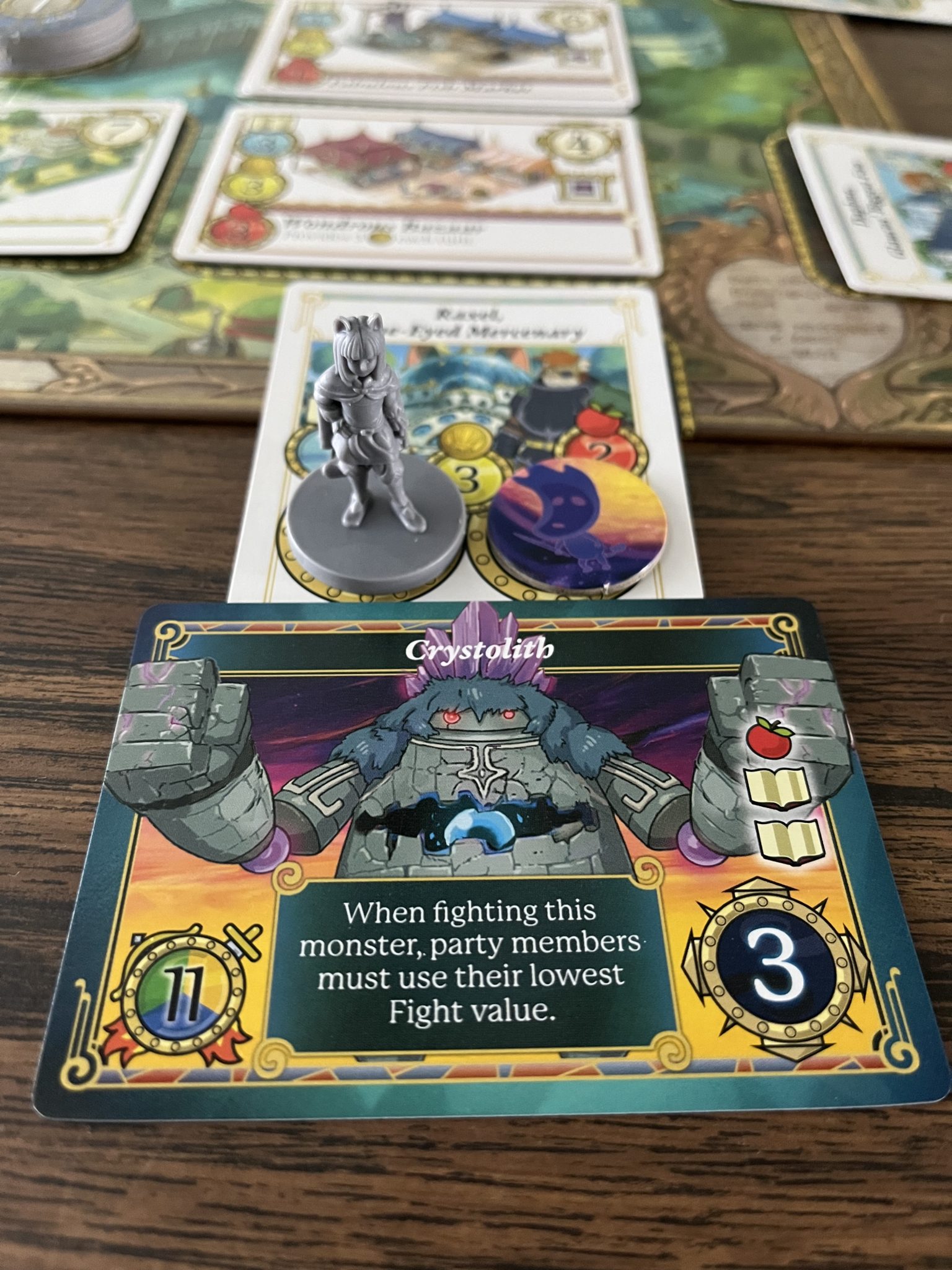 The last phase after gaining resources is to use those resources to build your kingdom. There are 8 slots on the board to build your kingdom up in. You have access to 5 random buildings at a time, plus any of the upgraded versions after you have built the basic version. The cards cost a combination of knowledge, coins, and supply. They give you the stated benefit each turn, plus they include an influence value on the top right. This influence value is very important for the end of the game.
After 5 rounds, to win, your influence value needs to be greater than the influence of the boss you are fighting plus all the enemies left out on the board. If it is equal to or lower than this number, you lose the game together as a team. 
Players gain other resources, like soreaway sweets that add 1 die to a die roll or angel's tears that will let you re-roll a single die. And some quests or monsters might require that you have a certain resource to fight them as well.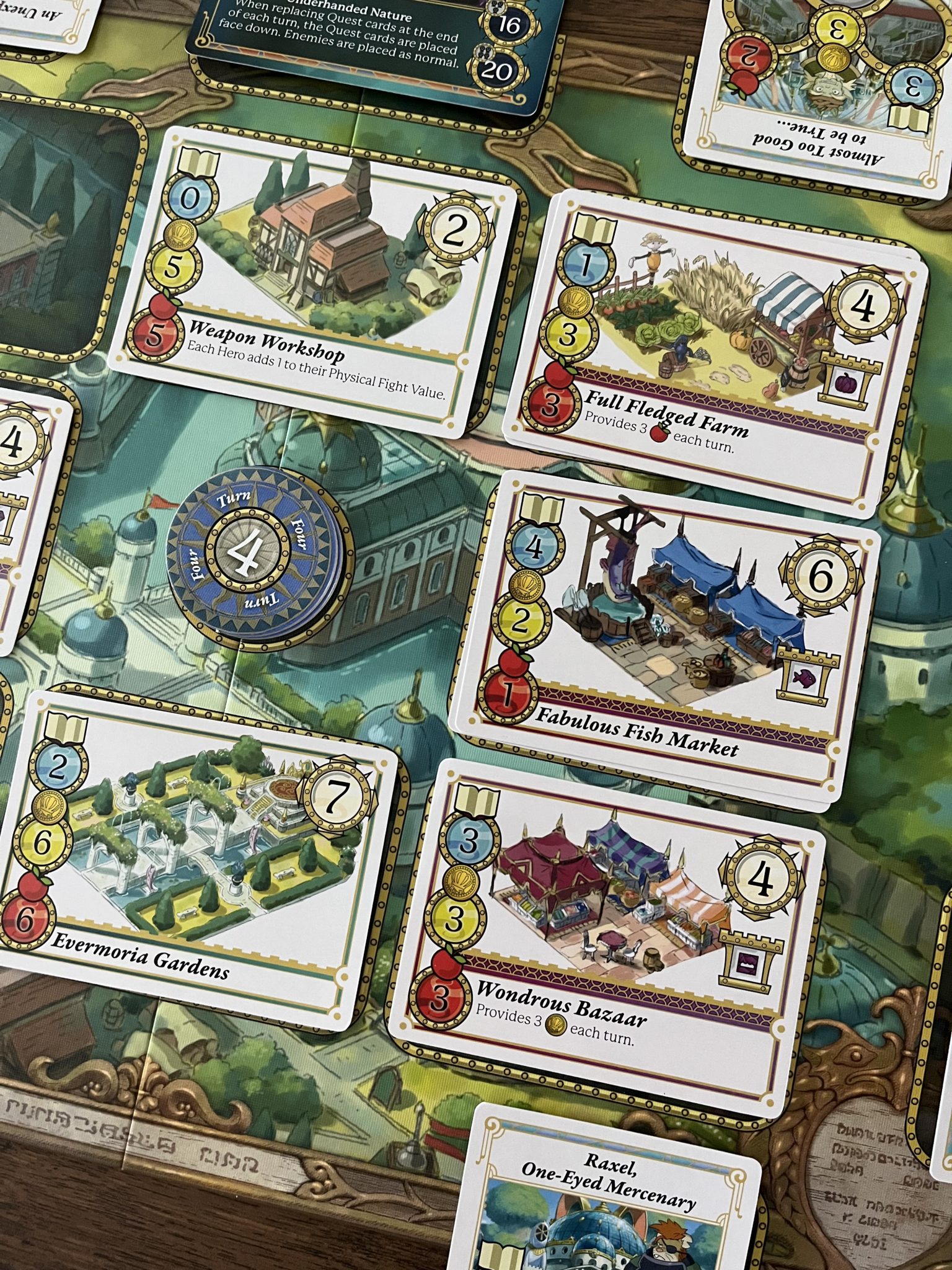 The Verdict
Ni No Kuni II – The Board Game really surprised me… and it was a very good surprise. The game was published in 2019, which was 3 years ago. I play and know about a lot of different games, and even 3 years ago I at least have heard of most games that are successful. For that reason, I wasn't expecting too much in this game, but I was pleasantly surprised to see how this game produced a quick game with fun decisions. The team work with the other players produced good conversations as to which monsters to fight, and the overall feeling of the game was very positive. 
This is a family weight game, so know that it's a simple game. There are still strategic decisions that need to be made in the game, but the decisions don't stack one to another. The strategy is to figure out which monsters the team wants to attack, and how many characters or higgeldies should be used. This isn't a super easy decision because each character has different abilities with their fighting style, and each have their own ability that might affect this placement. But after the more time consuming planning of which quests and monsters to go after, players move to rolling dice where the results determine the outcome of the quest. 
Quest after quest, players gain more and more resources, and will soon have enough to build in their kingdom to gain additional benefits. This will keep on occurring so players become stronger and stronger, gaining additional benefits. When building, the players should also focus on the influence these buildings give as well as the need to have a greater value than the boss and the remaining monsters on the board.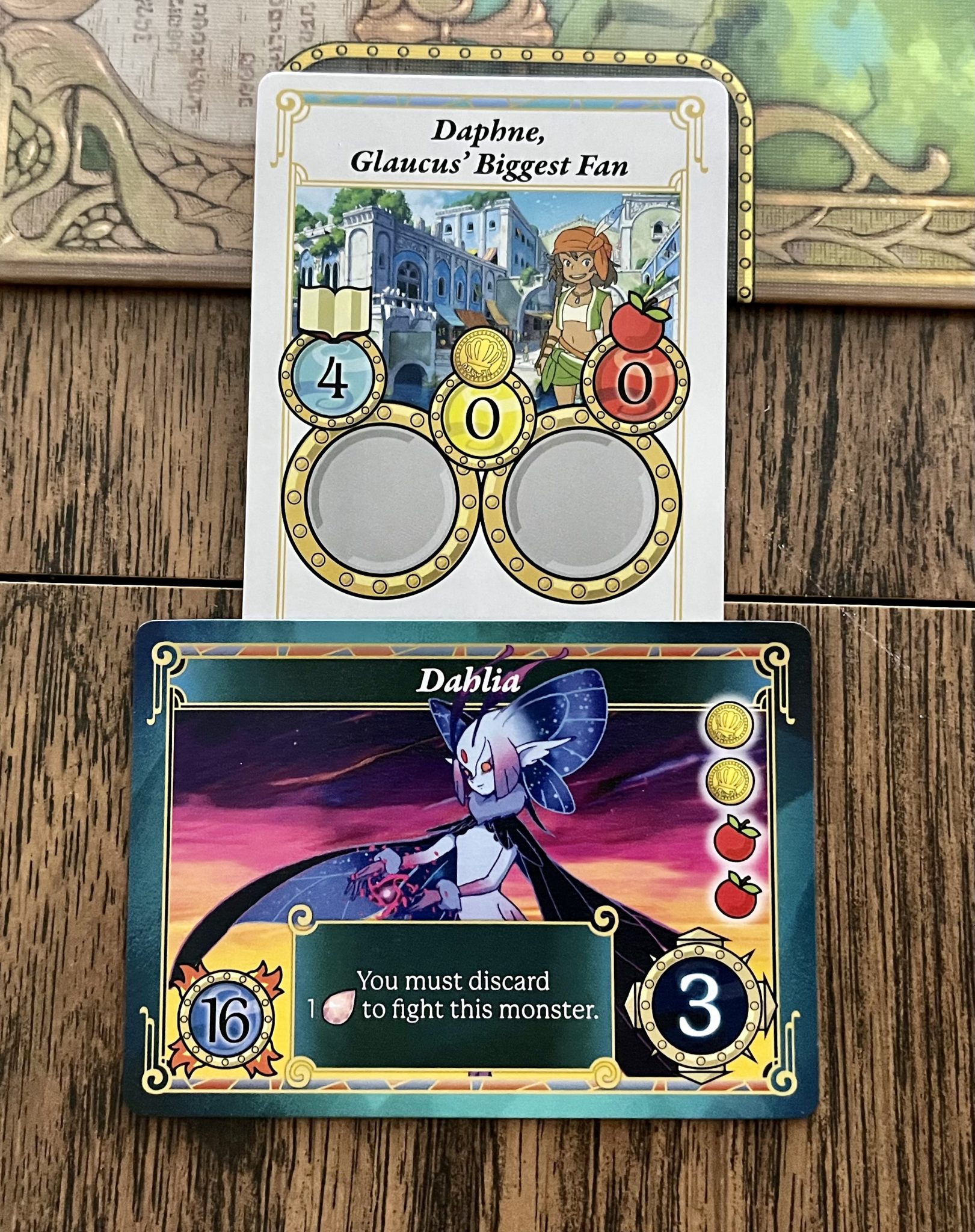 This is a family weight game that plays quick and was really enjoyable both for my kids and myself. The components are done very well. They aren't deluxe components or anything but the cardboard used is nice and thick, the dice are standard quality, the game comes with 4 miniatures, which increases the character aspect in the game, and the box is super sturdy, I think thicker than most other board game boxes out there. 
Ni No Kuni II
Pros
Lovely components with a game that plays quick. Great family weight game where co-operative play is the focus. Great price on the game.
Cons
If you are a gamer, the game might be too easy to win. There are only 2 bosses. The game might be too basic and not complex enough for many.
You can grab a copy of Ni No Kuni II at the Steamforged store, Amazon, or your FLGS, where it retails at $39.99.
Images via Steamforged Games
Read why Ni No Kuni does things right in their video game.
Have strong thoughts about this piece you need to share? Or maybe there's something else on your mind you're wanting to talk about with fellow Fandomentals? Head on over to our Community server to join in the conversation!