Forensic science makes up a large portion of media about crimes and criminality, but in reality, it's not as reliable as shown on TV. Certain techniques are susceptible to human bias and error, which makes Glitch Squad from Resonym both educational and a very interesting game. Created in a collaboration with LabX, a public engagement testbed at the National Academic Sciences, and Tiltfactor, Mary Flanagan's game research lab at Dartmouth, Glitch Squad sees four to eight players trying to figure out the pieces of evidence about a crime scene all while Glitch, the office cat, messes it all up. Dang it Glitch!
What's in the box?
Resonym continues to make beautiful and thoughtfully crafted board games. With 1 Glitch cat token, 8 folding dry erase boards and 8 dry erase markers, 12 forensics cards, 120 evidence cards, 80 password cards and the slow-reveal sleeves, and a handout about how forensic science has limitations, the materials are well produced!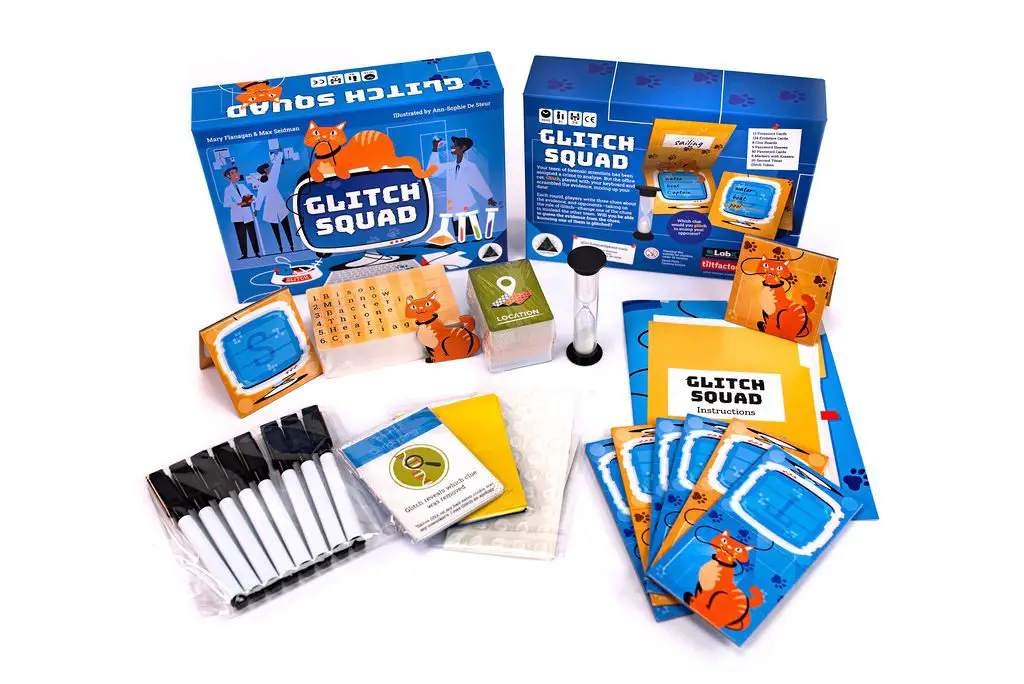 The cards were all a good size for their use and didn't take up a ton of space, which is good considering there can be up to eight people playing, and if you have a small area to fit everyone in, you don't want to be jostling pieces all over.
How's it play?
I know that producing how to play videos in-house is not always possible but I am a huge fan of any board game company that has some kind of video for how to play, even if there's no voice-over. Board games are broadly visual experiences and even with super detailed instructions and rules, for visual learners, videos or playing with someone who knows how to explain the game is much easier, so I was really glad to see the video.
Gameplay during Glitch Squad is actually pretty simple but requires focus to remember clues and glitches, and not getting lost in the hilarity of Glitch messing all the clues up. During set-up, each player takes a clue board of their team's color and a marker. All the decks are shuffled and the top Forensics card is flipped over.
One person from each team places a password card into the opposite team's color with the number's poking out. As a group, pick a number between one and six, and all the evidence and passwords will be that numbered word on the cards. So if you pick two, then everyone's Evidence will be the second word on their evidence and password cards.
On each round, players do three things. First, they draw an evidence card (location, profession, hobby, weapon, and location over the five rounds) and write three clues to help their teammate(s) guess the Evidence. Then, they pass the Clues to the opponent on their left. Since players on the Blue and Yellow teams sit alternating, teammates are never sitting next to one another. This means that the game needs at least four players to really get into it, though there are three and odd player variants, which are just as fun.
The second step is to glitch the clues. After receiving a clue from an opponent, everyone must glitch one of the clues by changing it to something else in hopes of confusing one another. This glitched clue is passed to the opponent on their left.
After the cards have all been passed, players take turns guessing their evidence within 20 seconds after reading the three clues on the glitched side to the group. If the teammate who originally write the clues hears the right answer, then they can say that the guesser got the clue. If the guess is correct, the player can open the clue board to confirm the right answer, and slide out the next letter in the Password.

If time runs out, the opponent gets to slide the next letter out in their password and follow the instructions on the revealed Forensics card to investigate which of your clues was glitched. The player gets to take one final guess and if they get it right, at that point they can slide the card out one letter, but if not the turn is over.
Once everyone has attempted to guess evidence, each player can try to guess their Password once, and the opponent to the right looks to see if it is right or wrong. If a player gets their password right, for the rest of the game, a teammate of their choice gets to slide a letter in their password instead of the first player. So if Dan and I were playing, and I guessed my password, every future round that I guess the evidence correctly, Dan can slide his password out further.
If you guess your password wrong, then you don't get to use the forensics card next round. The game ends when any team has correctly guessed all of their passwords.
The verdict?
Honestly, Glitch Squad is hilarious and so unexpected as a game which has become Resonym's hallmark to me. Games that I would never expect to exist that manage to be a whole lot of fun and in this case keep you thinking long-after. Who in this world hasn't been caught up by the endless copaganda shows, trying to figure out who the bad guy is and follow the fancy tech on the CSIs of the media world? Horatio Caine is "cool" for a reason!
Unfortunately, eight of the forensics techniques available in the game (and real life) are judgement-based and contentious or completely debunked by the scientific community! For example, if the forensics card is the polygraph (lie detector), Glitch points to a clue and claims that they added it, but they don't have to actually tell the truth. On the other hand, if the card is fingerprint analysis, the player who guessed picks which clue they want to find out if Glitch added or not. Only with forensic genotyping and toxicology will Glitch indicate the clue that they added.
This is my third Resonym game and I know I'm going to be looking to play more, and I really enjoyed the game's design by Flanagan and Max Seidman.
You can grab the game directly from Resonym or at your local FLGS.
Glitch Squad
Summary
Glitch Squad is the best kind of edutainment, educational, entertaining, and plain fun.
Images and review copy courtesy of Resonym
Have strong thoughts about this piece you need to share? Or maybe there's something else on your mind you're wanting to talk about with fellow Fandomentals? Head on over to our Community server to join in the conversation!