For years now, IDW has been publishing comics adaptations of some of the biggest media properties of today.
The recent runs of Orphan Black, Dirk Gently, and My Little Pony have all been successful in comics stores around the country. One of their original comics, Wynonna Earp, has even been adapted to a successful television show that many writers here at the Fandomentals cry over frequently. But they've quietly been making a play on the board games as well, adapting their licenses (and some new ones) into cardboard and plastic.
Previous successes include X-Files: Conspiracy Theory, Rayguns & Rocketships, and even a board game of Atari's Missile Command game.  I've been a fan of IDW Games since they came out with Legend of Korra: Pro-Bending Arena, so I was excited to see what they had on offer this year. Luckily, I had the opportunity to chat with IDW Game & Event Marketing Manager Ross Thompson for the scoop on all of IDW's newest games and for a glimpse at the near future.
Creative Uses Of Your Favorites
IDW takes pride in its games, which is clear in the enthusiasm Thompson shows when discussing the games. The staff of IDW Games doesn't just make games, they play them too, and they put their love as players into the games they make. Whether it's a hot license or something brand new, the team is dedicated to fun and immersive gaming on the tabletop. Their games help players relive iconic moments from their favorite series. This was shown in the new games debuting at GenCon as well as their newly announced games.
Gotham Under Siege is aimed squarely at my heart as an adaptation of what may be one of the best animated series ever made (and definitely the best adaptation of the Caped Crusader ever). The new game, designed by Richard Launius (Arkham Horror) and Michael Guigliano, is a co-op dice allocation game where 1-5 players take on the role of a member of the Bat-Family: Robin, Batgirl, Commissioner Gordon, the GCPD, Catwoman, and of course Batsy himself. The heroes must combat the villains and thugs who have overrun the streets of Gotham while handling new problems as they arise.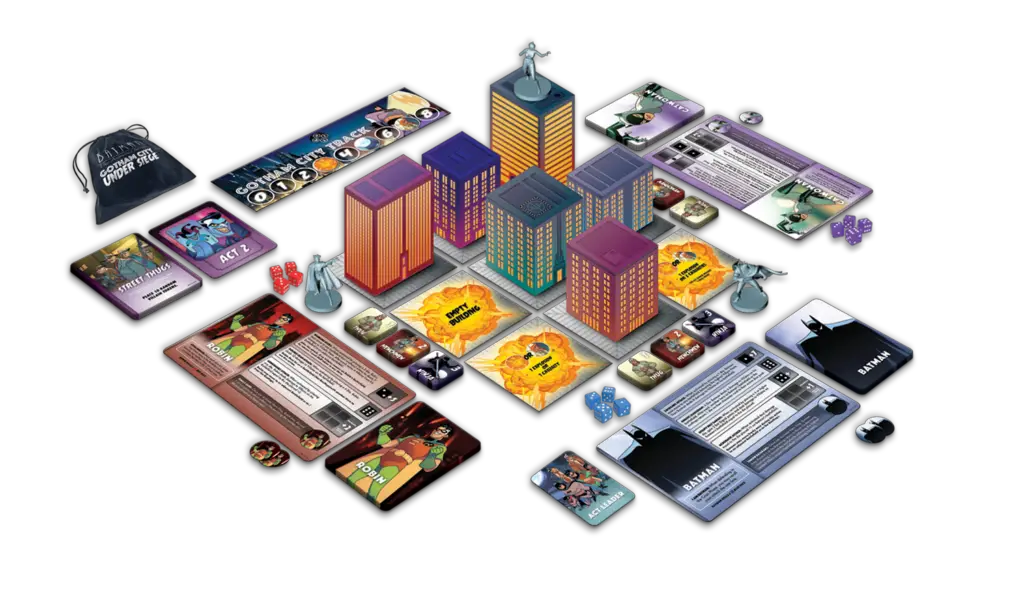 The game takes place across four acts, each of which is inspired by an episode of the first season of the show. Each player must use their character's special powers to fight the crime that plagues Gotham. But there's a decision to be made. Do they use their dice to fight the thugs and villains that infest the city, or do they use them to resolve special story cards?
The game features art taken directly from the show, but also supplements them with brand new art inspired by Bruce Timm's iconic designs. Newly announced at GenCon, Gotham Under Siege will release later this month.
While the big focus at GenCon tends to be on the big multiplayer games, with the complex boards and the billion pieces. But there's room for smaller games too, and Death Note: Confrontation is one such small game. Rather than the 4, 5, or 7 player games on offer at IDW's booth, Confrontation maxes out at 2. Set at the exact moment where L and Light Yagami a.k.a Kira meet, each player takes on the role of either the quirky detective or the high-minded serial killer. It's a battle of wits as Light tries to get his kill count up and L races to stop him. The game ends when either L gets enough evidence to find his target, or Kira gets enough victory points.
Death Note: Confrontation was released only last month for players aged 16+. It's available in stores for $29.99.
Masque of the Red Death stands out amongst IDW's newest offering, and not just for its beautifully gothic aesthetics. It also is unlike the other games in that is has no connection to a pre-existing property. Its genesis is unique as well, according to Thompson. The game was dreamt up by veteran designer Adam Wyse (Cypher, Gorilla Marketing) and pitched to IDW semi-informally after a game event. It sounded cool so they ran with it, bringing in artist Gris Grimly to do the art on his first full-length board game.
Masque was in our top 10 most anticipated games and just wrapped up its Kickstarter. I'll have a full review of this game, with plenty of pictures and rule details, coming very soon to The Fandomentals.
Gaming In A Half Shell
It was hard to tell who was more excited about these TMNT games, myself or my host. Thompson was ebulliant when discussing the newest turtle games, describing how much love and fidelity to the original comics the new games have baked right in.
The Munchkin brand was everywhere at GenCon, with versions of it popping up seemingly every day. But IDW didn't want to make just another Munchkin game, Thompson said. They decided to put a lot of work into their own version, with designer John Cohn making this Munchkin a much more story-driven game than we've seen previously. You don't play as a generic mutant or human or monster; instead, you play as Donatello, Raphael, Casey Jones, even Johnson's favorite Pepperoni, a baby triceratops adopted by Mikey who dreams of being a Ninja Turtle. There are villains to fight like Baxter Stockman ("as it should be"-Thompson) and other little references from across the over 30 years of TMNT history. But the love doesn't end there. The game also features brand new art from the turtle's co-creator and original artist Kevin Eastman. TMNT Munchkin releases at the end of the month for 3-6 players and will retail for $29.99
IDW also previewed their newest Turtles game, Teenage Mutant Ninja Turtles Adventures, miniatures based game just announced from IDW. The game is based on the Turtles In Time games, with mechanics updated for the board game format. Players can play as characters from across time in a full out miniatures adventure similar to IDW's Shadows of the Past game.
Coming Attractions
It wasn't just retail-ready games on display at the IDW booth. They also had games in early development for a passerby to get a sneak peek at.
Following the success of their Perfect Cell game, IDW has confirmed that they'll be following it up with two more games in the DBZ universe. Over 9000 will be the first, a card game centered around deducing your opponent's power levels while hiding your own. The winner is the first player to get their power level over 9000!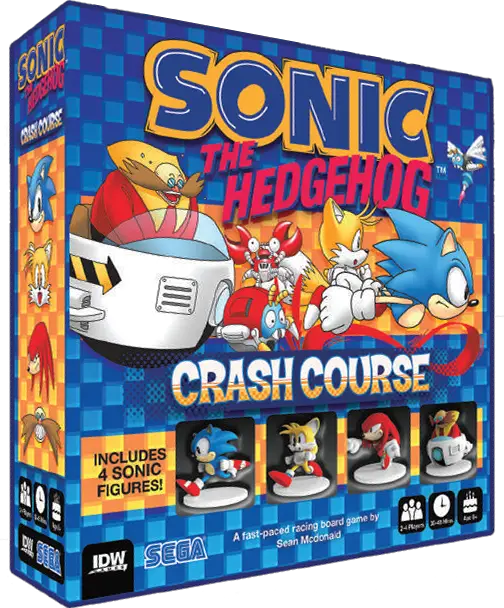 IDW's newest adaptation of Sonic is, naturally, a racing game. Up to four players race around the board to collect all of the chaos emeralds. The main attraction at GenCon was the beautifully made, full-color figures of Sonic, Tails, Knuckles, and Dr. Eggman. The track builds as the game goes along so you'll never have the same race twice.
Set to debut in February 2019, Crash Course will be a Gamestop exclusive and retail for $29.95.
IDW makes another play for us 90's kids with a new board game starring all of the best characters from the shows of our childhood. Splat Attack! is a food fight game (sadly without food) designed by Jonathan Ying (Star Wars Imperial Assault, Doom The Board Game). Players take on a team of 4 characters, each with their own special powers, taken from Spongebob Squarepants, Hey Arnold, Invader Zim, Rugrats, Aaah! Real Monsters, Rocko's Modern Life, Angry Beavers, CatDog, and The Wild Thornberrys. Players strategically throw their food to earn cool points while moving around the board to earn bonuses. But they have to be careful not to get too splatted, as when their splat board gets covered they are out of the game.
The new game reached nearly all of its stretch goals while on Kickstarter, which doubled the number of playable teams and added new items and goodies to play with. Intended for 2-4 players aged 14+, Splat Attack will hit shelves in November of this year.
IDW still has some tricks up their sleeve as the year goes along, and you can learn about all their game on their website. And make sure to keep an eye out here for reviews and updates on IDW's hottest games, as well as my upcoming review of Masque of the Red Death.
---
All images courtesy of IDW Games