For anyone following along, the global panini press reawakened my love for visual novels and I have played a lot of them the last year. From longer narrative driven adventure visual novels to quick one hour appetizers, I've played over twenty five games, including demos, since the start of April and am excited to play so many more in 2022! Below are just four of my favorite games played this year and in alphabetical order because I'm not capable of ranking them. They're all that great.
If you missed the demos for games releasing next year, you can check out four LGBTQ forward visual novels and three otome visual novels too!
This is the first look into the creators' corrupt dungeonpunk world where everything is much more dangerous than it first seems. Set during the course of one night, the player must survive (or not) in attempts to get rid of the spirit/evil entitity possessing the player's business partner and friend's body.
What's so fun about Alkahest is that unlike most visual novels that focus on romance, here you're too busy trying to survive to really get in the mood for romance (unless of course trying to survive is the mood). So when there are romantic nuances or hints, you have to decide which direction to move the plot forward while getting through the night alive. You'll end the game wholly satisfied yet wanting more of the series and the relationships, coming in the next year or so. And you get to do alchemy! If you want a deeper look into the game, check out my full-length review!
At an hourish long, A Mortician's Tale is short but deeply meaningful. You play as a mortician tasked with running a funeral home and learn the ropes of the business and industry. You'll have to prepare the bodies of the deceased including embalming or cremation, attend their funerals, listen to their loved ones' stories, and interact with Charlie's coworkers, clients, and bosses.
The game is informative, honest, and also really funny when you least expect it. Released in 2017, it regularly shows back up on Itch.io and other recommended game lists and that's what got me to download and try. What takes this game from just a short game to truly meaningful is the underlying story about the company that ultimately buys the funeral home that Charlie is working at and how that impacts her choices in life. Definitely worth playing if the video above doesn't squick you in anyway.
This game is just pure fun. You play as Lupin, who is distracting the ICPO's Inspector Zenigata using his longstanding crush on you. It's short but has four endings and the visuals are traditionally crafted in watercolor and fountain pen, which makes the game so beautiful to look at while playing.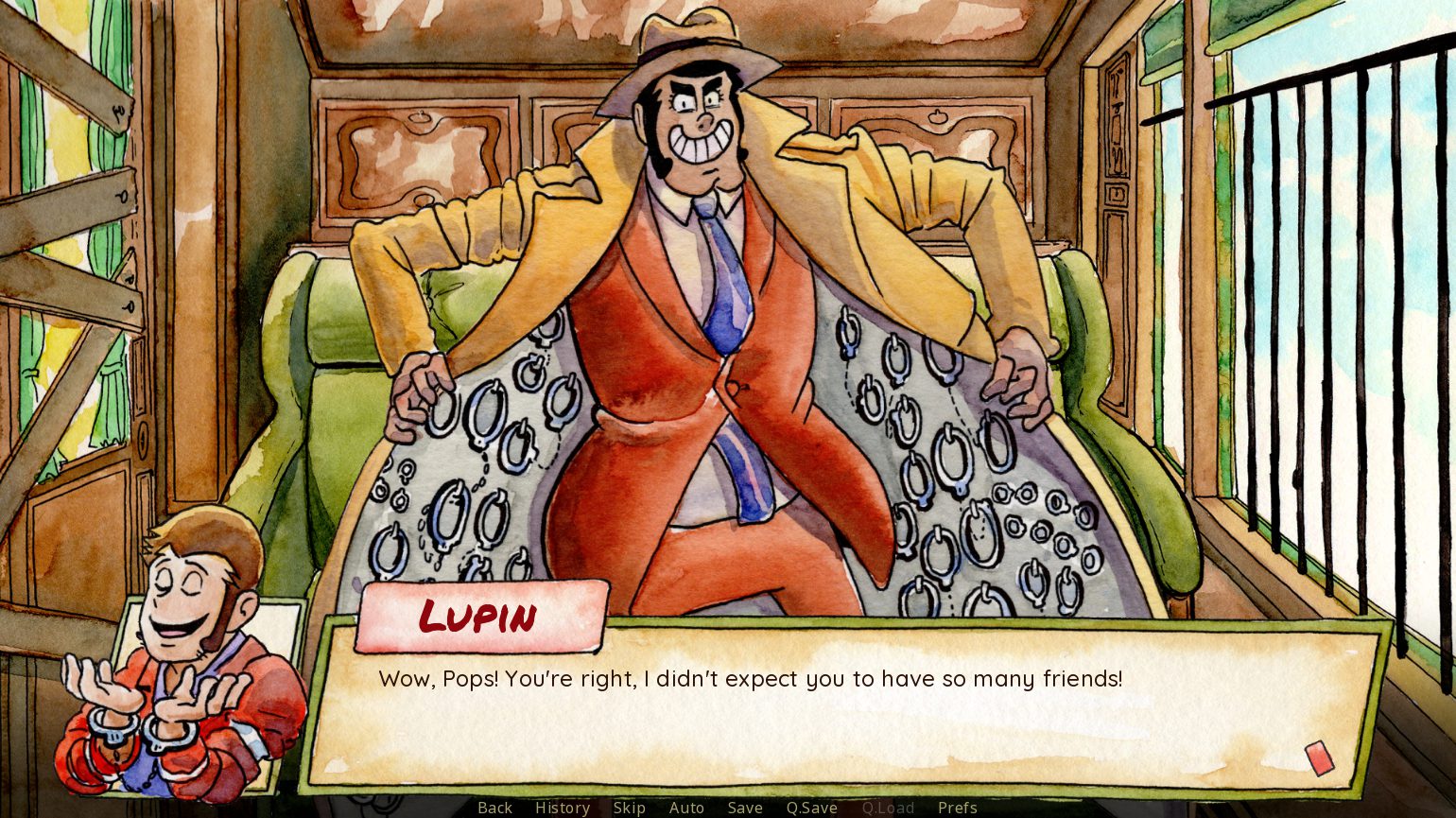 imagiBROS did a lovely job with this game during NaNoRenO 2021, an annual month-long game jam in which developers are challenged to make a visual novel from start to finish. Plus the music is so solid and evokes the feeling of the movies and canon perfectly.
From Toadhouse Games, the second in a series of vignettes, Roll for Confidence follows Sophia, the sweet co-owner of Screen Time arcade. Sophia is tired of avoiding confrontation and keeping herself small. She wants to be a strong woman but isn't sure what that even means! I loved Good Looking Home Cooking, the first in the series which introduced the town of Fernweh and Roll for Confidence is just as fun and earnest in its portrayal of a small town with delightfully lovable characters.
Sophia is challenged to stand up for herself and to a rude caller who wants to play a game in the arcade and while playing Thirsty Sword Lesbians, a real TTRPG. Though the game is only an hour, you really feel for Sophia and your choices illuminate the various ways a woman can respond to issues in her life. All valid just with different outcomes!
---
Again these are only four of the many games that I played this year and I'm excited to review many more next year. If there's a game you want me to try and report back on, you know where to find me!
Images courtesy of their respective owners
Have strong thoughts about this piece you need to share? Or maybe there's something else on your mind you're wanting to talk about with fellow Fandomentals? Head on over to our Community server to join in the conversation!