With so many incredible visual novels in production right now, I wanted to highlight four that are all LGBTQ inclusive in honor of pride month!
What makes visual novels so fun is their focus on narrative. Some also include mini-games and/or puzzles making the game even more interactive. The games that I've chosen here are truly inclusive, diverse in premise, and have interesting gameplay mechanics. All have demos available and are slated to arrive sometime in the next 18 months.
Love Shore
Demographic changes worldwide have been on the news a lot recently and this game takes that premise and runs in a really interesting direction. Taking concepts the developers have loved in sci-fi, action, and horror, the game blends them all together to create a story following two different S. Humans: a non-aging, tough form of new life created by a now defunct company, Life S. incorporated after a fertility crisis.
Speaking of interesting mechanics, Love Shore from Perfect Garbage really brings something new to the table with all NPCs receiving an approval rating that fluctuates based on the player's choices, and for all choices! Unlike every visual novel I've played, and most I've heard of, this game will include a clickable map! As seen in the demo, which allows you to try the first chapter of both playable characters, the city changes from night to day and so do locations.
I especially loved this demo for the reasons I love all the games on this list, the stories are immediately gripping and in this game, there's an explicitly disabled main character in Farah who has prosthetic limbs! Both leads are also queer and I'm super ready to see where their stories go.
Love Shore is tentatively coming this October and is already on Steam to Wishlist and you can check out a second trailer on Perfect Garbage's Twitter.
Solace State
The trailer does a great job of showing how absolutely fascinating Solace State from Vivid Foundry is in its gameplay. Coming next year, this sci-fi 3D cyberpunk visual novel follows Chloe, a young hacker who comes to her political awakening as she seeks her friends in a biotech surveillance society. A dynamic trip-hop and Kpop inspired soundtrack really helps to set a youthful yet tense atmosphere which I found myself loving during the demo.
The unveiling of the locations to reveal story information is an incredible approach to telling the narrative and I especially enjoy the East-Asian inspired metropolis.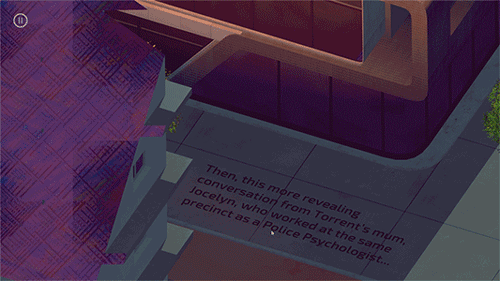 It actually reminded me a lot of reading an ethnography about Masdar City, an attempt at building the world's first zero-carbon city, which didn't succeed. Like Masdar City, Abraxa City has a tumultuous story and connecting with the other characters will be Chloe's only hope in finding her best friend and mentor Rebecca using all of her skills and wits. Hacking into other character's lives and situations makes the game even more interactive. Solace State is definitely going to change the visual novel space!
Wishlist now on Steam.
The Sky Left Us
The Sky Left Us from Ratworm Games is a sci-fi visual novel about climate change, classism, and how relationships shape our politics coming next summer. Play as Spire Risan, an off-worlder scientist who becomes entangled in the drama of a mountain they came here to save. Fall in with the denizens of the three castes, and find that things are more complicated than they seem: be it love, family, or the systems that shape us.
While the demo is pretty short, it's got more than enough going on to grab the player's attention. I was immediately drawn into the story and want to know everything about the politics of this universe. As Spire, who really doesn't seem to have paid much attention when their professor explained the history of Zé, the player will have to make difficult choices which impact the incredibly detailed story.
Like any solid visual novel, there's multiple endings for each of the routes. On the other hand, Spire and thus the player won't meet all the same characters in every route, so completing each route is an added incentive and immersive quality of the story which bypasses the need to spend a lot of each subsequent playthrough skipping through previously seen dialogue.
This game isn't available on Steam yet to wishlist but is arriving next summer!
Spirit Swap: Lofi Beats to Match-3 To
An action puzzle game meets visual novel storytelling set in a lush, narrative-driven world of witchy demons is coming from studio Soft Not Weak. Spirit Swap has one of the highest amount pledged on Kickstarter for a game of this style that I've found, raising over $150 thousand dollars to deliver what I'm sure will be a gorgeous entertaining game.
At night players will use Samar's powers to send transdimensional spirits back home and roam the city and hang out with people (with varying body types!!) including an adorable polycule during the day. What's especially exciting about this game is the fresh use of Middle Eastern aesthetics and fantasy from the region setting the game in Demashq, a coastal city inspired by none other than Damascus and Beirut.
The quick demo provides an endless opportunity to try out the match 3 mechanic, meet a friend or two, and listen to the spectacular music accompanying the game.
You can also wishlist the game on Steam now and be alerted in October of next year when it's here!
---
Each of these games had demos that regardless of length revealed incredible backgrounds and art against which immediately well developed characters must navigate any level of politics, intrigue, interpersonal shenanigans (romantic and otherwise), and solve whatever problems they're facing. The indie game dev studios are really pushing themselves and the visual novel genre forward and I cannot wait to play all these games and more!
Images courtesy of their respective owners
Have strong thoughts about this piece you need to share? Or maybe there's something else on your mind you're wanting to talk about with fellow Fandomentals? Head on over to our Community server to join in the conversation!