This summer has been a busy one for indie visual novels between multiple successful Kickstarters, demo updates, revamps, and so much more. On the heels of my LGBTQ forward list, I stumbled upon three otome visual novels that deserve a spotlight.
Otome ('maiden' in Japanese) are story-based games generally targeted towards women where the player has different goals. One is usually focused on developing a romantic relationship between the main woman lead and one of many men. Which isn't to say that otome visual novels aren't LGBTQ friendly! Many otome games will have love interests of various genders.
Indie developers continue creating fascinating games using different tropes and ideas expected of a visual novel and even within the otome genre. The three that I've picked here are all set in or inspired by Europe with a fantastical flair providing something for nearly every otome enthusiast.
Peachleaf Valley: Seeds of Love
The first game on this list is actually the most recent and very successfully funded Kickstarter! From Great Gretuski Studios, a female-founded, female-run indie game development studio focused on bringing romantic and creative stories to life, Peachleaf Valley is inspired by the farming-sim genre. Think Harvest Moon, Stardew Valley, and Story of Seasons.
A hallmark of the otome genre is usually a heroine who is down on her luck and then plot reasons lead to a major journey of self-growth and development with the added fun of meeting attractive characters that she can romance (or become friends with). In this case, Seraphina (you can rename her in game) has been evicted and decides to leave the city to work in Peachleaf Town. Inspired by various fairy-tale like European towns and small cities, the background artists have spared no detail which firmly situates the player (and characters) in the lovely setting.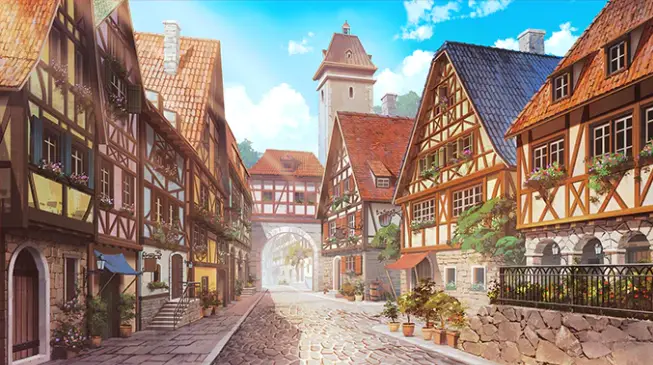 Of course, it's not only about Seraphina finding her place in her new home! She's gotta meet a bunch of wonderful people and in the demo, we get to meet every single one of the romanceable characters. In fact due to the success of the Kickstarter, most characters that we meet will be an option whether in the main game or various DLCs! (Or at least I think so since who knows what surprises are coming.)
While all the characters we meet are delightful in their own way, I absolutely loved Earl, the elderly country bumpkin and his wife Nina who are the best elderly couple ever. Where's their DLC? I've mentioned before that a strength of a visual novel (or any narrative based story) must lie in the dialogue and writing. Peachleaf Valley succeeds at that and the addition of partially voiced characters for the entire demo (and game) adds to the experience. I don't think I've laughed as hard playing a visual novel before!
As for romanceable characters, they're all charming in their own way but Naadim, who is a dancer, speaks Arabic in his first line so I'm already intrigued. In fact, at the moment Naadim is the only main character of color so I hope he gets the depth of writing that he deserves. I assume we'll get a lot of details in his POV chapter, something else different offered by this game. Each route features a chapter where the story is told from the love interest's eyes!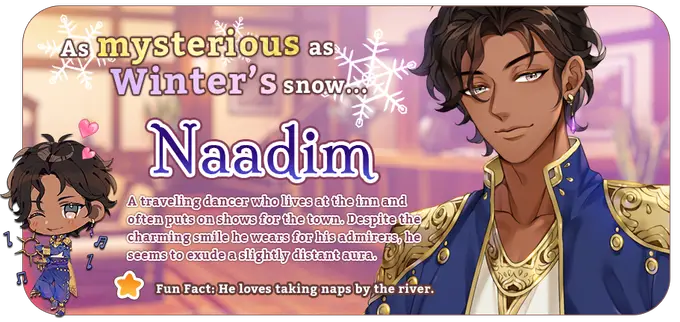 Incredibly, there's a post-credits scene! I won't spoil it, but it's definitely worth playing the demo and backing the Kickstarter which goes until July 10th. If it reaches the last stretch goal of $70,000, then players can download the Wedding Bells expansion featuring 8 different wedding-themed side stories! This scene reveals that there's more to Peachleaf Town than meets the eye and that Seraphina is definitely going to have an unbelievable experience having moved there.
You can grab the demo on Itch.io and the game is scheduled for next March.
The Spanish Privateer
Pirates! Romance! Sword fights! Reflecting on colonialism?! Sign me up!
Originally created for the 2018 Otome Game Jam, Sin Sisters expanded the prologue to a 227K word full-length visual novel. In The Spanish Privateer, you play as Carlota, an 18-year-old runaway escaping a marriage forced upon her by her parents. Not able to afford passage on a ship, Carlota offers to work for her voyage aboard Captain Rico's ship, La Aguja. Captain Rico is a privateer, a pirate with a letter of marque allowing him to attack and capture the enemies of Spain. Carlota soon falls in love with the sea, and challenges herself to become a valuable member of the ship.
However, the game isn't just about Carlota maybe falling in love with one of three men on the ship: Captain Rico, Lutist Lark, and First Mate Flint.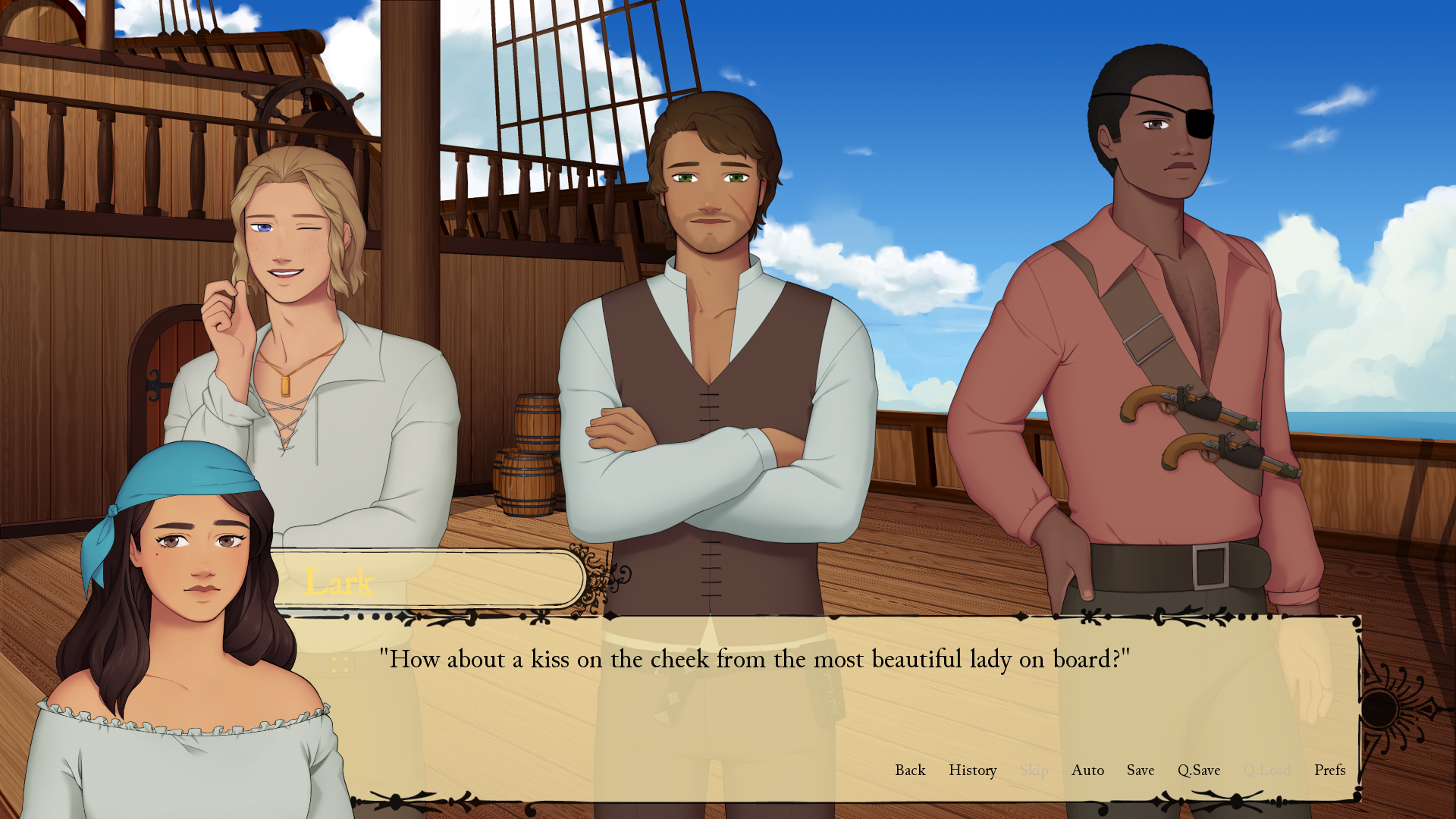 Amidst sword fights, balls, and drunken nights at the tavern, Carlota learns more about her fellow crew members and the world outside Spain. Visits to the archipelago of Azores, cities in the Caribbean and Veracruz, New Spain force Carlota to learn about the effects of colonization and question her own contribution and power aboard the Spanish ship.
I really loved playing the demo because while Carlota is young and inexperienced like many otome leads, she's not incapable. Similarly each of the love interests is immediately complex and there is a lot to uncover about their lives. I'm particularly interested in Flint (who is Black) and his loyalty to Rico (the Puerto Rican captain) especially due to mention of colonialism in the Kickstarter text.
Even before all that though, in the demo the writing is clear that while the game is somewhat fantastical in nature, it's also grounded in realism. While they are pirates to some extent, Rico is clear that he's a privateer with permission from the Spanish crown (oof) and Carlota even mentions having to find items for her monthly time. Those details set the stage for a story with actual stakes. In fact, the demo itself requires the player to stay thoughtful while choosing dialogue options. Carlota has to actually stay on the ship for the story to progress, which means a bad ending can happen before the game even progresses past the prologue.
Thus players must think through their options of responding to issues and conflict with serenity and eloquence; wit and humor; or boldness and an occasional punch to the face. Of course you can choose any combinations of responses throughout the game but I have a feeling that each route requires a little more of one than the other to get through to the 'good' end.
You can find the demo on Itch.io and the game is currently scheduled to release next summer.
Made Marion
The final game on this list is like the others is heavily inspired by European cultures, and set in a magical continent of Avalon where humans share the land with fae. Other countries exist and some characters are touch by foreign gods and magic! You play as Marion, a proud young noblewoman who becomes entangled between Lord Geoffrey, Sheriff of Nottingham and of course a band of rebels led by none other than Robin Hood.
Made Marion from Velvet Cupcake Games is unique in that once you make a choice of staying in Notthingham or Sherwood Forest, you'll primarily stay within those settings. While you may meet other characters on the various routes, the full story won't emerge until you've played through everything. Even better is that there is a lot of details and focus in each route so there isn't quite as much holding down ctrl to skip previously seen dialogue.
The game has eight love interests, one of whom is a woman, while another is a nonbinary sage. Interestingly, Alanna and Meissa are respectively from different parts of the world, as are John and Will (half-brothers from Sunjata) while Tuck is a druid. There's a lot of diversity in this game which is a refreshing choice for a Robin Hood adaptation! Geoffrey actually has a visible limp (described in text) and I'm really interested to see how his disability impacts his experiences and choices which in the context of the legend of Robin Hood, isn't great.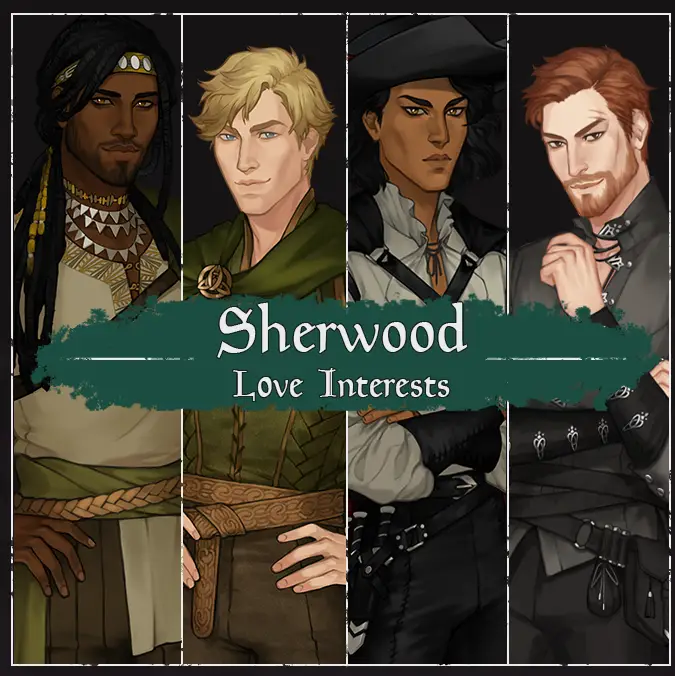 The demo actually starts after Made Marion"s prologue in which the player meets Marion's father, new step-mother, and learns that her marriage has been arranged to the Sheriff! From there the player must decide whether Marion will agree to the marriage (and thus be whisked away by Robin and his men) or run away and end up in Nottingham, still within Lord Geoffrey's purview. How the latter happens, I won't spoil because you really must play the demo and experience the fun for yourself! If you're confused by all the location names that I just dropped, don't worry. The full game will have a codex and map!
Players and Marion learn a lot in the first real chapter in either world and experience the first of many role-playing style choices offered in the game. Not only must Marion decide whether she'll stay in Nottingham or Sherwood Forest, but she must also decide who to actually spend more time with to learn about the true going ons in Nottingham.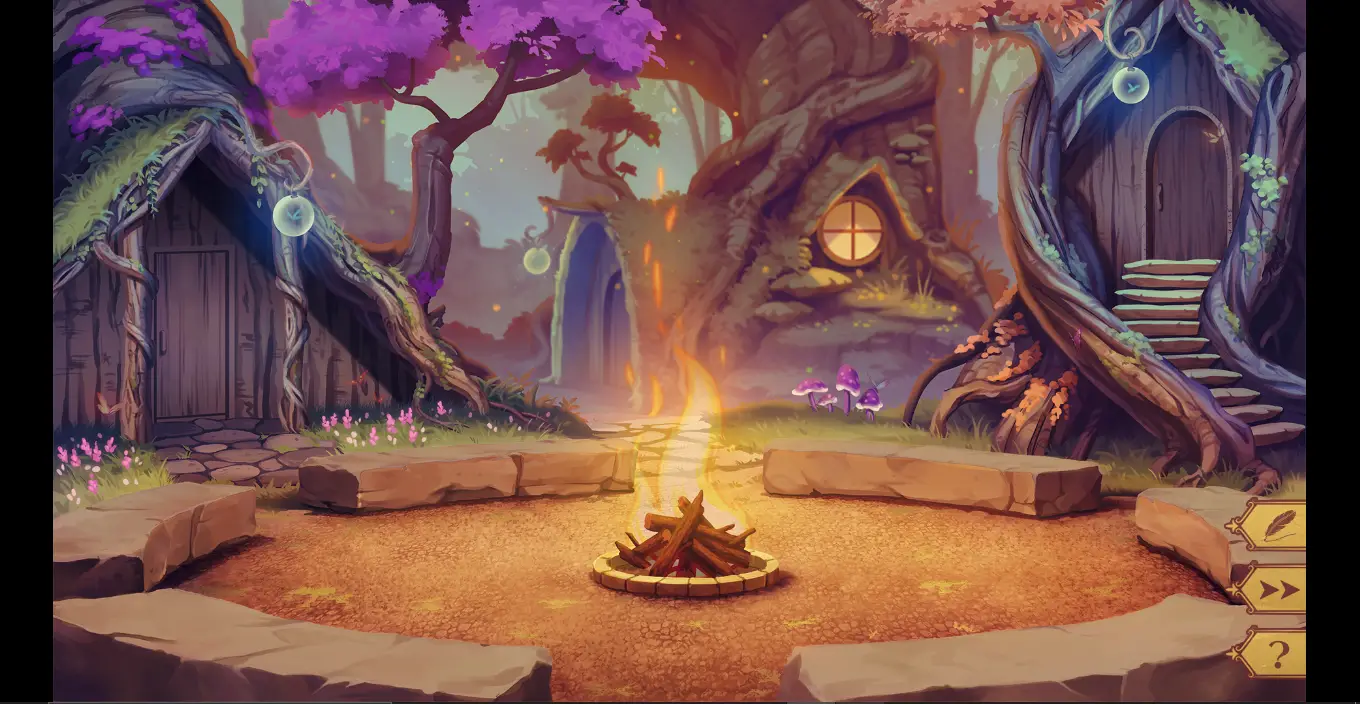 Why has Lord Geoffrey indentured people to reclaim taxes unpaid to King John after the disappearance and assumed death of King Richard during the war between Avalon and Nibiru two years ago? How will all the characters various loyalties and actions pan out? Though Marion must make the choices, those will affect the others.
Additionally, in the planned DLC, Made Marion: Light and Shadow, Marion will follow two different routes exploring a supernatural conspiracy behind the events in the main game! In it, you'll also have two love interest routes, Tuck, and a mystery love interest, to be introduced once the full game launches.
You can grab the demo on Itch.io and the full game is planned for an August release next year. Plus keep a look out for a more thorough review of Made Marion from Molly!
Otome Visual Novels Continue Delighting
I picked these three visual novels originally because I had fallen in love with each of the lead characters and it wasn't until I sat down to write this article that I realized they all had the European inspired/European set magical and fantastical nature with standout designs and music.
Yet, each game provides a unique perspective on love, friendship, growth, and rising to meet a challenge. Whether that's adapting to a new home and dealing with spirits for Seraphina, literally learning a new way of life for Carlota, or solving the issues of Nottingham for Marion, each of these women all stand on their own. You can't help but get sucked in and want to learn all the different secrets and details in each world and I cannot wait to play them all next year once they arrive!
Images courtesy of Great Gretuski Studios, Sin Sisters, and Velvet Cupcake Games
Have strong thoughts about this piece you need to share? Or maybe there's something else on your mind you're wanting to talk about with fellow Fandomentals? Head on over to our Community server to join in the conversation!