Since the news about East of La Brea broke in 2018, I have waited patiently for its release. Finally, this summer, PowderKeg TV, Paul Feig's digital production company released the six ten minute episodes on their Instagram and I devoured it!
The actual story of how the show came to be is almost as intriguing as the series.
In 2017, Margari Aziza Hill, co-founder and executive director of the Muslim Anti-Racist Collaborative (MuslimARC) ended up connecting with Sameer Gardezi, a Pakistani Muslim American TV writer. Together they conceptualized the start of East of La Brea and received a grant from the Pop Culture Collaborative to launch the first Break the Room. There, Gardezi and Hill worked with four Muslim-American women who wrote the entire series in just a few days in March 2018.
The writers: Halima Lucas, Thandisizwe Chimurenga, Nia Malika Dixon, and Tanha Dil
https://twitter.com/sameergardezi/status/994306161317851136?ref_src=twsrc%5Etfw%7Ctwcamp%5Etweetembed%7Ctwterm%5E994306161317851136%7Ctwgr%5E&ref_url=https%3A%2F%2Fpopcollab.org%2Feast-of-la-brea-is-changing-how-writers-rooms-are-formed%2F
Break the Room would go onto hold more rooms and I hope we'll get to see series come from those scripts as well. In June 2018, PowderKeg green-lit the series with CEO Laura Fischer stating that she was impressed by the quality of the script and writing.
Makes complete sense because the writing came from people who were intentionally creating a story that is as complex as Muslims are! Or as cast member Rufino Romero put it, they were "actually serious about ensuring that there is authenticity and nuance with every character in the show."
As PopCulture Collab outlines, the series received production funding due to a partnership between PowderKeg, Lyft Entertainment, and Pillars Fund, a Muslim-American philanthropic organization "amplifying the leadership, narratives, and talents of American Muslims." East of La Brea really reflects the collaborations that occurred to make it a reality.
I had the chance to interview Geffri Maya (Aisha), Kausar Mohammed (Farha), and Rufino Romero (Moises) about their experiences filming the series which was only ten days and shot on location in Little Bangladesh, Koreatown, and South LA.
Joining me from their homes in LA, it was clear that these three had developed a great friendship while filming. More than that they were incredibly attentive and open with me and I really appreciated getting to talk to them more about this timely series.
East of La Brea Cast Interview
---
FM: Tell me about the audition process and how it all came together. 
GM: For me, it was very much a regular day in the life of being an actor. Where's my next gig going to come from? I was fortunate enough to have known Laura Fischer from a prior project. So when this came up, it was such a good experience to circle back with people that I've worked with and really enjoyed working with. It was very comfortable to just lean into it as an artist and just have fun! Plus the subject matter was really grounded.
KM: I had known Sameer through him coming to my all South Asian comedy sketch show and we had talked once. I remember first seeing it and actually putting it away, because I kind of had impostor syndrome. I'm only half Bengali but then I sat with it and applied. It was really fun and it felt super innate… like I knew her right away. Seeing it and feeling it all come together was really magical.
RR: I hadn't met anyone on the production team, and I turned in a self-tape, callback self-tape, went in for the audition, and then I went in for the chemistry audition. I read Moises' character and got weirded out because it literally was my life in real life! Salvadoran in LA, went to college, came back from college, you know and wanted to make this community better. I loved the chemistry audition because we were just riffing and like hanging out as long lost friends.
~
One of the many aspects of what made East of La Brea so authentic was the choice to film on location. All of them pointed out how incredible it was to film in places that they all actually knew. Maya for example is from South Central so part of the filming was in her old neighborhood. Usually South Central occupies a very specific space in film and actors generally film elsewhere or on a set.
In this case, it was only ten minutes from where Maya lived, and only five minutes for Mohammed who had moved right around filming. Rufino too grew up in Hollywood after his parents moved from El Salvador during the war in the early 1980s. In fact, the set for Tecla Cafe is actually where Rufino spent his late teen years. Clearly a serendipitous choice to cast these three for the show.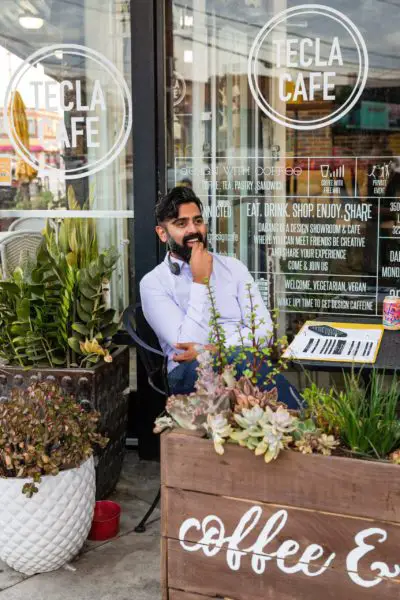 FM: What were some of your favorite things about playing your characters? 
RR: Growing up in Hollywood and my exposure to film, TV, and media was that people like me were either drug dealers, rapists, or criminals. Salvadorans are always in the war, gangs, or an immigration narrative. For me, the role has been the greatest role that I've ever been a part of because it's a positive narrative.
So many Salvadorans have hit me up on social media telling me about how important the character is. As a Brown male and changing the narrative. We are entrepreneurs, we are intellectuals, we are people who have a vast diversity of backgrounds!
KM: This role came at a pivotal time where honestly I was burnt out and just over so much of the roles that just didn't resonate. Why am I even acting? I'm going onto these sets that are full of white folks who treat me only as a person of color. Then with East of La Brea, I can exist as my full self.
This idea of being a Muslim woman on screen and not having to talk about necessarily wearing a hijab or talk about being called a terrorist. I could just fully be me and it was so cathartic to see that uplifted on screen. East of LA Brea was so normalizing and validating. I can exist as me. I don't have to question it.
GM: In 2017 I had decided to really dive fully into this career. Acting is rewarding but it's not always fun or comfortable because you're working towards a goal, where someone else has the power to determine or decipher when our art can be received. How it can be received. Why it can be received. I just want to create and just exist.
This was really a project where we could all truly exist as who we are and everyone at PowderKeg and our director Sam Bailey, she allowed us to exhaust our energy. It was really about all of us sitting at a table with people that did not look like each other! We're all different and we just naturally came together and had a beautiful experience.
FM: Did any of the characters change? Was there ad-libbing?
GM: Whenever actors act in general, the material changes because we can have the same thing and do it very differently. We can have the material someone wrote and said, 'okay this is how I want her to be like' and then you have people like Kausar, myself, or Rufino who came and brought what we brought. They fell in love with that.
RR: So for me, Moises is Salvadoran American, and Sameer and the writers did a great job to get as much authenticity to the cultural background. When I read certain lines I told Sameer and Sam, do you know we use different words? So our script supervisor who spoke Spanish but from a Spaniard background, they spoke to the consultant, a professor from Cal State Northridge from Central American Studies to cross-reference the information that I gave them to adjust the language. I was able to give Moises the little nuances that were really authentic.
KM: It was an interesting experience for me too. I grew up in a South Asian household. My grandma would speak Gujarati, my mom would speak Urdu, my dad speaks Bangla. So I sat down with my dad and reconnected with my dad to learn Bangla in the specifics of it.
~
Filming the series provided an avenue for the entire cast to work with people from multiple backgrounds and to be part of something dedicated to an authentic portrayal of the African American Muslim, Bangladeshi Muslim American, and Salvadoran American experiences. In our conversation about representation and writing the series, Romero recounted a discussion that he had with Gardezi over lunch.
Growing up in Koreatown, Gardezi was assumed to be Indian, but he's Pakistani, so bringing the specificity to Farha's experience was important to him. Again, the writers really focused on authenticity for every character. This includes characters like Zainab Johnson's Renee who works with Aisha.
Maya agrees especially in relation to how the show portrayed Muslims. Though Maya grew up Christian, she has Muslims in her life and made sure to do the research and not treat filming at the mosque, for example, as a field trip. Here Mohammed commends Maya for really doing the work and asking questions. Doing so shows how actors can represent cultures different from their own when they do it with care.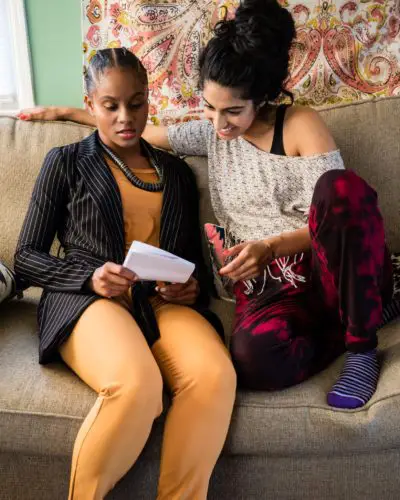 FM: What episode was your favorite? What was it like working with the rest of the cast?
GM: Zainab, first off is just stunning. Her beauty on the outside just matched her energy and spirit. Interestingly enough, I had watched her comedy special a year prior to working with her, so I was fangirling. She's hilarious and it was very enjoyable to work with her. Especially as a Black woman to work with other Black women who motivate and inspire you. Honestly, everyone was incredible to work with! The episode with Zainab, "Cocoa Curl Bliss" was my favorite, but I really loved it all.
RR: For me it's funny, what I loved was more the off-screen than the on-screen. When Sam called cut, it really felt like a family. There was a feeling of just comfort and being yourself that I've never experienced on a set before, ever. If I got this every day, I could die a happy man. Working with all the veteran actors who have been working for like 20, 15, 10 years. My favorite episode was the pilot and the last episode, seeing the arc of all the characters.
KM: To add to that, there was so much inter-generational power on set. Finding out that Herbert was in Culture Clash, I was freaking out because I remembered learning about that in my theater class! One of my favorite scenes was also one of the most LA moments of my life. Filming the scene with Tristen Winger (Qasim) on the car hood. The sun was going down. It was just so much fun to play! Sam, our director was one of the best people to work with who gave us so much freedom and comfort.
FM: Finally, if we do get more, what would you like to see?
KM: I can't wait for an episode where we talk about Farha's cultural appropriation some more. Her language. Just the way she talks. The conversation evolves too between 2018 and 2020 so there's a lot more to show.
RR: I would like to see how the show evolves with the current political, cultural arenas. The situation with the street vendor and the altercation with the cops, that's happening right now. The issues of microaggressions and racism. The movement with Black Lives Matter, positive representation, to see the characters and their lives evolve naturally and how that all aligns with the current situation.
How does Moises redress the situation with Timoteo? How does Farha end up realigning her relationship with her sister and father? Especially because alcoholism and how it affects family isn't talked about that much. Of course, I want to see Aisha self-publishing her book!
GM: I would love to see the natural flow of how it evolves, and I was really intrigued by Aisha's backstory. We got a little of that in the last episode where all of our stories came to pass. So I would love to see how everyone met and more about their personal experiences that made them who they are. How are they shaped, religiously, familial, their relationships.
This interview has been edited and condensed for clarity.
---
East of La Brea is available on PowderKegTV's Instagram.
Kausar Mohammed on Instagram | Twitter
Geffri Maya on Instagram | Twitter
Rufino Romero on Instagram | Twitter
(Edited to clarify that Break the Room created the other rooms.)
Images courtesy of Shanley Kellis.